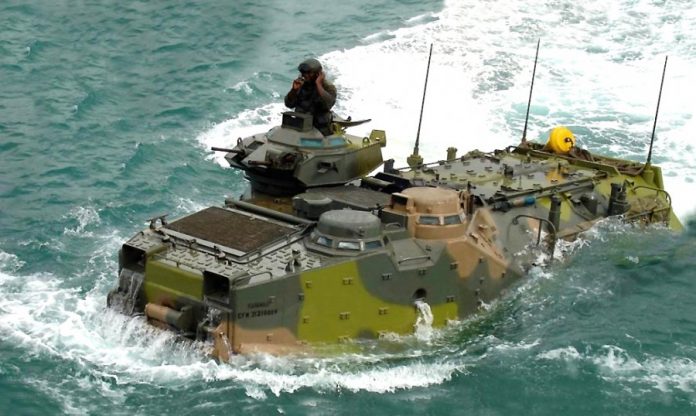 The Brazilian Marines double their ship-to-shore capability with the December 2015 contract to BAE Systems for 23 AAV-7A1RAM/RS Armoured Amphibious Assault Vehicles (AAVs). This complements the Brazilian Navy's acquisition of the Siroco amphibious assault ship, from France in September 2015.
This BAE Systems AAV-7A1RAM/RS (Reliability, Availability, Maintainability/Rebuild to Standard) is the latest version of the legacy AAV-P7/A1 vehicle in use with several operators globally, including the US Marine Corps. The AAV-7A1RAM/RS is outfitted with a Cummins VTAC 525 903 turbocharged diesel engine, plus the drive train and suspension from the BAE Systems M2 Bradley family Infantry Fighting Vehicle.
The vehicle has a crew of three and carries 21 Marines or 3636 kilograms (8000 pounds) of cargo at land speeds of 72.4 kilometres-per-hour (44.9 miles-per-hour). Its Up-Gunned Weapon Station (UGWS) has a .50 cal (12.7 mm) General Dynamics/US Ordnance M2HB 12.7mm machine gun and a General Dynamics Mk.19 40 mm grenade launcher.
The first of Brazil's AAV-7A1RAM/RS vehicles will be delivered in 2017.