The second edition of Electronic Warfare took place 17th-18th January 2017 in Warsaw, Poland, chaired by Air Marshal Greg Bagwell CB CBE, Former Deputy Commander, Royal Air Force. Over 150 attendees came together to collaborate, debate and share strategies to widen the role of electronic warfare within defensive warfighting and better integration on joint force operations.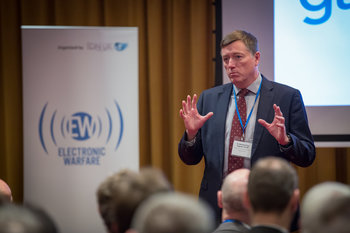 Significant insight into recent NATO exercises from some of the most knowledgeable Electronic Warfare practitioners in the Alliance was delivered during the conference, highlighting the increasing focus being applied to EW threats and counters in every domain – land, sea and air.
The meeting began by analysing the current terrorist threat which has presented the EW community with greater challenges due to homemade systems not only operating throughout the spectrum but also becoming more difficult to disrupt and manipulate.
Senior military figures from 16 countries, which included several One Star officers, were present to hear from Colonel James Crossley, Chief, G35 Strategic Programs, US Army Europe, who shared a number of strategies the US Army has successfully deployed to counter the evolving threats currently faced.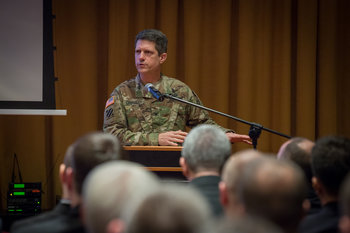 The Electronic Warfare meeting subsequently went on to discuss the emergence of sophisticated EW threats within a saturated spectrum domain and how a greater level of collaboration needs to be delivered between NATO partners.
The meeting was also one of the first occasions since the ANAKONDA 2016 exercise where partner nations had the chance to properly collaborate with each other in a realistic spectrum warfare environment. Feedback from the exercise has strongly indicated that the SEWOC need to be implemented and practiced between partners.
The advancements in smart weaponry has created a new issue for electronic warfare experts. UAVs are quicker, more cost efficient and harder to detect then commercial fighter jets or helicopters, yet can prove equally as effective in both an offensive and intelligence gathering capacity.
The ability to counter UAVS has become a top priority for EW experts, the meeting heard. Delegates were keen to discuss using research and investment to evolve policy decisions to counter the threat posed by UAVs.
Discussing the event, conference chair Air Marshal Greg Bagwell CB CBE commented:
"The key takeaways were the challenge of data classification, data processing in real time and the sharing of information across coalitions. Even relatively constrained, recent conflicts have demonstrated that anti-access or area-denial capabilities are being readily applied and being effective for relatively low level commitment. Future operational risk will be increasingly shaped by the electro-magnetic environment. "
Lead Sponsor Leonardo were joined by several influential industry supporters including; ApisSys, ATDI, BAE Systems, CRFS Limited, Galleon Embedded Computing, General Atomics, Keysight Technologies Sales Spain, MASS, Northrop Grumman, PLATH, Raytheon, Rockwell Collins, Thales Communications & Security and TrustComm in providing an interactive exhibition and networking area.
The 3rd edition of Electronic Warfare has been confirmed to take place 16th-17th January 2018 in Warsaw, Poland.
Notes to editors:
Electronic Warfare took place for the 2nd edition 17th-18th January in Warsaw Poland. The 2018 event will take place 16th-17th January at the Marriott Warsaw, Poland.
Electronic Warfare is organised by The Development Network (TDN UK). Created in 2009, TDN organise 12-15 events in the military, risk and resilience markets which are customer centric, allowing our clients to meet and engage with their market place to enhance their business development strategies. Please visit www.tdnuk.com and follow our company on LinkedIn.
Please hyperlink Electronic Warfare to https://www.electronic-warfare.eu/.
For further information please contact Robert Newton, Senior Marketing Manager : T: + 44(0) 1245 407 944 or E: [email protected].