Med-Eng's new EOD-10 Advanced Bomb Suit (ABS) has been designed to reduce the physiological burden for the Explosive Ordnance Disposal (EOD) technicians.
At the heart of protecting EOD technicians is the ABS. Made using layered light weight, high-strength materials such as Nomex, Kevlar, foams and multiple plastic composites, blast panels are fitted on the outside of the suit to help protect the neck, arms, upper torso and legs from fragments and other high-speed projectiles. Such projectiles can travel at speeds of 1667 metres-per-second (5469 feet-per-second).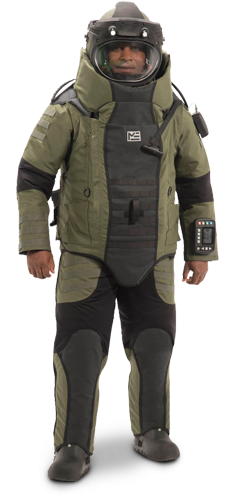 A standard ABS can weigh more than 35 kilograms (77 pounds), and a huge challenge is to make the suit lighter while affording maximum protection against the four main IED (Improvised Explosive Device) blast threats: overpressure, fragmentation, impact and heat. The EOD-10 has lighter and more agile protective layers to reduce the overall physiological burden for the EOD technician, and to provide greater mobility and dexterity, alongside chemical and biological agent protection. Meanwhile, Med-Eng's BCS-4 cooling system reduces the debilitating effects of heat on the body and the jacket, trousers and helmet comprising the EOD-10 have been redesigned to reduce weight and fatigue with improved situational awareness, protection and fit. This integrates a voice command system to provide enhanced warning and confirmation in varied operational environments, as a radio link back to the EOD technician's fellow operatives and to keep the user's hands free to carry or deploy tools.
Rob Reynolds, Med-Eng's general manager told armadainternational.com that: "Med-Eng has applied its world-renowned blast effects expertise to evaluate and utilise new, lightweight protective materials to increase overall protection, improve ergonomics and enhance flexibility. What makes the EOD-10 even more exciting is that it serves as a platform to which new communication technologies and sensors can be added. These will better enable exchanging information in real time, transmitting live video and capturing forensic evidence. This is increasingly important as the men and women on the front lines facing evolving IED threats."
According to the company, since entering the market in 2016, the EOD-10 has been procured by ten nations in the Asia-Pacific, North America and Europe.