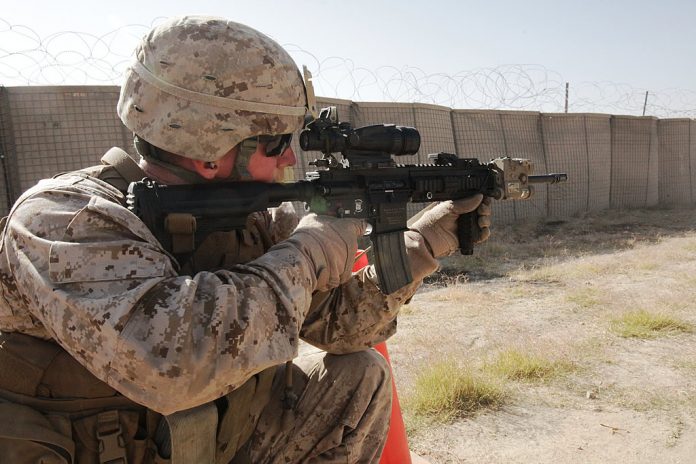 The United States Marine Corps (USMC) may soon revisit its Fire Team and Squad concepts of operation used extensively during the Second World War, following the publication of a Request For Information (RFI) for the delivery of up to 11000 Heckler and Koch M-27 Infantry Assault Rifles.
The M-27 is a magazine fed 5.56mm weapon with 600 metre (1968 feet) effective range and, as a fire team weapon, has been under consideration by the USMC since 2000. Its adoption could arguably be viewed as a return to the Second World War Fire Team and Squad concept which was built around the M1918 Browning Automatic Rifle (BAR). Like the M-27 the 7.62mm M-1918 was magazine fed, fired with a bipod and was accurate at long range.
The Marines have already fielded M-27s with a small number of Infantry and Light Armoured Reconnaissance Battalions. It was most recently evaluated by the 3rd Battalion, 5th Marine Regiment in desert exercises at the end of 2016. The weapon is equipped with a Trijicon ACOG Squad Day Optic and could replace the FN Herstal M-249 Squad Automatic Weapon in USMC service. The RFI is not a contract, but the value of an award could be as high as $36 million.