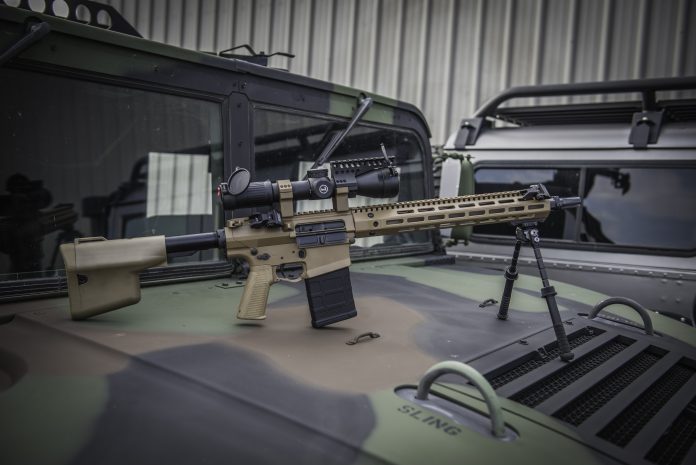 On 25 October 2016, representatives from across the small arms industry met with military programme managers at the US Army Armament Research, Development and Engineering Centre (ARDEC) to consider future technologies to counter emerging threats.
The 'Overmatch the Spectrum of Threat' event was to discuss innovations designed to provide soldiers with the means to overcome adversaries during contacts with enemy combatants; particularly important today as the proliferation of more mature small arms continues globally across insurgent organisations.
According to ARDEC director, John Hedderich, the purpose of the event was to extend yet further: "collaboration and partnership between government and industry (to drive) armaments innovation." Mr. Hedderich added that: "Working together will yield superior weaponry that will overmatch the spectrum of threats, so that our (soldiers) can complete their missions and come home safe," while describing how the event had witnessed the collaboration of representatives from industry with the likes of the US Joint Centre of Excellence for Guns and Ammunition, based at the Picatinny Arsenal in New Jersey.
Moreover, the event included consideration of existing and next-generation assault rifle and sniper system technologies as well as munitions, directed energy weapons, fire control systems and multi-role armament solutions, which provided: "unprecedented collaboration setting the stage for a great year in armaments innovation," according to Charles Zisette, the executive director of the National Armaments Consortium, the industrial and academic component of the US Department of Defence's (DoD) Ordnance Technology Consortium.
Sources explained to Armada how industrial consideration is being given to emerging requirements from the US Special Operations Command (USSOCOM) regarding the design and development of an integrated carbine suppressor (to suppress noise and muzzle flash), known as the Suppressed Upper Receiver Group; as well as the Advanced Precision Sniper Rifle, providing a multi-calibre approach stretching from .300-cal, through .308-cal, up to .338-cal. These types of emerging requirements in line with current operations will be considered in this article. However sources associated with the North Atlantic Treaty Organisation Special Operations Forces Headquarters (NSHQ), based in Mons, Belgium, explained to Armada how current interest in optimising the accuracy, lethality, efficiency, size, weight and power of in-service assault rifles and sniper systems remains heavily weighted to the integration of accessories and ancillaries: "You just have to scan through a whole raft of solicitations on the US Fedbizopps [Federal Business Opportunities] website to see current fashions for small arms upgrades. There are dozens and dozens of contracts and request for information focused on gunsights, fire control systems and bipods as well as alternative training systems and upgraded ammunition," the source explained.
Assault Rifles
According to Colt Defence's director for international sales, Matthew Fehmel, the small arms market remains incredibly active both in the continental US and internationally: "Colt is very fortunate to have our long standing relationship and continue to work very closely with the US military with monthly deliveries … of the M240 Machine Gun and M4 carbine programmes as well as the sole source M4 FMS (Foreign Military Sales) programme. Internationally, our backlog is very robust and growing. This can be explained not only because of the current global political climate, but also we have worked hard to develop and maintain the highest level of quality and Colt products are renowned for durability, reliability and performance in combat," he explained.
Referring to the ongoing operations, such as US-led efforts against the Islamic State of Iraq and Syria, and how these might dictate future conflicts, Mr. Fehmel stated that: "We have seen the demands for technical specifications on assault rifles go full circle. A few years ago the primary demand was for maximum rail space … to attach the myriad of new and emerging technologies that provided tactical advantages in aiming, sighting and speed of target acquisition … The problem that (this) resulted in a (2.7 kilogram/six pound) rifle with (2.7kg) of accessories mounted on it. This has forced the demand back to weight reduction and improvements to the weapon that improve accuracy. Capabilities in demand now are less (but well-placed) rail space, ideally modular in nature … fully ambidextrous lower receivers; and full floating barrels (where the barrel is not in contact with the weapon's stock) ideally through monolithic upper receivers," Mr. Fehmel continued.
In line with such demands, Colt Defence is preparing to launch a new family of assault rifles at the SHOT Show in Las Vegas in January 2017. Although details remain undisclosed, the company did unveil a new weapon at the Association of the United States Army (AUSA) exhibition in Washington, DC in October 2016. To this end, the firm's Sub Compact Weapon (SCW) has been designed as a Close Quarter Battle (CQB) weapon especially relevant for Special Forces and Dismounted Close Combat soldiers conducting Military Operations in Urban Terrain (MOUT). The weapon was exhibited with a red dot sight with a laser designator mounted on the top rail in between the forward and rear emergency iron sights. Firing NATO standard 5.56mm x 45mm ammunition, the rifle features an extendable butt stock which when reduced, allows the assault rifle to be used in confined spaces: "The SCW was revised to eliminate the folding buttstock in favour of a Maxim telescoping stock that reduces weight while keeping the retracted overall length the same," Mr. Fehmel added.
A similar capability has been selected by the French Army which, on 22 September announced that it will replace its current Nexter FAMAS assault rifles with the Heckler and Koch's HK-416F 5.56mm x 45mm weapon. This decision can be traced back to 2009 when the French Ministry of Defence (MoD) first considered replacing the FAMAS with a conventional design like the Heckler and Koch HK-416. The $185.8 million contract comprises the delivery of more than 100,000 rifles by 2019 with initial deliveries expected to begin in 2017, industry sources explained to Armada. A spokesperson for Heckler and Koch explained: "The decision in favour of the HK416F followed a Europe-wide tendering procedure in which several companies participated with their weapon systems. Following over a year of intensive, extensive trials by the French of all the weapons competing…the HK-416F fulfilled all of the French Armed Forces' requirements for their future assault rifle."
The weapon, used operationally first by units including the US Army Special Operations Command's 1st Special Forces Operational Detachment-Delta is understood to have beaten competition from FN Herstal's Special Operations Combat Assault Rifle (SCAR); Sig Sauer's MCX; Beretta's ARX; and HS Produkt's VHS-2. Half of the French Army's new rifles will be delivered in SBR (Short Barrelled Rifle) 279.4mm (eleven inches) configuration to fulfil operational requirements for CQB and MOUT, with the French Army, air force and navy receiving the weapon with an additional 10767 Heckler and Koch HK-269F underslung 40mm x 46mm grenade launchers. The remaining weapons will feature more conventional barrel length weapons, measuring 368.3mm (14.5 inches).
Configurations
The bullpup (where a rifle's firing mechanism is located behind the trigger group) versus the 'AR' design (with the firing mechanism based in front of the trigger group) debate continues to rage with the global special operations community still split on which solution provides the optimal capability for CQB and MOUT missions. According to sources associated with the Israeli Army's Ground Force's Tier-1 Sayeret Matkal special mission unit, the bullpup designs provide a suitable fusion of compactness and accuracy during operations in confined spaces, including clearance operations in subterranean tunnel networks. Speaking to Armada during a recent live fire demonstration in Israel, sources explained how options such as the Israel Weapon Industries (IWI) X95 assault rifle (developed in collaboration with the Israeli Army Special Forces since 2002) provided mobility, a light weight, performance, accuracy and lethality.
IWI's X-95R Flattop 330 model, for example, comprises a 330mm (12.9-inch) barrel, capable of firing 5.45mm x 39mm, 5.56mm x 45mm and 5.45mm x 39mm ammunition from a weapon measuring less than 580mm (10.9 inches) in length. Weighing 3.3 kilograms (1.5 pounds), the weapon retains the capability to be fitted with a suppressor, as well as variety of gun sights systems ranging from red dot, magnification and image intensified/infrared designs as well as the integration of tactical torches, handgrips, emergency battle sights, bipods, bayonets and laser designators: "The X-95R was designed exclusively for the military, police and special forces, allowing the soldier to use the same weapon platform for a wide array of scenarios," an Israeli Army source explained: "It is the ideal weapon for handling complex situations and was created to deal with modern terror threats as well as urban and open area combat with a rear centre of gravity, low recoil for enhanced stability when engaging and ergonomic capability to be fired single handed."
Support for bullpup designs have been expressed by the India's special operations forces, notably the Indian Army's Para Special Forces (PARA-SF) regiment and the navy's Marine Commandos (MARCOS), who selected the IWI Tavor (the precursor to X-95) in 2002 as their SBR for CQB operations. Ahead of the procurement of a weapon for the wider Indian Army (up to 300,000 in total), the MoD had been seeking to select 66000 CQB carbines for service with Indian Special Forces and DCC units with participants for the projected programme having included IWI's ACE; Beretta's ARX-160; Ceská Zbrojovka CZ-805 BREN and Colt Defence's Combat Rifle. However, the Indian Army appears to have backtracked on a decision to select IWI's conventional AR-design ACE after reports emerged it had beaten competition during protracted periods of environmental testing in India over the past few years. Industry sources associated with the Ordnance Factory Board (OFB) in India have suggested to Armada that the MOD is now considering referring back to the development of the OFB Excalibur assault rifle to satisfy a huge requirement to equip the wider Indian Army. A trials and evaluation programme is expected to begin by the end of 2016 with SBR options at the forefront for DCC and Counter-Insurgency special mission units, the sources explained.
Sniper Rifles
In the sniper rifles market, demand appears to be strong globally for both bolt-action and semi-automatic rifles available in a variety of calibres, as highlighted by Accuracy International director, Tom Irwin: "This is driven by the continuing threat of (political violence). As has been the case in the past and will be in the future, the threat is ever-changing based on emerging new equipment and tactics so as we look forward we have to be ready to develop sniper rifles with different calibres and integrate electronics into the emerging platforms," Mr. Irwin explained to Armada. Such a capability could be utilised for programmes including the USSOCOM's Advanced Sniper Rifle concept which is seeking a multi-calibre weapon: "I see the sharpshooter rifle moving toward (a semi-automatic configuration) with the changing threats and operational environment where urban battles occur more regularly. I also see the benefit of a multi-calibre rifle not just in operations but in training. With a multi-calibre rifle, training on a common platform can take place using lower cost ammunition, .308-cal versus .338-cal, for example. In addition a system can be set up for a particular operation without carrying several rifles: Barrel, bolt and magazine changes are all that is required," he continued.
In 2013, Accuracy International discontinued its range of AW and AE rifles to concentrate on its latest families of variants, the AX and AT, from 2014: "The main feature (of these new weapons) was a quick change barrel and the patent is pending for this unique design feature which allows for calibre changes in less than two minutes," Mr. Irwin revealed while referring to the AX series: "The AX Series also features a front rail with our Keyslot feature for adding accessories like night vision, laser designators, as well as a folding stock to reduce the width for carriage," he added: "The AT was also introduced and that is really a life extension of the combat proven AW Series, again with a quick change barrel (the weapon) comes in a very basic form with the ability to easily add accessory brackets to take night vision systems, for example. We are going to extend the AX calibres to include .50-cal and the new AX-50 will have the same quick change barrel capability, allowing other calibres but also to make it easier to carry a .50-cal rifle by removing the barrel and spreading the load," Mr. Irwin concluded. Bolt-action AX rifles are currently available in .308 Win and .338 Lapua Magnum calibres and also feature the capability to integrate suppressors for special missions. Bolt-action AT options, meanwhile, come in .308 Win calibre with an all up weight of 6.3kg (13.9lb).
In the US, the army is preparing to receive an inventory of 15 modified Heckler and Koch G-28 sniper rifles for test and evaluation following its selection as the Compact Semi-Automatic Sniper System (CSASS) in April 2016. According to Steve Galloway, director of creative services at Heckler and Koch, the M-110A1 selected to fulfil the CSASS semi-automatic, short-stroke piston gas-operated weapon fires 7.62mm x 51mm ammunition. Featuring a 419mm (16.3in) barrel, the rifle itself measures 997mm (38.9in) with a fully extended stock and 927mm (36.2in) when retracted. The weapon has a maximum effective range of up to 800 metres (243 feet), Mr. Galloway added.
Sources associated with the programme informed Armada that testing will feature extensive counter-insurgency scenarios for which semi-automatic sniper rifle technology remains highly relevant. NSHQ sources explained how the ability to rapidly engage multiple targets during such missions continue to be used for domestic security operations as well as expeditionary campaigns currently being conducted by NATO special forces in Syria, Iraq and North Africa.
Convergence
Finally, industry observers are witnessing the continued fusion of sharpshooter and sniper requirements into single products with Mr. Fehmel explaining to Armada: "We have seen demand for medium-range sniper weapons in semi-automatic configurations with many of the same features that are in demand for assault rifle platforms … Although using larger calibres, these design features are very similar and show an opportunity for Colt to move into new markets with weapons that still fit our core capabilities. A key example of this is the new Colt Semi-Automatic Sniper System … With a state-of-the-art Leupold scope and ergonomic furniture, this weapon is already gaining traction … in the medium sniper rifle market both domestically and internationally." However, wary of overburdening troops with new technology, Mr. Fehmel warned that: "There are some tenets that have remained consistent through the years: The international elite military establishment demands a platform with repeatable performance on a simple weapon with consistent features allowing for muscle memory and instinct in a high stress environment."
Despite the lack of any ground-breaking technologies emerging in the assault and sniper rifle markets regarding operating systems, the international community looks set to continue with modifications to enhance weapon capabilities in the future. However, as special operations technology continues to filter down to conventional armed forces, current fashions for integrated suppressors such as those being considered by USSOCOM and designed by the likes of Sig Sauer, could provide a significant change in direction for the small arms market.