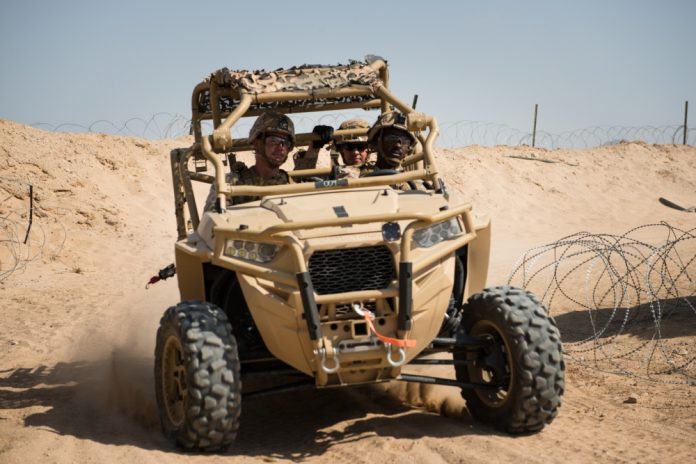 Current counter-insurgency operations are occurring in vast theatres in North Africa and the Middle East, often in semi-arid and desert conditions. This is spurring requirements for reliable vehicles which can be used by special forces to rapidly and safely cover such distances.
Since August 2014, the Armeé de Terre (French Army) has been deployed to the Sahel region of south-central northern Africa as part of Operation BARKHANE. This effort comprises an eight-nation coalition (Burkina Faso, Chad, France, Germany, Mauritania, Mali, Niger and the United Kingdom) to combat the Al-Mourabitoun, Al-Qaeda in the Islamic Maghreb and Ansar Dine Islamist insurgent organisations operating in this area. To say that the Sahel region is vast would be a significant understatement. The World Wildlife Fund (WWF) states that the entire Sahel region spans a total of 5400 kilometres/km (3360 miles) west-to-east from the Atlantic Ocean to the Red Sea. Although it varies in depth, the same WWF document states that it can be up to a 1000km (620 miles) thick in some areas. This adds up to a region which has a surface area of over 3 million square kilometres (1.1 million square miles). Thrown into this is a topography covered by savannah, grassland, woodland and shrubs. The sheer size, and the challenging environment of the Sahel, means that reliable, hardwearing and rapid transport is essential for the special forces operating there. As this report will indicate, France and Austria are notable in beefing-up their special forces vehicle fleets to ensure that their commandos remain effective in operations in the Sahel.
France's special forces are receiving 241 Renault Trucks Defence (RTD) Vehicle Leger des Forces Speciales (Light Special Forces Vehicle/LSFV) four-wheel drive patrol vehicle, local media reports disclosed in early-August 2016. These vehicles will be supplied to the Brigade des Forces Spéciales Terre (French Army Special Forces Brigade/FASFB) where they will replace the existing Panhard/RTD VPS four-wheel drive patrol vehicle, 51 of which were ordered by the French Ministry of Defence (MOD) in 2005, reports continue, as part of an urgent operational requirement. A report published by the French Senate, the upper house of the French Parliament, disclosed in 2014 that the VPS were not sufficiently numerous to support French special forces operations, and had suffered significant wear and tear, while experiencing "calamitous" support. As a consequence, in December 2015, France's Direction Générale de l'Armement (General Armament Directorate) which oversees defence procurement on behalf of the French MOD, ordered the 241 VLFS platforms as part of a wider order which also includes the supply of 202 RTD Vehicle Lourds des Forces Speciales (Heavy Special Forces Vehicles/HSFV), 25 of which, local media reports noted, would be delivered to the French Army by the end of 2016. The total value of the HSFV and LSFV order is reportedly $278 million. Deliveries of the latter vehicle, reports continue, are expected to occur between 2018 and 2019.
During the June 2016 Eurosatory defence exhibition held in Paris, RTD unveiled a Concept Demonstrator of the LSFV design. According to Thierry Duquesne, light tactical vehicles director at RTD, the LSFV scale model exhibited at the event is representative of the four-wheel drive vehicle the company has designed, which is based upon the firm's Sherpa four-wheel drive vehicle family and capable of carriage inside a Boeing CH-47F Chinook heavy-lift helicopter. Furthermore, Mr. Duquesne explained how the vehicle would be capable of achieving a top speed of 120 kilometres-per-hour (74.5 miles-per-hour) while carrying four fully-equipped troops. Additionally, he stated that the LSFV can be armed with light, medium and heavy machine guns dependent upon mission requirements.
HSFV
As noted above, the December 2015 DGA order with RTD also includes the supply of up to 202 HSFVs. Like the LSFV, this vehicle was unveiled during the Eurosatory exhibition, and like the LSFV, its heavier sibling is also based on the company's Sherpa platform, RTD have disclosed. Local media reports have noted that circa 25 HSFVs had been delivered to the French tactical light armoured patrol vehicle, a total of 202 HSFV vehicles will be delivered to the FASFB as of September 2016. During Eurosatory, Mr. Duquesne explained to Armada how this first batch of 25 vehicles will be delivered to French special forces deployed in Africa as an urgent operational requirement for Operation BARKHANE (see above). Alongside the VPS (see above) the HSFV and LSFV platforms will replace several other vehicles in use with the FASFB, including the ACMAT/RTD VLRA four-wheel and six-wheel drive vehicles, and Auverland/RTD A3 and Peugeot P4 four-wheel drive general purpose vehicles, the company told Armada.
FASFB sources have explained to Armada how the new fleet of HSFV and LSFV vehicles will be used extensively, following an increase in counter-insurgency duties globally in the aftermath of the attacks perpetrated by the Islamic State of Iraq and Syria (ISIS) insurgent organisation in Paris during November 2015. At that time, the French government took the decision to deploy a team of 300 French special forces troops to the Democratic Republic of Congo to train local security forces in counter-insurgency while Operation BARKHANE (see above) continued. Additionally, media reports have stated that since June 2016, French special forces have been supporting US-led coalition efforts against ISIS in Iraq and Syria. As Armada's sources continued, all of these operational theatres (Africa, Iraq and Syria) will benefit from the deployment of the HSFV and LSFV, where French commandos require the capability to remain mobile, heavily-armed and self-sufficient for weeks at a time working beyond forward operating bases, sometimes hundreds of miles away from other force elements.
Austria
Staying in Africa, it was reported in June 2016, that the Landstreitkräfte (Austrian Army) had deployed a reconnaissance team in preparation for a 20-strong deployment of Jagdkommando (Austrian Army Special Forces) in support of ongoing counter-insurgency efforts in Mali in support of the French deployment there (see above). There has been no official confirmation from Vienna, although as of early 2017, these Jagdkommando soldiers are believed to have been deployed. Industry sources have shared with Armada that the Jagdkommando have been deployed with four Valentin Tusch (VT) Hunter Open Tactical Vehicles (OTVs), which the force had been scheduled to receive as an overall improvement to its capabilities. VT has developed the OTV, the company has disclosed, by using the Mitsubishi Pajero four-wheel drive sports utility vehicle as its base. The resulting OTV is capable of being transported internally in a CH-47F or Lockheed Martin C-130J turboprop freighter. In terms of performance, the OTVs provides teams with a maximum operational range of 2000km (1243 miles) and top speeds of 180km/h (111mph) according to open sources. Reports continue that the vehicles can accommodate 12.7mm, 7.62mm and 5.56mm machine guns. With a maximum vehicle weight of two tons, it has the capacity to carry payloads weighing an additional 1500 kilograms (330 pounds) which could include a team of three soldiers, weapons, personal equipment, fuel; food and water, and recovery equipment. Regarding protection, the vehicle has NATO (North Atlantic Treaty Organisation) STANAG (Standardisation Agreement) Level One ballistic protection, safeguarding against 7.62mm ammunition at a range of 30 metres/m (98 feet/ft) travelling at 833m (2732ft) per second. Additional ammunition boxes can be carried on the vehicle attached to weapon mounts, in the hold as well as in four lockable ammunition boxes around the side of the vehicle. In addition; the OTVs have feature a pair of floating chambers for amphibious operations. Other standard equipment includes an anti-spall (the process by which a relatively soft warhead flattens against armour plating and explodes, creating a potentially lethal shock wave) protection kit, sand tyres, a cable cutter, two spare wheels and anti-blast seats.
Sweden
Similar requirements to France's need for heavy and light special forces vehicles have also been satisfied for Sweden's Särskilda Operationsgruppen (Special Operations Task Group/SOTG). During the 2016 Eurosatory exhibition, industry sources explained to Armada that the Swedish government had signed a contract worth an undisclosed sum to procure a fleet of ACMAT Bastion four-wheel drive Armoured Personnel Carriers (APCs). As of late-2016, Armada sources noted that these vehicles were currently in the process of being delivered in several tranches to the special forces headquarters in Karlsborg, southern Sweden, where they will begin to receive undisclosed specialist equipment while integration and familiarisation on the vehicle is performed for members of the Särskilda Skyddsgruppen (Special Protection Group) and Särskilda Inhämtningsgruppen (Special Intelligence Gathering Group); both constituent parts of the SOTG. The vehicles will be used for domestic operations and international deployments with soldiers trained to use them for troop transport, fire support, surveillance and reconnaissance tasks, and direct action missions particularly in urban terrain. The Bastion APC has a gross vehicle weight of 14.5 tons, ACMAT officials explained to Armada. The APC can be re-rolled for a variety of tasks ranging from logistical support; command and control; engineer, troop transport and fire support models, the officials continued.
Finally, the United States Marine Corps (USMC) will commence fielding its new Polaris Defence MRZR-D4 four-wheel drive general purposes vehicles by April 2017, as revealed in Dr. Alix Valenti's 'USMC MRZR-D4 Expected to be fielded in April 2017' article which appeared on the armadainternational.com website in late November 2016. The USMC announced that it would be taking delivery of 144 MRZR-D4s, following the unveiling of the vehicle at the Special Operations Forces Industry Conference held in Tampa, Florida in May 2016. The MRZR-D4 will be deployed with all USMC active infantry regiments, the company told armadainternational.com. Publicly available sources states that the USMC currently has ten infantry regiments in its order of battle. This means that between 14 and 15 MRZR-D4s will be deployed with each regiment. A USMC spokesperson told Armada that the vehicles will commence delivery to the USMC in February with deliveries expected to conclude in April. The vehicle boasts a versatile design and can be configured to perform a number of missions, the company notes, from casualty evacuation to logistics support and the rapid deployment of personnel. The MRZR-D4 is also air-portable in a Bell-Boeing MV-22B Osprey tilt-rotor or Sikorsky CH-53E/K Sea Stallion/King Stallion heavy-lift rotorcraft; both aircraft types which are operated by the USMC. This diesel-engined vehicle, the company's official literature states, has a weight of 952.5kg (2100lb) and can accommodate a payload of 680kg (1500lb).