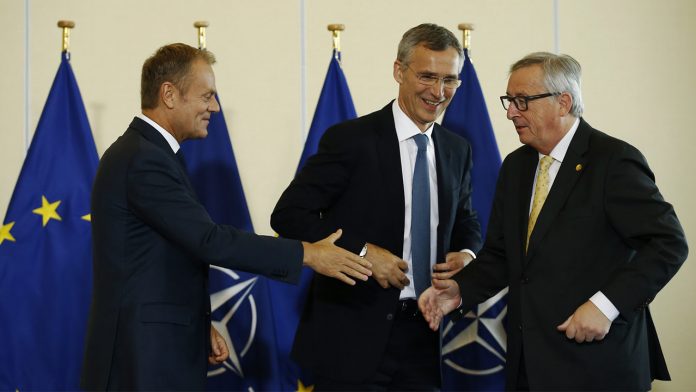 The European Union (EU) and the North Atlantic Treaty Organisation (NATO) are taking steps to deepen their defence cooperation following the signing of the Warsaw Joint Declaration signed on 8 July 2016.
The Declaration identified several key areas of cooperation: to counter hybrid threats, operational cooperation (including maritime issues); cyber security and defence; defence capabilities; defence industry and research: exercises and defence and security capability building. In December 2016, these areas of cooperation were addressed through 42 concrete measures to be jointly implemented. The implementation process includes more frequent EU-NATO exchanges at both the staff and political levels.
As Federica Mogherini, the EU's high representative for foreign affairs and security, and Jens Stoltenberg, NATO's secretary general and reported to the European Council on 19th June and to NATO's defence ministers on 28th June, relevant actions have been taken in different areas during the last months. In the hybrid threats domain, a European Centre of Excellence for Countering Hybrid Threats has been set up in Helsinki as of April 2017. At the operational level, NATO is supporting EU efforts against illegal migration in both the Aegean Sea, and the Central Mediterranean.