With the contemporary environment continuing to demand high mobility over long ranges for armed forces, requirements continue to be satisfied with emerging technologies based around Internally Transportable Vehicles (ITVs).
ITVs should be capable of being stowed internally onboard a heavylift rotorcraft such as a Boeing CH-47F Chinook helicopter, a Bell-Boeing CV/MV-22A Osprey tilt rotor or a fixed-wing Lockheed Martin C-130J turboprop freighter. Such a concept provides a rapid reaction capability to troops seeking to deploy at extended ranges with a mobile and highly lethal vehicle for further covert, discreet and overt insertion into a target area. This particular concept of operations is being driven by the international Special Operations community although more conventional forces are also now seeing the benefits of such technology to overcome the so-called 'tyranny of distance.'
ITV options include the General Dynamics Ordnance and Tactical Systems (GDOTS) Flyer family of vehicles, which according to business director for lightweight tactical vehicle programmes, Mike Iacobucci, provide armed forces with interoperability for multi-national/multi-agency operations as well as long range insertion/extraction and re-supply capabilities. "Most places where enemy forces are operating, tend to be much further away and on purpose in some cases. So, in order to get there, (armies) need an ITV capability so that when the aircraft hits the ground, generally offset by some distance, it can rapidly move to a point on the ground where the enemy are located … Getting closer to the target area by fixed and rotary wing aircraft has not been a problem, but what do troops do when they get there? That has always been the problem. Everybody recognises the need to employ some kind of mobility platform from the back of an aircraft and allow forces to rapidly move to an objective. If a vehicle is configurable and can accommodate significant payload including a suite of weapons, then that's all the better," he explained to Armada.
Air Portability
GDOTS was contracted by US Special Operations Command (USSOCOM) in August 2013 to deliver its Ground Mobility Vehicle 1.1 requirement, which called for the delivery of 1300 vehicles over a seven year period. A total of 650 have been funded to date with an Initial Operational and Training Evaluation programme completed in January. According to Mr. Iacobucci, initial deliveries of the GMV 1.1, which is based on the GDOTS Flyer 72 ITV, started at the beginning of April. The four-wheel drive vehicle can be internally stowed onboard CH-47F and C-130J aircraft. However, the platform is not small enough to fit inside a CV/MV-22A. The vehicle can accommodate up to nine personnel with equipment, with each platform also armed with multiple weapons mounts (such as 5.56mm, 7.62mm and 12.7mm machine guns and 40mm automatic grenade launchers) and a Command and Control (C2) suite including navigation aids, tactical communications and situation awareness technology.
According to GDOTS, the Flyer 72 is "highly adaptable to severe, rugged and restrictive terrains while providing off-road, cross-country mobility in all types of weather conditions". This particular vehicle is also part of a Foreign Military Sale to an undisclosed NATO (North Atlantic Treaty Organisation) country in Europe, worth a contract value of $5.6 million, Mr. Iacobucci added. The vehicle will also be on show at the Eurosatory exhibition in Paris this June. Rather confusingly, the US Army has now changed the nomenclature of its very own ITV programme from the 'Ultra Light Combat Vehicle' (ULCV) programme to the 'Ground Mobility Vehicle' (GMV) programme, with a request for proposals expected to be issued towards the end of 2016. Should this programme receive the go-ahead, it will provide an ITV capability down to the lowest tactical level across the combat arms of the US Army, thereby representing the first major extension of this capability away from Special Forces.
The effort is being managed by the Combat Support and Combat Service Support PEO within the US Army which has already voiced requirements including underslung carriage below the Sikorsky UH-60 Blackhawk family of medium-lift utility helicopters used by the US Army. Additionally, the US Army is studying options for a Light Reconnaissance Vehicle (LRV) which would share considerable crossover with the GMV, although the former is expected to comprise a more weaponised version with a requirement for an Orbital ATK M230 chain gun and Raytheon Long Range Advanced Scout Sensor optronics reconnaissance payload as well as the capacity to carry six personnel. Additionally, industry sources suggested to Armada that vehicles could easily be re-configured from ULCV to LRV and vice versa within "minutes". Contender vehicles for both programmes also include the Boeing/MSI Defense Phantom Badger, Hendrick Dynamics Commando Jeep, Vyper Adamas Viper, Lockheed Martin High Versatility Tactical Vehicle and a number of options from Polaris which, like GDOTS, have already been contracted to USSOCOM for the delivery of ITV platforms.
Polaris Defence
According to Polaris Defence's director of international business development, Doug Malikowski, the company's fleet of MRZR-2, MRZR-4 and Deployable Advanced Ground Off-Road (DAGOR) vehicles allow armed forces to move personnel across the battlefield quickly with minimal footprint on the ground. "We are finding additional customers in this market space, with better logistics capabilities to service vehicles as they take them outside the US and use within allied countries," Mr. Malikowski explained. The company is already contracted to USSOCOM with a $83 million deal to supply MRZR-2 and MRZR-4 ITVs over a five-year contract period. Additionally, the company is awaiting findings of field trials in the United Arab Emirates (UAE) following desert trials conducted between June and September 2015 with competitors including the UAE's Nimr Automotive Ajban Special Operations Vehicle. The UAE armed forces require a two-ton vehicle for internal transport onboard rotary and fixed wing platforms.
As Nimr Automotive's chief executive officer Dr. Fahad Saif Harhara explained to Armada, the contemporary operating environment continues to demand more of dismounted soldiers with mobility high on the agenda. "Today's battlefield poses a variety of challenges with vehicles designed to integrate with a variety of mission systems to enhance crew effectiveness, situational awareness and military command and control," he explained while highlighting requirements for outstanding terrain accessibility, physical protection for survivability from homemade bomb, blast and ballistic threats. The Ajban series of vehicles also includes C2, fire support, troop carrying, infantry fighting, reconnaissance, logistics and internal security variants with vehicles now being manufactured at Nimr Automotive's new operations centre in Abu Dhabi which opened on 15 March. "Modern warfare is constantly evolving and we must be constantly looking to the future of new technologies, materials and innovations to keep our customers safe. The contemporary operating environment has changed significantly in recent years with the shift to asymmetric warfare and the result of this is we are seeing a general shift to protected vehicles for missions including logistics and utility functions," Dr. Harhara concluded.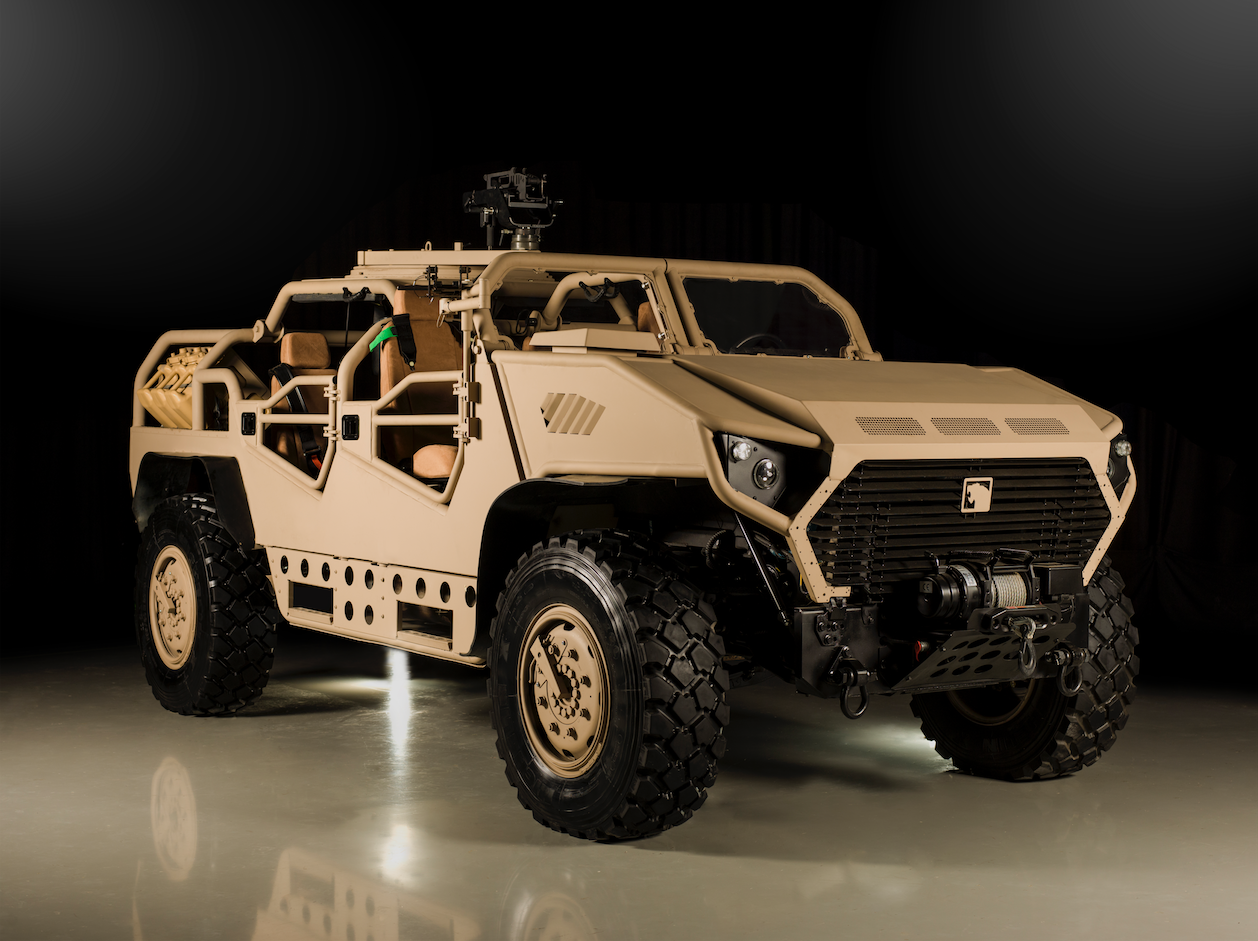 Such thoughts regarding tactical mobility are echoed by Mr. Malikowski, who explained to Armada how an increasing number of countries, particularly in the Asia-Pacific, Middle East and Africa, are interested in the ITV capability. He described two undisclosed contracts awarded to the company in February to provide MRZR-2/4 ITV options to Central African and Asia-Pacific countries as well as interest being generated in Canada with that country's Enhanced All Terrain Vehicle programme. Polaris Defence is also planning to unveil two upgraded versions of the MRZR ITV at the Special Operations Forces Industry Conference in Tampa, Florida in May in response to such emerging requirements.
Australian Army
Elsewhere, the Australian Army has elected to extend the evaluation programme of its Combat Reconnaissance Vehicle (CRV) requirement which is seeking the procurement of 225 platforms. The decision was published on 1 April, falling under the Project Land 400 programme designed to enhance the "mounted close combat capability by providing armoured fighting vehicles with improved firepower, protection, mobility and communication characteristics to enable tactical success in the contemporary and future operational environment," according to the army. The effort is designed to replace General Dynamics ASLAV (Australian Light Armoured Vehicle) and BAE Systems/United Defence M-113AS4 Armoured Personnel Carrier platforms with the CRV, infantry fighting vehicles, manoeuvre support vehicles and integrated training systems. "The highest priority for the army is to replace the ASLAV fleet with a CRV due to obsolescence factors that constrain tactical employment and increase the cost of ownership. These obsolescence factors cannot be mitigated through upgrade, and without replacement starting in 2020 a capability gap will result," a spokesperson for the Australian Defence Force explained to Armada.
by Andrew White