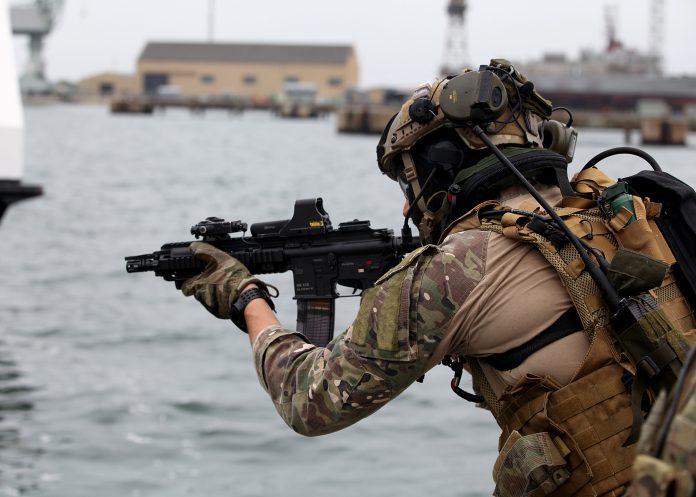 The contemporary operating environment remains an extremely busy one for international Special Operations Forces (SOF), as governments continue to recognise and further extend their specialist capabilities and force multiplying effects.
Ongoing Counter-Insurgency (COIN) operations continue to dominate the headlines, whether they be occurring in Africa, the Americas, the Asia-Pacific, Europe or the Middle East, Africa, Europe and the Americas. It is from these operations that a series of trends have become apparent with regards to current and future deployments of SOF units
These headlines include interoperability and partnering with multi-agency organisations and multi-national force elements during operations; the inclusion of women into the closely guarded SOF community; and the continuing upscaling of equipment, designed to maintain the tactical advantage over adversaries.
Such multi-national interoperability is also being enhanced in the training environment with the international SOF community conducting significant exercises such as the North Atlantic Treaty Organisation's (NATO's) Exercises TRIDENT JUNCTURE (see below) and COLD RESPONSE, both of which have witnessed the deployment of special operations teams from more than ten NATO member states and partner nations on each occasion.
In December 2015, the US Joint Special Operations University (JSOU) published its 2016 Special Operations Research Topics report which described SOF as boasting the: "primary military capabilities to be employed in the uncertain environment of today" for the US administration and Department of Defence (DoD): "The future operating environment is defined by an increasingly interconnected global community paired with the increasing effects of non-state actors. SOF preparing to operate within this environment are bound by fiscal constraint, decreasing resources, and manpower limitations amongst an era of expanding SOF requirements. The characteristics of warfare within this environment will continue to evolve," the report reads.
Citing SOF units' ability to conduct irregular or unconventional warfare, the report continues to describe how such a concept of operation has become an: "increasingly important tool of US policy as resistance forces in many parts of the globe organise to confront oppressive regimes," while also possessing the capability to conduct "surgical strike" missions in "hostile, denied, or politically sensitive environments to seize, destroy, capture, exploit, recover or damage designated targets, or influence threats." The report also refers to the balance between irregular warfare and surgical strike as the "New Special Operations Equilibrium," similar to ongoing operations currently being conducted in the Middle East against so-called Islamic State of Iraq and Syria (ISIS) militants: "SOF surgical strike capability, or the direct action role, offers policymakers and political leaders an attractive military option for difficult or complex situations. This surgical strike capability is a key instrument of national power, but it is not the only mission of SOF and not necessarily the sole option for government policymakers. Also, SOF must be capable of succeeding in their special warfare role on missions that may be carried out over long periods of time and in complex, often ambiguous, environments.
This, the report continues, includes the "execution of activities that involve a combination of lethal and non-lethal actions taken by a specially-trained and educated force that has a deep understanding of cultures and foreign language proficiency in small-unit tactics and the ability to build and fight alongside indigenous combat formations in a permissive, uncertain, or hostile environment," the report concludes.
Interoperability
Cooperation between partner nations is nothing new in the SOF environment. However, information has emerged regarding strategic cooperation between the US DoD and Russian Ministry of Defence (MoD). According to the Pentagon, intelligence has been shared with regards to locations of US Special Forces deployed on the ground in Syria, in order to prevent chances of 'Blue-on-Blue' situations during air and ground operations. The news represents a significant increase in cooperation between the DoD and MoD following the signing of a Memorandum of Understanding (MoU) in October 2015, designed to implement a series of air safety protocols for fast jet crews operating in the Syria/Iraq Area of Operation (AO).
Addressing the media on 20th February, DoD spokesperson, Peter Cook, described how the department had provided its Russian counterparts with the geolocation of US AOs, which he asserted was "outside the scope" of the aforementioned MoU. This cooperation will not only be limited to the threat of air strikes, with Russian Special Forces concurrently executing operations on the ground, sometimes in collaboration with Hezbollah insurgents supporting the regime of Bashir al-Assad, particularly in the vicinity of the northern Syrian city of Aleppo. Although the strategic location of US Special Forces remains highly classified, the chances of a Blue-on-Blue incident occurring during ground assaults, sometimes conducted in a congested and complicated urban environment, remain high.
Addressing the same audience as Mr. Cook, Lieutenant General Charles Brown, commander of the US Air Force (USAF) Central Command (CENTCOM), described how the 'general' location of US Special Forces had been disseminated to Russian command components, explaining: "The areas we've actually identified are areas we do have coalition SOF in Syria. So, it's not specific areas, but fairly broad areas, to maintain a level of safety for our forces that are there on the ground." On 27 November 2015, President Barak Obama highlighted how the US Special Operations Command (USSOCOM) would deploy an initial team of 50 operators to northern Iraq and Syria in order to "train, advise and assist" indigenous security forces against ISIS. This number has since been revised to comprise some 200 operators, with sources explaining to Armada that most force elements have been drawn from the US Joint Special Operations Command (JSOC).
Russian Spetsnaz units, under the control of the Komanda Spetsial'nikh Operatsiy (KSO) or Special Operations Command, are understood to be coordinating offensive action against ISIS fighters, in support of Russian ground attack aircraft which began conducting operations in the area on 30 September 2015. According to direction from President Vladimir Putin, Spetsnaz forces have been tasked with not only fighting ISIS but also, and quite controversially, combating the Free Syrian Army which is fighting the regime of President Bashar Assad, and considered more politically moderate than their ISIS counterparts. Whether cooperation is a two-way street has yet to be confirmed, although US defence sources informed Armada that the Russian MoD had provided some AOs including air bases.
Such interaction between US and Russian defence organisations has not been witnessed, certainly in an overt capacity, if at all ever and with the global security environment continuing to deteriorate with acts of Islamist inspired political violence, such as the 13 March attack by Islamist elements in Cote d'Ivoire, the future may well see increased collaboration between these various force elements.
Female Force
Elsewhere in the SOF community, the debate regarding the integration of women into SOF units continues. On 1 January 2016, rules forbidding women from undertaking combat roles within the USSOCOM were officially lifted following a policy change by the US DoD in 2013. The legislation change will open up more than 15500 previously-restricted positions to women across the Command although the concept, which has been officially backed by USSOCOM Commander, General Joseph Votel, continues to meet fierce resistance internally within the organisation.
According to a report published by the Rand Corporation, a think tank, on 3 December 2015, the elimination of the "Direct Ground Combat Definition and Assignment Rule" could have serious knock-on implications for the operational effectiveness of SOF teams with regards to "readiness, cohesion and morale: "Based on a survey of SOF personnel, opposition to opening SOF specialties to women is both deep and wide, with high levels of opposition across all SOF elements," the report reads: "The principal sources of this opposition are the belief that women do not have the physical and other capabilities to meet the demands of SOF specialties; the belief that the current high levels of cohesion and trust in units will suffer; and the importance that SOF personnel attach to maintaining high standards, coupled with deep concern that performance standards might be lowered to enable women to qualify." It continues that: "These survey results are supported and complemented by the results of focus group discussions with SOF personnel. These findings reflect SOF personnel's speculation, rather than actual experiences of SOF personnel. Similar concerns were voiced in prior integrations of excluded groups. These challenges are not insurmountable, and much depends on the implementation process," it adds: "The issue of establishing gender-neutral standards is a critical component of the successful integration of women into SOF." The authors describe "a framework for the SOF service components for establishing gender-neutral standards that builds on best practices applied to civilian organisations and federal agencies. The framework provides conceptual clarity and a set of unifying themes across the SOF service components," the report concludes.
According to the survey, more than 85 per cent of survey participants were against the integration of women into their own particular force elements, with representatives from US Naval Special Warfare, US Army Special Operations Command (USASOC) and US Air Force Special Operations Command (USAFSOC) taking part in the survey. Concerns centred around three paramount reasons, which included lowering of entry standards in order to accommodate women; erosion of unit cohesion; and inter-team conflict between unit members. However, on the positive side, approximately 25 per cent of soldiers surveyed admitted that women could be helpful when conducting "sensitive operations and communicating with local populations," with many other operators questioned suggested women could be used more in an attached role to SOF force elements. The report also described the implementation process of allowing women entry into USSOCOM positions as "critical to the long-term success" of the Command: "To ensure long-term viability, USSOCOM will need to put in place practices to promote the successful integration of qualified women. Valid, gender-neutral standards can facilitate integration. These concerns regarding mission effectiveness can be addressed by establishing and validating gender-neutral standards and implementing training programmes that prepare female candidates to meet those standards," the report suggests: "Targeted recruitment and the adequate preparation of female candidates are needed. Providing female candidates adequate preparation to meet gender-neutral standards could go a long way in enabling women to earn the respect and trust of their SOF teammates," it reads while describing how the integration process must continue to be monitored and assessed over time.
However the future pans out for women integrating into USSOCOM, a development path continues to be created for women in the wider international SOF community. In 2014, Norway's MoD opened up female enlistment into the Norwegian Special Operations Command, which at the time comprised force elements from the army's Forsvarets Spesialkommando (FSK/Special Commando Force) and the navy's Marinejegerkommandoen (MJK/Marine Commandos). The move was quickly followed on 1 January 2015 with the conscription of women into the wider Norwegian Armed Forces. On the back of this legislation, the Special Operations Command is currently developing an all-female unit, designated Jegertroppen or Hunter's Troop, Norwegian SOF sources explained to Armada: "This is a test project, but the experiences so far are very good. The project has also attracted a lot of attention from Norway's partners and allies," sources indicated while highlighting how Norwegian SOF continue to be engaged in operations across the conflict spectrum, ranging from conventional and irregular warfare through to peacekeeping, stabilisation and military assistance tasks.
TRIDENT JUNCTURE
Towards the end of 2015, NATO SOF and partner nations completed their largest multi-national exercise for a decade as part of the wider Exercise TRIDENT JUNCTURE. A total of ten NATO member states and additional partner nations supplied SOF teams to the exercise with participants including Belgium's Special Forces Regiment; Canada's Special Operations Forces Command (CANSOFCOM); the Czech Republic's 601st Special Forces Group (SFG); the Netherlands' Maritime Special Operations Forces (NL-MARSOF); Poland's GROM; Portugal's DAE Naval Special Forces; Slovenia's Special Operations Unit (SOU); Spain's Special Operations Command; the US Naval Special Warfare Unit 2 which includes SEAL (Sea, Air, Land) Teams 2, 4, 8 and 10; and non-NATO entity Finland's ETO Naval Special Operations unit.
Special operations serials were conducted concurrently with a larger, more conventional exercise involving land, air and maritime forces. The exercise was aimed at testing the capability of the NATO Response Force (NRF) which provides a high-readiness capability for the Alliance. The exercise ran between 3 October and 6 November 2015, with Commander of Joint Force Command Brunssum (JFCB), based in the Netherlands, General Hans Lothar Domröse explaining how Exercise TRIDENT JUNCTURE had confirmed the NRF's capability to deal with "general emerging security challenges," adding that: "TRIDENT JUNCTURE 2015 has been designed to ensure that our concepts and procedures will work in the event of a real crisis because our job is to always be prepared to defend the people, territory, and values of this Alliance," Gen Domröse articulated.
SOF sources explained to Armada how the major Training Objective (TO) for the exercise had been to improve interoperability between force elements, representative of demands being encountered in the Contemporary Operating Environment where multi-national force special operations teams sometimes operate under the command of the same Special Operations Task Group or Force. As chief of staff for the NRF Special Operations Component Command (SOCC), US Navy Commander Erick Peterson, explained to Armada: "This exercise saw a strong emphasis from the special operations forces to execute interoperability with the land, maritime and air components." Training serials were conducted in Italy, Spain and Portugal with NATO SOF units conducting irregular operations and COIN missions with additional emphasis on tasks in the maritime and littoral environment as well as Military Operations in Urban Terrain (MOUT). Maritime scenarios, executed under the command of a Special Operations Maritime Task Group (which comprised Finnish, Polish, Portuguese and US forces), included maritime interdiction operations; vessel boarding, search and seizure; reconnaissance, hostage rescue, personnel recovery and specialist insertion/extraction techniques including fast-rope rappelling. Additional training focused on explosive method of entry, close quarter combat, combat diving and beach surveillance missions.
COLD RESPONSE
As Armada's Special Operations Compendium went to press, NATO SOF units were also participating in Exercise COLD RESPONSE 2016, conducted in Norway between 19 February and 22 March. Conducted in tandem with the Norwegian Armed Forces, Exercise COLD RESPONSE is designed to enhance the cold weather operations capabilities of NATO SOF teams, particularly relevant in the current operating environment considering renewed interest in the Arctic Circle from Russia. NATO sources explained to Armada how Exercise COLD RESPONSE allowed "allied forces and our partner nations to aggregate the combined force in the event of a security crisis. "The logistical procedures required to bring these forces together, especially in a cold weather environment, take coordination, collaboration, and practice to implement successfully. Training alongside our Norwegian hosts, other allies, and international partners is an important step to ensuring security and stability in Europe," an official source added.
Referring to SOF training, it was added how the exercise also improves interoperability between the participating nations, enhancing access to a key strategic region within the European AO. Exercise COLD RESPONSE was conducted in the Trøndelag counties of Central Norway, comprising a total of 15000 soldiers from 14 member states including SOF force elements from Belgium's Special Forces Group, Canada's Special Operations Forces Command, Denmark's Special Operations Command, Finland's Special Operations Forces, France's Special Operations Command, Germany's KSK and SEK-M, Latvia's Special Tasks Unit, the Netherlands' Marine Special Operations Command, Poland's GROM, Spain's Special Operations Command, Sweden's Special Operations Group, US Special Operations Command, UK Special Forces and host nation Norway's FJS and MJK.
Training serials were designed to simulate operations in "extreme, cold and changing conditions," according to SOF sources associated with the exercise. Speaking to Armada, they described how Norway is "ideally suited for this kind of winter training and exercises like COLD RESPONSE give us the opportunity to test and confirm our plans and tactics … COLD RESPONSE also strengthens cooperation between military and civilian organisations, and military cooperation between the participating countries," the source added. Norwegian Special Forces were based at Bardufoss in Troms, along with force elements from USSOCOM, with particular emphasis being made to interoperability between allied nations operating in the northernmost Norwegian counties of Nordland, Troms and Finnmark. One representative from USSOCOM was reported to have explained to local media: "For us, this is about being more operational under these Arctic conditions. We need to learn from the experts."
Reinforcing demand for interoperability with other NATO members in the winter warfare environment, commander of Norwegian Special Forces, Nil Johan Holte added: "The more we train together, the better we become together." Training saw SOF units conducting maritime, littoral and ground-based operations, based around COIN and anti/counter-piracy missions with specific serials including vessel boarding and search operations, direct action and special reconnaissance.
Partnering
Meanwhile, partnering concepts of operation (CONOPs) continue to provide an effective means for NATO SOF to extend reach internationally. In February, the French MoD revealed it was in the process of assisting the Cameroon government to activate its first dedicated Special Forces unit, which according to defence sources, should reach an initial operating capability by the end of 2016. On 21 January, representatives from the French government provided the Cameroon unit with eleven Peugeot P4 All-Terrain Vehicles (ATVs) as well as weapons including Nexter AA52 7.62mm light machine guns, body armour, helmets and tactical radios to provide a basic tactical capability for force elements, worth a total of $537,368. To date, a total of 32 Cameroonian troops have been trained in irregular warfare, supported by France's Gabon-based 6th Marine Infantry Battalion. A second tranche of another 40 operators is currently in the middle of a training process with similar amounts of personnel set to undertake selection and continuation training once a year. According to the French MoD, training continues to be conducted at the Cameroonian National Armed Forces Training Centre in Ngaoundéré. To date, a limited special operations capability has been supporting the Cameroon government by way of the Rapid Reaction Force or Bataillon d'Intervention Rapide (BIR). Created in 2001, the single-battalion strength unit has continued to conduct COIN operations as part of homeland security operations including missions close to the border with Cameroon against Boko Haram Islamist insurgents. However, the new Special Forces unit is understood to comprise a smaller force element, also under the command of the Cameroonian armed forces.
FLINTLOCK 2016
Meanwhile, NATO SOF units completed the latest iteration of the Exercise FLINTLOCK training programme, designed to enhance the tactical and interoperable capabilities of partnering African Special Mission Units.
The latest exercise, which kicked off on 8 February in Senegal, was once again sponsored by the US Special Operations Command-Africa and comprised a total of 30 exercising states, not to mention participating nations providing directing staff. The FLINTLOCK training programme, which was first conducted in 2005, attracts troops from participating nations in the Trans-Sahara Counter-Terrorism Partnership, with additional support to the US Special Operations Command-Africa supplied by the African partner nation Special Operations Forces Commands. Last year's exercise was hosted by Chad.
This year's iteration was launched with an opening ceremony in Thies, Senegal, with exercise commanders describing how the exercise would focus on "developing capacity and collaboration amongst African security forces to protect civilian populations." US Army Brigadier General Donald Bolduc, Special Operations Command-Africa commander, explained at the opening ceremony how this year's exercise spanned several geographical locations across Senegal as well as training areas in neighbouring Mauritania. It is the third time Senegal has hosted the event since its inception.
Addressing SOF representatives at the opening ceremony, Brig. Gen. Bolduc announced: "FLINTLOCK is more than a military exercise, we are training together to increase our interoperability and collaboration to counter today's threats. FLINTLOCK contributes to strengthening security ties, promoting shared values and setting conditions for economic growth." In response, Senegalese Army chief of staff, Brig. Gen. Amadou Kane responded: "This ceremony that unites us today marks the official launch of this multinational exercise. We're meeting at a particularly crucial moment in the history of our continent and even more important our sub-regions … Now, even more than the past, the increase of terrorism is a major concern to all of our countries. This moment of apprehension and challenges is also a moment to decide a sole and unique choice for the future, react together to stand in the in the way of violent extremists," Brig. Gen. Kane continued.
A total of 1700 Special Forces cadres from 14 African countries will be trained in the exercise with directing staff being supplied by 19 separate SOF force elements from the US Special Operations Command and European members belonging to the NATO Special Operations Headquarters (NSHQ) in Belgium. Past participants have included Special Forces from Algeria, Burkina Faso, Chad, Mali, Mauritania, Morocco, Niger, Nigeria, Senegal, South Africa and Tunisia with training staff provided by Canada, Italy, France, Germany, the Netherlands, Spain, the UK and the US. This year's event will see directing staff drafted in from countries including the US Army Special Operations Command, UK Special Forces, Australia's Special Operations Command, Latvia's Special Tasks Unit, Germany's KSK, Romania and Poland's Special Operations Commands, again signifying the international drive behind optimising the interoperability and capability of partnering nations across Africa.
Tactics, Techniques and Procedures (TTPs) will be developed and practised in order to enhance interoperability and cooperation between regional and international security forces in a bid to combat political violence "across borders", exercise officials explained to Armada: "Each participating nation has a stake in the successful outcome of FLINTLOCK 2016, which will strengthen each nation's security forces," they stated. Training packages were conducted at the Thies military training base with additional locations including Podor, Bakel, Saint Louis as well as additional sites in Mauritania with a particular focus on information sharing, communications, first aid, logistics and civil affairs.
Exercising troops concentrated on direct action, special reconnaissance and military assistance capabilities as well as strong emphasis on COIN operations, in order to counter some of the most prevalent threats currently being combated across Africa. Additionally, troops were trained in maritime, littoral and riverine operations with emphasis on anti/counter-piracy, anti-smuggling and counter-narcotics operations including maritime interdiction and Visit, Board, Search and Seizure (VBSS) operations. Finally, commanders will be trained in how best to conduct tactical operations centres as well as headquarters operations.
Materiel
The New Year has also triggered somewhat of a resurgence in tactical ground vehicle procurement with Belgium, Canada, France and the US making significant decisions regarding acquisitions to this end. On 7 January, France's Direction Générale de l'Armement (DGA/General Armaments Directorate) procurement agency announced its intention to buy a total of 443 protected patrol vehicles from Renault Trucks Defence (RTD) as part of a $279.9 million deal. Vehicles are expected to replace a series of older platforms currently operated by French Special Forces in Africa, which continue to train, advise and assist indigenous partner nations as well as conduct their own organic COIN operations in the Central African Republic, Democratic Republic of Congo and Mali.
In November 2015, the French government announced it was to deploy a task force of approximately 300 cadres from across the Special Operations Command as part of a train, advise and assist operation to instruction SOF in Democratic Republic of Congo for COIN campaigns against the Ugandan Allied Democratic Forces. French special Forces also continue to work in collaboration with US Special Forces in hostage rescue operations in the Sahel, including an operation to this end conducted at the Radisson Blu hotel on 20 November 2015, following the capture of 170 hostages, 20 of whom were killed, during an attack on the hotel in Bamako, Mali, by Islamist guerillas.
New equipment is on the horizon for the French Special Operations Command which is to receive 241 lightweight variants of RTD's Sherpa series of vehicles, designated the Light Special Forces Vehicle (Véhicules Légers des Forces Spéciales); and a further 202 heavyweight variants, designated the Heavy Special Forces Vehicle (Véhicules Lourds des Forces Spéciales). These vehicles are expected to replace a series of older platforms including the Panhard Véhicule de Patrouille Spéciale (VPS) Special Forces Vehicles, ACMAT/RTD VLRA vehicles and Auverland/Panhard A3F platforms, currently operated by direct action specialists 1er Régiment de Parachutistes d'Infanterie de Marine (1st Marine Infantry Parachute Regiment) as well as the 13e Régiment de Dragons Parachutistes (13th Parachutist Dragoon Regiment), the 10th Air Parachute Commando unit; and FORFUSCO (Force Maritime des Fusiliers Marins et Commandos/Marine Fusiliers and Commando Maritime Force) elements.
According to the DGA, this procurement of vehicles will allow these various force elements to conduct more "demanding missions, such as intelligence or neutralisation actions in depth in hostile areas as discreetly as possible and aims to improve interoperability and performance level of the vehicles (used by the) army, navy and air force special forces." The DGA explained to Armada how French Special Forces will receive a first batch of 25 Light and Heavy Special Forces Vehicles in 2016 with the remaining units delivered to the units in stages until 2018. The Special Forces Vehicles (Light and Heavy) are based on RTD's four-wheel drive Sherpa Tactical Vehicles family, which have been designed for air mobility with transport aircraft including the Lockheed Martin C-130J Hercules and Airbus A400M Atlas turboprop freighters: "The Sherpa Light family of … tactical and light armoured vehicles is designed to provide light forces (infantry, paratroopers, marines, internal security) with the best mobility/payload compromise of its category. In addition, the Sherpa Light is multi-role and ready for being up-armoured with ballistic and mine kits. The Sherpa Light has already been adopted by NATO, France and other countries," a company spokesperson for RTD explained.
The Sherpa Special Forces Light vehicle is capable of carrying four personnel, with provision for a 360-degree field-of-view and arc-of-fire; particularly useful for the contemporary operating environment which sees Special Forces requiring high mobility as well as lethality for strike missions.
The vehicle also has an under belly ground clearance of 0.6 metres/m (1.9 feet/ft) and fording clearance of 1.5m (4.9ft), allowing it to transit across difficult terrain as is currently being encountered by French Special Forces teams deployed to Africa's Sahel.
With a gross vehicle weight comprising eight tons, the Sherpa Special Forces Light has the capability to carry a two ton payload across its 3.54m (11.6ft) wheelbase. However, the vehicle is more than two metres in width (2.3m/7.5ft) making it difficult to be carried internally onboard helicopters such as the Boeing CH-47F Chinook heavy-lift helicopter and Bell-Boeing CV/MV-22B Osprey tilt-rotor. The Sherpa has a maximum operational range of 100 kilometres/km (62.1 miles) with a top speed of 110 kilometres-per-hour (68.3 miles-per-hour). Defence sources explained to Armada how the vehicle could be fitted with a variety of machine guns and support weapon systems with options likely to include Nexter's MG 151 20mm cannon, 40mm automatic grenade launcher as well as smaller 12.7mm, 7.62mm and 5.56mm machine gun options.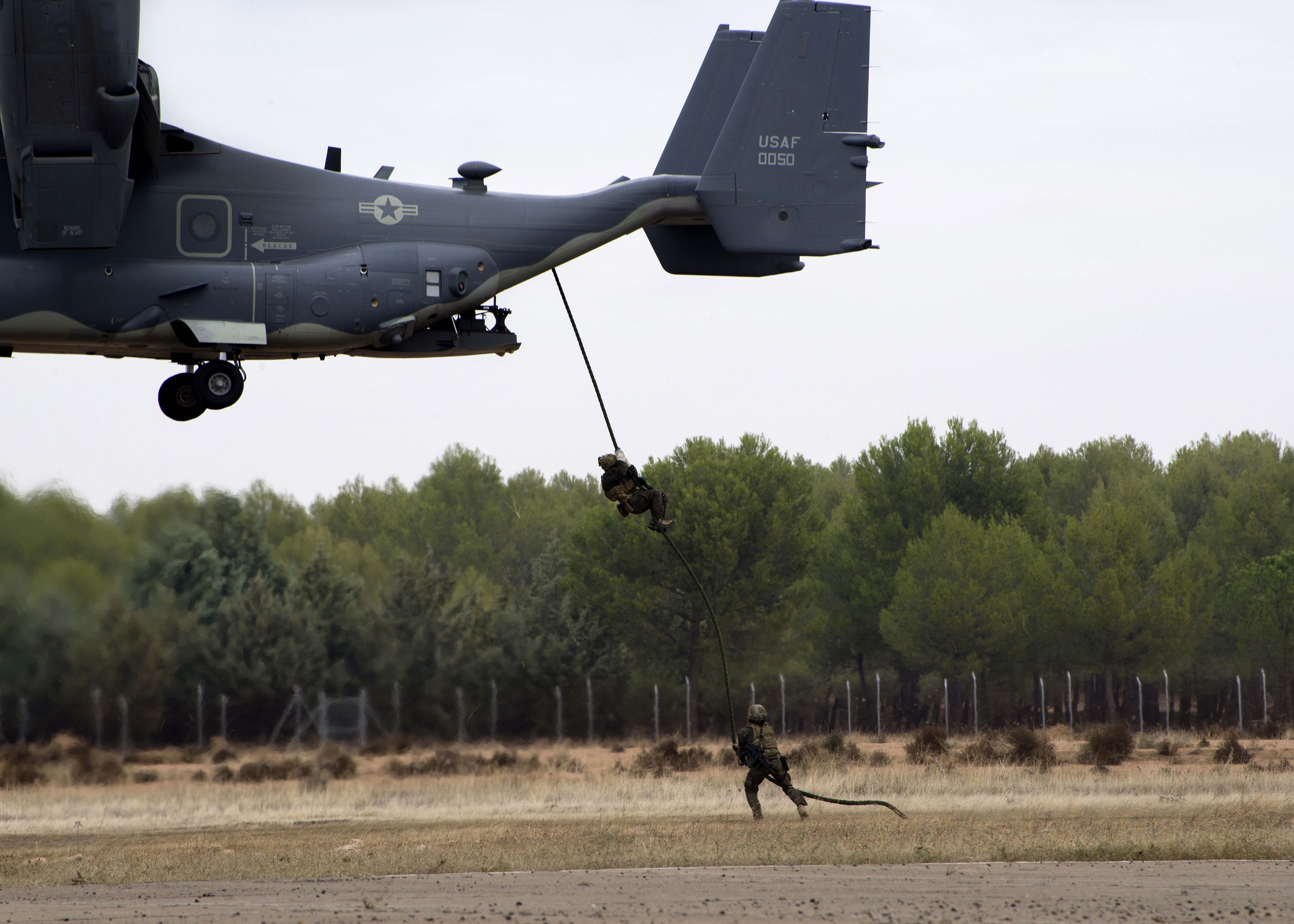 Meanwhile, the strategic nature of the Arctic Circle continues to be appreciated by Canada, Norway, Russia and the US, with Canada recently receiving sizeable funding for future procurement of equipment and technology over the next ten years. In 2015, the Canadian Special Operations Forces Command (CANSOFCOM), which comprises the specialist unit Joint Task Force 2 (JTF 2); the Canadian Special Operations Regiment (CSOR); 427 Special Operations Aviation Squadron (SOAS); and the Canadian Joint Incident Response Unit–Chemical, Biological, Radiological and Nuclear (CJIRU-CBRN), will receive nearly $76.8 million in equipment as well as an additional $192.2 million for the procurement of the Next Generation Fighting Vehicle (NGFV), Enhanced All Terrain Vehicle (EATV) and Ultra Light Combat Vehicle (ULCV).
Defence sources in Canada explained to Armada how the vehicle programmes are seen as an effort by the Canadian government to fulfil previous requirements originally planned as part of the Marginal Terrain Vehicle (MTV) which was cancelled in July 2014 due to funding issues. The MTV had been planned to provide CANSOFCOM with a winter warfare mobility capability for operations in the Arctic Circle, as a replacement for legacy BAE Systems' BV-206 All Terrain Vehicles (ATVs). CANSOFCOM is understood to have had plans to procure a total of 17 MTVs, with the additional capability for the vehicles to perform operations in more conventional environments including desert warfare. Remaining funds will also be spent on protection equipment including combat helmets and body armour, as well as command and control systems, communications and reconnaissance equipment, plus crew-served weapons as well as commercial-off-the-shelf, but upgraded, tactical vehicles.
Officials within CANSOFCOM explained to Armada how the NGFV programme would eventually replace older AM General High Mobility Multi Wheeled Vehicles (HMMMWVs), some of which are being operated by the Canadian Special Operations Regiment (CSOR) and JTF-2 in Iraq today, as force elements continue to train, assist and advise Kurdish guerrilla special mission units fighting ISIS. One such source explained how the NGFV capability would provide a "tactical multi-role vehicle (for) special operations-specific and unique tasks and roles," before adding: "The NGFV will procure a modern and diverse multi-role vehicle incorporating the prescribed equipment and weapons load, mobility, survivability of the crew and vehicle and sustainment inherently required in the execution of special operations tasks."
The NGFV is currently in a concept phase and a decision is expected later this year with regards to an official solicitation to industry with a Request for Information (RFI) and Request for Proposals (RFP). A contract for the programme, worth an undisclosed sum, is expected to be made in 2018 with CANSOFCOM force elements receiving the NGFV until 2025.
On 1 February, CANSOFCOM celebrated its 10th birthday having been founded to provide a "more integrated and effective (Canadian) military" in 2006, according to then chief of the defence staff, General Rick Hillier. A Canadian government spokesperson announced: "Ten years into its existence, CANSOFCOM has proven itself as an integral national capability. It has conducted operations domestically and around the world, particularly in combat theatres and countries at risk. Throughout the past decade its members have demonstrated a high level of professionalism and expertise: "Importantly, the Command has provided (the) Department of National Defence and the Government of Canada with a unique capability that is unmatched elsewhere in the Canadian Armed Forces or any other governmental department," the spokesperson concluded.
Meanwhile, CANSOFCOM requirements for lighter-weight air transportable options comprise the Enhanced All Terrain Vehicle (EATV) and Ultra Light Combat Vehicle (ULCV) requirements. To this end, CANSOFCOM is understood to have evaluated Polaris Defence's MRZR-2 and MRZR-4 all terrain vehicles which are capable of carrying two and four personnel respectively. Both vehicles have already been procured by USSOCOM as part of a $83 million contract for delivery over a five year period. Additionally, undisclosed NATO members in Europe are also purchasing variants of the vehicle.
The MRZR-4 comprises optional rearward facing seas and includes capability to house a NATO-standard litter for casualty evacuation as well as optional, anti-rattle mounting brackets for jerry cans and spare tyres. Additional specifications include a collapsible roll-cage allowing for transportation internally onboard a CV/MV-22B or CH-47F, a keyless ignition and electronic power steering. The vehicle also includes optional infrared lighting. Marketed as "transportable, agile and mobile," the MRZR-4 has a top speed of 96km/h (96mph). Its design allows troops to secure themselves in the vehicle prior to a tactical landing, allowing a rapid roll-off. This compares favourably to the vehicle being carried as an underslung load when the vehicle must first be securely grounded before being released from a helicopter before operators can land or rappel down to the vehicle before mounting and continuing their mission. The MRZR-4 has a maximum payload capacity of 680 kilograms/kgs (1496 pounds/lbs) and can carry four personnel, or a crew of two with a litter capacity of two casualties. Rear seats can be set to face forward or backwards, according to user preference. A rear setting would allow operators to either mount a support weapon or use their personal weapon to scan the ground behind the vehicle while mobile. The MRZR-2 variant features many of the same specifications as the MRZR-4 although this slightly smaller platform boasts a payload of 453kgs (996lbs) as opposed to MRZR-4's 680kgs.
According to Rich Haddad, Polaris Defense's General Manager, the vehicle provides an "ultralight mobility capability, in configurable platforms providing an ability to quickly prepare for missions even in the most extreme terrain." Vehicles can be used for special reconnaissance tasks as well as direct action missions with MRZR-2/4 variants capable of housing a variety of weapons ranging from 5.56mm light machine guns and 7.62mm medium machine guns through to automatic grenade launchers. Speaking to Armada, Polaris Defence' director of international business development, Doug Malikowski, described how the market for such tactical vehicles was continuing to grow within the SOF community, based on the Contemporary Operating Environment: "Technology is going to stay in this area but what we are looking at is maximising the amount of weight a vehicle can carry and we are taking a look at how much longer legs that vehicle can have because everybody wants to lighten the platform and have significant amounts of kits with them while having to refuel as little as possible," he explained.
Responding to such requirements, Polaris is to unveil two new vehicle variants of the MRZR-2/4 at the Special Operations Forces Industry Conference (SOFIC) in Tampa this May. No further details have been made available although Malikowski explained that improvements have been based upon customer feedback. Elsewhere, Polaris confirmed that the first tranche of Dagor vehicles has now been supplied to the Australian Special Forces with additional deliveries expected to run through to 2018. Additionally, an undisclosed number of Dagor vehicles have completed a six-month trial process with the United Arab Emirates' Special Forces in response to a requirement for a two ton vehicle capable of being transported by rotary- and fixed-wing aircraft.
Finally, Mr. Malikowski informed Armada how the company had signed up additional but undisclosed SOF customers in Central Africa and in the Asia-Pacific although he was unable to provide any further details. However, emphasising the tactical utility of such vehicles, he explained: "When SOF teams move, they can take these vehicles with them. That's the issue that's come up over the past few years with both US and allied Special forces looking to move personnel fairly quickly."
Meanwhile, the USSOCOM has now completed its Initial Trial and Evaluation phase for its Ground Mobility Vehicle (GMV) 1.1 programme. Speaking to Armada, Mike Iacobucci, business development director for lightweight tactical vehicle programmes at General Dynamics Ordnance Tactical Systems (GDOTS), described how the evaluation phase was completed at the start of 2016 following tests at the Nevada Automotive Test Centre and Aberdeen Test Centre, Maryland on the East Coast. Tests were overseen by the US Army Special Operations Command. Centred around GDOTS' Flyer 72 vehicle, the GMV 1.1 test programme unearthed approximately 70 issues regarding the operation of the vehicle by US Special Forces although the company is already working through this list of modifications. Major alterations include modifications of the hood to allow for improved air intake as well as modifications to the turret assembly for the stowage of ammunition boxes.
In total, USSOCOM has a requirement for 1300 vehicles although 650 have been funded to date. Initial deliveries of the vehicle took place on 27th and 28th March with a total of 100 vehicles expected to be delivered to the USSOCOM over the course of 2016. "Our goal is to get the capability more broadly into the hands of operators across the SOF community in order to provide feedback as to modifications and design recommendations," Mr. Malikowski said. Vehicles will be operated by various parts of USSOCOM including US Army Special Forces Groups, the 75th Ranger Regiment, US Marine Special Operations Command, Air Force Special Operations Command and US Navy SEALs: "Right now, the GMV 1.1 comprises an 80 percent solution but all the services have specific requirements for their vehicles and designs. We are trying to accommodate that and difference in opinions as to how they want the vehicle to react. It's a challenge but shows the modular nature of vehicle. We have done a good job getting user feedback." Internationally, a Flyer 72 continues to be evaluated by the UK MoD as well as an undisclosed NATO country in Europe which is set to receive a number of vehicles as part of a $5.6 million Foreign Military Sale contract: "This will benefit other NATO countries interested in this particular vehicle type," Mr. Malikowski added.
Referring to another GDOTS SOF programme, he continued to inform Armada how the USSOCOM Internally Transportable Vehicle (ITV) programme remained on contract although the US Air Force Special Operations Command is awaiting the confirmation of funding to procure an additional seven vehicles beyond the three already purchased. The ITV, based on the GDOTS Flyer 60, can be transported inside a CV/MV-22B, with a capacity to carry four personnel. According to Mr. Malikowski, key mobility themes for SOF organisations include interoperability and "overcoming the tyranny of distance," he explained: "Most places where enemy forces are operating are much further away and on purpose in some cases, so in order to get our (SOF) folks out there we need the ITV capability when an aircraft hits the ground. Offset by some distance, this allows teams to rapidly move to a point on the ground where the enemy forces are and employ special operators. That's the US model but it's safe to say, wherever the US want to employ SOF, they will want to do it with host nation SOF," he added.
Belgium's Special Forces Group (SFG) is also set to receive new vehicles following an announcement on 19 January to acquire 108 Jankel Group Fox Rapid Reaction Vehicles. The Fox Long Range Patrol Vehicle (LRPV), according to the Jankel Group, comprises a "militarised" Toyota Land Cruiser 79-Series chassis with upgraded engine power, an improved payload, better braking efficiency and mobility. As a company spokesperson explained: "In today's ever changing world, tactical vehicles need to be able to fulfil a variety of roles in order to offer the most cost effective capability. The Fox responds to this need, designed to provide leading weight carrying capacity, alongside affordability, high mobility and operational versatility." The Fox can be reconfigured to fulfil a wide range of special missions including: "Rapid reaction, light strike, long range patrol, light/border patrol, recovery, surveillance and cargo/personnel transport. It is an adaptable vehicle that can be built to your chosen specification for an identified purpose with modular zoned protection as required. For example, the Fox Rapid Reaction variant has an ultra-high payload and fast action retractable weapon mounts, while our Long Range Patrol version includes an expansive crew area, generous fuel capacity and additional water and provisions storage," the spokesperson continued. "Upgrades are undertaken on the base vehicle to improve the power, electrics and payload. The tubular superstructure is mounted on the vehicle chassis providing a sturdy firing platform and mounting points for further equipment," they concluded.
The vehicle has a maximum range of 1200km (745 miles) and can have its armour protection enhanced with Jankel's MAPIK (Modular Armour Protection Installation Kit). The vehicle can also be internally transported using a variety of aircraft such as the A400M, C-130J and CH-47F. Finally, the Fox has a maximum weight of 4.2 tonnes and maximum payload capacity of 1.4 tonnes. It can also be fitted with 5.56mm light machine guns; 7.62mm medium machine guns; .50-cal heavy machine guns; and 40mm automatic grenade launchers.
The SFG, meanwhile, comprises a tri-service SOF formation, which can support Belgium's Combined Arms Tasks Groups on expeditionary warfare. The unit is based at Heverlee in central Belgium, with force elements specialising in land, air and sea operations. Defence sources suggested to Armada how SFG Combat Teams are likely to use the Fox vehicles for special reconnaissance, direct action and military assistance operations including train, assist and advise initiatives in Africa as part of the US Special Operations Command-Africa sponsored Exercise FLINTLOOK (see above). Referring to such lethal mobility, one SFG source explained to Armada: "Today is all about counterinsurgency irregular warfare: Small groups that fight each other in the cities in the conflict area, there is no stable government anymore and combatants no longer wear a recognisable uniform. The enemy is difficult to identify and they are heavily armed fighters, entrenching themselves in buildings where women and children can stay. You cannot just bombard an entire neighbourhood, because the collateral damage is incalculable," they added.
Elsewhere in the mobility environment, the US Special Operations Command updated a solicitation on 16 January for the procurement of Non-Standard Commercial Vehicles (NSCVs), routinely used by special operations teams to conduct more discreet and covert mission sets including close protection, special reconnaissance, and support and influence tasks. NSCVs allow teams to naturally blend into surrounding areas, with operators sometimes disguised in local dress and make-up in order to survive a 'first look' by inquisitive onlookers. The solicitation includes the acquisition of 'civilian type' vehicles in armoured and non-armoured configurations with a series of upgrades including brakes, suspension, chassis reinforcements as well as infrared lights and the ability to black out conventional lights; the latter of which can be used for covert insertion and extraction of operators. USSOCOM sources explained to Armada how the organisation was planning to purchase predominantly Toyota Land Cruiser variants including Hilux Trucks and 76-, 78-, 79- and 200-series models. Additionally, the Command will also acquire a number of Ford Ranger trucks.
Lethality
Despite a plethora of new variations of weapon systems on display at the SHOT Show in Las Vegas, between 19 and 22 January, drastic changes in the utility of small arms remain few and far between although there has been some movement with certain SOF organisations purchasing new weapons. The most recent highlights saw Finnish Defence Force (FDF) Special Forces select FN Herstal's Special Operations Combat Assault Rifle-Light (SCAR-L) in February 2015. Retaining the standard NATO calibre of 5.56mm x 45mm, operators from the Utti Jaegar Regiment and ETO Naval Special Warfare Unit will now operate the weapon system when conducting direct action, COIN and hostage rescue operations. However, it appears the Finnish Special Forces are yet to commit to the SCAR-Heavy (SCAR-H) variant which also fires a standard NATO 7.62mm x 51mm round. In the meantime, operators will have access to the SAKO RK-95-TP 7.62mm x 39mm weapon for enhanced lethality during operations.
Elsewhere, Sig Sauer's MCX assault rifle continues to be assessed by a few undisclosed SOF units worldwide, including force elements from the USSOCOM. The modular weapon, one of the first to feature an integrated suppressor, is available in 5.56mm, 7.62mm and .300 Blackout AAC calibre configurations. Over recent years, suppressors have become signature equipment for special operations units seeking small arms to reduce noise, recoil and muzzle flash while conducting military operations in urban terrain. More traditional suppressors attached to the muzzle of an assault rifle have tended to extend the length and profile of a weapon, sometimes making it slightly more cumbersome for more covert operations including close protection and mobility-based operations.
The MCX comprises a gas operated mechanism with an operator capable of making calibre changes in the field, according to manufacturer Sig Sauer with company literature explaining: "The MCX stands as the first rifle built to be (suppressed( from the ground up. It also accepts a broad array of accessories, enabling you to build a complete weapon system for any scenario or environment."
TALOS
Meanwhile, the USSOCOM Tactical Light Assault Operator Suit (TALOS) programme continues to progress with the Command's Programme Executive Office for Special Reconnaissance, Surveillance and Exploitation (PEO-SRSE) announcing on 17 February, a next phase to prove technology in the areas of command and control. The aim of the five-year TALOS concept, which is due to unveil a Technology Demonstrator in 2018, is to provide maximum protection, lethality, mobility and connectivity to SOF cadres, particularly in regards to direct action operations in congested environments such as urban terrain.
The TALOS programme was launched in 2013 by former USSOCOM Commander, Admiral Bill McRaven, who was unhappy at the number of casualties and fatalities inflicted upon his forces following years of high-tempo kinetic operations in Afghanistan and Iraq. To date, USSOCOM's Joint Acquisition Task Force (JATF) has conducted tests of a prototype to prove the integration of a mechanised exoskeleton and weight-supporting technology, with liquid body armour solutions, a centralised power hub and maxillofacial-protected combat helmets with head-up display. The programme's next step seeks to identify "several specific technology areas of interest to deliver asymmetric (advantages) to … SOF," USSOCOM documents explain. The programme office has called for the drafting of White Papers regarding areas of interest including Tagging, Tracking and Locating (TTL) technology; biometrics and forensics systems; Signals Intelligence (SIGINT); Geographic Intelligence (GEOINT) and Imagery Intelligence (IMINT) exploitation tools; and low-visibility communications systems. TTL technologies comprise Global Positioning System (GPS) and non-GPS tagging systems for operations in conventional and disadvantaged areas of operation such as urban, maritime, jungle and subterranean environments.
The USSOCOM is particularly interested in solutions which can reduce existing systems into smaller sizes with reduced weight and power requirements. In the area of biometrics, the JATF is seeking technologies to "collect, analyse and distribute various physical parameters that can be used to identify personnel," official documents revealed. USSOCOM's aim is to integrate a modular solution on board combat helmets capable of identifying high value targets at undisclosed ranges when conducting arrest and interdiction operations: "There is particular interest in technologies with a small form factor that provide the capability to rapidly identify personnel (in less than two minutes), reduce false alarm rates and/or offer novel approaches at short to long distances in all environmental conditions," USSOCOM documents added. Technologies of interest to this end include facial and iris capturing technology as well as processing, exploitation and disseminating technology allowing for matching against databases as well as a "rapid and portable" DNA (Deoxyribonucleic Acid) collection system. In the area of forensics, the JATF is seeking a product line for the collection and processing of "physical and electronic information obtained from target locations either forward or at an Exploitation Analysis Centre (a deployable laboratory-like shelter)."
According to official documentation, USSOCOM has a short-term requirement to "process media devices on or near target locations and obtain as much information as possible in 30 minutes or less". with a particular focus on the identification and classification of chemical weapons. Such technology is routinely used by SOF units as part of Sensitive Site Exploitation (SSE) operations, generally conducted once a compound or building associated with a High Value Target (HVT) has been dominated and controlled by assaulting special operations teams. Intelligence generated at such a location, when combined with tactical questioning of HVTs and associated personnel can often lead to the generation of follow-on missions, sometimes in the immediate aftermath of a particular mission.
Typically, SSE operations are conducted by SOF operators in assault teams hence the reason why the NATO Special Operations Headquarters continues to provide SSE courses to members of the community. However, should a commander deem it necessary, forensics specialists can be attached to special operations teams for the more efficient exploitation of a target. Forensic requirements include the capture of suitable imagery of target devices; location and extraction of Personal Identifying Information (PII) including names, addresses, telephone numbers, e-mail addresses, chat user names, social media user names for comparison with a centralised database; extraction of documents, images, e-mail, calendar entries, messaging tools, and social media files, user-configuration settings and memory device characteristics. Furthermore, technology must be capable of identifying software used by HVTs to encrypt, conceal or delete information as well as an ability to extract and recover deleted messages. The device should be able to save all captured data in the event of an interruption such as a rapid disconnection, should forces performing an SSE have to leave the scene quickly.
With regards to SIGINT, the TALOS JATF is seeking a system to intercept and pinpoint Radio Frequency (RF) communications across land, sea and air environments. Technology to be considered includes specialised waveforms integrated into readily programmable and reconfigurable tactical radios and RF sensing receivers. Requirements call for algorithms capable of detecting, classifying and exploiting SIGINT in near real-time, providing RF-based geo-location and direction-finding signal processing. A glimpse into the future in this regard can be seen with Epic Solutions of Illinois' Skylight Multi-Technology Cellular Scanner. This product is a pocket-sized cellular scanner which is easy to use thanks to its Android application architecture which can display its survey results using the Google Earth 'app'. The Skylight performs real-time analysis to survey and analyse RF usage in a particular locale. It can also provide analysis of network coverage and the quality of service, while logging and exporting survey information to other users. Effectively, Skylight places SIGINT directly into the hands of the user which could prove useful to SOF cadres now and in the future.
Industry will be given until 31 December 2016 to supply the JATF with White Papers on the relative subject areas. Meanwhile, the global SOF community continues to play very close attention to the TALOS capability with 2018's technology demonstration potentially set to revolutionise TTPs currently utilised by such forces during MOUT.
Conclusion
On 23 February, the Global SOF Foundation met for its annual symposium, highlighting the strategic importance of such force elements in the contemporary and future operating environment. With speakers including former USSOCOM Commander William McRaven and Deputy SACEUR (Supreme Allied Commander Europe) General Sir Adrian Bradshaw, delegates heard how 2015 saw a "persistent and expanded threat from non-state actors."
Looking ahead to 2016, the Foundation described how it would foresee increased utilisation of SOF internationally, with the provision of the "most capable and affordable instruments in protecting security in a time when adversaries remain prolific and threats extend past national borders." The next year will be a busy one for the international SOF community and with barriers to entry now lifted allowing the inclusion of women into many forces, the utilisation of SOF looks set to only increase.
by Andrew White