Command and Control (C2) technology continues to dominate current operations with ever-increasing demands placed on airborne, maritime and land-based systems in support of dismounted users. Industry is stepping up to the challenge.
The C2 market is witnessing trends driven by the desire for improvements in size and weight with everything from communications and Electronic Warfare (EW) through to biometrics and blue force tracking capabilities downsized to the lowest tactical level. International efforts continue to be led by USSOCOM (US Special Operations Command) which is currently pursuing two major programmes to do precisely this for Special Forces operatives, with obvious implications for conventional unit soldiers in the near to medium term.
Radios
USSOCOM's SOF Tactical Communications (STC) programme was first initiated in May 2014 to provide tactical Handheld (HH), Next Generation Man Pack (NGMP) and Vehicle Mounted (VM) capabilities to conditions conducting missions in austere conditions and at range. According to defence sources associated with USSOCOM, the effort is aimed at providing an integrated communications and reconnaissance capability down to the lowest tactical level of the Special Forces operative. The programme will have significant implications for more conventional units once the technology is established with Special Forces.
The standard footprint radios will encompass a smartphone/tablet End User Device (EUD) and handheld tactical communications device allowing soldiers to achieve Line of Sight (LOS), Beyond LOS and MANET communications as well as the capacity to send and receive Full Motion video (FMV), EW and Signals Intelligence (SIGINT) data. On 29 September 2015, Harris was awarded a $390 million contract to deliver the STC HH phase of the programme having beaten competition from Thales, the latter of which has since disputed the contract award.
Speaking to Armada, a Harris Corporation spokesperson explained how the company's solution would comprise a derivative of its Falcon-III series of tactical radios. The STC HH will be made in several form factors but both will include a requirement for concurrent two-channel communications in wide bands and narrow bands. The radios will also feature Integrated Selective Availability Anti-Spoofing Module GPS receivers. A spokesperson said, "The Harris STC handheld radio can operate in the harshest environments and meets rigorous requirements for small, lightweight, multiband, multi-function, multi-mission tactical radios. It can be upgraded easily and has built-in backward interoperability to communicate over legacy networks." 
MOUT
The STC HH is also being configured for optimised utility for Military Operations in Urban Terrain (MOUT) as well as maritime warfare, the latter of which requires the radio system to be capable of being submerged in up to 20 metres/m (65 feet/ft) of saline water for a period more than two hours. According to USSOCOM's solicitation, it must also comprise the ability to update waveforms in line with contemporary Software Defined Radios (SDRs), thereby allowing the STC HH to be re-roled as necessary dependent upon mission requirements. Waveforms to be carried by the radio includes Harris' Adaptive Networking Wideband Waveform-C, Soldier TDMA (Time Division, Multiple Access) Networking Waveform, the Mid-Tier TDMA Networking Waveform, Soldier Radio Waveform and the Wideband Networking Waveform (WNW), the latter of the two also currently entering service with the US armed forces.
The STC NGMP solicitation meanwhile, published a Request For Information on 10 June 2015, calling for "legacy single-channel narrow-band Type-1 encrypted LOS/BLOS communications, AES and Type-1 encrypted LOS wide-band MANET waveforms, and an ability to receive and distribute Type-1 encrypted video, imagery and telemetry from SOF-unique (reconnaissance) assets as well as the ability to cross band waveforms from one channel to the other." The solicitation explained how the STC NGMP should include an EUD capable of allowing operators to send and receive high definition FMV data; situational awareness, C2 and battle management information, plus voice and data transmission. Harris and Thales are both also understood to be bidding for this second phase of the STC programme which is expected to be fielded in 2018 and beyond.
Furthermore, USSOCOM's TALOS (Tactical Assault Light Operation Suit) programme is seeking the integration of C2 technology down to the lowest level with its latest solicitation, presented to industry on 2 March, outlining requirements for wearable sensors typically seen onboard larger tactical ground vehicles, maritime vessels and even fixed wing aircraft. Systems highlighted include tagging, tracking and location systems; biometrics and forensics data gathering tools; Geospatial-Intelligence; Imagery Intelligence; SIGINT and low visibility communications capabilities.
More specifically, this latter requirement includes demand for MANET and over-the-horizon communications; high bandwidth data and information management, C2, advanced signature management, precision moving target geo-location, cursor-on-target head-up display; and all-source fusion and distribution of data across the battlefield. Solutions are expected to run on small, high energy power sources with an ability to update using radio waveforms while providing low probability of interception and detection, the solicitation reads.
Enhancing Vision
Referring to the integrated head-up display for TALOS, USSOCOM officials explained to Armada how such capabilities were traditionally only ever accessible to Tactical Operations Centres (TOCs) and larger EUDs such as ruggedised laptops, tablets and smartphones. Additionally, officials described requirements arising from the contemporary operating environment, where "current tactics, techniques and procedures depend heavily on equipment that can be jammed or spoofed to prevent the device from acquiring GPS data". "USSOCOM seeks to develop tactical communications that use difficult-to-detect RF (Radio Frequency) waveforms that still can move large amounts of data in the battlespace. Research results of systems that involve the interaction of RF and optical parts of the spectrum would have a direct correlation to antenna systems (wireless and arrays) and potentially provide performance improvements and decrease the Size, Weight and Power (SWAP) demands for integrated systems," USSOCOM officials asserted.
They added, "USSOCOM is interested in advanced technologies which provide multi-spectral signature management for personnel and vehicles while minimising the SWAP and operational burdens on the operator. The preference is for technologies that can be integrated into existing uniforms and vehicles without impacting their operational performance."
Elsewhere in the C2 domain, Harris continues to roll out its Night Vision Goggles (NVG) designed to significantly enhance more traditional Image Intensification (I2) viewing devices with fused I2 and Thermal Imaging (TI) capabilities as well as integrated Augmented Reality (AR) software. So far, the company has been contracted to deliver a total of 12000 variants across its Tactical Mobility NVG (TMNVG) family of products which includes the AN/PSQ-20A Spiral Enhanced NVG (9000 of which have been delivered to the US Army), TMNVG (5000 of which have so far been supplied to the Italian Army's Combato Futuro soldier modernisation programme) and TMNVG Fused products, which are currently being demonstrated to potential customers across the US and 'Five Eyes' partner nations, namely Australia, Canada, New Zealand and the UK.
Systems, with the exception of the TMNVG (which currently comprises purely an I2 sight picture), are capable of providing soldiers with a fused I2 and TI view overlaid onto a real-world view. According to Harris' Eric Garris, business development manager at the company, the TMNVG Fused product represents the latest state-of-the-art technology which will soon be made available in monocular and binocular configurations. Featuring the company own i-Aware software, soldiers wearing the TMNVG Fused variant will be able to receive and disseminate reconnaissance data including C2 information, FMV from supporting air assets, blue and red force tracking, navigational information via GPS coordinates and map overlays, target acquisition information and instant chat messages. Information will be connected to the Jagwire EUD which features USB (Universal Serial Bus) connection ports. TMNVG Fused systems can be networked to tactical radios such as Harris' AN/PRC-152 on the battlefield.
A first tranche of 100 TMNVG Fused models is due to be delivered to an anonymous NATO country for fielding with rapid reaction forces, although Mr. Garris was unable to provide any further details.
It also emerged that the first TM-NVG with AR integrated capabilities would be made available to the international market in 2017 and onwards. According to Mr. Garris, the technology continues to be developed following its proof-of-concept in 2015.
Finally, TMNVG variants will also soon feature a WiFi capability allowing for assault team members to swap reconnaissance and SA data within a ten metre (32ft) bubble, similar to requirements for the USSOCOM's TALOS programme. Such capacity, for example, would allow assault teams to share targeting data ahead of a breach into a building or compound as part of an arrest operation to capture High Value Targets (HVTs).
Mr. Garris explained to Armada how a low energy RF signal could achieve this with a low probability of intercept. Furthermore, Harris has revealed plans to take this a stage further with the design of an Ultra Wide Band (UWB) signal, providing a larger bubble for data dissemination as well as a reduction in wires carried by a soldier, which can present what is known as a "snag hazard" when working in congested and built up areas. Mr. Garris explained, "Running wireless connectors gives you greater flexibilty without snag hazard. as well as expanding the potential number of sensors carried on a soldier, such as the integration of commercial bluetooth for biometrics … At the next level, the UWB, provides a much greater bandwidth for data transfer of high resolution sensors and greater rate and speed of data transmissions, integration of weapons sights and goggles information fused together," he concluded.
The Wall
Today's emphasis on MOUT and COIN operations is perfectly summarised by specialist equipment including Camero's See-Through-Wall technology, which provides soldiers with a capability to observe activities within an enclosed room before breaching. Currently, Camero supplies a number of undisclosed Special Operations units worldwide with its Xaver product line which includes its 100, 400 and 800 series models. However, the company is seeking to extend the availability of the product to more conventional forces particularly to assist urban warfare.
Speaking to Armada, company officials explained, "We are trying to implement this technology into larger conventional military formations and beyond SOF. So we are working on something to detect objects up to 70m (229ft) away but remain unsure as to whether it will be vehicle-mounted … The World will take time to understand this technology and for a soldier to change TTPs will take years. But Xaver will become bigger and change capabilities in the urban environment. Commanders want speed and this technology is all about thinking quickly," the spokesperson added.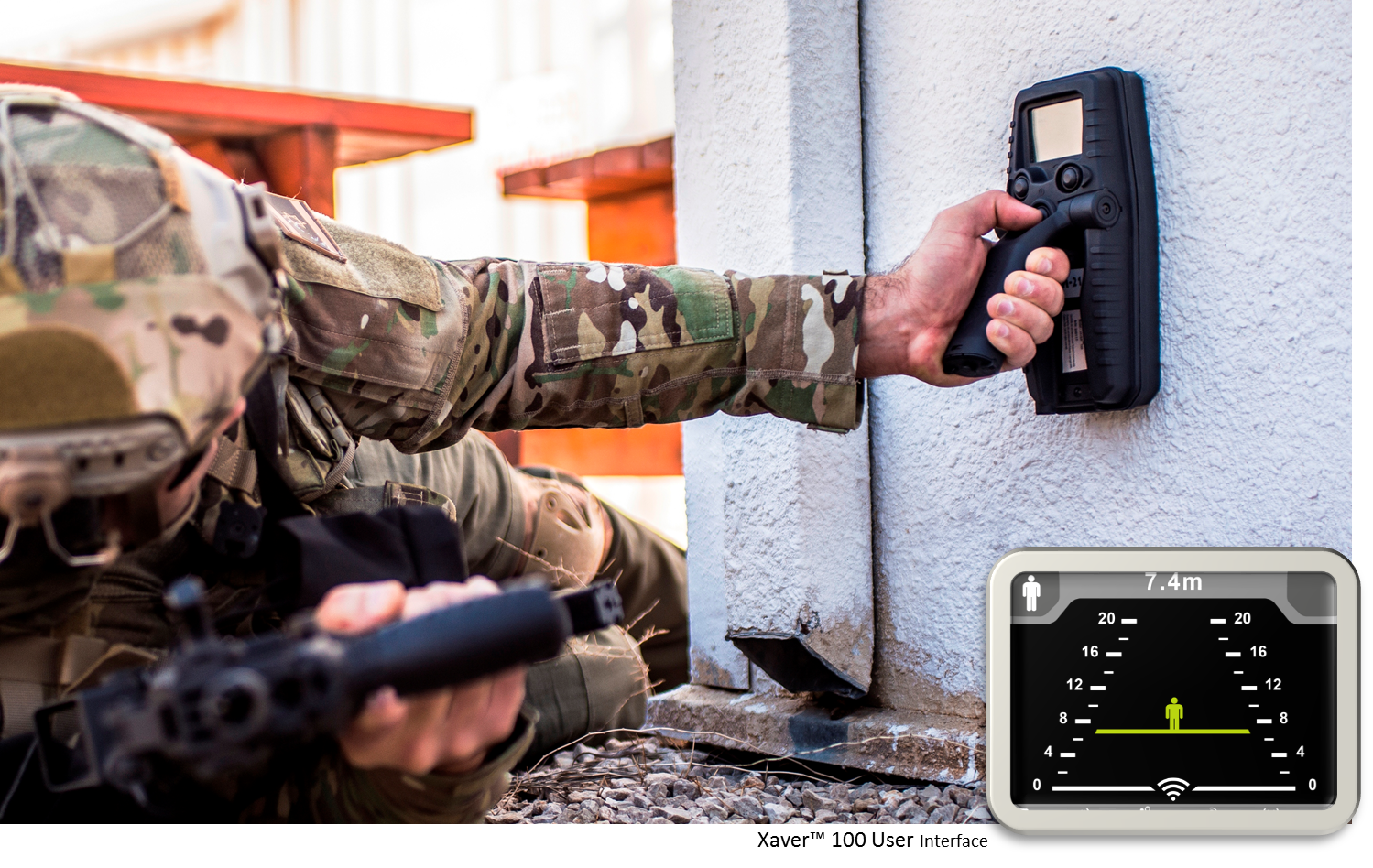 The technology is already in use with the Israel Defence Forces, elements of which rely upon the technology to penetrate walls made of cement, brick, plaster, concrete and drywall up to 850mm in thickness. It takes the various systems up to ten seconds to provide an operator with the Situation Awareness required as a "Go/No Go" method of entry into a building, by identifying enemy and hostage movement within a room.
Similar to its larger counterparts, the Xaver 100 comprises a handheld device operating in the 3GHz to 10GHz radio frequency range. Relying upon Micro Power Ultra Wide Band pulsed radar sensors, the Xaver 100 has a small size which provides an easily-portable solution able to be carried in a backpack and powered by a pair of AA batteries. The unit can also be remotely-operated with a wireless capability at ranges up to 100m (328ft), with an operator using an EUD to monitor activity.
Providing a slightly heavier See-Through-Wall capability is the Xaver 400 which allows an operator to view a three-dimensional and more detailed view of a room. Camero officials refer to the system as a "quick tactical decision-making tool for urban operations," providing not only information regarding enemy combatants and hostages, but also their movements in the room and any objects which could hinder assaulting troops. The Xaver 400 comprises an all up weight of 3.2 kilograms/kgs (seven pounds/lbs).
The largest variants within the family is the Xaver 800 which has been designed for "mission-critical, accurate real-time information on live and static objects from behind solid walls or barriers including presence of life in the room, number of people and their location inside a room, tracking of target movement patterns, target height and orientation, and room layout, including dimensions and major infrastructure elements," Camero officials described to Armada.
Described as a "full three-dimensional (reconnaissance) device", the system comprises an all-up weight of 14.5kgs (31.9lbs), and the platform is still capable of being carried onto a target by an (Explosive) Method of Entry team. Finally, Camero explained to Armada how a series of technology enhancements were in progress to optimise the utility of Xaver products across the evolving battlefield with specific areas of interest including reduction in the generation of false alarms and increased range. However, it was highlighted that such enhanced capability, particularly regarding extended range, would involve significant weight and size increases. Sources suggested to Armada that such increases might not be satisfactory for armed forces striving to achieve SWAP reductions across the battlefield for dismounted soldiers, already weighed down with large amounts of kit and equipment.
by Andrew White