As attention continues to focus on current special forces operations in the Middle East to counter the Islamic State of Iraq and Syria (ISIS), the international special operations community is being forced to prepare for contingency operations across a much wider spread of environments.
According to defence sources located within the NATO (North Atlantic Treaty Organisation) Special Operations Headquarters (NSHQ), such developments require commands to not only plan, prepare for and execute direct action, special reconnaissance and military assistance operations in relevant theatres but also to maintain the skills associated with more diverse environments including jungle warfare and cold weather operations.
As one source explained to Armada, these Areas of Interest (AOIs) require not only the correct materiel and equipment but also mature and rehearsed Concepts of Operation (CONOPS) and Tactics, Techniques and Procedures (TTPs): "Take Cold Weather Operations (CWOs) for example," the source stated: "For a special forces unit to maintain currency in order to respond effectively to a task, it must keep on top of delivering specialist training to forces over the same annual or bi-annual training cycle which demands it to be operationally ready to deploy for counter-insurgency missions in the Middle East. This puts enormous strain on commanders to divide up resources and time for training, rest and recuperation as well as operations."
Arctic Focus
CWOs remain a sensitive subject for the international special forces community, which continues to work hard globally to counter political violence as part of their domestic responsibilities as well as expeditionary missions, as is the case with Operation INHERENT RESOLVE, the US-led initiative to counter ISIS in northern Iraq and Syria. According to the US Joint Special Operations University's (JSOU's) Special Operations Research Topics 2017 publication, the harvesting and consumption of energy will significantly alter the global security environment in the near future, posing difficult questions for armed forces seeking to employ SOF components across the Arctic Circle and Antarctica:
"Will rising energy consumption in emerging nations impact the strategic landscape?" the publication asked: "Continued growing global demand for resources strains current distribution capabilities and depletes known reserves. Other changes in the energy and natural resources strategic environment may also impact the international order, perpetuating old struggles and possibly conflict among a new set of global actors," a JSOU spokesperson explained to Armada.
Oil exploration across the Arctic Circle, for example, has seen significant investment injected into the relevant special forces commands of Canada, Norway, Russia, Sweden and the US, as they seek to assert influence across this region. A report published by the US Geological Survey published in 2009 estimated that there is a 95 percent probability that up to 44 billion barrels of oil, and 770 trillion cubic metres (27.1 quadrillion cubic feet) of natural gas is beneath the Arctic. On 25th May 2016, the Russian Ministry of Defence (MOD) revealed plans to acquire a fleet of five Russian Helicopters/Ulan-Ude Mi-8AMTSh-Va Terminator medium-lift utility helicopters during this year, specially designed to enable special forces operations in the Arctic environment as well as other CWOs. According to company officials, the Mi-8AMTSh-Va is capable of being operated in low temperatures down to -40 degrees Celsius (-40 degrees Fahrenheit) as well as low light conditions, making it suitable for the covert insertion and extraction of Russia's KSO Special Operations Command or KSO. With the capability to travel up to 701 nautical miles (1300 kilometres) without refueling, according to media reports, the Mi-8AMTSh-Va retains the capacity to carry up to 36 personnel.
The news coincides with the Russian MOD's decision on 6th January 2017 to stand up multiple Special Operations Aviation Commands to support each of the country's geographic military districts (Western, Northern, Southern, Central and Eastern). Designed to initially support GRU Spetsnaz (Special Purpose) Brigades with Mi-8AMTSh-V and Mi-8MTV-5 helicopters, confidential sources explained to Armada how it remained unclear as to whether the incoming Mi-8AMTSh-Va arctic helicopters would be included in the published orders of battle for these commands.
Similarly, Russian special forces have been evaluating parachute technology for CWOs in the Arctic Circle. During an undisclosed period in 2016, sources explained to Armada how Spetsnaz teams had been testing the Zvezda Research, Development and Production Enterprise-manufactured Arablet-2 special purpose parachute system. Designed to carry a total payload of 350 pounds/lb (159 kiliograms/kg), according to its manufacturer, the Arablet-2 can be deployed in a static-line configuration for low level insertion or Military Freefall (MFF) configuration insertion up to 13000 feet/ft (3962.4 metres/m) above mean sea level, the company's literature continued.
A company spokesperson for Zvezda informed Armada how the ram-air technology-based parachute provided operators with a glide ratio of 2:1 (the horizontal distance of an object divided by its change in altitude) and ability to steer onto designated drop zones. The Arablet-2 has also been designed for operation in adverse weather conditions, including the strong cross-winds associated with CWOs in the Arctic Circle.
Due to the sparse terrain of the Arctic as well as cold temperatures, special forces teams generally rely upon low level parachute insertions to reduce exposure to the elements as well as to minimise the risk of detection. These TTPs, as explained to Armada by NSHQ sources, require aircraft and parachute materiel capable of low level flights and insertion of operators at altitudes as low as 600ft (182m) above mean sea level. Upon landing, parachutes can then be 'cached' or buried under the snow or in tree lines to avoid detection during the conduct of a mission, the source added.
Alongside Russia, there has been a renewed interest in CWO capabilities by NATO and non-NATO partners with access to the Arctic Circle (principally Finland and Sweden). Similar airborne insertion capabilities are being considered by the US Special Operations Command (USSOCOM), including Complete Parachute Solutions' (CPS) technology which has been tested in cold weather and high altitude/high angle environments including the Himalayas. Explaining the current popularity for CWO parachute insertion for the special forces community John Blas, an account executive at CPS, highlighted how a recent company evaluation conducted close to Mount Everest on the Sino-Nepalese border, provided integral information to further enhancing the airborne capabilities of special forces in this particular environment.
Performed in November 2016, the CPS evaluation saw a variety of parachutes deployed at altitudes between 12400ft (3779m) up to 17500ft (5334m) above mean sea level, with a particular emphasis on the insertion of 'K-9' military working dogs and other specialist (non-special forces trained) personnel. Tests include operating the firm's TP460 and Special Operation Vector-3 Tandem Sigma parachutes with the additional integration of K-9 Jump Bags. Such a TTP allows special forces teams to insert into AOIs with the support of personnel who might be experts in non-traditional fields including explosive ordnance disposal, signals intelligence and chemical, biological, radiological and nuclear protection.
This is particularly prevalent across the US Joint Special Operations Command (JSOC), a component of the US SOCOM, which examines special forces requirements and techniques, where US special forces units such as so-called 'Tier-1' special forces units including the US Navy's SEAL (Sea, Air, Land) Team Six, continue to tailor their personnel mix upon specific mission requirements. According to NSHQ sources, multiple other NATO special forces components remain hesitant to deploy on the ground in a tactical scenario with personnel who lack the same levels of training: "What we are seeing with the evolving contemporary operating environment, is a requirement for special forces to rely upon other specially-trained personnel who might be capable of being forward deployed in the tactical environment," the source explained.
Additionally, CPS has concentrated on the development of its MS-Series parachutes, specifically designed to insert special forces teams in hazardous conditions. According to the company's information, its products include the MS-360-M4 which can be deployed in static-line and MFF configurations. The MS-Series models are also currently used by special forces worldwide with a capability of landing in tight areas using braked approaches. The freefall and static line capable MS-360-M4 is the improved glide version of the MS-M2. Glide performance has been substantially improved, by more than 33 percent, resulting in a (Glide Ratio) of between 3.5:1 and 4:1, depending on configuration and load.
CPS remains focused on the enhancement of parachute technology to assist special forces seeking to insert into AOLs such as the Arctic Circle with increased capacity to handle stronger cross winds; cold weather; and oxygen deprivation or hypoxia. Capable of carrying a maximum payload of 450lbs (204.5kg), the MS-360-M4 has a minimum delivery altitude of 3000ft (914.4m) while it remains more suited to higher altitude insertion at altitudes close to 35000ft (10668m), the cruising altitude of an airliner, Mr. Bast asserted: "Our developmental programme demonstrated that a few subtle design revisions to the existing MS family, primarily changes in airfoil shape and line trim, improved the lift-to-drag ratio," Mr. Bast described while explaining to Armada how special operations teams can use such systems to insert from higher altitudes to not only keep aircraft out of enemy radar ranges and ground-based air defence systems, but also steer themselves onto targets in a much more covert fashion, again reducing the chances of compromise. More details regarding recent developments in parachute technology can be found in Peter Donaldson's article The Man Who Fell To Earth in the February/March 2017 edition of Armada.
Tactical Ground Environment
On the ground, special forces continue to seek technology to further enhance tactical mobility across CWOs and in the Arctic Circle. More traditional CWO specialist units, such as Sweden's Special Operations Group (SOG), rely upon a mix of snow shoes; motorised mobility such as snowmobiles; as well as traditional skis: This latter option requires the fitting of skins to allow operators to not only ski downhill but also to gain enough traction to climb gradients. Nevertheless, many forces are considering upgraded versions of ski technology. On 30th September 2016, Denver-based ski specialist Romp Skis was awarded a $160,000 contract by the US Department of Defense (DoD) to supply the US Army Special Operations Command with the next-generation in cross-country skiing technology. The contract will see a total of 350 ski sets supplied to US Air Force's 10th Special Forces Group, based at Fort Carson, Colorado. Prototype skis are being designed to allow SOF teams to traverse across mountain ranges as well as to ski downhill, with the selected solution providing a pair of skis suitable for both beginners and experts.
Ski dimensions must be no greater than 1640mm (64.5 inches/in) in length and 136mm (5.3in) wide at the front end, the USAF solicitation on the Federal Business Opportunities website reads. Other requirements, USAF sources explained to Armada, stipulate that the skis must be able to carry a 100kg (220lb) commando carrying up to 100lb (45.5kg) of equipment to glide across the surface of the snow, with enough traction to allow an operator to pull a 'pulk' or sled. In some CWO environments, without skis or snowshoes, operators can step into snow up to their waist or higher, making the execution of any type of special operation extremely difficult. Additionally, skis must be agile enough to allow soldiers to conduct fire and manoeuvre should it become necessary to 'shoot and scoot' from a situation, sources added.
Elsewhere, the Canadian Special Operations Forces Command (CANSOFCOM) continues to consider future CWO mobility as part of its Next Generation Fighting Vehicle (NGFV) concept, which has replaced the cancelled Marginal Terrain Vehicle (MTV). This programme had been devised to enhance special forces mobility across the Arctic Circle and elsewhere although it was terminated in 2014 due to undisclosed reasons, sources confirmed. Should it receive the go ahead, a request for information for the NGFV programme could be published in 2017. The programme is intended to replace legacy Hägglunds/BAE Systems' BV-206 tracked all-terrain vehicles, and AM General High Mobility Multipurpose Wheeled Vehicle general purpose four-wheel drive platforms. The CANSOFCOM expects these new vehicles to enter service by 2025, sources explained to Armada.
Elsewhere, special forces continue to seek hardened infrastructure capable of being relied upon for forward operating bases and weather-proof cache facilities in Arctic conditions. Options include AAR Mobility's 3:1 expandable 20ft (six metre) shelters, which company sources explained to Armada, had already been tested to "withstand harsh climates in Alaska, Germany and the Republic of Korea." Comprising an integrated mechanical element, the shelter can be expanded threefold and inserted by aircraft such as Lockheed Martin C-130J turboprop freighters. Special forces sources described to Armada how such payloads could be used for resupply caches as well as the housing of specialist equipment such as chemical, biological, radiological and nuclear protective equipment.
Maritime Options
Surface platforms also remain highly prevalent in the Arctic domain with the likes of Norway continuing to consider a variety of ingress, egress and interdiction vessels for its special forces. In October 2016, the Norwegian MOD announced it was procuring a hat-trick of coastguard vessels expected to enter service between 2021 and 2023, and capable of supporting special operations across the region. Finally, the sub-surface environment continues to generate strong interest from the SOF community with submarines providing a stealthy method of entry for special operations teams into target areas and AOIs.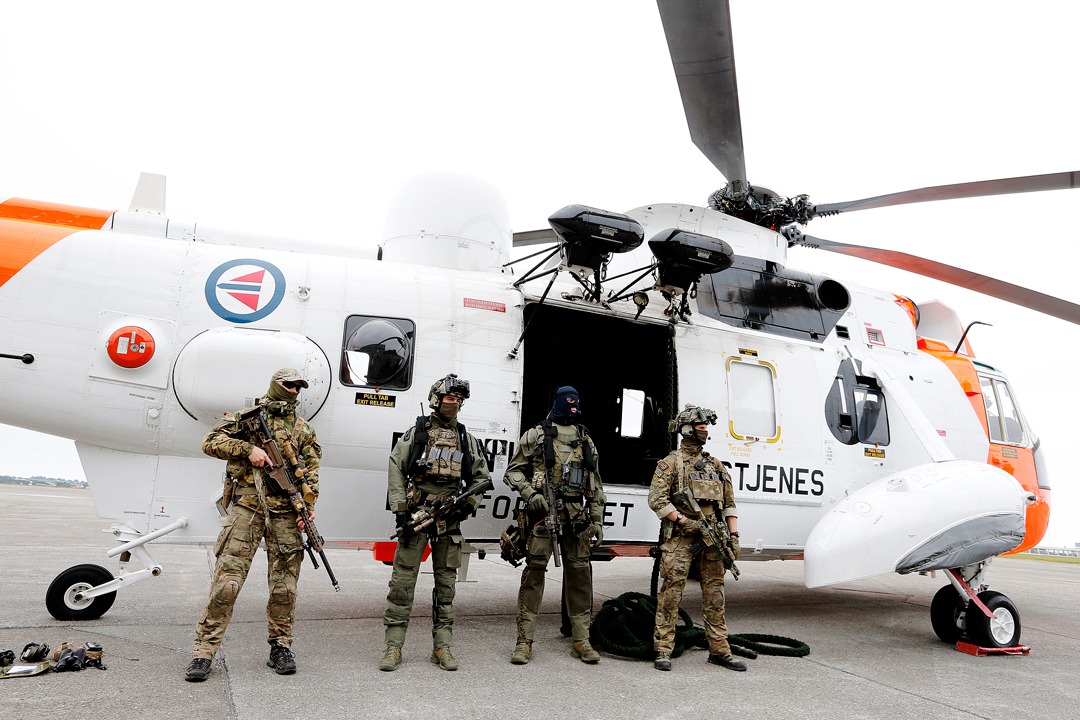 On 26th January, the US Navy announced it would be holding an industry day to discuss the development of its Dry Deck Shelter (DDS) concept. According to the notice, the industry day will be held on 28th February 2017 at Naval Special Warfare Group 3 at Little Creek, Virginia. Integrated on the hull of a host submarine, the DDS is designed to "…provide the capability to support various Special Operations Forces missions," according to the navy. In particular, this would allow US Navy SEAL teams, for example, to use Dry Combat Submersibles (DCS) to access an AOI without exposing operators to sub-zero temperatures in Arctic waters. In July 2016, USSOCOM ordered the first DCS platforms from Lockheed Martin and Submergence Group with initial deliveries expected to be made in 2018 and beyond. The navy continued that three DCSs will be operated by US Navy SEAL Teams as part of a $166 million contract. Capable of supporting SOF teams in maritime counter-insurgency, special reconnaissance and other irregular warfare mission sets, the DCS has the capability to deploy from a submarine and travel up to 60nm (111.1km) at a maximum depth of nearly 200ft (61m), company sources from Lockheed Martin explained to Armada.
Conclusion
The international special forces community remains overstretched at present with uplifts in demand for counter-insurgency duties both at home and abroad. However, as suggested by the JSOU research paper (see above), these forces will be required to operate across multiple terrains and environments in the future as the character of conflict further evolves. Resource rich areas such as the Arctic Circle, therefore, present a strategic importance to interested state actors and their respective special forces are already considering improvements in materiel, training and doctrine to this end.
by Andrew White