Technology is increasingly assisting the soldier's work in the urban environment. Advances in optronics, Unmanned Aerial Vehicles (UAVs), weaponry and command and control are all playing their part in easing the MOUT burden.
According to General Alain Bouquin, Thales' army advisor: "discussions over tactics and strategy for MOUT (Military Operations in Urban Terrain) have been taking place for quite some time now, however discussions over the adaptation of technologies in order to respond to the specific needs of these operations have only been ongoing for the past ten years". According to him and to Gadi Shamni, a retired Israeli Army Major General who is now head of MOUT activities at Israel Aerospace Industries, this is in part due to the difficulties within armed forces to perform such reflections. Maj. Gen. Shamni argued that: "the military is usually more traditional, and it is not always easy to (introduce) new concepts and ways of doing things, so it is often the case that the industry is ahead of the military when it comes to adapting technologies to new threats."
Lighter is easier
For Patrick Curlier, vice president of sales and marketing at the optronics and defence division of Safran, the complex environment of MOUT means that soldiers need to have as much freedom of movement as possible. As such: "it is crucial to provide our soldiers with a modular system that can be adapted according to missions and threats and can, therefore, be lighter." To this end, Safran has been equipping the French army with its FÉLIN (Fantassin à Equipements et Liaisons Intégrés/Integrated Infantry Soldier Equipment and Communications). Now in its second incarnation, FELIN is designed for dismounted soldiers and includes a small tablet that connects all the soldier's equipment, including their radio, the transmission of images from optronics systems used by them, their comrades or from external sources such as UAVs, and the GPS (Global Positioning System) geolocation device that transmits the soldier's position: "The latest version has been conceived taking into consideration lessons learned from the recent combat experiences of the French Army," says Yann Gerard, sales manager at Safran's optronics and defence division: "It now includes a number of kits that can be added or removed according to the mission, and the new communications system, integrated by ATOS, networks the (infantry soldier) to their vehicle's battle management system." The second version of FÉLIN has also been made much lighter than the previous one. Safran has delivered over 20000 of the first incarnation of the FÉLIN system to the French Army.
According to Mr. Curlier, the French Army has also expressed the need for a lighter weapon. For the past forty years, French infantry has been using the GIAT/Nexter FAMAS-F1 5.56mm assault rifle but in September 2016 the French Ministry of Defence announced that the FAMAS-F1 would soon be replaced by the Heckler and Koch HK-416F 5.56mm assault rifle: "The HK-416F is up to 1.5 kilograms/kg (3.3 pounds/lb) lighter than the FAMAS-F1," Mr. Curlier concludes. The French Direction Générale de l'Armement (DGA/General Armaments Directorate) procurement agency told Armada that the French Army will start receiving the HK-416F in 2017, and that deliveries will span over the next ten years. Over 100,000 weapons will be delivered.
The quest for the development of a lighter infantry weapon and more modularity is also at the heart of Israel Weapons Industries' (IWI) philosophy. Its UZI PRO 9mm submachine gun utilises modern polymers to make the gun lighter than its predecessors, bringing the weight down to 2.3kg (5.1lb) without its magazine (compared to the 3.6kg/7.9lb of the FAMAS-F1): "The UZI PRO Submachine Gun is perfectly designed and adapted for urban operations and the urban environment," says Marcelo Rubin, IWI's vice president of marketing and sales: "Its compact size and advanced accuracy enable the soldier to successfully operate in a crowded area. Moreover, the UZI PRO features a quick fitting suppressor to avoid arousing suspicion when used in a residential area." The firm's X-95 Tavor 5.56mm weapon has been designed by IWI to combine the roles of an assault rifle, a carbine and submachine gun. As indicated in the company's brochure: "the X95 is manufactured out of high strength impact modified polymer, providing a strong but light weapon and incorporates advanced technology that allows the conversion among … different calibres within minutes."
Weapons of choice
The close proximity of soldier's comrades, plus obscured fields-of-view caused by buildings can heighten the risk of so-called blue-on-blue friendly fire accidents during MOUT. According to a French military source: "accidents involving friendly fire happen in pretty much each and every operation." It is therefore absolutely necessary to ensure that, amongst their capabilities, armies can also count on weapons that are as precise as possible, or can be used to empty buildings without risking civilian life or contributing to fratricide.
Gen. Bouquin indicated that Thales is working towards meeting these challenges. In his opinion: "it is important to have weapons with reduced lethality that can however be used to neutralise the adversary, or missiles with the capability to change course at the last minute if new information has arrived that would indicate potential casualties." Thales is currently working on its Reptile laser, a device aimed at helping Special Forces remove obstacles (such as cutting fences, drilling holes) without causing further damages to the surroundings. It is also developing a portable electromagnetic power source aimed at damaging the electrical components of adversary's vehicles in order to immobilize them without destroying them.
Firing certain weapons in closed environments such as buildings or small alleyways can become very dangerous for the person using the weapon. According to Gen. Bouquin: "the detonation of certain weapons such as rockets can result in deadly high pressures in the room where the shooter is located." To this end, MBDA has developed the MMP (Missile Moyenne Portée/Medium Range Missile) thermal-guided surface-to-surface weapon which is currently in production for the French Army and will commence delivery in early 2017. A spokesperson for MBDA told Armada that: "two areas were prioritised for the development of the MMP: firing from confined spaces and developing a bi-mode military load, that is, anti-infrastructure and anti-tank capabilities, which can be selected by pressing a simple button before firing." The MMP can be operated either by a dismounted soldier using a firing post or from armoured vehicles such as Panhard/Renault PVP four-wheel drive vehicle. MBDA states that it will deliver 2850 MMP missiles and firing posts to the French Army.
Elsewhere in Europe, in 2014, Saab revealed its new M4 Carl Gustav recoilless rifle which the firm has developed as a variant of the Carl Gustav family which is optimised for use in urban terrain. According to Saab's official figures, the M4 has a lighter weight than its predecessors, with a 3.5kg (7.5lb) weight reduction due to using lighter carbon fibre components, and with a shorter length of 905mm (37in). In 2014, media reports announced that the US Department of Defence (DOD) would spend two years evaluating the M3A1 (as the M4 is designated by the US DOD) with testing and weapons qualification expected to be completed by the first quarter of 2017, with the weapon expected to be declared available for procurement by the US armed forces by late 2017. The US Army operates the legacy M3 Carl Gustav, having declared the weapon as standard equipment for army light infantry units in 2014, its operation had previously been the preserve of the US special forces community, according to open source reports.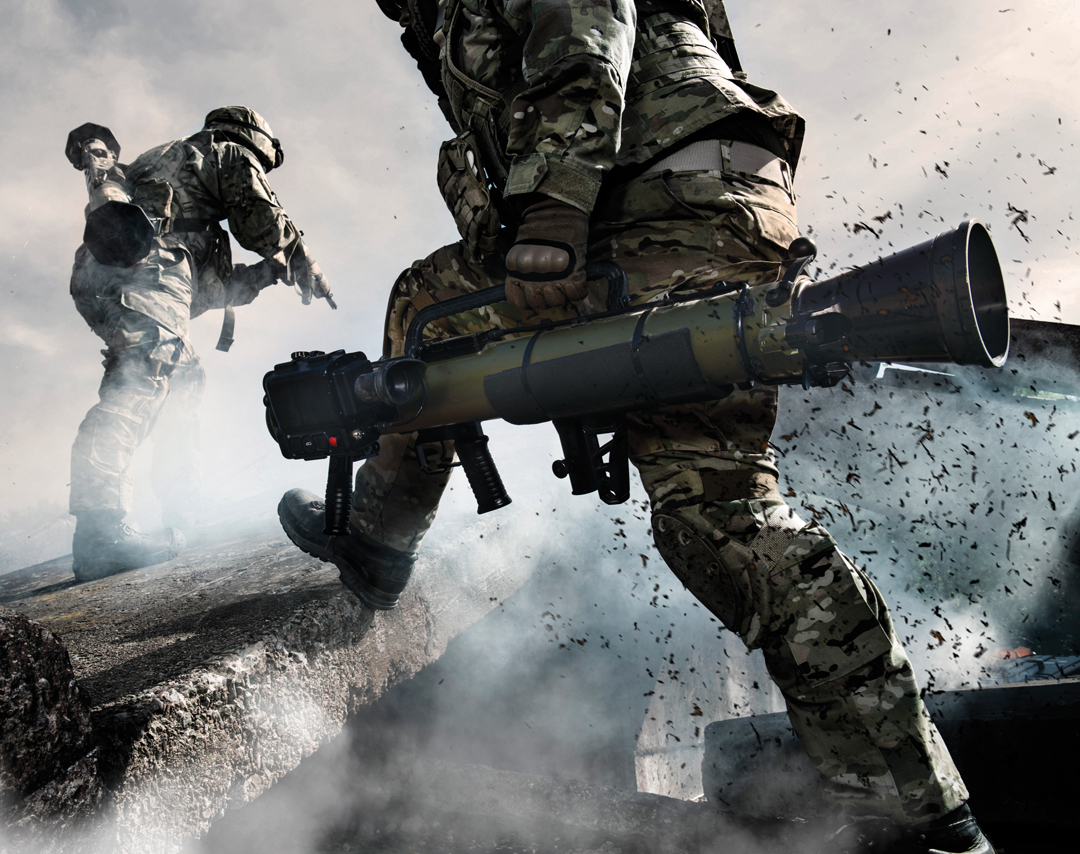 Eyes and Ears
MOUT are particularly stressful, compared to operations in open spaces, because threats can come from many different directions. The echoes resulting from the confined spaces can also misguide perception, making it particularly difficult to understand from where shots have been fired. Israeli company Camero has developed two products that facilitate the detection of people and movement through walls. The Xaver-100 is a handheld, through-wall life detector that uses a radar sensor and mathematical algorithms to detect the presence of life behind a wall. It can penetrate materials such as cement, plaster, brick, concrete, reinforced concrete, adobe, stucco and drywall at ranges of between four and 20 metres (65.6 feet) with a field-of-view of 120 degrees in azimuth and elevation. Using the same technology as the Xaver-100, the Xaver-400 goes one step further by providing not only information regarding the presence of life behind a wall, but also the number of people, their location in the room, their movement patterns and the room's general layout, including dimensions and major infrastructure elements.
Meanwhile, IAI offers the EL/O-5220 Othello, a passive optical fire locator that detects and precisely locates the source of hostile fire on the battlefield. It can be mounted on a vehicle as four independent detection units that cover 360 degrees in azimuth, or used as a portable device, which consists of a single unit covering 96 degrees azimuth. Using thermal imaging technology it can detect the heat signature of incoming surface-to-surface missiles, rocket propelled grenades and small arms fire. Furthermore, IAI states that the EL/O-5220 can be integrated in a wide variety of systems such as vehicle-mounted remote weapons stations. 
Similarly, to respond to the challenge of threats coming from all directions, Meprolight has developed the Mepro-M5 red dot weapons sight. Compatible with second and third generation night vision goggles, the Mepro-M5 has a large display window that allows the user to aim with both eyes open, thus avoiding a reduction of their field-of-view. Benny Kokia, Meprolight's vice president of marketing and sales says: "With its large display window and clearly-defined red dot, the MEPRO-M5 ensures critical rapid target acquisition with both eyes open, in an area where targets appear for a very short time."
ISR
Another French military source strongly emphasised to Armada that: "while it is key to prepare any kind of military operation, MOUT requires even more preparation and planning because it takes place in such complex environments that one can never have enough information regarding potential threats." ISR (Intelligence, Surveillance and Reconnaissance) technologies, while not necessarily initially developed for the purpose of MOUT, have found a special place of importance in the context of these operations. For example, Safran's JIM-Compact lightweight and long-range multifunction binoculars weigh under two kilograms (4.4lb) and have three observation channels (cooled thermal, colour day and low light) that give soldiers a maximum detection range of twelve kilometres (7.5 miles) for vehicles. Another key feature is the JIM-Compact's connectivity as it can store and stream images and videos across Ethernet, WiFi or Bluetooth links, to name just three. The JIM Compact has already been sold to two NATO (North Atlantic Treaty Organisation) countries, including France to replace the French Army's current Sagem/Safran JIM-LR optronics systems, with Safran disclosing that some JIM-Compacts were delivered to the French Army in late 2016; with mass production commencing at the end of that year. Similarly, Senop of Finland provide soldier optronics, in addition to its weapons sights products, optimised for use in urban areas such as the firm's LISA observation system. According to Senop, the product is designed for day and night use and provides the user with an uncooled thermal imager, which unlike a cooled thermal imager does not take time to cool once activated, a day channel, plus an eye-safe laser rangefinder. With the ability to hand off its imagery to other users, via wired and wireless connectivity, the LISA includes a GPS and the ability to capture still and video imagery.
In Israel, IAI offers a wide range of man-portable and vehicle-mounted surveillance equipment. The EL/I-3370 light portable surveillance system includes a ground movement detection radar integrated with day and night optronics. According to the firm, it has a detection range of eight kilometres (five miles) for a person and 15km (nine miles) for a vehicle with a 90 degree field-of-view and a total weight of 45kg (99lb).
Unmanned Vehicles
According to Armada's French military source: "robotics and, more generally, unmanned vehicles will certainly evolve and develop exponentially in the coming years; not only do they save lives by doing reconnaissance ahead of units' movement, but they also allow military forces to perform reconnaissance without putting a human life in danger."
In relation to UAVs, the same military source remains cautious, however: "they need to be pretty small, such as micro- or mini-UAVs (see below), otherwise if they are too big they may be able to carry more but they also simultaneously become more vulnerable to threats." As such, Safran's Patroller UAV has a payload of up to 550lb (250kg) but might remain too conspicuous for the urban environment. Mr. Curlier indicated that Safran is currently working on the development of a mini-UAV, which should be ready for testing in 2018. Generally speaking, mini-UAVs weigh less than circa 44lb (20kg) with micro-UAVs having a wing span as small as 150mm (six inches/in). Thales has developed two UAVs in the form of the Spy Ranger and the Spy Arrow: The Spy Ranger is a mini-UAV that can be transported in a backpack, deployed without tools in less than twelve minutes, offers three hours' autonomy and is equipped with an optronics package. The Spy Arrow is an easy to use, light-weight, portable UAV, with a wingspan of 670mm (26.3in), a weight of 1.3lb (0.6kg) and an autonomy of 30 minutes. On 5 February 2017 Thales announced that it had been selected by the DGA to deliver 70 Spy Ranger systems, with three UAVs per system, to the French Army. Deliveries are slated to commence by the end of 2018.
The progress made in robotics is also opening up new avenues for the development of unmanned ground vehicles that can be used for a wide variety of missions. As Mr. Curlier indicated: "robots can be used for reconnaissance, transport, or simply following the unit as a backup." To this end, Safran has been developing the E-Rider, a hybrid four-wheel drive vehicle that can be used in three different configurations: It can seat four people and can be driven as a simple transport vehicle with a capacity of over 100kg (220lb). It can also be remotely operated and used as a reconnaissance vehicle or deployed as an autonomous device to identify potential threats such as IEDs. Currently the E-Rider is at the first stages of development and in November 2016 it began a six month trial with the French Army's Technical Department.
Connectivity
Gen. Bouquin stresses that: "cities, with their many streets, their ring roads and obstacles such as destroyed buildings and debris, quickly become disorienting, making it crucial for armies to have adequate technology to help them proceed in this environment efficiently and safely." In an environment with dismounted soldiers and combined arms manoeuvre, it is equally as important to have a Battle Management System (BMS) that links everyone and everything as much as possible.
Thales offers the Commander Battlegroup, a system that delivers accurate situational awareness fed by geospatial data, Blue Force Tracking (BFT) as well as critical sensors data. The systems facilitates the sharing of comprehensive and near real time situational awareness between all members of a unit, thus increasing operational capabilities such as navigation, observation and protection to facilitate the synchronisation of manoeuvre and close fire.
Away from Europe, IAI has developed the Combat Team Battle Management System (CT-BMS), a command and control software that connects commanders, soldiers, sensors, weapons, platforms, headquarters and supporting forces to create a comprehensive, accurate, real-time common situational awareness picture across the whole combat team. The CT-BMS is carried across conventional tactical radio links as well as satellite communications and cellular networks. It provides not only BFTand situational awareness, but provides an intuitive map, and communications in the form of instant messaging and push-to-talk radio communications as well as voice-over-internet-protocol calls. According to Mr. Curlier: "mobile phones will play an increasing role in command and control capabilities, as not only they are lighter and smaller to carry but they are also an easy interface to use which today's young soldiers grew up with." With this in mind, IAI offers its Tac4G broadband tactical smartphone and modem that supports secure third and fourth generation cellular communications.
Vehicles
Urban areas are also complex for military vehicles which can be limited in where they can travel due to their high curb weights, which may have a detrimental effect on roads and bridges. As a point of comparison, official company figures note that a General Dynamics M-1126 Stryker eight-wheel drive armoured personnel carrier can have a weight of 16 tonnes. Manoeuvrability is also complex in urban environments due to narrow streets or low bridges. Military vehicle manufacturers therefore need to take all these aspects into consideration, without compromising on armour protection, especially as vehicles can be particularly vulnerable to IEDs.
Oshkosh has been working to develop vehicles that attempt to respond to as many of these challenges as possible. The firm's M-ATV four-wheel drive vehicle: "offers troops the optimal balance of agility, interior capacity, mobility and protection for military operations in urban environments," said Jennifer Christiansen, vice president for global strategy and marketing at Oshkosh: "So whether it's engaging or disengaging, on-road or off-road, the M-ATV can be tailored at the vehicle design level to meet a military's unique mission or customisation requirements." According to Ms Christiansen, more than 10000 such vehicles have been ordered and are in service worldwide with the US Army and Marine Corps, as well as with US allies in the Middle East and Europe.