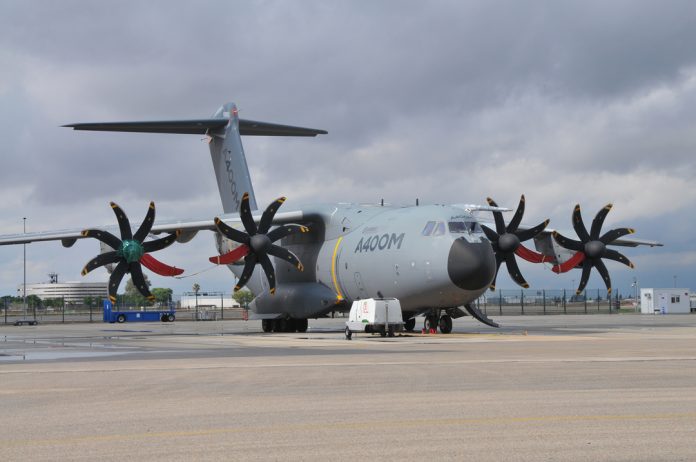 Airbus' A400M Atlas strategic turboprop freighter is a new aircraft at the forefront of developments in new technology for a large transport aircraft. It is designed to carry up to 37 tons of equipment and carry out all airlift-related missions, including inter and intra-theatre transport.
The A400M programme was officially launched and integrated into OCCAR (Organisation Conjointe de Coopération en Matière d'Armement/Organisation for Joint Armament Cooperation) in May 2003. OCCAR is a European Union (EU) organisation tasked with the management cooperative defence equipment programmes across the EU. The current intention of the participating states is to procure a total of 170 aircraft to be allocated as follows: Germany 53, France 50, Spain 27, United Kingdom 22, Turkey ten, Belgium seven and a single aircraft for Luxembourg, which is represented at OCCAR by Belgium. In addition to this, Malaysia has ordered four aircraft, the second of which was delivered in December 2015. The remaining two aircraft are expected to be delivered to Malaysia in 2016. 
Tragedy
Like most major multi-national programmes, the A400M has seen its fair share of setbacks, most notably from a crash which occurred on 9 May 2015 in the southern Spanish city of Seville, where the A400M is built, resulting in the tragic loss of the crew and of the aircraft destined for the Türk Hava Kuvvetleri (Turkish Air Force), and at the time conducting a first-flight test. The Spanish Military Aircraft Accident Technical Investigation Committee (CITAAM) showed that power setting problems affecting three of the A400M's Europrop International TP400-D6 engines led to the crash. This was precipitated by quality control problems in the installation of engine control software which resulted in only one of the four engines producing forward thrust during the aircraft's take off, ultimately leading to the crash. This incident stalled the programme for some months following the accident; however, a recent trip by the author to Airbus' facility in Seville has shown the company redoubling efforts to get back on track with its production, test and validation schedules. Indeed, the manufacturing halls and flight line were buzzing with A400M activity.
All A400Ms are manufactured to the same standard on which a customer can add a relatively limited number of so-called 'Configuration Items' extracted from a catalogue. Air-to-Air Refuelling (AAR) hose-and-drogue pods or self-protection devices are some examples. Some operators are more strongly committed than others to using the AAR capability, but even in that case all A400Ms are capable of tanking and it is only a case of whether any individual operator chooses to implement that. In order to keep each aircraft as similar as possible for different configurations between the nations, participating nations gave OCCAR the responsibility to manage upgrades.
A specific aspect of the A400M programme is that industry, in this case Airbus, is responsible for planning and performing the entire certification test programme, inclusive of flight tests. Some of these tests require military equipment or facilities, such as fighters for AAR, or a range for flare and chaff tests, so nations involved in the programme provide what is necessary but Airbus remains responsible for the achievement of the tests on behalf of the national military authorities responsible for aircraft certification. That means each delivered aircraft is certified for operation from its first day, and is delivered directly to the customer.
French Connection
The Armée de l'Air (AdlA/French Air Force) was the first customer to receive the A400M. Its initial cadre of pilots were trained at the Airbus facilities in Seville, where the first Thales A400M Full Flight Simulator (FFS) was installed. Training is now performed at Orléans airbase, central France, were a training centre has been built with a FFS. The training is similar to the modern civilian world, with students undertaking 80 to 100 simulator hours. Only one flight is performed at the end and this allows a new trainee to start operating the aircraft under the supervision of an experienced captain.
Lieutenant-Colonel Laurent (AdlA policy calls for personnel to be referred to by a single name only), the AdlA A400M Programme Officer spoke about the air force test and certification mechanism: "During the first year (August 2013 to August 2014), all A400M Atlas aircraft were operated by the Centre d'Expertise Aérienne Militaire (CEAM/Military Aerospace Centre of Expertise) which is the French Air Force Air Warfare Centre. All aircraft and also all related resources like crews, technicians, tools, and aircraft ground equipment were also assigned to the same CEAM unit along with the A400M Multinational Entry into Service Team (MEST) at Orléans. This team also hosted the UK and Germany to allow them to gain some knowledge on the French A400M before receiving their own aircraft."
After this first year of AdlA Operational Test and Evaluation (OT/E), a first operational capability milestone was achieved, and the MEST was split into several units consisting of an operational squadron, training squadron and maintenance unit which departed from CEAM to enter the standard AdlA chain of command. From MEST, only an evaluation team remains under CEAM command to continue programme activities and OT/E for upcoming aircraft standards. All of these units remain at Orléans under a recently-created A400M wing. Since September 2014, any new aircraft is delivered directly to the wing, and can be operated directly by the operational squadron if it is not a new standard. In this case, the evaluation team has to conduct OT/E before allowing the squadron to operate the aircraft.
AdlA A400Ms have amassed 3300 flight hours, out of which approximately 200 are for OT/E and 200 for training. The first aircraft are operationally used mainly for logistical missions carrying equipment and troops between France and its main operational theatres in Africa or Middle East. "(The A400M) will achieve a next step when it will fully use its unpaved runway capability, and will deliver the support from France directly to Forward Operating Bases. The ultimate step will be to perform tactical missions, particularly airborne operations, directly from Europe to theatre. That is why it is a tactical aircraft with a strategic range. It will allow our operations to shift from a hub and spoke model to a point-to-point concept," said Lt. Col. Laurent.
With A400M aircraft starting to have tactical capabilities, the French training centre is now developing tactical courses for use of night vision goggles, low level flight, military systems and aerial delivery to keep in step with the advancement of aircraft capabilities. "In the near future (2017), a large part of our pilots will receive their initial training in Wunstorf, northern Germany, in a centre our German partner is currently building up. We have set up a French-German cooperation on training based on pilot training exchange. Initial training will take place in Wunstorf and tactical training in Orléans. It is one of the main reasons why we ordered a second FFS which is expected to be delivered by 2019, and will help to train and maintain Section Leader pilots," said Lt. Col. Laurent.
Helicopter Operations
Airbus' defence and space division, which is responsible for the aircraft, is continuing its work to clear many of the tactical capabilities which operators are seeking to exploit. In a recent trade media briefing held in late-2015, Airbus stated that the A400M has not been cleared for the AAR of helicopters due to turbulence encountered by receivers flying through the vortex generated from the A400M's wing. Lt. Col. Laurent spoke about this situation: "With the delay in Airbus development for AAR pods for helicopters, we are extending cooperation with our partners to fill that gap, but the A400M solution is not stopped. Despite some doubts expressed in the past months, Airbus identified technical solutions and is now working on them with reasonable promise of success. The MRTT will become the base of our AAR capability, in particular for large-scale operations or strategic deployment. The A400M is expected to be used as a tanker … It is also planned to provide tanker support to (helicopter operations), in particular for Combat Search and Rescue."
One of the most sensitive aspects to the A400M program is the Defensive Aids Sub-System (DASS) equipment which includes defensive flares, radar warning receivers and missile countermeasures. Most A400M operators are reticent to speak about the DASS, but one can safely assume that each operator has their own DASS requirements in order to make their aircraft as safe as possible for the operations they will be used for. No DASS has yet been delivered to any nation; however, Lt. Col. Laurent spoke about this capability for the French A400M fleet: "On the self-protection domain, the first developments are to be completed soon, and the first devices should be delivered this year. For France (the ninth AdlA aircraft) is expected to have them implemented, initially for OT/E. We expect to have a first operational capability in early 2017."
In February 2015, an AdlA A400M conducted an 80 flight-hour mission around the world spanning 16 days. The mission served to check A400M compatibility with airbases overseas, to conduct OT/E on long-range crew activity (medical monitoring), and to promote the aircraft at overseas sites, notably the Avalon air show in Australia.
African Adventure
LtCol Laurent went on to say, "Although A400M is not yet declared operational, the Air Force flew some sensitive missions in an operational area. In late December 2013, we brought (Jean-Yves La Drian, the French Minister of Defence and Veterans Affairs) to the Gao landing strip in northern Mali, west Africa. On a day to day basis, crews appreciate the A400M's capabilities, its powerful engines and its flight deck. The flight deck fuses all information to present a clear situation and it makes the two-pilot crew an operational concept (as it now is routinely on commercial airliners). As for unpaved runways, the capability is not yet fully usable and some work is still to be done to provide the crews with aircraft performance on such strips. But we already know that for a large part of the payload domain, its ACN (Aircraft Classification Number) is between the TransAlliance C-160F Transall and Lockheed Martin C-130H/J Hercules turboprop freighters … Moreover, recent industrial trials conducted on a grass runway in Écury-sur-Coole in north-eastern France demonstrated good performance. After a year and a half of regular operation for logistic support, we already appreciate its logistic capacity. With a payload of over 30 tons, and a cargo hold allowing large loads, it goes beyond the classical performances of a tactical aircraft. And on the other hand, we can operate from small- or medium-sized airports just like other tactical cargo aircraft. We are very keen on seeing its operations on unpaved runways to experience its point-to-point concept at the maximum extent. With an aerial delivery capability to be cleared in the near future, we are going to enter a new concept of operation, performing airborne deployment from national territory directly to the right engagement point within the theatre."
As noted by Lt. Col. Laurent, Airbus has successfully completed certification testing of the A400M on a grass runway. The tests took place over a three week period at the Écury-sur-Coole airfield in France in September 2015 and examined the aircraft's behaviour on grass and natural soil runways. According to Airbus, the heavily weighted A400M demonstrated excellent performance both in taxiing manoeuvres, such as U-turns, and during take-off and landing on the 1500 metre (4921 feet) strip. These tests followed earlier successful results on the gravel surface at Ablitas in northern Spain and will be followed by tests on sand surfaces in 2016.
On 22 December 2015, the French Direction Générale de l'Armement (DGA/General Armaments Directorate) national procurement agency took delivery of aircraft MSN31, their eighth A400M. This aircraft has the first parachute dropping ability in free fall over the rear ramp and through the side doors. It is also the first French unit with the infrared Enhanced Visualization System (EVS) for to improve cockpit visibility.
The United Kingdom's 2015 Strategic Defence and Security Review outlines a recapitalised air transport fleet to enable its armed forces to intervene globally at speed. The report indicated that 22 new A400M Atlas aircraft enhance the UK's global reach. Last year, Air Commodore Jon Ager, the then Air Officer Commanding (AOC) of the Royal Air Force's (RAF) Air Mobility Command (AMC), which operates the A400M, commented that the arrival of the aircraft into RAF service represents the biggest step change in capability for the service's tactical air mobility force. He went on to say that the RAF will use the A400M's inherent strategic capability and state-of-the-art training system to equip RAF crews for the high end operating environment which they anticipate.
Light Blue
Air Commodore Steve Lushington is the current AMF AOC for the RAF, and he told Armada that "We are very excited about the A400M. It's a cutting edge aircraft so we're taking a measured approach and thinking very carefully about how to exploit all its capabilities. We've flown it all around the world with various loads and to my knowledge we currently have the most flying hours of all A400M operators. The RAF has taken delivery of nine aircraft, and we routinely see five on the line at Brize Norton. The other four are delivered for modifications and upgrades and all the other things that are required when you field a new capability. It is a rolling modification programme which means we have to factor that into the way we do our business. The A400M offers us the ability to carry an outsize load like that which fits on the Boeing C-17A Globemaster-III strategic turbofan freighter, and it also gives us the tactical capability of a C-130J. The aircraft has a cavernous cargo hold and we plan to exploit that for those loads that are too big or too heavy for the C-130J. It's a very capable aircraft and as we build to our full fleet size we'll shoulder the lion's share of the strategic and tactical airlift for the Royal Air Force."
Air Commodore Lushington went on to say, "We have flown 70 Squadron A400Ms to Malaysia, Australia, the United States, all over Europe, and I can tell you that we see a contagious enthusiasm when we arrive and particularly when we see other A400M operators. Our trip to Malaysia (in October 2015) was just such an experience, and it allowed us to discuss things like training, maintenance and ways to employ the aircraft. There are lots of working groups being set up (to these ends) so it is a very collegiate and exciting time."
In other A400M news, Spain has recently decided to temporarily delay the delivery of 13 of the 27 aircraft on order to a date after 2024, due to budget constraints. The first Spanish A400M is expected to be delivered in the second quarter of 2016, with the remaining 13 aircraft expected to be delivered by 2022. Airbus said it "greatly welcomes the agreement with Spain to restructure the delivery schedule of its A400M fleet in line with the country's evolving defence requirements and budgets. This agreement brings clarity to the A400M production schedule into the next decade and ensures that the transformation of Spain's air mobility fleet through the introduction of the A400M is conducted in a measured and sustainable way."
Now that production of the C-17A has ended, the Airbus A400M becomes the western world's largest military airlifter and the C-130J's greatest competitor. Airbus has said that it sees potential for more than 300 orders in addition to the 174 currently booked, and they have already responded to a number of requests for proposals and have several campaigns underway. One can safely assume that budget pressures will affect every programme; however, if a customer desires multi-role capability and the ability to transport oversize equipment by air, then the A400M could be the only solution for decades to come.