Helicopter armour that protects aircrew members and passengers from small arms fire is a proven requirement driven by recent, and ongoing, conflicts in the Iraq/Syria and central Asian theatres, meanwhile the drive towards lighter armour will continue.
Armouring helicopters, more properly defined as adding ballistic protection, to protect crew and passengers when flying in war zones has always been a compromise between installing an extra element of protection, while adding weight and thus sacrificing payload. Weight is an ever important factor, nowhere more than during high altitude operations where engine performance decreases due to the commensurate lack of oxygen. Due to the nature of recent Counter-Insurgence (COIN) operations, helicopters, particularly those involved in troop transport, usually fly at 3000 feet (914 metres) or below depending on aircraft type and tactical requirement. This makes them vulnerable to a variety of ground based weapons, from single shot rifles, to dedicated heavier machine guns that double as anti-aircraft artillery that can be broken down and transported into remote locations by insurgent groups. Such weapons have in past conflicts, included the Russian 14.5mm ZPU family towed AAA and DHSK 12.7mm heavy machineguns. When such weapons are present, however, air support in the form of attack helicopters or fighters are usually called upon to eliminate the threat as aircraft ballistic protection against weapons larger calibres of these sizes is difficult to achieve, much as it is against the explosive power of the surface-to-air missiles used by Man-Portable Air Defence Systems (MANPADS).
A typical Ballistic Protection Systems (BPS) traditionally comprised a dense material which would offer protection, but had the drawback of being heavy and adding a lot of weight around the aircraft. The challenge in recent years has been to produce the same, or better, ballistic protection while using new composite materials that are much lighter and more compact. The development of such light-weight composites have now allowed their use onboard fixed and rotary-wing aircraft: "The key driver for helicopter ballistic protection is always weight, so we operate a continuous research and development process to evaluate new materials and optimise processing and armour constructions to reduce the weight of our solutions," Nick Baird, commercial director at UK-based Permali Gloucester told Armada. Over the years, US Army Aviation and Missile Research, Development and Engineering Centre's (AMRDEC) Prototype Integration Facility (PIF) has developed an expertise in developing ballistic protection for a range of rotorcraft, particularly the Boeing CH-47 Chinook family heavylift and Sikorsky UH-60 Black Hawk family medium-lift utility aircraft. The PIF has focused on the development of new versions of the Hybrid Enhanced Ballistic Protection System (HEBPS) and Multi-Hit Transparent Armour Engineered Seams (MITAS) kits for both the older CH-47Ds and the CH-47Fs replacing them. Again the focus of development has been to use composite materials to reduce weight while offering protection for small arms fire up to 7.62mm calibre. On a Chinook, this reduced the weight of the BPS by 2000 pounds/lb (909 kilograms/kg) to the current weight of around 3,500 lbs. A complete CH-47D/F BPS will usually include cockpit and cabin floor protection, side panel protection and also a Multi-Impact Transparent Armour System for windows, which offers a measure of ballistic protection. A similar reduction in weight was achieved for the BPS of the UH-60 Black Hawk family helicopter. This time around 500lb (227.3kg) was taken off the weight of the legacy BPS system.
The design of the BPS is also something that can be changed to increase protection: "Another key development is shaped ballistic protection, traditionally helicopter armour panels have been flat, but we can optimise the integration of the armour onto the platform by manufacturing shaped or moulded panels (both composite and ceramic) that improve protection and reduce weight. Within Europe, our ballistic protection solutions are in service on helicopters operated by Denmark, Italy, the Netherlands and the UK," said Mr. Baird.
Ongoing Need
During operations in Afghanistan, NATO (North Atlantic Treaty Organisation) International Security Assistance Force (ISAF) helicopters particularly noticed the weight penalty imposed by BPSs when flying at altitude. Even at their main bases, such as Bagram airbase in eastern Afghanistan was 4895ft (1492m) Above Mean Sea Level (AMSL), while Camp Bastion/Shorabak airbase in the southwest of the country, stood at 2805ft (855m) AMSL.
Once the UK Government decided to commit forces into Iraq (2003) and Afghanistan (2001) the Royal Air Force (RAF) also required armour for its troop carrying Boeing CH-476D (locally designated as the HC Mk.2 Chinook). This was initiated in 2003 through an Urgent Operational Requirement (UOR) and Permali Gloucester was selected as the contractor to provide that aircraft's BPS due to its experience with composite materials. A requirement was identified to develop and certify in as short a timeframe as possible a BPS which would protect the cockpit, main cabin and the ramp. Considering the role that the CH-47Ds were to play in re-supplying remote bases manned by the British Army's Parachute Regiment when they were deployed into Helmand Province, in the southwest of Afghanistan, in April 2006, all of these protected areas were to prove vital. Upon the arrival of the Parachute Regiment, the regiment was split into smaller teams and inserted into seven key locations which became know as 'platoon houses'. Unfortunately, their low numbers (around 600 troops) meant that they were severely restricted in their ability to conduct deliberate operations and became hemmed in 'Alamo' style by the Taliban who concentrated greater numbers of insurgents against these specific locations. The eight RAF CH-47Ds deployed at the time were then constantly used to re-supply these outposts on a daily basis, often attracting significant ground fire as they tried to land to offload supplies of food and ammunition and to evacuate casualties. Often they needed the firepower of British Army Air Corps Boeing/AgustaWestland AH-64D (locally designated Apache AH.1) attack helicopters to complete their missions.
Permali subsequently supplied BPSs to the Royal Netherlands Air Force (RNLAF) for their CH-47D/F and have worked with Boeing to provide options for other export customers. Mr. Baird commented that different operational deployments do not have a bearing on ballistic protection types: "We are not seeing changes to requirements driven by the type of campaign. Requirements are always bounded by weight constraints anyway, so there is a limit to the severity of the threat protection that a helicopter can carry. For passengers in the cabin this is typically small arms protection, often with higher protection (up to heavy machine gun calibre) for the pilot and co-pilot." Confirming that ballistic protection is not 'one-design-fits-all', Mr. Baird confirmed that: "our helicopter ballistic protection is not interchangeable between different aircraft types; the airframe integration is too bespoke and specific … Armour panels that have been shot usually cannot be repaired," he stated: "Our panels usually have a 'multi-hit' capability, meaning that they are capable of stopping multiple bullet impacts, and retain their structural integrity within reasonable limits. In some circumstances, an impacted panel can continue in service on the aircraft (but with reduced protection) until a replacement panel is available."
Iraqi Army
Away from Europe, the Iraqi Army is currently flying 25 Bell Helicopter 407s, some of which are being used in operations against the Islamic State of Iraq and Syria, as the country strives to push them out of their last strongholds in the north of the country. These aircraft feature ballistic protection for the cockpit floor and crew seats. Around the same time in 2013 that the helicopters were being delivered to the Iraqi Army, a Textron subsidiary Aeronautical Accessories announce that it would be supplying self-sealing fuel cell kits and a passenger ballistic protection system for the Bell 407. The kit included protection for the forward, main and auxiliary self-sealing fuel cells.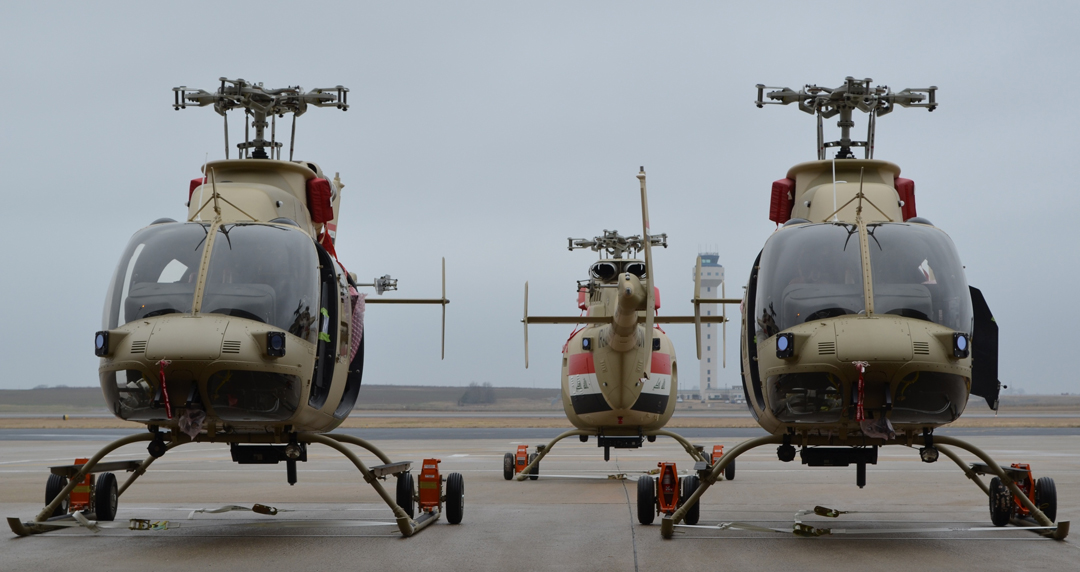 The Bell 407 BPS was developed by LifePort, then a Sikorsky company. Developed to protect both crew and passengers, it is also lightweight and coated with a product called LifeGard that effectively seals and protects the armour to increase its durability and provide a slip resistant surface inside the cabin. The BPS is made from High Performance Polyethylene (HPPE) fibre and ballistic steel which combines a light weight with ballistic coverage and crew comfort. It is certified in accordance with the US National Institute of Justice Level-III Standard 0108.01 providing a multi-hit ballistic solution capable defeating the 7.62 mm calibre full metal jacket ball rounds.
A Global Industry
A report from Research and Markets, a US-based market research report provider, valued the global ballistic protection materials market at around $8.8 billion in 2015, which an expectation for growth at a compound annual growth rate of 5.2 percent from 2016 to 2022. While that is led by personal ballistic protection and vehicle ballistic protection, there is nevertheless a strong requirement for airborne ballistic protection. For example, India's MKU Airborne Systems provides armour for both fixed and rotary aircraft and is qualified to the AS-9100 Society of Automotive Engineers' international quality management standard, allowing it to design and develop lightweight armour for aircraft. The company states that its armour can be installed onboard an aircraft without modifying the existing platform. MKU provides aircrew seat, floor and side armour protection within the main cabin, and protection for other vulnerable areas such as a helicopter's chin bubble and side protection for a door gunner. In 2014 it introduced a new product called Polyshield V6, developed in India and Germany. The company stated that this new armour represented a weight reduction of around 40 percent which would translate into additional load capacity for each helicopter so equipped: "The sixth generation technology uses advanced materials and new techniques to develop very light weight armour panels," the firm revealed in a press release announcing the news.
According to Neeraj Gupta, MKU's managing director the new lightweight panels add only 26.4lb (twelve kilograms) per square metre (10.7 square feet): "Since weight is one of the three major parameters controlling the performance of a helicopter and the only one that can be controlled, this development is very significant" he said during the launch of the Polyshield V6. At the recent Aero India air show held in February in Bengaluru, western India, Mr. Gupta stated that the company was not only able to provide armour for the Indian armed forces, but that it could also deliver BPSs for a variety of rotary and fixed-wing aircraft including Russian Helicopters MI-8/17 family medium-lift utility helicopters; Lockheed C-130 family turboprop freighters; Pilatus PC-6 family turboprop transports; CH-47D/Fs; Messerschmitt-Bölkow-Blohm/Airbus Helicopters BO-105 light utility helicopters and the UH-60 family. 
Further south in Australia, CCA Protect has supported the Australian and New Zealand armed forces, and has supplied Australian Army Aviation with ballistic protection for its CH-47D/F and UH-60 family aircraft. CCA has the capability to rapidly produce airborne BPS but maintains a surplus of components to reduce lead times for manufacturing and supply. Meanwhile, away from Australasia, Armour of America based in Alabama, has provided a number of armour kits for over 300 military and civil helicopters to most of the major helicopter manufacturers over the last 35 years. The company uses computer aided design to develop the kits so that they can be adapted to the design modifications of any operator's helicopter. The main areas of coverage include cabin floor and walls, cockpit, crew seats, gunner stations and transmission walls. Finally, TenCate Advanced Armour uses composite materials enabling the company to pursue a 'built-to-print' and 'built-to-specification' policy, plus designing for the quick installation and extraction of aircraft ballistic panels. 
Conclusions
The need to improve helicopter protection while also ensuring comparatively light weights is unlikely to reduce in the near future. Since their first en masse in combat, notably by the US armed forces during the Korean War of 1950 to 1953, helicopters have been deployed regularly to support COIN operations, as well as conventional warfare. Rotorcraft will continue to be relied upon to assist the entire spectrum of conflict and, because of this, the threat to these aircraft from small arms fire is unlikely to diminish.