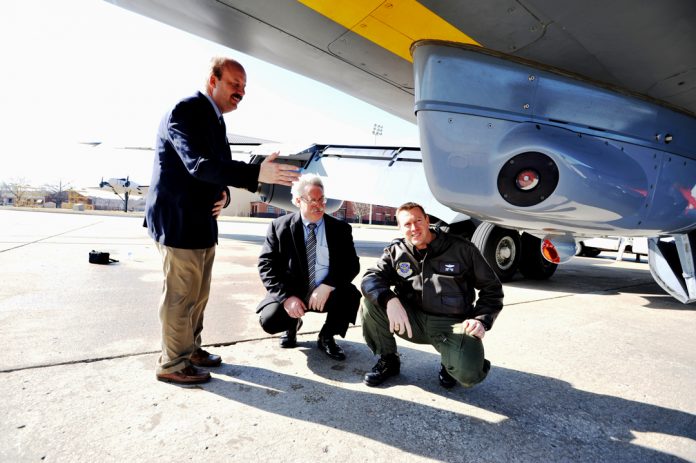 Protecting aircraft from Radio Frequency (RF) and infrared threats remains paramount for air forces around the world, as illustrated by the high levels of activity in this regard which has occurred in this domain over the previous year.  
Traditionally, several nations in the Asia-Pacific region are taciturn regarding their military procurements writ large, let alone airborne electronic self protection systems per se. Exceptions to this rule include the announcement by Leonardo that the Tentara Nasional Indonesia-Angkatan Udara (TNI-AU/Indonesian Air Force) is enhancing the self-protection of its BAE Systems Hawk Mk.209 fighters with the firm's SEER radar warning receiver. According to Dave Appleby, vice president of sales for electronic warfare at Leonardo's airborne and space systems division, this product is expected "to enter service soon" on these aircraft. The firm's official literature states that the product is available in two versions; one of which covers a bandwidth of 0.5 Gigahertz (GHz) to circa 18GHz, with the other covering two gigahertz to circa ten gigahertz.
Europe
Meanwhile, in November 2016, Leonardo confirmed to Armada that the RAF has received BriteCloud RF decoys to develop the concepts of operations for the decoy's use onboard the service's Panavia Tornado-GR4 fighter. Mr. Appleby stated that the decoy: "consists of a battery-powered digital RF memory jammer in a completely self-contained unit, reduced to the size of drinks can. The decoy is therefore small enough to be ejected from fighters in exactly the same way as a flare, allowing pilots to lure even the most up-to-date RF-guided missiles and fire control radars away from their aircraft." Although Leonardo has demurred from providing a date as to when BriteCloud could enter frontline service onboard the Tornado-GR4, it is expected that it could enter service within the next two years. Leonardo states that the advent of BriteCloud marks an important step for the service which will: "be the first air force worldwide to use such a technology," Mr. Appleby specified. He continued that the firm's Miysis Directional Infrared Countermeasure (DIRCM) had also secured its first sale over the past twelve months. According to the firm's official literature, the product can equip helicopters and wide-body aircraft, providing all-aspect coverage against infrared guided missile threats, using lasers to neutralise them: "Miysis is readily exportable and the first buyer is an export customer, however, we can't say anything further at this stage," Mr. Appleby added.
European airborne EW efforts are also focusing on kinetic capabilities, and in late 2016, Orbital ATK was awarded a contract worth $14.7 million under the US government's foreign military sales initiative to convert existing Raytheon AGM-88B High Speed Anti-Radiation Missiles (HARM) air-to-surface weapons to Orbital ATK's AGM-88E Advanced Anti-Radiation Guided Missile configuration. Reports have noted that deliveries of 19 of these converted missiles will be completed by September 2018, and that these weapons will be used by the Aeronautica Militaire (Italian Air Force) Tornado-ECR electronic warfare aircraft.
US companies enjoyed additional success in Europe during 2016 with Northrop Grumman selected to provide that company's Large Aircraft Infra-Red Countermeasure (LAIRCM) for installation onboard the Luftwaffe (German Air Force) Bombardier Global Express-5000 turbofan transport used by dignitaries. There have been no reports as to when the installation of this system will be completed. The Luftwaffe is also enhancing the self-protection of its Tornado-ECR/IDS jets with the addition of the Saab BOZ-101 electronic warfare pod. The news of the acquisition, announced in April 2017, will see 29 pods to be delivered to equip these aircraft between 2017 and 2020. The BOZ-101 architecture includes a missile approach warning system and a countermeasures dispenser, with the ability to launch flares to counter infrared guided missiles downwards and sideways.
Away from Germany, countermeasures dispensers acquired by the Koninklijke Luchtmacht (Royal Netherlands Air Force) are being enhanced, following the news in March that the force will receive upgrades to its Terma PIDSU pylons outfitting its General Dynamics/Lockheed Martin F-16A/B Fighting Falcon fighters. This will see the pods being upgraded to the PIDS+ status with the addition of a Missile Warning System (MAWS) and flare dispenser which can launch flares diagonally. The upgrade is reportedly to ensure that the aircraft can defeat infrared (IR) guided surface-to-air missiles. At the core of the upgrade will be the addition of an Airbus/Hensoldt AN/AAR-60(V)2 MILDS-F ultraviolet MAWS. The installation of the flare dispenser will render the PIDSU pod, which was hitherto only been capable of dispensing chaff to defeat surface-to-air and air-to-air RF-guided missiles, capable of also defeating IR-guided missiles.
The Dutch F-16A/B aircraft have also received an enhancement to their Northrop Grumman AN/ALQ-131 electronic countermeasure pods it was reported in December 2016. The focus of the upgrade was on improving the digital receiver/exciter architecture within the pod which both receives potentially hostile RF transmissions for identification and geolocation, and provides RF jamming signals to neutralise those threats. Openly available sources state that the AN/ALQ-131 family has an RF range of between two gigahertz and 20GHz, with the capability to perform simultaneous jamming using 48 different waveforms. It is thought that the RNLAF F-16A/Bs use the AN/ALQ-131 Block-II variant of the ECM which was delivered to the force from 1996. Each AN/ALQ-131 system reportedly has a unit price of around $1.2 million in 2003 US dollars, with the RNLAF acquiring a total of 105 pods.
Podded EW systems have also been unveiled by Ukraine's Radionix with the firm announcing the commencement of flight tests of its Omut-KM airborne self protection system in November 2016. Having already performed ground-based and simulated tests, the flight test regime will validate the capabilities of the Omut, according to media reports. These flight tests were performed using a Ukrainian Air Force (UAF) Sukhoi Su-25 family ground attack aircraft. The Omut architecture is offered in both a podded, and internal, configuration. The company has added that the Omut architecture can also be installed onboard the Sukhoi Su-27 fighter family. The company released no additional information as to whether the jammer will equip UAF aircraft and, if so, when deliveries of the jammer will commence and conclude. In addition, the firm has released no information regarding the pod's performance.
Russia
In late May 2016, Russia's KRET defence electronics manufacturer announced that it would begin supplying a new Defensive Aids subsystem (DASS) for the Mil Mi-28N Night Hunter attack helicopters of the Russian Air Force. A press release issued by KRET revealed that the DASS would contain laser detection equipment, an ultraviolet MAWS; a chaff and flare system; and a laser-based electronic protection system for use against IR-guided missiles. The press release did not reveal the name of the new system, how many would be supplied, and when deliveries and installation onboard the Mi-28N would commence and conclude. The decision to equip the aircraft with a new DASS could be a reaction to the combat experience of the aircraft during Russia's intervention in the Syrian civil war, which commenced on 30th September 2015. On 12 April, a Mi-28N was reportedly felled by a Man-Portable Air Defence System (MANPADS) SAM fired by rebels opposed to the regime of Syria's President Bashir al-Assad outside the city of Homs, southern Syria, claiming the lives of both crewmembers.
Cryptically, the President-S/L370-5 DASS equips the Mi-28N. According to open source reports, this DASS contains exactly the same equipment as the new DASS which KRET has announced it will install across the Mi-28N fleet. This raises the question as to whether all of the Mi-28N fleet was originally outfitted with the President-S/L370-5 DASS, with the aircraft shot down on 12th April being bereft of this equipment. Moreover, is KRET's announcement the result of a Russian ministry of defence requirement to now roll the President-S/L370-5 DASS across the entire Mi-28N fleet? To further complicate matters, some reports have stated that the aircraft was not shot down by a MANPADS, but crashed as the result of a technical malfunction. Similarly, in August 2016, KRET announced that it would offer its Rychag-AB electronic warfare suite, which is equipping the Mil Mi-8TRP1 medium-lift utility helicopters used by the Russian armed forces for export. Few details have been released regarding the Rychag-AB, although it is known that it is capable of jamming RF threats at a range of circa 53.9nm (100km).
Middle East
Looking towards the Middle East and North African regions, on 10th January, Harris revealed that it had been awarded a contact worth $90 million to supply its AN/ALQ-211(V)4 Advanced Integrated Defensive Electronic Warfare Suites (AIDEWS) to the Royal Moroccan Air Force (RMAF). An official press release from Harris announcing the news also specified that these AN/ALQ-211(V)4 systems will be installed onboard the RMAF's F-16C/D Block-52+ fighters, of which the force is reported to operate 15 and eight examples respectively. The AN/ALQ-211(V)4 is an internally-mounted self-defence ensemble which contains a wideband digital receiver which detects radar RF transmissions in a dense electromagnetic environment, and which can dispense chaff to neutralise such threats. According to Armada sources, deliveries of these systems will commence by mid-2018.
Meanwhile, was announced in February 2017 that Terma would be supplying technology based upon that company's Modular Aircraft Self-Protection Equipment (MASE) pod for the Thrush S-2RT660 turboprop counter-insurgency aircraft being supplied to the United Arab Emirates Air Force (UAEAF), with each aircraft carrying two MASE pods, both of which are linked to a Terma AN/ALQ-213 electronic warfare management system. The UAEAF is expected to eventually receive a total of 24 S-2RT660 aircraft.
New electronic warfare products have also been forthcoming from this region, such as Bird Aerosystems' SPREOS (Self-Protection Radar Electro-Optic System) DIRCM. Launched at the Eurosatory exhibition held in Paris this June, the product is designed to protect airborne platforms against IR missiles, particularly those fired by Man-Portable Air Defence Systems (MANPADS). According to the firm the product is currently in its final stages of development, and may have already commenced flight testing. Staying in Israel, new products have also been unveiled by Elbit Systems which premiered its Light Spear self-protection system designed for Unmanned Aerial Vehicles (UAVs). Reports have stated that the company has developed the system not only to provide protection for a UAV, but also to allow it to gather intelligence in areas which might be considered too dangerous for inhabited aircraft to fly through. Reportedly based on Elbit's Elisra system, already used on a number of Israeli Air Force fixed-wing and rotary-wing inhabited aircraft, the Light Spear has been designed to have a low size, weight and power ratio to optimise it for UAV operations. At the core of the Light Spear architecture, the firm's official literature notes, is a combined Electronic Support Measure (ESM), presumably to identify, locate and categories RF threats, and an ECM which then works to jam those threats. The company continues that it makes use of DRFM (Digital Radio Frequency Memory) approach, by which several jamming channels can be used simultaneously to cover a wide spectrum of RF threats. The company has not revealed whether the Light Spear is yet in service, or which UAVs it does, or may, equip.
The unveiling of the Light Spear product is indicative of the trend being witnessed to equip UAVs with self-protection systems. For example, in April 2017 it was revealed that General Atomics had demonstrated one of the company's MQ-9 Reaper UAVs flying with a Raytheon AN/ALR-69A Radar Warning Receiver outfitting one of the aircraft's under-wing pylons. While it remains unclear whether the USAF, the US main operator of this aircraft, will retrofit the aircraft with the AN/ALR-69A, or will procure several systems which can be mounted on MQ-9 airframes if and when those aircraft fly in hostile environments. Although UAVs have always been seen as ideal for so-called 'dull, dangerous and dirty' missions, with a reported unit cost of $6.6 million for a MQ-9, it is perhaps unsurprising that efforts are being made to provide protection for UAVs, as well as utilising these platforms for the general gathering of ELINT above the battlefield. Elsewhere, in December 2016, during the International UAV exhibition held in Toronto, Cognitive Systems exhibited what the firm states is an electronic warfare system designed to equip a UAV which can be fitted onto a chip weighing 0.1 pounds (80 grams) and perform real time RF signal sensing, with the ability to sense, identify and geo-locate RF signals, according to the company.
Procurements of aircraft self-protection systems have continued elsewhere around the Middle East over the past year. For example, Egypt procured BAE Systems' AN/AAR-47 Common Missile Warning Systems in late 2016 for use onboard the Boeing AH-64D Apache helicopter gunships used by the Egyptian Air Force (EAF), in addition to the force's Boeing CH-47D Chinook heavy-lift helicopters and Sikorsky UH-60A/M Black Hawk medium lift utility helicopters. The deal, reportedly worth $81.4 million, also includes training, technical assistance and test equipment. Self protection equipment has also been sold to the EAF through the US government FMS (Foreign Military Sale) route for Airbus/Hensoldt AN/AAR-60 MAWS and AN/ALE-47 chaff and flare dispensing systems for the two Cessna AC-208 Combat Caravan special missions aircraft procured from Orbital ATK's special missions aircraft division in late 2016.
North America
In terms of fighter EW capabilities, BAE Systems' AN/ASQ-239 is arguably at the leading edge of airborne EW capabilities. This system is equipping the Lockheed Martin F-35A/B/C Lightning-II fighter and, during September 2016, the firm announced its 250th delivery of an AN/ASQ-239 system for this aircraft. Steve Morais, director of engineering at BAE Systems, told Armada that while production was occurring at a rate of four AN/ASQ-239s per month in 2016, this is expected to increase to eleven per month by 2019. Little has been publicly revealed regarding this systems' performance, save for the information that it provides a 360 degree field of view of RF, IR and possibly laser threats around the aircraft in real time. BAE Systems' official literature also notes that the AN/ASQ-239 includes a chaff and flare dispenser, along with a countermeasures dispenser controller in addition to the AN/ASQ-293's ESM and threat detection equipment. Open source reports have noted that significant architecture from BAE System's AN/ALR-94 ESM which equips the Lockheed Martin F-22A Raptor fighter has been ported into the AN/ASQ-239.
The United States continues to overhaul the EW capabilities of significant parts of its combat fleet across the United States Army, Air Force and Navy. In November 2016, Boeing was the recipient of a contract worth $478 million for the Engineering, Manufacturing and Development (EMD) phase for the USAF's Eagle Passive/Active Warning and Sustainment System (EPAWSS) initiative. The EMD phase, according to reports, is expected to last until 2020. Overall, the EPAWSS is intended to improve the EW capabilities of the USAF's Boeing F-15C and F-15E Eagle/Strike Eagle fighters, of which the force is thought to operate circa 431 examples. Boeing has tasked BAE Systems to develop the all-digital EPAWSS which will confer overall improvements to the aircraft's ability to detect hostile RF threats, and to disperse chaff and flare countermeasures against RF and IR guided surface-to-air and air-to-air missiles. As Steve Morais, director of engineering at BAE Systems told Armada: "modernisation of fourth-generation fighter aircraft continued to be a high priority for us … primarily demonstrated by our work on the F-15." He continued that the firm's philosophy was: "to take our fifth generation EW capabilities and apply them to fourth generation aircraft to keep them relevant and effective as their service lives continue to be extended past 2030."
In recent years, USAF officials have stated that a mix of F-15C/E and Lockheed Martin F-22A Raptor fighters will be the mainstay of USAF air supremacy and air superiority doctrine prior to the development of the so-called Penetrating Counter-Air (PCA) capability. The PCA effort is expected to yield a sixth-generation fighter which could enter service in the 2040-2050 timeframe, according to USAF announcements. The EPAWSS improvements for the F-15C/E fleet is expected to replace the existing Lockheed Martin AN/ALR-56C Radar Warning Receiver, Northrop Grumman AN/ALQ-135(V) Radar Jammer and Raytheon AN/ALQ-128 Electronic Warfare Warning System currently providing self defence for the F-15C/ E fleet, with the EPAWSS expected to be retrofitted on the aircraft in the coming five years, according to open source reports, with Mr. Morais adding that the first EPAWSS will be shipped to Boeing at the end of this year for retrofit onto the first F-15 family fighter. Beyond the EPAWSS programme for the USAF, Mr. Morais adds that it is satisfying F-15 family self-protection for other customers: "The Digital Electronic Warfare System (DEWS) is a foreign military sales programme designed for international customer's next-generation F-15 fighter fleets. BAE Systems currently supplies DEWS to an (undisclosed) international customer and is pursuing additional opportunities. The programme's initial customer ferried its first aircraft in late 2016." He continued that deliveries to the DEWS customer have commenced, and a potential second customer could begin to receive the DEWS for its F-15s from this year.
Additional EW support is being offered to US military aircraft via Raytheon's ADM-160C MALD-J (Miniature Air-Launched Decoy-Jammer) expendable payload designed to help protect combat aircraft against RF threats. In November 2016, the ADM-160C's manufacturer was awarded a contract worth $76.1 million to provide ADM-160C decoys and supporting equipment to the USAF, with delivery of this contract expected to be concluded by 2020, according to media reports. Meanwhile, the ADM-160C is being enhanced with Raytheon's Global Positioning System Aided Inertial Navigation System-II (GAINS-II) upgrade. The GAINS-II enhancement, according to the company, achieves the twin benefits of improving the navigation capabilities of the ADM-160C, while ensuring that the ADM-160C can do this within a GPS jamming environment. The firm told Armada that all of the ADM-160C systems currently being produced and delivered to the USAF are outfitted with the GAINS-II enhancement, which can be retrofitted onto existing ADM-160C systems, although the firm is not aware of any distinct USAF programme to retrofit the existing inventory to this end.
The ADM-160C is cleared for use onboard the F-16C/D fighter, which can carry four, and the Boeing B-52H Stratofortress strategic bomber which can accommodate 16. To this end, the company is working with the US Navy to examine the feasibility of deploying the MALD-J onboard the US Navy's Boeing F/A-18E/F Super Hornet fighters. The 'active ingredient' of the decoy is a Northrop Grumman Signature Augmentation System (SAS) which is thought to transmit RF emissions which copy those produced when the carrying aircraft reflects RF in specific radar bands. The MALD-J may well continue to include the SAS, possibly affording the crew a choice between using either spoofing or jamming tactics, or it may dispense with the SAS altogether to provide solely a jamming function intended to blind enemy radars with noise.
Raytheon is also supporting US Navy airborne EW efforts with its Next Generation Jammer (NGJ) destined to equip the service's EA-18G Growler EW aircraft. The NGJ will include an AESA (Active Electronically Scanned Array) antenna. This can be tasked to perform different missions simultaneously while the NGJ's open architecture eases its upgrade in the future. The NGJ will replace the Exelis/Harris AN/ALQ-99E tactical jamming systems currently used by the EA-18G. The firm is forging ahead with the NGJ initiative, with Travis Slocumb, vice president for Raytheon's EW systems division telling Armada that, following the award of a US Navy engineering and manufacturing development contract in 2016, "we are on track for an initial operating capability with the US Navy in 2021."
Unmanned Aerial Vehicles (UAVs) in the US military inventory are also having their capabilities enhanced. The US Army has issued a requirement for a Multifunction Electronic Warfare (MFEW) payload which, according to public sources, is expected to equip the General Atomics MQ-1C Grey Eagle UAV operated by the force. Reports state that the MFEW is expected to take the form of a podded, wing-mounted payload. A so-called 'Milestone-B' decision, when the US Army will take the decision on whether to enter the technology maturation and risk reduction phase for the MFEW initiative for the MQ-1C is expected in circa 2018.
The efforts of the US Marine Corps (UMSC), in terms of strengthening its airborne EW capabilities, are focused on the AN/ALQ-231 Intrepid Tiger-II pod. This pod, open reports state, has been designed to be platform agnostic, and to perform several electronic warfare missions. Already operational onboard the USMC's McDonnell Douglas/Boeing AV-8B Harrier ground-attack aircraft, and the Corps' McDonnell Douglas/Boeing F/A-18C/D fighters, the latest version of the pod, the AN/ALQ-231(V)3 performed its maiden deployment on the USMC's Bell UH-1Y Venom light utility helicopters in circa July 2016. Further migration of the AN/ALQ-231 is expected onto the USMC's Bell AH-1Z Cobra attack helicopters, Sikorsky CH-53K King Stallion heavylift helicopters, plus its Lockheed Martin KC-130J tankers and Bell-Boeing MV-22B Osprey tiltrotors. The USMC's Boeing/Insitu RQ-21 Blackjack UAV is also expected to receive the AN/ALQ-231. The AN/ALQ-213 family includes several systems designed according to the aircraft that they equip, and whether they are intended to jam radars or communications traffic. The AN/ALQ-231's genesis can be traced back to late 2008 when the USMC issued an operation requirement letter pertaining to the Marine Air Ground Task Force Electronic Warfare 2020 plan which dealt with USMC airborne capabilities upon the retirement of the forces' Northrop Grumman EA-6B Prowler electronic warfare aircraft, which continue to fly these jets, unlike the US Navy which retired the aircraft in 2015. Although the AN/ALQ-231 is currently configured for communications jamming, moves are afoot to expand the systems' mission to include radar jamming under the AN/ALQ-231 Intrepid Tiger-II Block-X programme which commenced in 2016, and for which funding was secured in the 2017 US defence budget.
The need for airborne self protection for military aircraft shows no signs of abating. As noted elsewhere in this compendium, the electromagnetic environment is an increasingly congested place. Moreover, sophisticated Surface-to-Air Missile (SAM) threats such as Russia's Almaz-Antey S-400 Triumf SAM battery represent a tangible threat to the US and its allies around the world. Open sources state that this system has a unit cost of circa $200 million for one S-400 battalion is thought to consist of eight missile launchers, each including 32 missiles; accompanying ground-based air surveillance and fire control radars; and command and control vehicles. Published sources continue that the 40N6 semi-active/active radar homing SAMs which accompany the system can have a range of up to 216nm (400km). Thus, the S-400 risks being a potent anti-access/area denial weapon for an adversary whom may have neither the cash, nor the ability, to procure sophisticated 4.5- or fifth generation fighters. Little surprise then that US/Western rivals such as Russia and the People's Republic of China have acquired this system, with Iran being muted as a potential buyer. As the Defence Science Board, which advises the US Department of Defence of scientific and technical matters noted in its 2015 publication 21st Century Military Operations in a Complex Electromagnetic Environment: "Owing to the widespread and growing availability of modern and highly capable electronics throughout the world, adversaries with limited resources are increasingly able to present highly challenging EW environments to US forces."