Special forces around the world are keeping a keen eye on technological trends in the artificial intelligence and cyber domains as they seek to maintain operational and tactical advantages over actual and potential adversaries.
Addressing representatives from across the international special forces community in Tampa, Florida in May 2016, during the Special Operations Forces Industry Conference the former director of UK Special Forces (UKSF) Lieutenant General Sir Graeme Lamb warned how commanders must exploit next-generation technologies to maintain an overmatch against adversaries. Referring to emerging threats from so-called 'near peer' adversaries, including the Democratic People's Republic of Korea (DPRK), the People's Republic of China (PRC) and Russia, Lt. Gen. Lamb described how the global special forces community must reach the "highest levels of intelligence" in order to empower a shared consciousness of special forces across the battlefield. Highlighting technology types including Artificial Intelligence (AI) to assist in the generation, processing, exploitation and dissemination of Situational Awareness (SA), Lt. Gen. Lamb called for greater proliferation of "operator-to-machine; team-to-machine; and machine-to-machine integration" in order to create a holistic, smart and trusted fusion of knowledge: "It's all in the technology," he proclaimed before describing how special forces should become an: "unconventional force acting unpredictably while doing the unexpected against unknown and emerging threats."
Almost a year on and the special forces community continues to consider such technologies, as was illustrated by the head of the French Special Operations Command, Rear Admiral Laurent Isnard, who explained to delegates at the SOFINS (Special Operations Forces Innovation Network Seminar) held in Bordeaux, south-west France on 28th March 2017, how the internet had provided unequivocal capability increases to adversaries through information sharing: "Everything has to do with intelligence and decision making," Adm. Isnard explained: "To assess the (operating) environment, we need connectivity and observation. We know everything about (optronics) but our operators are becoming more and more involved in EW (Electronic Warfare) … We need to find any breakaway technology in radar to identify tunnels and we need to know what's happening behind walls. We are thriving for information and it's this which gives us the edge today. But we need to go further," he urged.
Specifically, Adm. Isnard called for greater use of intelligence by more efficient processing and exploitation of metadata (information that provides information about other information) using AI and other software packages. "If we can't process (intelligence), it is useless," he added. Additionally, he called for greater connectivity across the battlefield, describing how his special forces troops needed to "reconfigure quickly" by becoming more reliant on plug-and-play technology: "We have to connect the operator in middle of desert with his transport plan, including UAVs (Unmanned Aerial Vehicles), boats and aircraft as well as other commandos. We need to be actual in our communications and extremely careful in how we protect communications and data," he asserted while calling for greater usage of autonomous energy supplies.
Tactical Neural Implants
How to deliver such efficient processes and technologies? Speaking to Armada during the SOFINS event, industry sources described how important 'Hybrid Intelligence' was becoming to the international special forces community: "It's a smart world, hinged around four elements," sources explained while highlighting an operational and training environment encompassing a: "mixed reality of virtual and non-virtual technology, where software meets biology and where deep machine learning can be integrated with human intelligence".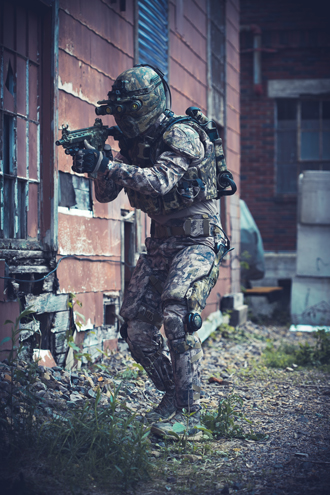 Making reference to future soldier system programmes such as the US Special Operations Command's Tactical Assault Light Operator Suit (TALOS), which seeks to unveil a Technology Demonstrator solution in August 2018, sources described a variety of technology relevant solutions being witnessed across such concepts. For example, one special forces source associated with the programme described ongoing difficulty in managing eyeball focus on virtual and augmented reality icons presented in a soldiers' field-of-view. The TALOS effort is considering the integration of Augmented Reality (AR) into head-up displays for troops operators which could include a blended fusion of image intensification, infrared and digital display. AR seeks to superimpose computer-generated imagery onto the users' field-of-view: "The market is going to suffer from a problem of seeing an object properly but this is where software will meet biology with things such as neural lace implants. We're almost there," it was explained with reference to body and brain implants. Such a concept is being explored by the likes of Neuralink, of which technology entrepreneur Elon Musk is the founder and chief executive officer, which is attempting to develop brain implant technology to allow for the integration of AI. Put simply, a neural lace can be implanted into the skull and monitor brain functions so as to activate a machine.
Energy
Elsewhere, next-generation energy solutions remain high on the agenda for special forces seeking enhanced autonomy and endurance across the full spectrum their operations. Speaking to Armada, a company spokesperson from Swedish innovation company myFC explained how future End User Devices (EUDs) such as laptops and tablet which continue to proliferate across the special forces community command and control, and ISR (Intelligence, Surveillance, Reconnaissance) could soon be powered for "weeks at a time", thank to the integration of fuel cell technology battery packs. A fuel cell can convert chemical energy into electricity by causing a chemical reaction with oxygen, or an oxidising agent, and positively charged hydrogen atoms. Unable to confirm how mature discussions were at this stage with the special forces community, company sources described how the technology could be harnessed to produce electricity as opposed to more conventional battery technology which can only store electricity: "Batteries can only carry as much energy as limited by the internal energy storage capacity. A fuel cell is a device that generates electricity from a separated chemical reaction – usually the reaction between hydrogen and oxygen," the spokesperson explained. Options include myFC's Powertrekk which relies upon chemical reactions associated with hydrogen atoms: "Hydrogen is the basic fuel for PEM (Proton Exchange Membrane) fuel cells, but these fuel cells also require oxygen. One great advantage of fuel cells is that they generate electricity with no pollution, the hydrogen and oxygen used in generating electricity ultimately combine to form a harmless by-product, namely water." They continued that: "Fuel cells are scalable and typically put together in a stack in order to obtain wanted power performance for a specific system. Fuel cell systems range from small power units to high power system like cars or power plants. The technology has also been used in space stations," the spokesperson added.
Meanwhile, Georgia Institute of Technology and Chongqing University, in southwest China continue to explore the development of man-wearable textiles capable of simultaneously harnessing solar and wind energy to produce electricity on the move. According to the partnership, such a solution could provide dismounted personnel with an integrated solution for the generation of electricity for EUDs: "This hybrid power textile presents a novel solution to charging devices in the field from something as simple as the wind blowing on a sunny day," explained Professor Zhong Lin Wang, from Georgia Tech's Materials Science and Engineering department at the launch of the product in September 2016.
According to Georgia Tech documents describing the technology, the concept relies upon Triboelectric Nano-generators capable of producing electrical power from "mechanical motion such as rotation, sliding or vibration … The fabric is highly flexible, breathable, lightweight and adaptable to a range of uses. The backbone of the textile is made of commonly-used polymer materials that are inexpensive to make and environmentally friendly. The electrodes are also made through a low cost process, which makes it possible to use large-scale manufacturing," University officials added while explaining how current tests were considering the long term durability of the technology as well as protection from moisture. Defence sources explained to Armada how the future integration of such technology into combat apparel would allow for an organic power source for operators conducting long range reconnaissance patrols on foot and without access to vehicles.
3D Printing
The international SOF community is also leading the market with regards to three-dimensional (3D) printing techniques for UAV technology which, according to the Armée de l'Air (French Air Force) Centre d'Excellence Drone (UAV Centre of Excellence), is already in a development pipeline with the French Special Operations Command. Speaking to Armada during the SOFINS event Commander Daniel-Frederic Gigan from the UAV Centre of Excellence explained how the technology was changing the way defence organisations can produce objects, with options ranging from UAVs through to perovskite (a calcium titanium oxide material) solar cells printed on plastic. The latter would allow solar panel recharging modules to be printed on vehicles, clothing and infrastructure, providing organic energy sources across the battlefield, defence sources explained. The French Special Operations Command and air force are both currently considering the establishment of an expeditionary 3D printing cell capable of supporting French special forces supporting the Task Force HYDRA effort in Iraq and Syria where French commandos operate alongside Iraqi Army and Kurdish elements against ISIS. Such a move would allow commanders to rapidly model and produce UAVs for special missions: "The Centre of Excellence for Drones has the capacity to develop this capability quickly with our experience in the field and we could do some prototyping in the field in a period somewhere between three days to a week. We are clearly answering a requirement from the Special Operations Command and operational theatres," he claimed.
Furthermore, Cmdr. Gigan highlighted ongoing efforts to better integrate AI technology into mini and small UAVs, providing airframes with the capacity to extend autonomous abilities and subsequently, mission effectiveness across the battlespace. He concluded that: "We are structuring our ecosystem so that one day, we can open our catalogue to offer on-the-shelf products needed by our forces. This is why innovation is key." The Centre of Excellence for Drones' current footprint in UAVs is limited to the DJI Phantom-series and Elbit Systems' Skylark family UAV, both of which are used for developmental training. However, the Centre retains partnerships with multiple UAV specialist including companies such as Parrot.
Cyber Moves
The advent of the so-called Cyber Warrior continues to gather pace across the SOF community. The Cyber Warrior concept which was first showcased in 2011 by Vincent Viola, the founder of the US Army's Military Academy's Combating Terrorism Centre (CTC) at West Point, New York State. Addressing delegates at the event, Mr. Viola called for USSOCOM to set up a Cyber Warfare Ranger School, providing commanders with a perfect blend of technology and personnel optimised for the future operating environment. It is unknown whether this school has now been established by the US Army, and entirely possible that its existence is classified. Speaking to Armada ahead of the SOFINS event, an official spokesperson from the Danish Special Operations Command described how such a concept remains a: "high priority across the Danish Armed Forces and intelligence agencies." The Command has now stood up dedicated staff officers to consider a future roadmap for the integration of cyber skills into the ranks of the Jaegerscorps and Frogman Corps Danish special forces as the threat of cyber and electronic warfare continues to proliferate, the spokesperson confirmed. The news follows the January NATO Exercise CROSSED SWORDS which saw the integration of cyber-kinetic warfare into an Alliance training programme for the first time, according to exercise officials: "The scenario was based on a military cyber-operation. Penetration testers, digital battlefield professionals and members of special forces were tasked with regaining control over a specific military system … This one-of-the kind cyber-kinetic engagement meant that special forces were used to retrieve physical evidence, including electronic equipment and data storage devices, as they would in a realistic mission in cooperation with battlefield digital forensics professionals," NATO officials described. The exercise saw special forces concentrating on: "evidence gathering and information analysis for technical attribution … Technical cyber-defence exercises typically train information system defence. However, this can only be done with a real-time deployment of opposing forces played by security specialists and penetration testers. These professionals, usually known as the Red Team," officials added.
Political Violence
At the tactical level, special forces continue to receive uplifts in technology to better enable them to execute complex operations to fight political violence both at home and abroad. One company which continues to invest heavily in both of these areas, in particular for the French Special Operations Command, is Thales which according to the company's military liaison, Alain Bouquin, is developing two particular next-generation technologies: Speaking to Armada, company sources explained how the Portable Electromagnetic Pulsed Source (PEPS) product had been designed to provide a non-kinetic means of halting cars and trucks during vehicle interdiction operations. The special forces community has been considering the development of similar systems over recent years but Thales's latest effort, which disrupts the electronic circuits of the target vehicle bringing it to a standstill, has provided new impetus in this area. One NATO special forces source explained to Armada how a PEPS-like solution would provide the capability to stop a target vehicle in a more discreet fashion, compared to using gunfire, and with the added benefit of less collateral damage.
Thales has also developed the Remote Effects by Portable Infrared Laser or ''REPTILE' solution, providing special forces assault teams the wherewithal to cut through metal from a stand-off range of up to 200 metres (656.2 feet), company officials claimed. Speaking to Armada during the SOFINS event sources associated with the French Special Operations Command explained the potential benefits of such a capability: "If the course of action to storm a building has been selected, assault teams generally stack up outside the selected aperture for method of entry which can include demolitions charges. There have been incidents when operators have been injured using demolitions to breach so the ability to gain entry while stood off at range remains an interesting option," the sources explained.
Conclusion
As described by senior special forces officials, the near-term is set to witness considerable capability advances across the community with regards to command and control technology, which in turn will have a significant impact on the tactical materiel in use today. There remains little doubt that the advent of AI technology and cyber capabilities will assist in the optimisation of decision-making processes and protection across the battlefield respectively. However, commanders must remain vigilant regarding the overload of information for the human brain so as not to overburden thinking patterns and reactions to such information loads.
by Andrew White