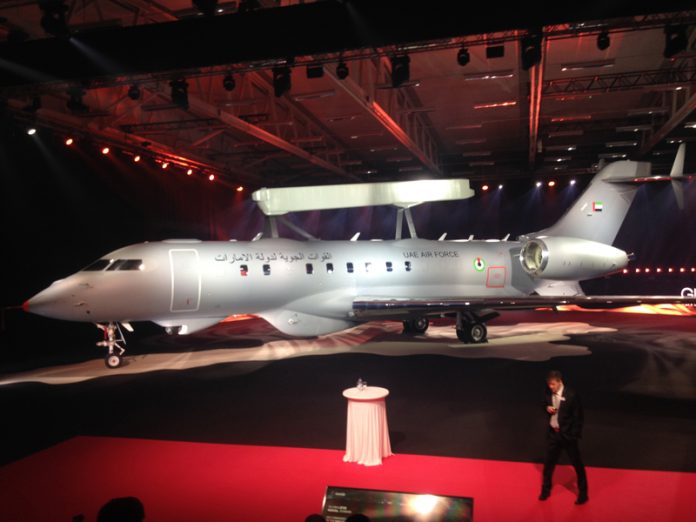 Saab's Bombardier 6000 GlobalEye is no longer a concept. The prototype aircraft, destined for the United Arab Emirates Air Force and Defence (UAEAF&AD) was rolled out on 23 February at the company's Linkoping facility in Sweden.
It comes nearly two and a half years after the customer ordered two GlobalEyes in a contract worth $1.27 billion during November 2015. Back then Saab told the author, "The UAE wanted a swing element [moving from one role to another instantly] and the GlobalEye meets their dynamics for a flexible mission system."
In February 2017, the UAEAF&AD announced it had placed an order for another GlobalEye worth $235 million. Saab label their third generation AEW&C aircraft as a Swing Role Surveillance System.
Frederic Wiessy, Saab's head of research and technology, Saab Surveillance said at the roll out, "We have a well committed customer with a far-reaching vision being realised by Saab." He added, "Normally it has been the Swedish customer pushing our boundaries, but this is the first by a foreign country. Understanding their requirements and needs has been very important."
Saab's Matts Wicksell, director, head of lead systems integration, told the media: "This is the first Airborne Early Warning aircraft with the capability to detect targets in all three domains – air, land and sea. In the sea we can see extremely small subjects, like rib boats, and jet-skis; in the air we can see stealthy targets at a longer distance."
This has all been made possible because mounted on top of the airframe is the S-band active electronically scanned array (AESA) Erieye ER (Extended Range) multi-mode radar.  Saab claims it has improved the detection range by over 70 percent compared to the previous generation model, to more than 300 miles (450km).
At lower altitudes of about 5,000ft, the Seaspray radar (believed to be the 7500 but Saab wouldn't confirm this) can track up to 300 targets. While, the Star Safire 380HD Electro Optical/Infra Red (EO/IR) turret mounted behind the nose wheel door allows the five operators in the rear cabin to focus on targets of interest.
The flight test programme will now commence, but the company would not be drawn on when it would start or when the GlobalEyes's first flight is expected to take place, because "of the customer's sensitivities."
by Alan Warnes