Lockheed Martin's M142 High Mobility Artillery Rocket System (HIMARS) has clearly found a following with world armies. It essentially takes the MLRS (Multiple Launch Rocket System) that was widely featured in images of the Gulf Wars and placed this lethal long range fires capability onto a medium tactical truck.
First fielded by the US Army and then US Marines, HIMARS has also been adopted by Singapore, Jordon and the UAE. In July 2017 Poland announced that its Program WR-300 'Homar' will also employ the HIMARS launcher on a local Jelcz 663 6×6 truck. In February 2018 not only did Romania's legislature approved the acquisition of HIMARS but the US Marines' Commandant indicated their intent to increase the Marine HIMARS force.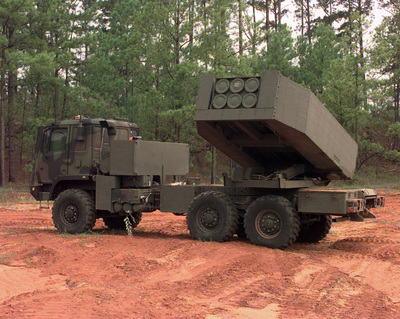 The Romanian acquisition has a value of around $1.5 billion. It reportedly includes 54 HIMARS launchers plus rockets and support systems. Rockets to be supplied include 81 each of 70km range Guided Multiple Launch Rocket Systems (GMLRS) M31A1 and M30A1 Alternative Warhead plus 54 Army Tactical Missile Systems (ATACMS) M57 which has a range of up to 300km. The order is also understood to include 54 M1084A1P2 Medium Tactical Vehicle (MTV) HIMARS resupply vehicles, each with a M1095 MTV resupply cargo trailer, plus 10 M1089A1P2 FMTV wreckers.
HIMARS, which can be carried in a C-130 aircraft, can delivery six GMLRS or one ATACMS from its launcher. Equipped with an advanced fie control system with navigation and positioning it can halt and fire within 16 seconds. The crew consists of three (driver, gunner and section chief) all placed in an armoured cab. However, the computer fire controls and automation permits a single crewman to operate and fire the system. HIMARS was recently employed against ISIS in Mosel.