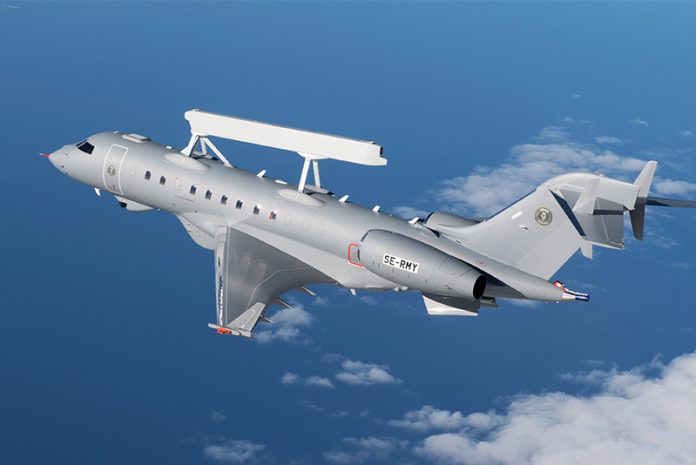 On Wednesday 14 March 2018 Saab successfully completed the first flight of its GlobalEye Airborne Early Warning & Control aircraft at its Linköping factory airfield.
The aircraft, a Bombardier Global 6000 modified by Saab to carry the new Erieye ER radar, is eventually destined to be the first of three Swing Role Surveillance System (SRSS) aircraft for the UAE Air Force and Air Defence, the launch customer for the type. The UAE announced a $1.27 billion order for two GlobalEyes at the Dubai Airshow in 2015, and a $236m order for a third aircraft was announced at IDEX on 4 January 2017.
The aircraft took off for its maiden flight in its new configuration at 12.52 local time in the hands of Saab experimental test pilots Magnus Fredriksson and Magnus Ljungdahl, assisted by flight test engineer Magnus Petersson.
The aircraft had flown previously in stock Global 6000 configuration, having been delivered to Linköping as a green airframe on 21 February 2016.
The one hour 46 minute first flight was preceded by a series of ground trials including high and low speed taxiing tests. The purpose of the flight was to collect flight-test data using the on-board instrumentation suite and telemetry, and to verify the aircraft's performance and handling characteristics after many hours of simulation and computer modelling.
Fredriksson said that the flight had gone as planned, "with the performance level matching our high expectations. The aircraft's smooth handling was just as predicted and a real pleasure for me to fly," he said.
The maiden flight took place three weeks after Saab's two-day rollout event on 22-23 February 2018. The first day was closed, but is understood to have been attended by customer and potential customer representatives, with the GlobalEye then being introduced to invited media representatives the following day.
GlobalEye combines air, maritime and ground surveillance capabilities in one swing-role platform. The aircraft carries a full suite of sophisticated sensors including the powerful new extended range Erieye ER radar, a Leonardo Seaspray 7500E X-band maritime surveillance radar and a FLIR Systems Star Safire 380 HD electro-optical turret.
by Jon Lake