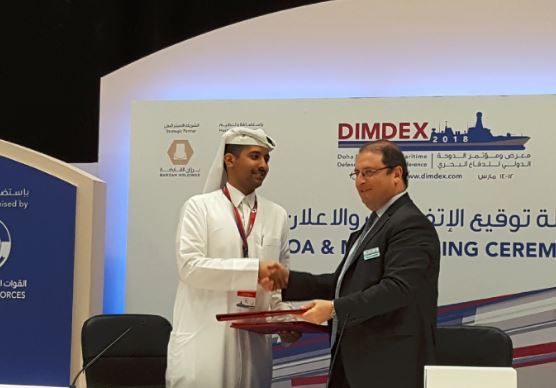 During the DIMDEX exhibition, one of the major defense meetings taking place in the Gulf, Nasser Al Naimi, Managing Director of Barzan Holdings and Stéphane Mayer, CEO of Nexter and co-CEO of KNDS are delighted to announce the signature of two MOUs between their two companies.
Following the signature of a letter of intent on the 7th of December 2017 between Nexter and the Qatari Ministry of Defense (through Barzan Holdings, a company 100% owned by the Ministry of Defense of Qatar) for a partnership around the procurement of VBCI for the Qatari forces (Al Rayyan program), a Joint Venture has been established in Qatar and will be the local industrial base to deliver and maintain complete vehicles for the Al Rayyan program.
The first MOU represents a major step in the strategic partnership between Qatar and France: it will allow cooperation between Nexter, the French leader in land defense, and Barzan, a Qatari strategic industrial player. Together they will work to finalize the Qatari VBCI program. Other common projects are under consideration to propose complementary solutions to the Qatari forces.
The second MOU between Barzan Holdings, Nexter and all other industrial partners for the Al Rayan program formalizes the industrial cooperation and the launches the contractual process.
Stéphane Mayer underlines that Nexter is fully committed to provide operational equipment to Qatar. Two VBCI are currently displayed on the Barzan booth, one equipped with a 30mm canon and another one a Nexter 40CT turret on the Nexter booth on Barzan pavilion.
Nasser Al Naimi, Managing Director of Barzan Holdings said: "Barzan Holdings is delighted to partner with Nexter, a leading French defence company on this strategic program. The VBCI program will empower the military capabilities of the Qatar Armed Forces and represents a major step forward in Qatar's defence industry. "
(Re)discover Nexter on the Barzan H7-328 booth and KNDS H3-103 booth.