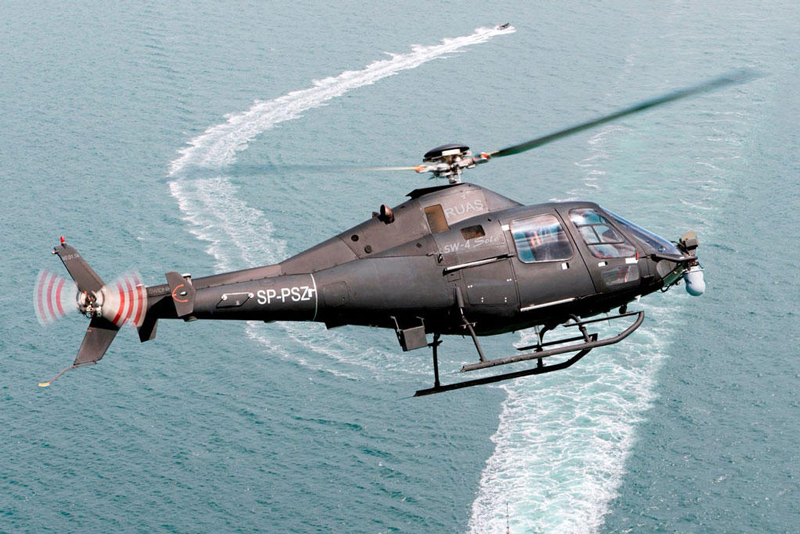 As Rotary Unmanned Aerial Systems (RUAS) have improved in terms of range and load capability, they have moved into the tactical sphere encompassed by naval needs for Maritime Domain Awareness (MDA).
The utility and cost of acquiring and deploying unmanned aerial systems (UAS) is witnessing a steady increase across the military, but particularly in the military maritime market.
However, it is the need for many navies to know more about what is over the horizon that is a driving factor in USA development and employment, particularly when their loiter time is substantially more than a manned aircraft or helicopter.
"The maritime environment is dominated by the horizon. Without high ground to occupy all ships have the same horizon therefore all ships have the same range limitations at which to detect and understand, " noted Ewen Stockbridge Sime, UMS Skeldar's head of training, in a positioning document issued by the company in February.
"Improved lift capacity on this class of UAS has meant that, for the first time, maritime surface search radars can be carried and employed with effect," he explained.  He noted that the increased capability and smaller size of high sensor systems meant that a range of missions, not just military, can be prosecuted "from coast guard boarding parties to search and rescue to littoral survey. Hyper spectral sensors can be used to detect pollution and the emergence of ViDAR (Visual Detection and Ranging) gives real opportunity for low weight, high resolution surface picture compilation at range."
Sime makes the important point that due to the smaller size or some types of rotrary UAS, "small vessels can transport their own organic air capability. Picket ships can extend understanding further, small survey ships can understand better and coastguards can find and help more effectively."
UMS Skeldar's contribution to this field is the Vertical Take-Off and Landing (VTOL) Skeldar 200, a Hirth heavy fuel engine that can use Jet A-1, JP5 and JP8, a kerosene-based fuel (NATO code F-34). UMS Skeldar states that the 200 has a includes a 518lb (235kg) take-off weight, with a payload up to 88lb (40kg).
UMS Skeldar is one of the companies that have been selected to participate in the European Defence Agency initiative OCEAN2020. This is a cross-European military research programme which will employ 'unmanned platforms of different types (fixed wing, rotary wing, surface and underwater) integrated with naval units' command and control centres to enable data exchange via satellite with command and control centres on land.'
Around $110 million (€90m) has been allocated for the Preparatory Action on Defence Research (PADR), being spent over three years between 2017-19.
Leonardo was awarded leadership of the OCEAN2020 initiative, which comprises 42 partners from 15 European countries. These include the Ministries of Defence of Italy, Greece, Spain, Portugal and Lithuania, with additional support from the Ministries of Defence of Sweden, France, the United Kingdom, Estonia and the Netherlands. Industrial partners include Indra, Safran, Saab, MBDA,PGZ/CTM, Hensoldt, Intracom-IDE, Fincantieri and QinetiQ.
As stated by Leonardo, the OCEAN2020 project will require 'two live demonstrations of maritime surveillance and interdiction operations, which will be conducted by European fleets using unmanned aircraft, surface vessels and underwater systems. The first demonstration, scheduled to take place in the Mediterranean Sea in 2019, will be coordinated by the Italian Navy. The second, which will take place in 2020 in the Baltic Sea, will be conducted by the Swedish Navy. The data collected during these two demonstrations will be processed and sent to a prototype European Command and control centre in Brussels.'
Leonardo's Hero and Solo unmanned rotorcraft will be used during the first demonstration with the Italian Navy in the Mediterranean. The SD-150 Hero is a heavy fuel engine Short Range Tactical Rotary Unmanned Air Vehicle (RUAV), with an endurance over five hours over a range of 540km. It has a range speed of around 80 knots (144km/h) but for an endurance mission 50kts (90km/h) would be more applicable.
The SW-4 Solo, based on the Polish PZL-Swidnik SW-4 light single engine helicopter, is currently an Optionally Piloted Helicopter (OPH) but can be converted to a rotary UAS within an hour. In early March Leonardo announced that the SW-4 Solo had flown totally unmanned for the first time, for a period of 45 minutes to a height of 1,500 ft (457m) and up to a maximum speed of 60kts (111km/h).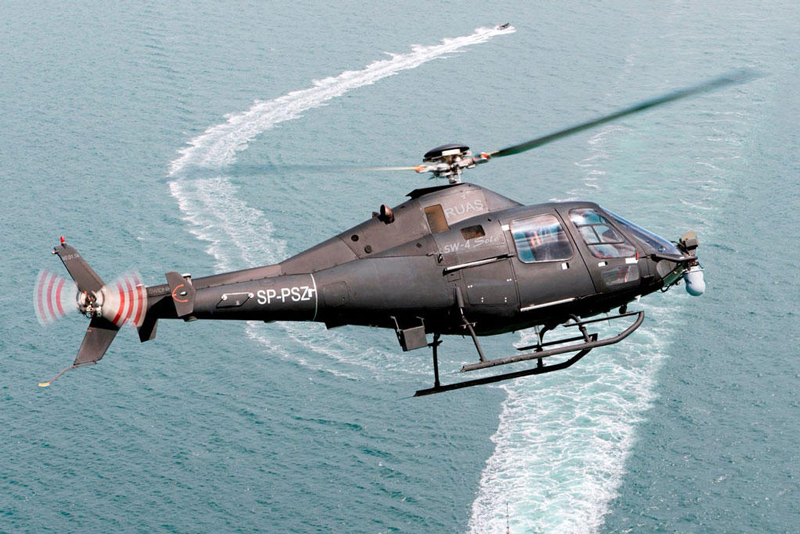 TRIED AND TESTED
Austrian manufacturer Schiebel continues to demonstrate constant progess with bringing its Camcopter S-100 unmanned air system (UAS) to the international market. It has had particular succes within the naval community, as witnessed by the Royal Australian Navy's (RAN) announcement in February 2017 that it had awarded Schiebel a contract to supply the S-100 and three year of contractor logistics support.
The RAN has been testing the heavy fuel varient of the S-100 during customer acceptance trials undertaken recently. The acquisition of the S-100 has taken place through the Navy Minor Project (NMP) 1942, a programme to procure and develop a vertical takeoff and landing Maritime Tactical Unmanned Aircraft System – Interim Capability (MTUASIC). The intent is to develop a mature unmanned UAS fleet for the RAN by the early 2020s.
Most shipborne operaitons currently come under the short-range tactical capability and the company states that it Camcopter S-100 has flown from over 30 types of ships in a variety of environments. This system maturity was what the RAN was seeking in making its selection.
The flying and verification programme was conducted at the Jervis Bay airfield in New South Wales. The S-100 JP-5 (NATO F-44) heavy fuel powered S-100 had a Wescam MX-10S payload which delivered images from a distance of around 60 nautical miles (NM) and at altitudes exceeding 10,000ft (3,048m)
RAN contract manager Kevin Beare stated that the S-100 had "performed very well during the validation and verification program and the RAN looks forward to utilising this platform to achieve NMP1942 project objectives over the coming years."
NEW PRETENDER
Airbus Helicopters is developing its own rotary UAS for naval maritime deployment called Vertivision Surveillance Rotorcraft (VSR) 700 (for its weight at 700kg). The VSR700 is derived from a Helicoptères Guimbal Cabri G2 helicopter, a light, single-engine, diesel-powered rotorcraft. A flight/loiter time of up to ten hours is expected with a fuel burn of around 15kg per hour. This is with a payload of around 250kg, likely to comprise EO/IR sensors and radar.
Airbus is talking to the French Navy regarding the VSR700 and its potential use by new medium-sized frigates. It completed OPVs trails in June 2017 proving the integration of Airbus Helicopters' flight control system with the aerial vehicle.
In January this year the DGA (Direction générale de l'armement) awarded a technology development contract to the Naval Group and Airbus Helicopters consortium. The objective is to create a demonstrator that can be trailed by the French Navy onboard a vessel. It would also trail associated mission systems.
According to an Airbus statement, this capability would contribute towards 'the preparation of the SDAM (Navy Airborne Drone System), whose entry into service is foreseen for the middle of the next decade on new Intermediate-Size Frigates (FTIs)' and potentially other French warships.
The aim of the project would be to develop 'a demonstrator of the complete system in a representative environment.' The Naval Group and Airbus Helicopters will have the responsibility of programme design authority, working with the main subcontractors of Hélicoptères Guimbal, Safran, Thales and ONERA.
Sea trials of a manned Cabri G2 have already been conducted onbaord a French Navy air defence frigate to order to define the VSR700's flight envelope for shipborne operations.
BIGGER, BOLDER
The US Navy's Northrop Grumman MQ-8C Fire Scout, based on a Bell 407 helicopter, is a US Navy programme to provide an unmanned VTOL rotorcraft as part of its concept for distributed maritime operations. The MQ-8C would be ship-based on the US Navy's (USN) future frigate or Littoral Combat Ship (LCS) and would use onboard sensor equipment to extend the range of the ship's own onboard Intelligence, Surveillance and Reconnaissance (ISR) capabilities.
The USN has selected a platform based on the existing Bell 407 manned helicopter, which has had over four million flight hours logged by owners and users since its first flight in 1996. The Bell 407 frame was also put forward by Bell Helicopter for the US Army reconnaissance heliopter replacement as the ARH-70. However, the programme was cancelled by the Army in 2008. It has a four-bladed rotor with a maximum speed of around 135kts (250km/h), an operational height up to 16,000ft (4,876m) and a maximum internal payload up to 500lbs (226kg).
Latest reports state that the Navy's MQ-8C Fire Scout UAS will be fitted with Leonardo Osprey 30 Active Electronically Scanned Array (AESA) radar together with a 16 datalink. Leonardo describes the Osprey as a multi-mode surveillance radar which is particularly suited to maritime challenges. Its features include: an AESA-enabled small target mode (STM); high resolution wide swath SAR mapping; small radar cross section (RCS), low minimum detectable velocity (MDV), multi-channel moving target indication (MTI); and air-to-air surveillance, track and intercept.
Such capabilities will allow the USN to use the MQ-8C as a forward sensor which can feed ISR information back to the surface fleet which would be able to use modern weapons to engage targets at this greater range.
The MQ-8C will be integrated with the Johns Hopkins-developed Minotaur Track Management and Mission Management system that collates data from several different sensors to provide a unified target picture to a USN battle group.
According to Jack Thomas, director of Tactical Autonomous Systems Mission Engineering at Northrop Grumman Aerospace Systems, the Fire Scout with Link 16 operating with a fleet of ships "is a key enabler to that capability and requires no additional modification to any of the other platforms." He continued: "We certainly see Fire Scout as the long-range, high-endurance sensor that does the detecting and identification that will shorten that cycle from initial detection through to managing that track."
In December 2017, Fire Scout program director at Northrop Grumman Aerospace Systems Melissa Packwood stated that the USN had acquired 30 MQ-8Cs for its LCS programme. Early in 2018, the US government announced a $33.5m modification to its previous contract with the company for the further delivery of three Fire Scout MQ-8C UAS with a completion date set for March 2020.