Where fourth generation fighters excelled, the capabilities of the fifth generation are still being realised with integration often a challenge as well as a benefit.
A fifth generation fighter is the term used to describe a fast jet that incorporates the most advanced capabilities currently available. There are no hard and fast rules as to precisely what these are, but it is generally accepted that such an aircraft will have all-aspect stealth even when carrying weapons, a high performance airframe, advanced avionics and a low-probability-of-intercept radar. It will also have highly-integrated computer systems that are able to provide maximum situational awareness by networking with other elements in the battlespace using fully-fused sensor information. The first fifth-generation type to enter operational service was the Lockheed Martin F-22 Raptor, while later examples include the Chengdu J-20, Lockheed Martin F-35 Lightning II and Sukhoi Su-57/PAK-FA.
The earlier fourth-generation fighters are mostly based on design concepts from the 1970s, with these types having generally entered service in the 1980s and continuing in operational use today. However, over the period since their inception, major advances in technology have resulted in most of these types undergoing considerable upgrades, making them far more capable and sophisticated than early models of the same aircraft of which the F-16 is a classic example. Later fourth-generation designs also incorporated these new systems from the outset and these evolutionary aircraft have been dubbed, by the Russians in particular, as 4.5-generation types. The United States (US) defines 4.5 generation aircraft as fourth-generation types that have been modernised by incorporating airborne electronically scanned array (AESA) radar, enhanced avionics, high-capacity data links and the ability to deploy the latest generation of weapons. Types currently considered to be in the 4.5-generation category are the Boeing F-15SE Silent Eagle, Boeing F/A-18E/F Super Hornet, Chengdu J-10B, Dassault Rafale, Eurofighter Typhoon, Lockheed Martin F-16E/F Block 60 and F-16V/Block 70, Mikoyan MiG-35, Saab JAS39E/F Gripen, Shenyang J-11D/J-15B/J-16 and Sukhoi Su-35.
One of the big challenges facing operators of new generational jets is how to integrate them. Work is underway in the US and the United Kingdom (UK) to get the fourth generation fighters 'talking' to the very expensive fifth generation types. This would allow the latter to concentrate in the top-end range of operation – flying in high threat areas where the advanced sensor technologies give them the edge.
The following gives an overview of some, but not all, of the major types that fall into these categories.
Lockheed Martin F-22 Raptor
As already mentioned, the Raptor became the first fifth-generation type to enter operational service. Intended to meet the requirements of the US Air Force's (USAF) Advanced Tactical Fighter programme, it was originally designed primarily as an air superiority fighter. However, it evolved to also incorporate ground attack, electronic warfare and signals intelligence capabilities. The type is a single-seat, twin-engine, all-weather stealth tactical fighter which formally entered USAF service in December 2005, following a protracted development programme. The USAF considers the F-22A unmatched by any current type, with its combination of stealth, aerodynamic performance and situational awareness giving what the USAF believes to be unprecedented air combat capabilities.
Due to its high cost and a number of other factors, including doubts over its potential air-to-air missions, and in view of delays to rival Chinese and Russian designs, it was decided to end production in favour of the more versatile Lockheed Martin F-35 Lightning II. A total of eight pre-production/ engineering and manufacturing development aircraft, followed by 187 operational production Raptors, were manufactured, the last of which was delivered to the USAF on 2 May, 2012.
Lockheed Martin F-35A/B/C Lightning II
Lockheed Martin's F-35 Lightning II is a stealthy, single-seat, single-engine, all-weather multi-role fifth-generation fighter that has its origins in the X-35 design, which was the winner of the Joint Strike Fighter (JSF) programme competition. Intended for both ground attack and air superiority missions, it comes in three primary variants. These are: the F-35A conventional take-off and landing version; the short take-off and landing F-35B; and the carrier-based F-35C catapult assisted take-off and arrested recovery variant.
The original intention of the JSF programme was to produce a relatively inexpensive fighter, but it has proved to be one of the most expensive fighter development programmes in history. Although all major variants were intended to have substantial commonality to cut design and maintenance costs, the eventual design commonality has come down to only around 20 percent. Development has also been somewhat protracted.
Lockheed Martin representatives state that the F-35 is designed to have a close and long-range air-to air capability, second only to the F-22 Raptor. The F-35 incorporates durable, low-maintenance stealth technology, integrated avionics and sensor fusion which provide the pilot with maximum situational awareness by integrating information from on- and off-board sensors. This also improves target identification capabilities and weapon delivery. Although designed for maximum stealth, with weapons carried in internal bays, it can also be configured with underwing pylons for external weapons carriage, which will compromise its stealth capability but can be used in situations where this is not an issue.
The USAF will be the largest operator by far of the F-35A, with plans to acquire 1,763, while Australia, Denmark, Israel, Italy, Japan, the Netherlands, Norway, South Korea and Turkey are also acquiring this variant. For the F-35B, the United States Marine Corps (USMC) plans to acquire 340, while Italy and the UK are also purchasing this variant. Only the US has so far decided to acquire the F-35C, with the US Navy expecting to take delivery of 260 and the USMC seeking 80 aircraft.
Eurofighter Typhoon
As with the F-22, the Typhoon was originally designed primarily for the air superiority role, but has evolved to also undertake air-to-ground and reconnaissance missions. Developed by a European consortium (UK, Germany, Italy and Spain), the definitive prototype of this fourth-generation, twin-engine, canard and delta-wing fighter first flew on 27 March, 1994. It entered operational service in 2003 and is in service or has been ordered by Austria, Germany, Italy, Kuwait, Oman, Qatar, Saudi Arabia, Spain and the UK.
Typhoon is intended as an extremely agile aircraft for effective dogfighting and is equipped with a quadruplex digital fly-by-wire control system, giving 'carefree' handling while preventing the pilot from exceeding the parameters of the flight envelope. Although not specifically stealthy, numerous features are designed to reduce radar cross-section (RCS), including radar absorbent material coating various surfaces, including wing leading edges and intake lips.   Some weapons are also semi-recessed into the fuselage to reduce RCS. Its capability has continually been extended with integration of an increasingly wide range of weapons for both the air-to-air and air-to-ground role. The aircraft's original CAPTOR radar is being superseded by CAPTOR-E, an AESA derivative developed by the EuroRadar consortium.
The Typhoon has a sophisticated and highly-integrated defensive aids sub-system known as Praetorian, which automatically detects and responds to air and ground threats. The type's PIRATE (Passive Infra-Red Airborne Track Equipment) provides passive target detection and tracking.
Dassault Rafale
France's Dassault Rafale is a twin-engine, canard and delta-wing, multi-role fighter defined by the manufacturer as an 'omni-role' aircraft. It is capable of a wide range of missions, including air superiority, reconnaissance, anti-ship strike, nuclear deterrence, air-to-ground missions, interdiction and in-depth strike. Originally, France had been involved in the Eurofighter Typhoon, but pulled out of the project in favour of going it alone with its own fighter, the Rafale. Developed with high agility, the Rafale uses digital fly-by-wire controls to artificially maintain stability. Although not a stealth aircraft as such, the type has many features to reduce its RCS and infra-red signature, many of which still remain classified.
Considerable use of data fusion is used in the highly-digitised glass cockpit, with the emphasis on reducing pilot workload. Self-protection is provided by the Spectra integrated defensive aids system, while a number of passive sensor systems assist operations in the air supremacy role. Weapons capability has been continually expanded and the type is nuclear-capable when armed with the ASMP-A missile.
Much of Rafale's equipment fit has been developed domestically, including the RBE2 AA AESA radar and infra-red search and track sensor. Three main variants have been produced, comprising the land-based, single-seat Rafale C and its two-seat version, the Rafale B, along with the single-seat, carrier-based Rafale M. Having determined that a second crew member was particularly useful to ease the workload for many missions, the French Air Force decided that the two-seater, originally planned mainly as a trainer, would be ordered in larger numbers as a fully combat-capable aircraft.
It is in service with the French Air Force and Navy, while after a dearth of orders for many years, it has finally achieved export success with Egypt, India and Qatar.
Saab JAS39 Gripen
Saab's JAS39 Gripen is a lightweight, single-engine multi-role fighter designed originally to replace the Swedish Air Force's Saab 35 Draken and 37 Viggen in the fighter, attack and reconnaissance roles. Featuring a canard and delta-wing configuration, it has a relaxed stability design with fly-by-wire controls. It was designed to have low maintenance requirements and the ability to be easily upgraded as new weapon, sensor and computer technology was developed. Saab describes the type as a 'swing-role' aircraft, capable of instantly changing roles in flight to respond to new situations and threats.
The aircraft makes use of sensor fusion and its software is continuously upgraded to incorporate new capabilities. Gripen is designed to operate as a component of a networked national defence system, allowing information exchange in real time with other aircraft and ground-based systems.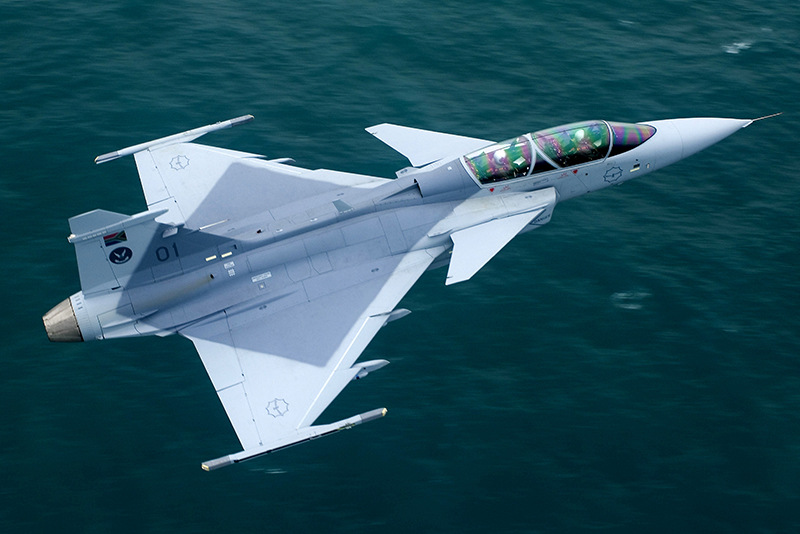 Further development has led to the Gripen E/F (initially known as Gripen NG), which uses a new Raven ES-05 AESA radar with an improved range and substantially increased field of view. Other new features include the Skyward-G IRST, while the sensors of the new variant are claimed to be able to detect low RCS targets at beyond visual range.
In addition to the Swedish Air Force, the JAS39C/D is also being flown in the Czech Republic, Hungary, South Africa and Thailand, plus the ETPS in the UK, which uses an aircraft loaned from Sweden. The JAS-39E/F has been ordered by Brazil.
PAK-FA/T-50/Su-57
Russia's PAK-FA was developed by Sukhoi, which gave the type the internal designation T-50, as a stealthy, single-seat, twin-engine fifth-generation multi-role fighter prototype. In production form, it will be designated the Su-57 and enter Russian Air Force service to replace the MiG-29 and Su-27. Featuring advanced avionics, super cruise and super manoeuvrability, the type will be the first with stealth technology to enter Russian military service, although precise details of its capabilities are classified. Construction includes considerable use of composite materials, while the aircraft will have advanced avionics, including an active phased-array radar and sensor fusion capabilities. The type is expected to be capable of carrying some of Russia's most advanced weapons.
The first prototype flew on 29 January, 2010, with nine prototype development airframes now flying and two more expected to join them imminently. Test flying is expected to continue until 2019, when production is also intended to commence.
Chengdu J-20
Another new fifth-generation type is China's Chengdu J-20, a single-seat, twin-engine, all-weather stealth fighter designed for the People's Liberation Army Air Force. The first prototype made its maiden flight on 11 January, 2011. It is intended as an air superiority aircraft, but with a precision strike capability. As additional prototypes have flown, a number of design changes have been apparent to overcome shortcomings found during initial testing.
The type features an AESA radar, electro-optical/infra-red targeting system and advanced communications suite enabling datalinking to other platforms. It has a glass cockpit with two primary LCD displays and three smaller auxiliary displays. Although there are reported to still be a number of technical problems to be overcome, in October 2017 Chinese media reported that Chengdu had initiated series production. Chinese officials confirmed on 9 March, 2017, that the type had entered PLAAF service and at least six had already been noted in use during the previous year, with six more reportedly due for delivery by the end of that year. An official press release on 28 September, 2017, said that the J-20 had been officially inducted into PLAAF service. However, with development still under way, it is likely to be some considerable time before the type can be seriously considered as operational.
Future Fighters
A number of other future fighter programmes are currently under way, but still in their early stages. These include Turkey's indigenous TF-X, which is intended to replace the Turkish Air Force's F-16s. A four-year preliminary design contract was signed between Turkish Aerospace Industries and the Turkish Government on 5 August, 2016.
A joint South Korean/Indonesian project is the KF-X, designed to produce a 4.5-generation multi-role fighter for both countries. This has been plagued by delays and postponements, with the programme yet to even reach the prototype stage.
In China, the Shenyang FC-31 is a fifth-generation, stealthy multi-role fighter, the first prototype of which made its maiden flight on 31 October, 2012. The type is still in development, but it is reportedly aimed largely at the export market, although Shenyang is hopeful of also selling the type to the PLAAF.
by Alan Warnes