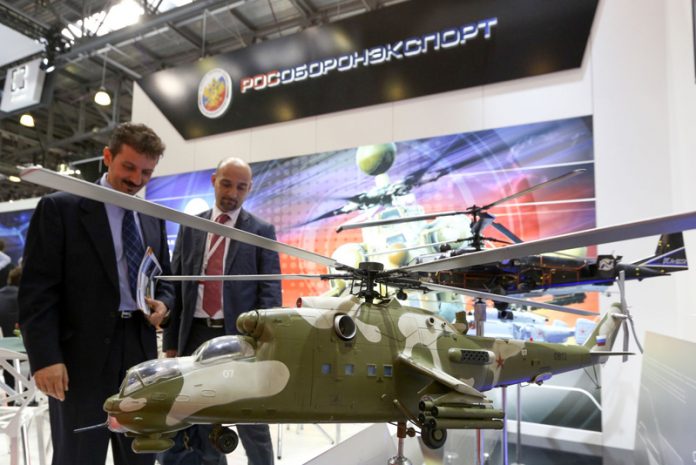 Rosoboronexport, a member of the Rostec Corporation, is to set up a joint Russian exposition at AFRICA AEROSPACE & DEFENCE 2018, an international conference and exhibition of military equipment for all services is to take place at Waterkloof Centurion AFB in Pretoria, South Africa, on September 19-23.
"AFRICA AEROSPACE & DEFENCE is the most important marketing event, gathering representatives from the most part of Sub-Saharan Africa. Rosoboronexport consider these states as strategic and long-standing partners. Just over the past two years we signed 20-plus contracts with them. Our estimates suggest that the regional market of military equipment will demonstrate stable growth," says Rosoboronexport's Director General Alexander Mikheev.
The positive dynamic of the arms market in Sub-Saharan Africa is attributed to several factors. These include international terrorism, Islamic radicalism, and still persisting threat of pirates at sea. Besides, Sub-Saharan countries contribute troops to peacekeeping missions conducted under auspices of the UN and African Union.
Rosoboronexport's display at AFRICA AEROSPACE & DEFENCE 2018 has been arranged with due account of needs of security agencies in Africa. The booth houses 280-plus pieces of military equipment, developed and manufactured by Russian defense enterprises.
Russian export to the region makes emphasis on aviation equipment. Company's specialists believe that the most promising export future faces the Su-30 family of multirole fighters, MiG-29M/M2 multirole tactical fighter, and Yak-130 combat-trainer. African partners also get their attention piqued by the Mi-171Sh military transport helicopter, Mi-35 gunship with troop-caring capacity, and ANSAT.
Rosoboronexport also expects foreign delegates to show a keen interest in Russia's Army equipment, namely the BTR-80A/82A armored personnel carrier and Tigr special-purpose police vehicle. Of all air defense assets supplied to Africa, particularly popular in the region are the Pantsir-S1 gun and missile AD system, as well as Verba and Igla-S MANPADS. Navies will see patrol boats of various types.
Security agencies in the Sub-Saharan African countries pay special attention to various security solutions in an attempt to not only mitigate the results of illegal actions, but also prevent them at all. To this end the visitors of the exhibition will be able to see small arms, equipment and gear for special-purpose units, as well as assets for protection of borders and critical installations.
Rosoboronexport is facing a rich business program on the sidelines of the event. The company is open to discussions of a variety of aspects of military and technical cooperation with Sub-Saharan African countries.
"Rosoboronexport already takes advantage of a comprehensive approach to cooperation with countries of the region. We offer our partners not only end products, but also the required aftersales support throughout the life cycle, training of specialists, and establishment of maintenance facilities. Moreover, we are in negotiations with some countries to set up licensed production of Russian military equipment in their territories," adds Alexander Mikheev.