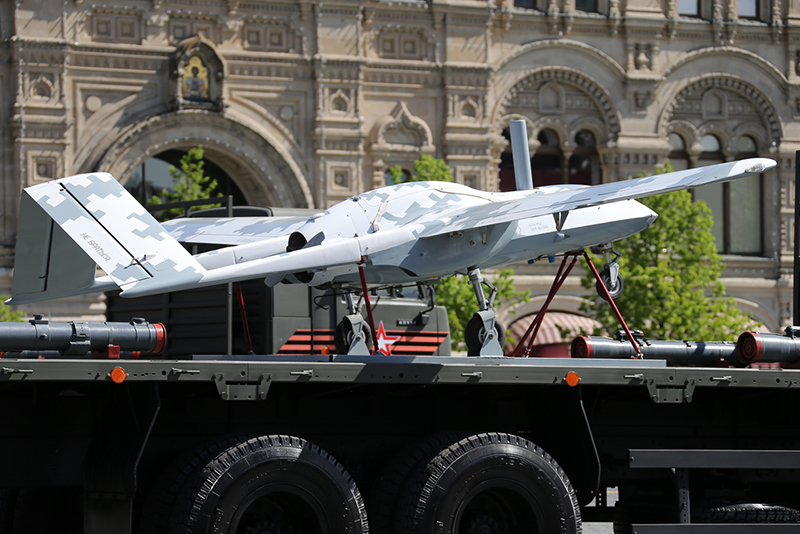 David Oliver – In eight year Russia has increased its operational UAV fleet to over 2,000 UAV systems, with new types currently under development.
Since the beginning of the anti-terrorist operation in Syria in September 2015, Russian unmanned aerial vehicles (UAVs) have performed more than 23,000 flights amounting to a total of 140,000 flight hours. Headed by a specialised department of the General Staff of the Russian Armed Forces, commanded by Major General Alexander Novikov, the UAV units have provided round-the-clock monitoring of the ground situation throughout Syrian territory. In addition, Russia claims that the use of unmanned aircraft ensured the effective use of precision weapons on the infrastructure of international terrorists and at the same time excluded possible casualties among the civilian population.
General Novikov has stated that the Russian Army now has some 1,900 UAVs in service and unmanned aviation services have been created in the headquarters of military districts and formations, with UAVs being used in almost all operational and military training activities.
Exercise Vostok 2018 in September 2018 involved more than a quarter of a million troops and included some 1,000 aircraft, helicopters and UAVs. Special tactical exercises involving UAV crews took place at three training grounds in the Leningrad, Voronezh and Moscow regions during which UAV crews gathered intelligence for motorised rifle, tank, artillery units, and escort reconnaissance groups over various terrains. These exercises involved some 500 servicemen and up to 20 unmanned aerial systems (UAS) including Grushas, Eleron, Granat, Orian-10 and Forpost.
The Grusha is a hand-launched short-range mini-UAV produced by the Izhmash JSC, now part of the Kalashnikov Group, which has entered the inventory of Russia's Baltic Fleet. The Eleron-3 is a short-range tactical tail-less delta UAV with a maximum takeoff weight (MTOW) of 5.3kg carrying a 1kg payload. Manufactured by ENICS JSC it has a speed of 56 knots (104km/h) and operates at a maximum altitude of 13,123 feet (4,000m).
The Izhmash Granat-4 has a MTOW of 30kg, with a 3kg payload. With a 3.2m wingspan it has a cruising speed of 49kts (90km/h), an operational range of up to 70km, and a maximum flight altitude of 11,500ft (3,500m). The 3.1m wingspan Orian-10 manufactured by the Special Technology Centre is one of Russia's most prolific UAVs. With a MTOW 16.5kg carrying a 2.5kg payload it has a speed of up to 80kts (150km/hr), a mission radius of 500km and a flight endurance of 16 hours. The Orian-10 is launched by a collapsible catapult and recovered by parachute landing.
The Forpost is a Russian license-produced version of the Israel Aerospace Industries (IAI) Searcher II long-endurance multirole UAV.
Following collaboration with the Austrian company Schiebel in 2011, the Russian company OAO Gorizont (Horizon) has been building the rotary-wing Schiebel S-100 Camcopter UAV under license for the Russian market. Based in Rostov-on-Don, Horizon manufactures electrical and optical equipment, navigation radar modules and systems and equipment for monitoring land, coastal and marine environments.
During the 2014 Winter Olympic Games and Paralympics, a Horizon Air S-100 operated from Sochi up to 50km from the Black Sea shoreline around the Olympic village. The Russian built S-100 has also been evaluated by the Russian Coast Guard and successfully tested aboard the Russian Rubin-class Maritime Border Patrol vessels being built for patrolling the Black and Caspian seas, with the UAV.
After trials carried out on the icebreaker Captain Sorokin in the Baltic Sea the Horizon Air S-100 was selected to operate from Russia Navy's new generation icebreaker, Viktor Chernomyrdin.
The research and development company Radar MMS is developing a small unmanned helicopter, the GSV-37 Breeze, for the Russian Navy. The Breeze is designed for monitoring large areas from the air, providing search and rescue, patrol and security, and counter-terrorism support. The MTOW of the UAV is 35kg, and it has an endurance of 90 minutes operating up to 3,280 feet (1,000m).
The annual Falcon Hunting international UAV contest was part of the Russian International Army Games 2018 involved teams from Belarus, Iran, Kazakhstan and Russia. This year, the competition held at the Matibulak training ground in Kazakhstan included a new element, air reconnaissance at night over enemy forces. The three-day event culminated in the participants competing to find objects in three reconnaissance districts with the area from nine to 25 square kilometres at a distance from 10 to 35km from starting position of the UAV.
The host team from Kazakhstan team won the 2018 Falcon Hunting contest with Russia in second place and Belorussia in third. A month after the Falcon Hunting competition, forces returned to Kazakhstan in October to participate in the tactical exercise Search 2018 at the Matibulak and Gvardeisky training grounds for Collective Security Treaty Organisation (CSTO) countries,. Troops from Armenia, Belarus, Kazakhstan, Kyrgystan, Russia and Tajikistan took part in the Search 2018 manoeuvres. The Russian forces in the exercise were represented by scout units and special forces (SOF) units of the Central Military District, a total of over 300 troops, supported by two Sukhoi Su-24MR intelligence aircraft, and Orlan-10 and Forpost UAVs.
Lessons from Ukraine
While the Russian Armed Forces' UAV capability is being rapidly expanded, recent operations of their first generation systems have shown how vulnerable they are to both ground and air attack. Russian Orlan-10s have been actively used against the Ukraine during the armed conflict in the Donbass region although aerial reconnaissance by unmanned aerial vehicles is banned by the Minsk agreements. Ukrainian officials have claimed to have shot down or captured at least ten Orlan-10s and two Forpost UAVs since 2014. In October 2018 a Russian Orlan-10 was reported to have been brought down by a Mi-24 helicopter operated by Ukrainian Air Force, over city of Lysychansk in Ukraine.
Russia's priority is now to develop a new generation of medium altitude long-endurance (MALE), high-altitude long-endurance (HALE) and armed unmanned aerial systems.
The Korsar UAV being developed by the Rybinsk-based Luch Design Bureau, part of Ruselectronics Group, was first shown in public during the 2018 Victory Day Parade in Moscow. Powered by a piston engine with a pusher propeller, the 6.5m wingspan 200kg Korsar has a maximum speed of 80kts (150km/h) and 120km mission radius.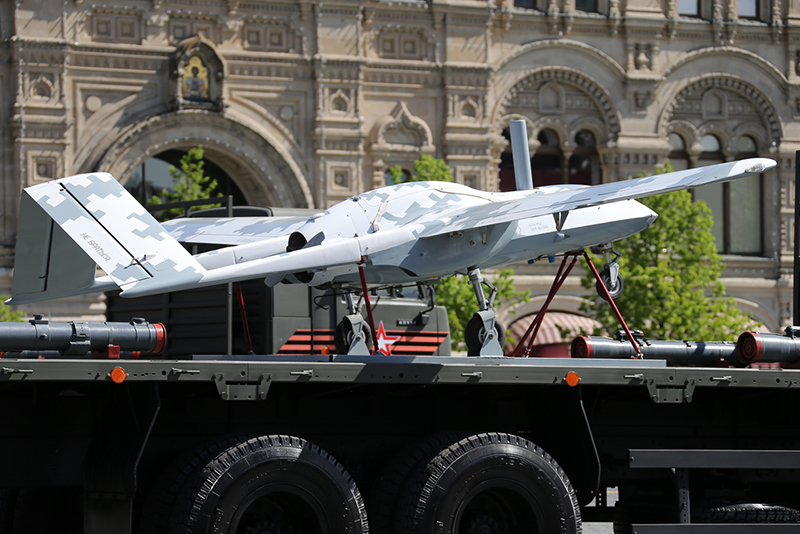 In September 2018 the Kronshtadt Group, a subsidiary of Joint-Stock Financial Corporation Sistema, unveiled a strike-capable variant of the Orion-E MALE UAV. With a wingspan of 16m and an MTOW of 1,000kg the Orion-E is capable of automatic take-off and landing carrying surveillance payloads of up to 200kg. It has service ceiling of 24,500 feet (7,500m), a range of 250km and an endurance of 24 hours.
The Reaper-class air vehicle has an electro-optical/infrared (EO/IR) turret as well as a laser rangefinder/target designator. Additional sensors, including an electronic intelligence system, high-resolution photo camera, or a radar can be carried as well a variety of guided and unguided air-to-ground weapons. The air vehicle can be disassembled and transported along with its technical support systems and ground control station (GCS) in a standard cargo container.
The Kronshtadt Group is also developing an even more advanced version of the Orion-E designated Orion-2 that will be the first HALE UAV in the company's portfolio. The air vehicle is understood to have a MTOW of 5,000kg, a maximum flight altitude of nearly 40,000 feet (12,000m) and a speed of 189kts (350km/h).
The Russian Navy also has a requirement for ship-based unmanned aerial systems (UAS) which is being addressed by a number of advanced UAV projects. The Fazan is a vertical take-off and landing (VTOL) tail sitting air vehicle to fulfil a number of urgent military tasks including reconnaissance and surveillance, in particular, during the operations from ship's deck, as well as vertical replenishment (VERTREP) missions. The MTOW of the Fazan will be up to 500kg with a 60kg payload. The cruising speed is predicted to about 189kts (350km/h), a range of 1,000km and an endurance of six hours.
The Russian Navy Commander-in-Chief's directorate has revealed that a modular UAS is being developed for its Project 22160 corvettes and is now being prepared for trials. The UAS includes two co-axial Radar MMS BPV-500 VTOL UAVs. With an MTOW 500kg the 5m-long air vehicle can carry a 150kg payload over a range of 320km and 5.5 hour endurance.
Equipped with an optronic sensor system and SAR/MTI radar, the system is designed for aerial monitoring of large areas, including for on-ice reconnaissance, support of search and rescue operations, surveillance and anti-terrorist missions. Over time, UAVs may be armed with missiles and bombs, which will enable them to perform combat duties. The BPV-500's co-axial design ensures high hovering accuracy, making it less vulnerable to cross winds which is essential in landing on to a small ship. The air vehicles and their equipment including the operator's workstation, can be accommodated in one or two standard cargo containers placed on deck of a ship.
In the last five years Russia has also made huge leaps in unmanned technologies. In 2011 Russia possessed only 180 UAV systems. That figure now stands at 2,000. The majority of those platforms have been assigned to land and airborne forces with capabilities limited to intelligence, surveillance and reconnaissance. Russia's armed forces currently have no armed UAV capability although over $10 billion (€9bn) has been earmarked for combat UAV programmes by 2020.
by David Oliver