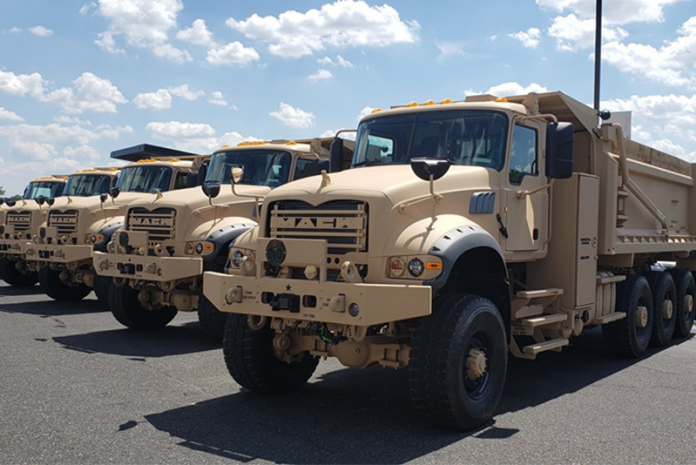 Mack Defense announced JWF Defense Systems (JWFDS) will provide the armored cab system for the M917A3 Heavy Dump Truck (HDT) contract the U.S. Army recently awarded to Mack Defense. JWFDS will be responsible for fabricating and painting the complete armored cab system, which will then be installed by Mack Defense.
"JWFDS has an excellent reputation in the industry when it comes to working with armor fabrication to support military vehicles," said David Hartzell, president of Mack Defense. "We're pleased to be able to partner with JWF, and we look forward to delivering reliable Mack vehicles that meet and exceed the Army's high standards."
Mack Defense was awarded the U.S. Army contract in May 2018 to provide up to 683 HDTs. Mack's winning bid was based on the company's commercially available Mack® Granite® axle forward model. A key differentiator between the commercial offering and the HDT is the latter requiring a force protection capability.
The armored cab was designed by Tencate Advanced Composites of Morgan Hill, California and will be manufactured by JWFDS in Johnstown, Pennsylvania, and will be fitted with Jankel BLASTech seating. Work has already begun and is expected to continue through May 2025.
"We are pleased to enter into this agreement and work with Mack Defense, another Pennsylvania-based defense contractor," said Chief Operating Officer John Polacek, of JWFDS. "This represents another long-term contract for vehicle builds and extends JWFDS' capability in manufacturing armor-based vehicles."
JWF Defense Systems is part of JWF Industries, a process-based contract manufacturer with a wide array of capabilities in metal manufacturing
Mack Defense, a wholly owned subsidiary of Mack Trucks, is responsible for the sale of heavy-duty trucks to federal- and ministerial-level customers globally. For more information, please visit www.mackdefense.com.