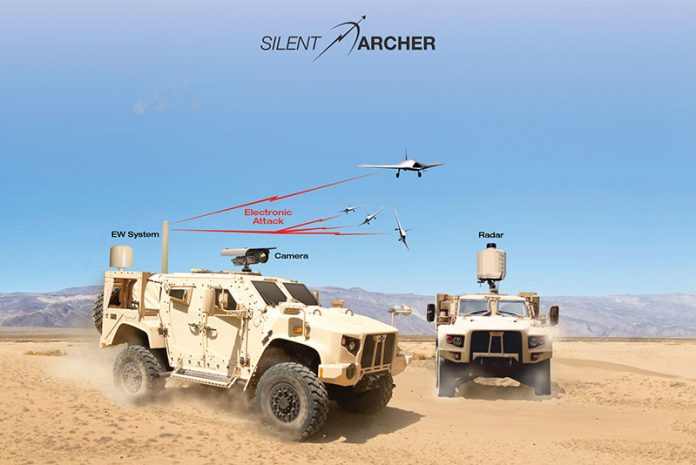 As the drone threat continues to evolve, the technology used to counter them is continuously playing catch-up. At a fundamental level, the drone threat requires three integrated functions to effectively provide situational awareness and countermeasures to mitigate this threat: detect, decide, and defeat.
Today, SRC is applying its extensive background in electronic warfare, air surveillance, target detection, tracking and classification algorithms to provide a counter-UAS capability for low, slow and small UAS threats through a System-of-Systems approach.
SRC's Silent Archer®counter-UAS technology detects, tracks, classifies, identifies and disrupts low, slow and small unmanned airborne threats. SRC's counter-UAS technology comprises proven, TRL 8/9 radar and EW systems, camera and 3-D display to defeat hostile drones, whether a lone target or UAS swarm.
SRC's Gryphon Skylight®drone security solution leverages SRC's R1400 radar and S1200 spectrum sensor to detect and identify UAS delivering a clear picture of your airspace.
In early 2019, SRC was awarded a $108 million contract to deliver counter-UAS technology to the U.S. Army. This new contract is in addition to multiple military counter-UAS contracts previously awarded to the company.
Visit SRC at DSEi 2019 (Booth N4-240) in London, UK to learn more about our counter-UAS technology.