Legacy jet trainer aircraft are lagging front line requirements of air arms around the world: what's on offer to meet the flight training needs of fifth-generation fighters?
The advanced jet trainer market changed considerably on 27 September, 2018 when the US Air Force (USAF) selected Boeing's model ATX-1 for its T-X advanced pilot training system.
On 16 September, 2019, acting Secretary of the Air Force, Matthew Donovan announced the T-X trainer had been designated the T-7A Red Hawk in tribute to the US Army Air Corps' Tuskegee airmen.
Boeing T-7 Red Hawk
A Boeing-led team was awarded an initial contract valued at $813.5 million. The Boeing-led team included:
Collins Aerospace (ACES ejection seat).
GE Aviation (F404 engine).
L-3 Technologies (navigation and surveillance systems).
Triumph Aerospace Structures (wing, vertical tail and horizontal tail structures).
Saab (aft fuselage).
The contract
This contract supports the engineering and manufacturing development (EMD) phase of the T-7 programme, and includes production and delivery of five T-7 flight-test aircraft, one static and one full-fatigue test articles, and seven flight training systems, all for flight test and certification.
The first of the five EMD aircraft will enter production in 2020, and all seven airframes should be delivered by the end of 2021.
Saabs Role
Saab, the only other aircraft manufacturer in the team, is producing the aft fuselage and associated systems with a team of structural and system engineers, logistical specialists and production engineers assigned to a joint team with Boeing.
Saab is under contract to manufacture components for all five EMD aircraft in Sweden, as per the two prototype ATX-1 aircraft. Low rate and production series Saab components will be manufactured at the company's purpose-built production facility at West Lafayette, Indiana.
T-X programme costs
According to the official news release, the USAF originally estimated the T-X programme would cost $19.7 billion, though the source of that estimate remains unknown. With a contract award priced at a mere $10.5 billion less than the Air Force estimate, no wonder both parties remain tight-lipped about the specifics of the $9.2 billion winning bid.
So what kind of capability will the T-7 provide the Air Force with?
According to Boeing it must meet five major requirements:
Be safe to fly, longitudinally stable, include the latest fly-by-wire technology and employ a proven engine.
Allow for multivariate cases 1-7 for human cockpit accommodation.
Have fighter like performance so student pilots selected to fly the F-22, F-35 and future fighters can train with a high-performance experience including high G, sustained turn rate, and high angle-of-attack.
Meet high level support requirements with many features and capabilities designed in from the start.
And lastly allow for growth to enable future upgrades.
T-7 Red Hawks Features
The T-7 Red Hawk features many systems, not least a large display in the front and aft cockpits which enables different display formats to be used for different student training needs. It features embedded synthetic capabilities common to the ground-based training system. Both operate with common software so both the simulators and the aircraft cockpit displays appear the same.
It has a data link to enable connectivity for live constructive training and its ground-based training systems range from tablets loaded with courseware to high-fidelity full motion simulators, all of which enable the training organisation to download and offload training to the least costly device in support of instructional objectives.
Future of T-7
Once the T-7 flight test and evaluation programme is complete, contracts for two low rate production lots are expected. The main bulk of Air Education and Training Command's fleet will be delivered from eight production lots.
T-7 aircraft will be used for the USAF's Specialised Undergraduate Pilot Training programme, and assigned to Flying Training Wings based at Columbus, Mississippi; Laughlin, Texas; Sheppard, Texas; and Vance, Oklahoma. Initial operational capability (IoC) is expected in 2024 with full operational capability declared in 2034.
Boeing's current focus is to successfully carry out its $813 million EMD contract. The Boeing-led team produced two prototype aircraft and elements of the training system with their own funds. Those aircraft and the training system are being used for the ongoing flight test programme
Not only is the T-7 Red Hawk a major USAF acquisition programme, it is also a prime export product. Potential export customers are likely to gain assurance from its USAF credentials, a multi-year production run, and an associated sustainment programme. After the selection announcement, Leanne Caret, president and CEO of Boeing Defense, Space and Security said she expects T-X to be a franchise programme for much of this century.
Preliminary and critical design reviews of the T-7 aircraft were successfully completed in September 2019, the ground-based training system's preliminary design review took place last year, and the critical design review is imminent.
By early December Boeing's two prototype aircraft had completed nearly 150 flights.
BAE Systems Hawk
When the first Hawk T1 aircraft entered service with the Royal Air Force (RAF) in 1976 few people would have expected the type to be in production some 43 years later.
Today the Hawk remains in production for the Royal Saudi Air Force (RSAF) and the Qatar Emiri Air Force (QEAF). Further production may follow from both new and existing customers especially if BAE Systems defines a future development path for its Hawk trainer.
The company has completed flight trials with its Advanced Hawk technology demonstrator aircraft fitted with a new, smaller head-up display, a large display in the front cockpit and aerodynamic improvements to the wing. Flight trials were necessary as the display and wing modifications required significant changes to the mission computers because of their respective potential levels of risk to flight safety.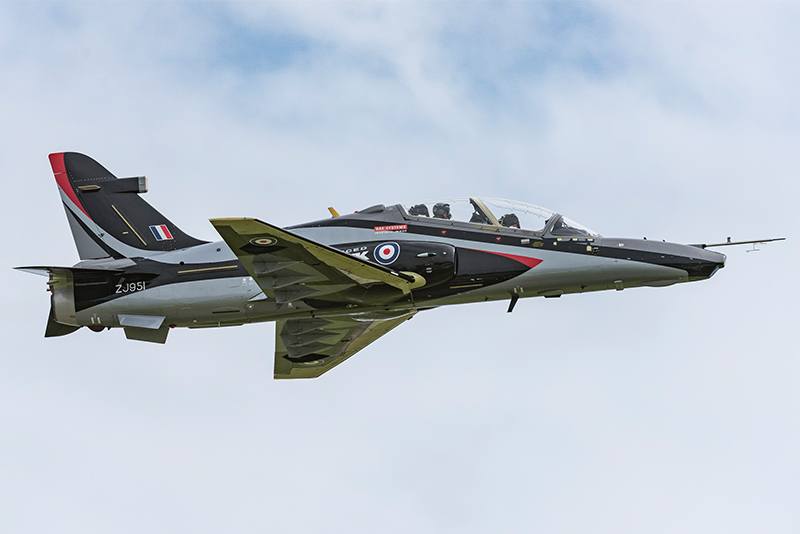 Training Simulation Integration Facility (TSIF)
BAE Systems engineers and test pilots used the Training Simulation Integration Facility (TSIF) at the company's Warton facility to determine the requirements, appearance and functionality of the large display, and its optimisation for pilot training.
The display comprises two high definition infrared beam screens configurable with all instruments, scalable portals, and dual redundant power supplies. Information can be dropped down on to the display by a single touch a tell-back button without the need to look down into the cockpit to select different menus.
Another display tool enables the pilot to fade in a tactical display simply by touching the screen, and a swipe for its removable; providing quick and accurate interaction with the aircraft.
Aerodynamica
Aerodynamic improvements to the wing enable the aircraft to fly at greater angles-of-attack and give better up and away performance with better bring back capability.
The Hawk's standard wings were modified in two ways: each wing was extended by 9.5-inches (240mm), and fixed leading-edge slats were added giving a nine percent increased wing area. Future production Hawk wings will have a fully automated slat and slot.
BAE Systems has validated and de-risked each system for two potential products; an upgrade package and a future variant of the Hawk-based flying training system.
A new development simulator at the TSIF is currently being used to develop gesture controls, eye tracking and what BAE Systems describes as new concepts for an aft cockpit. All three could be used on future Hawk training options giving BAE Systems confidence that its development path for the Hawk is viable for the next two decades.
Aero Vodochody L-39NG
Czech air framer Aero Vodochody rolled out the first L-39NG prototype 7001 on 12 October, 2018.
Aero Vodochody is marketing the new generation Albatros as an affordable, high performance trainer aircraft with state-of-the-art simulation capabilities suitable for advanced and lead-in fighter training.
Aero Vodochody is pitching the L-39NG against the Embraer EMB-314 Super Tucano and Pilatus PC-21 turboprops. According to the manufacturer, the L-39NG has a comparable price tag to the EMB-314 and PC-21, offers higher, jet engine performance and lower operating costs thanks to the fuel-efficient Williams International FJ44-4M turbofan engine.
The L-39NG features a redesigned lighter airframe featuring composite components, a new wing with integral fuel tanks, an electronic flight instrumentation system with two NVG-compatible 6×8-inch (150x200mm) colour displays, and a Genesis Aerosystems digital avionics suite. Because the L-39NG does not have wingtip fuel tanks, the aircraft's wing loading is reduced and its roll rate increased. Aero Vodochody rates the L-39NG with a 15,000-hour airframe service life and a 10,000-hour engine life.
Prototype Aircraft L-39NGs
Aero Vodochody has built four prototype aircraft. The first and fourth (7001 and 7004) are conducting the flight test programme, the other two are both ground test articles; 7002 dedicated to static testing, 7003 to fatigue testing.
Launch customer LOM Praha will operate its L-39NGs from the Centrum leteckého výcviku at Pardubice Air Base to train Vzdušné síly armády České republiky (Czech Air Force) pilots through all phases of the flight training syllabus. LOM Praha runs the centre under contract with the Czech Ministry of Defence. Two L-39NGs are expected to arrive at Pardubice during the third quarter of 2020 once certification of the full trainer configuration is released.
Two other contracted air service providers have placed orders for the L-39NG; Portuguese company SkyTech based in Lisbon (10) and RSW Aviation based at Deer Valley Airport near Phoenix, Arizona (12), in addition the Senegalese Air Force (4).
Aero Vodochody holds one distinct export advantage with its L-39NG; the aircraft's engine and avionics are not controlled by International Traffic in Arms Regulation rules, which allows the company to export the jet to nations around the world without restrictions.
Leonardo M-345
Leonardo's M-345 High Efficiency Trainer was launched in 2012 by the then Alenia Aermacchi as the replacement for the Aeronautica Militare's MB339A. The M-345 traces its roots to the SIAI-Marchetti S211A, later M-311, but is a completely re-configured aircraft featuring a Williams International FJ44-4M turbofan engine, avionics and sub-systems.
Leonardo claims the M-345's procurement and operating costs are similar to high-end turboprop aircraft like the Embraer EMB-314 Super Tucano and Pilatus PC-21, hence its straightforward design. The company claims near 50 percent reduction in operating costs compared to the MB339.
According to Leonardo, the M-345 is able to operate in flight regimes close to those flown in the lead-in fighter training phase and offers the ability for an operator to download some syllabus events to this more cost effective platform. Basic fighter manoeuvring, low-level navigation, basic attack and intercepts are some examples.
M-345 Features
The M-345 features NVG-compatible cockpits each with HOTAS controls and three colour 7×5-inch (175x125mm) multifunction displays; the forward cockpit has a raster/stroke head-up display, replaced by a repeater in the aft cockpit.
An embedded GPS/INS, radar altimeter, two VHF/UHF radios, an IFF transponder, and a digital moving map are all included in the Leonardo Divisione Elettronica avionics suite.
Nose sections and panels, air intakes, the aft section and dorsal spine are all made from composite materials. Airframe fatigue and stress levels are monitored by a health monitoring system for predictive maintenance which in turn helps reduce the number of overhauls or depot inspections.
As with all current trainer aircraft, the M-345 is part of an integrated training system which uses a modified version of Leonardo's embedded training simulation (ETS) system developed for the M-346. Ground-based elements of the ETS include computer-aided instruction, basic simulators and mission planning and debriefing stations.
The ETS can be used in standalone mode for single aircraft missions or in integrated mode for multi-ship training during which all aircraft and simulators involved are linked in real time via datalink.
Italy's military aviation procurement agency ARMAEREO signed a contract for five M-345 HET aircraft on 13 January, 2017, destined for the Aeronautica Militare. Two squadrons will operate the type; 213° Gruppo tasked with basic jet training at Lecce Air Base, and 313° Gruppo, the operating squadron of the Frecce Tricolori national aerobatic team, based at Rivolto Air Base.
The first production standard M-345 made its maiden flight at Venegono on 21 December, 2018 and is expected to be delivered to the Aeronautica Militare in the first quarter of 2020; the first of a 45 aircraft requirement. 
Leonardo M-346
Leonardo's M-346 is an aircraft designed for the lead-in fighter trainer (LIFT) role and is part of an integrated training system. Leonardo's embedded training simulation (ETS) system featuring radar, electronic warfare, data link and air-to-air and air-to-surface capabilities is included. In addition to the LIFT role, the M-346 has more than enough performance to substitute front-line aircraft for pilot continuation training, an attractive possibility for an air arm that seeks to save flying hours on front line fighters.
The M-346 traces its roots back to a partnership between Aermacchi and Russian company Yakolev in 1993, and the launch of the Yak/AEM-130D. In 1999, cooperation finished and Aermacchi launched the M-346 trainer aircraft. The first prototype (c/n P.001) made its maiden flight from Venegono on 15 July, 2004.
M-346 Features
Features include open architecture avionics, a dual MIL-STD-1553B digital data bus; two (forward and aft) full glass cockpits, each with a head-up display and three multifunction displays.
Like other jet trainer aircraft manufacturers, Leonardo chose a light, reliable and fuel-efficient engine type for the M-346 in the shape of the Honeywell F124. Powered by two F124s, each rated at 6,280lb (28kN) thrust and coupled with the M-346's advanced aerodynamic airframe gives the trainer excellent performance. Leonardo test pilots rate the M-346's performance as being similar to an F-16 in some areas of its flight envelope with the ability to fly at 30 degree angle-of-attack.
Leonardo signed its first M-346 contract with the Italian Ministry of Defence in November 2009 for six T-346A aircraft and an integrated training system for the type's launch customer, the Aeronautica Militare. The first T-346A was delivered to 212° Gruppo at Lecce Air Base on 26 February, 2015, and the first training course started in August 2015.
The M-346 has won a series of international contracts with the Republic of Singapore Air Force in September 2010 (12); the Heyl Ha'Avir (Israeli Air Force) in July 2012 (30); and the Siły Powietrzne Rzeczpospolita Polska (Polish Air Force) in February 2014 (8). 
Yakolev Yak-130
Unique to the Yak-130 is the fact that it remains the only Russian military aircraft introduced to production and service without Soviet origins.
A prototype Yak-130 made the type's maiden flight from Zhukovsky Airport near Moscow on 25 April, 1996. The Russian Ministry of Defence selected the Yak-130 for its new lead-in fighter trainer aircraft on 16 March, 2002. Three aircraft were subsequently ordered and were used for flight test trials, initially by Yakolev and subsequently state evaluation by the Russian Air Force. The latter phase was completed on 22 December, 2009; the formal clearance required for service production.
The Yak-130 features:
KSU-130 quadruple digital fly-by-wire flight control system.
K-130.01 avionics suite.
BTsVM90-604 mission computer.
RPKB LINS-100RS-02 laser inertial navigation system.
A737 satellite navigation receiver.
RSBN-85 TACAN, ARK-40 direction finder.
A-053-06 radio altimeter.
SUO-130 weapons management system.
IFF.
Both the forward and aft cockpits are equipped with three 8×6-inch (200x150mm) MFTsI-0333M multifunction displays; the forward cockpit has an ILS-2-02 head-up display with a PUI-130 data-input panel in both cockpits.
Power is provided by two Ukrainian Ivchenko Progress AI-222-25 turbofans each rated at 5,510lb (24.5kN) with full authority digital engine control. A Yak-130 has a maximum 1,700kg (3,747lb) internal fuel load carried in three tanks (one in the fuselage behind the cockpit and one inside each wing). Two 590-litre (156-gallon) external drop tanks are fitted as standard.
Yak-130s serve with Russian Aerospace Forces in three principal roles; advanced and lead-in fighter training, and aircrew continuation training with combat units as a replacement for MiG-29UB Fulcrums and Su-27UB Flankers. Between 2016 and 2020, 150 Yak-130s will have been delivered to units in the Russian Air Force and Russian Naval Aviation.
The Yak-130 has won a series of international contracts; Algeria in March 2006 (16); Belarus on December 18, 2012 (4) and August 28, 2015 (4) and 2018 (4); Bangladesh in January 2014 (16), Myanmar on June 22, 2015 (12) and Laos in 2017 (at least 4). Delegations from Armenia, Azerbaijan, Iraq, Kazakhstan, Mongolia, Nicaragua, Uruguay and Vietnam have received demonstrations of the Yak-130.
T-50 Golden Eagle
Korea Aerospace Industries' T-50A was developed as a trainer aircraft, to replace the Northrop T-38 Talon in service with the Republic of Korea Air Force (RoKAF). Development was undertaken in partnership with Lockheed Martin, the main reason why the T-50's design shares about 70 percent commonality with the F-16 in terms of design, component and parts.
Cockpit Display Design
The design team opted for a large touch screen cockpit display laid out in a similar format to an F-35 with slightly different portals which can be configured like the cockpit displays of either the F-16, F-22 or F-35. All controls and instrumentation are displayed on the screen enabling the instructor pilot to see every single thing the student pilot does on their display, and spot any mistakes.
The forward and aft cockpits are linked which allows the instructor to set-up a training scenario, but to do so with no interference to the student or without the student knowing what is being done. This is especially beneficial during early syllabus events when the student lacks understanding of the whole concept of flying. By watching and monitoring the student, the instructor can coach them through the event.
By decoupling the two cockpits the instructor can work on the aft display and place the important information on the student's front display, but the actual presentation, the pages and the menus being used do not show to the student. This capability allows the instructor to set-up an unexpected problem from the aft cockpit without the student seeing the set-up in advance. A simple re-link allows the instructor to once again observe the student's actions.
A notable feature of the T-50 is its after-burning GE Aviation F404-GE-102 engine; a requirement of the RoKAF, which introduces each of its student to afterburner in the advanced phase of the syllabus when they learn how to fight with the aircraft, understand what afterburner power provides, what fuel consumption rates are, and push performance way up.
Global demand
The global market for jet trainers remains vibrant not least in Europe, the Middle East and Asia, largely because of the vintage of many incumbent types, the Alpha Jet, early model Hawks and L-39s are three examples.
Future competitions will be contested by the all-new American T-7 Red Hawk and the European types, including Russia's Yak-130. All manufacturers must offer their respective jet trainer aircraft as part of an integrated training system.
In addition to providing advanced jet and lead-in-fighter trainer capabilities as part of their bids, manufacturers may well need to also offer light attack capability to meet the budgetary and multi-role requirements of air forces from around the world.
by Mark Ayton