Reducing launch and spacecraft costs could enable more countries to affordably develop military communications satellites.
Space Costs & Spendings
Director Ridley Scott's 1979 science fiction epic was publicised with the chilling warning that "in space, no one can hear you scream." When it comes to satellites, a more fitting epithet might be that "in space, everyone can see you spend."
Getting into the heavens and staying there is not cheap. At the upper end of the scale it can cost up to $30,000 per kilogram (2.2 pounds) to launch a satellite into a Geostationary Equatorial Orbit (GEO): A GEO orbit follows the Earth's rotation, with a satellite typically being positioned 19,322 nautical miles/nm (35,786 kilometres/km) above the equator. This gives the illusion that the satellite is always in the same place, when in reality it is merely following the same east-to-west movement of the Earth.
The launch needs to be insured, which can be up to  $22 million. Insurance will also be needed while the spacecraft is in orbit with similar costs, while it may cost circa $1 million per year to operate the satellite. Then there is the cost of the spacecraft itself. This can have a price tag upwards of $100 million per satellite.
Assuming a lifespan of 15 years for a military communications satellite weighing 2,500kg (5,500llb), the accumulative costs would be upwards of $95 million for the launch and launch insurance, $150 million for the spacecraft, $20 million for its in-orbit insurance and $15 million in operating costs, making a grand total of $300 million. As a means of comparison, this would cover the military aid that the US government has pledged to provide Ukraine in 2020.
Such eye-watering prices make it unsurprising that all but a limited number of nations can operate dedicated military communications satellites; notably Australia, France, Germany, India, Israel, Italy, Japan Luxembourg, Mexico, Spain, the People's Republic of China, Qatar, the Republic of Korea, Russia, the United Arab Emirates, the United Kingdom and the United States.
Lease SATCOM Bandwidth
Those nations unwilling or unable to make such investments can instead lease Satellite Communications (SATCOM) bandwidth from a host of firms. Several companies are in the business of providing such services. These can include wideband communications to handle voice and data traffic, which can be encrypted to provide communications security. ViaSat, Inmarsat, Iridium, Ligado Networks, Speedcast and Thuraya represent some of the businesses offering such services.
Going for the leased option undoubtedly offers savings, with prices starting at circa $1,500 per megahertz (MHz) of bandwidth per month. This helps to satisfy some of the demand but leased satellite bandwidth is a finite resource. For all intents and purposes, there is only so much to go around. Further complicating matters is the fact that the space-fairing nations mentioned above may also lease SATCOM bandwidth to supplement their sovereign SATCOM assets. This reflects a demand for military SATCOM which for many nations cannot satisfy alone by using nationally owned assets.
CENTCOM's SATCOM bandwidth usage
An April 2018 article in the US Department of Defence's (DoD) Purview journal which examines space and missile defence affairs entitled At What Cost? noted that forces deployed with US Central Command (CENTCOM) were using 4.54 megabits-per-second (mbps) of SATCOM bandwidth just prior to the invasion of Kuwait by Iraq on 2 August 1990. CENTCOM's area of responsibility includes the Middle East and Central Asia.
By the time Operation Desert Storm commenced on 17 January 1991 CENTCOM was using a total of 99mbps of SATCOM bandwidth; 67.65mbps of which was carried by military communications satellites with the balance of 31.39 carried by commercial spacecraft.
Twelve years later when the US and her allies were invading Iraq on 20 March 2003 to remove Iraqi dictator Saddam Hussein from power CENTCOM was consuming 3.2 gigabits-per-second (gbps) of SATCOM bandwidth. This was used by a force less than half the size of that which had helped to liberate Kuwait but represented a 32-fold increase in SATCOM consumption for data.
A Better Way?
Leasing bandwidth is a partial solution to the exorbitant costs of building and launching a satellite. Nonetheless this makes the nation leasing the bandwidth vulnerable. As mentioned above, bandwidth is a finite resource. It is restricted by the frequencies the International Telecommunications Union, the United Nations body responsible for regulating the radio spectrum, makes available for SATCOM. A nation maybe able to lease some, but not all, of the bandwidth they need because of simple limitations on bandwidth availability.
Secondly, what does a nation's armed forces' do if the leased service becomes unavailable because the satellite, or part of its infrastructure, is damaged? Furthermore, if at war, leased services maybe switched off as a result of international sanctions. Ultimately, what does a country do if it needs military SATCOM, but cannot afford to purchase its own conventional capability and does not wish to rely on leased services?
Launch Technology
Help maybe at hand from a number of innovations in the space technology domain potentially yielding important cost savings. These include innovations in launch technology and satellite design.
Let's start with launching a satellite. Using conventional rockets is expensive. This has prompted a number of efforts to examine ways in which spacecraft can be sent aloft for less. Elon Musk, technology entrepreneur and chief executive officer of SpaceX has taken a disruptive approach to launching satellites.
SpaceX
Mr. Musk's company has developed the Falcon family of medium- and heavy-lift launch vehicles. What sets these apart from traditional rockets is that the launch vehicles are reusable. Not having to build a new rocket every time one wishes to launch a satellite is an important step forward in reducing the cost of launches.
Reports have stated that the Falcon series can offer launch costs of under $6,000 per kilogram; a significant reduction from the circa $30,000 per kilogram charged for a conventional rocket launch.
The cost savings offered by SpaceX have piqued the interest of the US military. During the Association of the United States Army's (AUSA) exhibition and symposium in Washington DC in October 2010, SpaceX's president and chief operating officer Gwynne Shotwell touted the potential of the company's spacecraft as a means of delivering Low Earth Orbit (LEO) satellites into the cosmos on behalf of the US Army.
Shotwell told delegates that the company's Starship reusable launch vehicle and super heavy rocket combination designed to carry passengers or cargo currently under development and expected to make its first flight in 2021 could be suitable.
Elsewhere, the DoD has already availed itself of SpaceX' launch services via its Space Test Programme (STP) undertaking. The STP provides spaceflight services to the Pentagon and on 25 June 2019 the STP-2 initiative used one of the company's Falcon Heavy reusable rockets to launch a sextet of Cosmic-2/Formosat-7 satellites which perform radio occultation; the measurement of the Earth's atmosphere using radio frequency remote sensing. Also joining the ride were seven nanosatellites. While the payload of this launch lacked a distinct military feel it did demonstrate the feasibility of using SpaceX' vehicles for launching future spacecraft. 
Virgin's Cosmic Girl
A different approach has been pioneered by Virgin Orbit, part of the Virgin Group of companies. The firm has tricked up a Boeing 747-400 airliner known as Cosmic Girl named after the 1996 acid jazz hit by Jamiroquai to launch satellites.
The jet will launch Virgin Orbit's LauncherOne rocket, which can carry a payload of 400kg (880lb). The rocket is deployed from a pylon situated beneath the port side wing which Boeing's designers originally envisaged  for ferrying non-operational engines.
Cosmic Girl performed her first launch drop test on 10 July 2019 over the Mojave Desert in California. Reports in late 2019 noted that the Cosmic Girl and LauncherOne could be making their first spacecraft launches in the early part of 2020.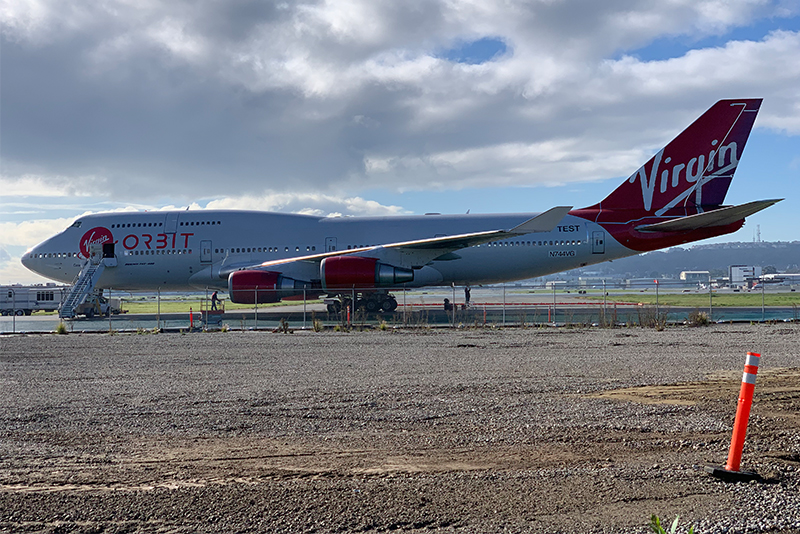 Launching spacecraft from aircraft offers several advantages compared to using conventional rockets. Rockets gulp down huge amounts of fuel immediately after launch as they fight to escape the Earth's gravity and dense atmosphere at low altitudes. Air-launch sees the aircraft taking on much of the initial burden that a rocket's first stage would perform by getting the rocket to more rarefied atmosphere thereby reducing the fuel the rocket needs to get a satellite into space.
Unlike the first stages of conventional rockets launching aircraft can be used again. Reusability coupled with less fuel translates into launch cost savings for the satellite operator.
A launch aircraft is not tied to a specific location unlike a rocket which requires a launch pad, saving the cost of having to ship a satellite from its manufacturer to the launch pad. This mobility also allows the launching aircraft to fly to areas of good weather, thus freeing the rocket from being a hostage to the meteorology in the launch pad's locate.
"LauncherOne can certainly help reduce launch costs for the military customer," says Mandy Vaughn, president of VOX Space, Virgin Orbit's subsidiary catering for national security and government customers. She continues that the firm's launch services "provide an avenue to orbit for low cost experimentation of new space capabilities and prototypes."
As far as the military customer is concerned, Vaughn says that the company's philosophy is "about giving the government more flexible and responsive options for accessing space, which will reduce overall architecture and lifecycle costs."
She is upbeat regarding the DOD's interest to date in novel launch approaches as typified by the STP-2 initiative: "It's through this sort of thinking that the U.S. government can change the overall launch calculus, leading us toward a space architecture that is more adaptive and resilient while still being cost-efficient."
Beyond the US Vaughn highlights international interest in VOX Space's launch services citing the company's involvement with the Royal Air Force's (RAF) Team Artemis. This will see the company working closely on this small satellite demonstrator initiative announced by the air force in July 2019.
Smaller Satellite Designs
Currently launching aircraft are restricted by the weight of rocket that they can safely carry and deploy which could thus restrict the size of satellite sent aloft using this method: These weight restrictions may matter less in the future.
Rick Lober, vice president and general manager of the defence and intelligence systems division of Hughes' Network Systems division argues that smaller satellites may be able to pack much of the performance of conventional military communications satellites into a spacecraft a fraction of the size.
Anyone with a cellphone, a personal computer or a laptop will have noticed that electronics are getting smaller. The famous maxim of Moore's Law, devised by the co-founder of the Intel Corporation, Gordon Moore, that the number of transistors which can adorn an individual chip doubles every 18 months, is making its presence felt in the satellite domain.
The miniaturisation of electronics is enabling the reduction in size of satellites, reducing weight which in turn reduces launch costs.
Small satellites weighing less that 500kg (1,000lb), microsatellites weighing under ten kilograms (22 pounds) and nanosatellites weighing between one kilogram (2.2lb) and ten kilograms all have the potential to be used for military communications.
Military SATCOM Providers
These designs are already being adopted by military SATCOM providers:
In August 2019 Viasat announced that it had contracted Blue Canyon to build a cubesat to carry Link-16 tactical data link communications. Cubesats are even lighter than nanosats typically weighing under 1.33kg (2.9lb).
Blue Canyon will build the bus for the planned twelve-strong fleet of experimental satellites as part of the US Air Force Research Laboratory's (AFRL) XVI initiative.
The news followed a contract award by the AFRL to Viasat to demonstrate whether a Link-16 terminal could be hosted on a cudesat to serve as a communications relay.
Lober states that another benefit of lowering satellite production and launch costs is that new spacecraft can be built and sent into space comparatively more frequently than their larger conventional cousins. This helps customers benefit from innovation as soon as it is available, as opposed to having to wait several years until a new satellite can be designed, built and launched.
Not every nation will embrace lowering launch costs and cheaper spacecraft to commission constellations of communications satellites for their militaries at a reasonable cost.
Nevertheless, these innovations will go some way into 'democratising' the military SATCOM club. Nations which take this step may get significant 'band for their buck', through the ownership of satellites which can also be used for government, commercial and civilian applications with bandwidth reserved for the military as and when required.
However, while lowering prices could act as a powerful market driver, congestion in space may be a restraint. Nobody wants spacecraft to 'run out of road'. The DOD is currently tracking 20,000 objects in orbit around the Earth.
BIS Research's 2019 report entitled Global Small Satellite Market: Analysis and Forecast 2019-2030 predicted that the market for such spacecraft could be worth $2.9 billion by 2030; a significant increase from the $513.6 million it was worth in 2018. This will translate into a growing number of small satellites orbiting the Earth, and this growth will have to be managed in such a way that these satellites do not become a hazard to space navigation.
Assuming that rationality prevails, we could see a minor revolution in the uptake of sovereign-owned military SATCOM this decade, providing long-range, secure and capacious communications for more soldiers, sailors and aircrew than ever before.