An increasing number of countries are now providing their tracked and wheeled armoured personnel carriers (APC), and in some cases protected patrol vehicles (PPV) and logistic support vehicles (LSV), with enhanced protected firepower.
The norm has been for mobile platforms to be fitted with unprotected weapons or protected weapon stations (PWS) which are typically armed with an unstabilised 7.62mm or 12.7mm machine gun (MG) or a 40mm automatic grenade launcher (AGL). These have limited capabilities and cannot provide accurate firepower under all weather conditions or when the platform is moving.
The new trend is to go for Remote Weapon Stations (RWS) with the advantage that the gunner is under full armour protection inside the platform and aims the weapon using a flat panel display (FPD) and associated controls. The alternative to this is to opt for fully enclosed and protected one or two person turrets.
Remote Weapons Stations (RWS)
Latest RWS are typically armed with a stabilised weapon with the sighting system consisting of day/thermal cameras and sometimes a laser rangefinder for increased first round hit probability against stationary and moving targets while the platform is stationary or moving.
These RWS can also be coupled to an acoustic gunshot sensor which picks up the incoming threat and, if confirmed as hostile, swings the RWS onto the target, with the gunner then having the option as to whether to engage the target or not. The RWS can also be fitted with banks of electrically operated grenade launchers.
Many end users have a competition for the platform and another one for the RWS or turret with a trend now to have a common RWS across their whole vehicle fleet with this especially applying when a new fleet of vehicles are being procured.
These RWS are often supplied to the end user as Government Furnished Equipment (GFE) as are the communications equipment.
Kongsberg Protector RWS
The market leader is the Norwegian company of Kongsberg Defence & Aerospace who have now supplied almost 20,000 RWS units to at least 23 countries.
Kongsberg's most widely used RWS is the Protector which is normally armed with a 7.62mm or 12.7mm MG or a 40mm AGL with the Danish Ministry of Defence and Acquisition and Logistics Organisation (DALO) being the latest customer having placed a contract worth 270 MNOK in December 2019 for installation on their new fleet of General Dynamics European Land Systems – MOWAG (GDELS) Piranha 5 (8×8) APC and variants.
US Army
The largest user of the Protector is the US Army where the system is called the M153 Common Remotely Operated Weapon Station (CROWS II) with production undertaken in the USA. This is standard fit on their General Dynamics Land Systems (GDLS) Stryker (8×8) infantry carrier vehicle (ICV) and some variants and is provided with day and thermal cameras.
More recently the US Army has taken delivery of the Stryker Dragoon (8×8) which is fitted with the Kongsberg Protector Medium Caliber RWS (MCRWS) armed with an Northrop Grumman, Armament Systems 30mm XM813 dual feed cannon and 7.62mm co-axial MG. In addition it can have a standard Protector RWS on top which would be used as a commander's sight to provide a hunter/killer target engagement capability.
Prime contractor for the Stryker Dragoon is GDLS who produced eight prototypes and 83 production vehicles with first fielding in Germany 15 months after contract award.
French Army
The French Army currently uses a number of older RWS but is now in the process of procuring a fleet of new wheeled AFV's including the Jaguar (6×6) reconnaissance vehicle, Griffon (6×6) and Serval (4×4) APC and variants. Griffon is the first to enter service with 92 delivered by the end of 2019.
These are fitted with a new generation of RWS developed under the leadership of Arquus called Hornet and there are three members which share many common components to reduce through life cycle costs.
These are the T1 for Griffon armed with a stabilised 12.7mm MG, T2 for Griffon armed a stabilised 7.62mm MG and T3 for the Jaguar which is armed with a stabilised 7.62mm MG and also acts as the co-axial weapon for the 40mm Case Telescoped Armament System (CTAS) which is the main weapon of Jaguar.
German Army
The German Army had a competition for a new series of RWS and this was won by Krauss-Maffei Wegmann with their FLW series which comprises the FLW 100 and FLW 200 and are both now deployed.
The FLW 100 is the lighter one and typically armed with a 5.56mm or 7.62mm MG while the heavier FLW 200 can also be armed with heavier weapons such as the 12.7mm MG or a 40mm AGL with typical installations being the German Army Boxer (8×8) MRAV.
There are two contractors in Israel supplying RWS, Elbit and RAFAEL Advanced Defense Systems, both of which have won significant home and export contracts.
Elbits RWS
Following a competition, in December 2019 it was announced that a $35 million contract to supply Montenegro's new Oshkosh Defense Joint Light Tactical Vehicle (JLTV) with a RWS had been won by Elbit with the contact running for three years plus logistic support for seven years.
Elbit's smaller calibre RWS are also used by many other countries including Austria and Slovenia. Their larger UT30 Unmanned Turret is typically armed with a Northrop Grumman, Armament Systems 30mm MK44 dual feed cannon, 7.62mm co-axial MG and option of anti-tank missiles (ATM) such as the RAFAEL Spike. UT30 is already deployed by a number of countries including Belgium, Brazil and Portugal.
RAFAEL Samson family of RWS
RAFAEL Advanced Defense Systems market the Samson family of RWS with the largest being the Samson MkII which can be armed with a wide range of weapons including a 30mm cannon and 7.62mm MG coupled to an advanced computerised fire control system (FCS). Unlike many other RWS, a key feature of this RWS is that the weapons can be reloaded under armour protection.
The Italian company of Leonardo (previously Oto Melara) have developed the Hitrole series of RWS which are already deployed by a number of countries including Italy were it is installed on the Iveco Defence Vehicles Light Multi-Role Vehicle (LMV) and this can be armed with a variety of stabilised weapons.
Turkey is now firmly established as a leading manufacturer of tracked and wheeled AFVs and the local companies of Aselsan, FNSS and Otokar have all developed RWS and turrets for installation on not only AFVs produced in Turkey but also other customers platforms.
John Cockerill Defense Turrets
John Cockerill Defense (previously CMI Defence) has developed and placed in production the C3000 series of modular two person turrets which can be armed with a wide range of weapons from a 30mm cannon up to a 105mm high pressure rifled gun.
Production has been underway for installation on the General Dynamics Land Systems Canada LAV (8×8) for the Kingdom of Saudi Arabia and more recently the C3105 has been selected for the Tiger medium tank developed by FNSS of Turkey and Pindad of Indonesia
Nexter Systems Turrets
The French Nexter Systems T40 turret is being offered in manned and unmanned configuration and is currently armed with a CTAI 40mm Case Telescoped Armament System (CTAS) and a 7.62mm MG  and there are a number of options including an ATM either side.
The T40 turret is very similar to that fitted to the French Army's new Jaguar (6×6) reconnaissance vehicle and this turret also has the Hornet RWS and a retractable pod of two MBDA Missile Moyenne Portee (MMP) ATM on the right side which enable targets to be engaged well beyond the range of the 40mm CTAS.
Rheinmetall Defence Turrets
Rheinmetall Defence have considerable experience in the design, development and production of RWS and turrets.
Their Lance turret is being marketed in unmanned and manned versions armed with a Mauser 30mm dual feed cannon, 7.62mm co-axial MG and options of ATGM.
First customer for Lance was the Spanish Marines for installation on a batch of their GDELS-MOWAG Piranha 3 (8×8) amphibious APC and more recently Lance has been selected for installation on some of the 211 Boxer (8×8) ordered by Australia as the replacement for their currently deployed GDLS LAV (8×8) reconnaissance vehicles.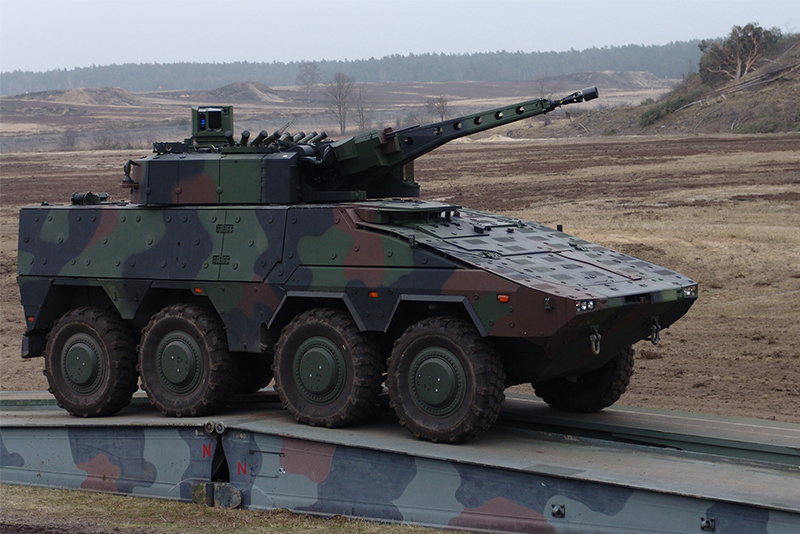 Leonardo Defence Systems Turrets
In addition to manufacturing RWS, the Italian company of Leonardo Defence Systems have also developed a range of two person turrets with their HITFIST 25 being deployed by the Italian Army on its Freccia IFV (8×8) armed with a stabilised 25mm cannon and 7.62mm co-axial MG. Poland has fitted a locally manufactured version of the HITFACT 30 armed with a 30mm MK44 dual feed cannon and 7.62mm co-axial MG on their locally manufactured Finnish Patria Armoured Modular Vehicle (AMV) which is known as the Rosomak.
Denel Land Systems Modular Turret System
Denel Land Systems of South Africa originally developed their Modular Turret System (MTS) for installation on their version of the AMV called Badger.
The first customer for the MTS was however Malaysia for installation of their FNSS Pars (8×8) family of vehicles. A total of 257 Pars 8 are  being supplied under the local name AV-8 Gempita of which 122 are the MTS with 68 armed with a 30mm CI30 dual feed cannon and 7.62mm co-axial and remaining in the anti-tank role also armed with 30mm CI30 dual feed cannon and a pod of Ingwe laser guided missile either side.
FNSS Turrets
The latest Turkish one person turret to enter production is the FNSS Savunma Sistemleri Saber-25 armed with a stabilised 25mm dual feed cannon and 7.62mm co-axial MG which are coupled to a digitalised FCS than includes day/thermal channels and an eye safe laser rangefinder.
Lockheed Martin UK Turrets
Lockheed Martin UK is one of the more recent contractors to enter the turret market and are currently involved in two major turret programmes for the British Army.
They are prime contractor for the new turret being installed on the British Army's Warrior IFV as part of the Warrior Capability Sustainment Programme (WVSP). Under contract to General Dynamics Land Systems UK (GDLS) they are supplying 245 turrets for installation on the GDLS UK Ajax reconnaissance vehicle. In both cases main armament of this turret is a CTAI 40mm Case Telescoped Armament System (CTAS) which is provided as GFE under a separate contract.
by Christopher F. Foss