Whether conducting special reconnaissance (SR), direct action (DA) or military assistance (MA) missions, SOF units must be capable of rapidly moving across the battlespace.
Rotary Wing Assets
Rotary wing assets remain one of the most critical insertion/extraction capabilities for SOF small unit teams around the world. One of the most widely used are variants of Lockheed Martin/Sikorsky's UH-60 Black Hawk which continues to provide a flexible airborne option for SOF organisations including the Polish Special Operations Component Command (POL SOCC).
On 20 December, POL SOCC received four Polish made S-70i Black Hawk helicopters following a contract award with Sikorsky signed on 25 January 2019. POL SOCC had demanded a multi-mission helicopter capable of supporting counter terror (CT) and counter insurgency (COIN) operations as well as more conventional state-on-state operations associated with the GPC.
Air Frames
Air frames, which will be heavily relied upon by POL SOCC's Tier 1 GROM special mission unit in terms of homeland security and CT missions, will provide a tactical airlift insertion, resupply and extraction capability in order to enhance the "mobility of POL SOCC sub-units", according to an official POL SOCC statement.
Air frames will be operated by the Polish Air Forces' 7th Special Operations Squadron in Powidz, augmenting legacy Mil Mi-17, PZL W-3 Sokol and Mi-8 helicopters. POL SOCC had also been considering Airbus Helicopters' H225M Caracal as well as Leonardo's AW101.
Speaking at an acceptance ceremony, Poland's President Andrzej Duda suggested that additional helicopters could be procured for use by GROM due to increasing demands of the Tier 1 SOF unit.
MSAP Training Centre
Meanwhile, NATO SOF partners in Bulgaria, Croatia, Hungary and Slovenia pooled resources to open the Multinational Special Aviation Programme (MSAP) Training Centre in Zadar, Croatia on 11 December 2019.
Designed to enhance interoperability of the SOF components of participating countries, the MSAP school is already open for theoretical training with physical flight training due to begin in 2021 using a variety of platforms including Mi-171Sh; UH-60M; AS532AL Cougar; H-145M; and H225M.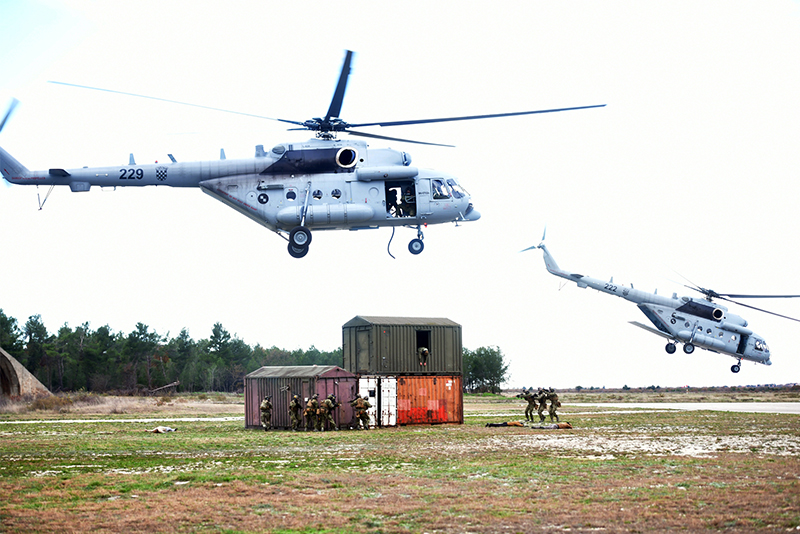 "By applying NATO standards, it will increase interoperability amongst the participants, throughout the alliance and with NATO partners. As such, additional Allies and partner nations may decide to join MSAP in the future, which could lead to a further expansion of the centre's scope," a NATO statement explained.
Speaking to Armada International, director of MSAP Training Centre, Lt Col Tomislav Pusnik described how the centre aims to "provide training capacities required to create and sustain Special Operations Air Task Units (SOATU) in efficient way and to increase interoperability among participants".
"Helicopters are one of the most useful assets to support special operations. For flight training, each nation will use its own nationally declared helicopters. Depending on the national decision, the equipment on the helicopters will be different but all in accordance with NATO standards and adapted for the implementation and support of special operations. All helicopters will be armed and equipped with active and passive self-defence systems.
"In the next two to three years, some nations will transfer to more sophisticated helicopters. With continuous technological improvements, the use of more sophisticated assets and systems with characteristics of precision, speed and proper command and control procedures will be certainly seen as an advantage in highly demanding and contested environments," Pusnik explained.
MSAP Courses
Initial theory courses include the MSAP Special Operations Aviation Planning Course which will be followed by the MSAP Crew Resource Management Course and MSAP Operational Risk Management Course. Airmen who finish all the courses as well as additional courses (NATO SOF Air Mission Commanders Course and NATO SOF Air Mission Challenge Course) organised by NSHQ in Belgium, will meet the prerequisites to begin flight training in 2021, Pusnik disclosed.
"In the future, we intend to develop additional courses including Personal Recovery, Special Operations Air Land Integration (SOALI) Course, SOF Orientation Course and other courses depending on the demands of nations. We plan to work in close relationship with NSHQ, SOCEUR and other countries which have achieved Special Operations Aviation Task Units (SOATU) capabilities in the past."
The MSAP is also set to include tiltrotor technology, including the Bell/Boeing V-22 at the beginning of 2025 in order to enhance Personnel Recovery training.
"Our training will be focused on realistic and combat-focused training which means that the units will be trained in the same way and under the same or similar conditions in which they would fight and conduct real special air operations," Pusnik stated.
The training centre is also set to include fixed wing support during training serials in order to fully replicate the conduct of advanced phase flight training and/or complex military exercises.
"We intend to use conventional fixed wing units to support us, which is the practice in NATO in cases of smaller special air units with a rotary wing component only," Pusnik concluded.
Stealthy swimmers
In the maritime environment, SOF entities in the US and across the Five Eyes (including Australia, Canada, New Zealand, and the UK) community are set to benefit from ground-breaking technology in the form of next-generation Swimmer Delivery Vehicles (SDVs).
SOF components in the US and UK are due to introduce into service Teledyne Brown Engineering's Shallow Water Combat Submersible (SWCS) with USSOCOM's NSW having already received three SDVs as of September 2019 for initial operational evaluation and testing at Joint Base Pearl Harbor Hickam, Hawaii.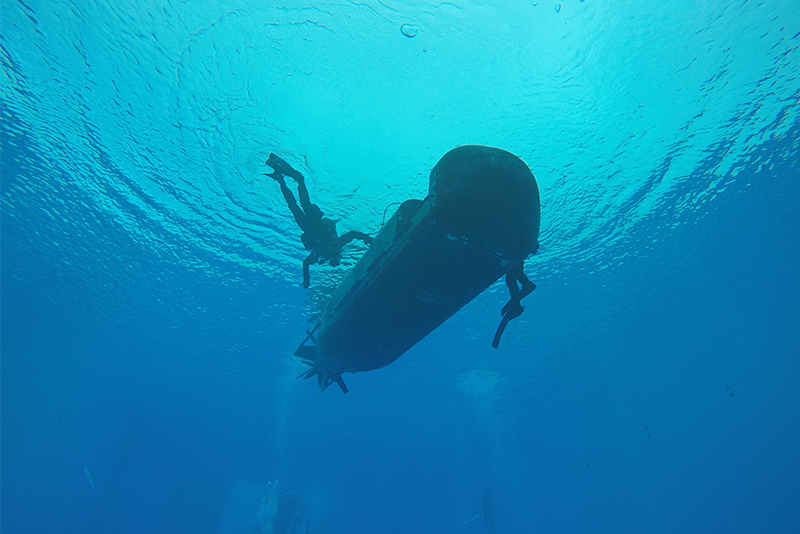 SWCS specifications
Designed to enhance the comfort and survivability of combat divers enduring long and arduous underwater insertions (legacy SDVs including the Mk8 Mod1 expose divers to the water without a break), the SWCS has a top speed of nine knots and maximum weight of 4,500kg. Designed to operate on a single electrical battery, SWCSs are capable of carrying six combat divers up to 50nm below the surface, industry sources informed Armada International. The SWCS has been designated the Mk11 by USSOCOM.
On 30 October, USSOCOM awarded Teledyne Brown Engineering an additional 'follow-on' contract of $178 million to provide additional SWCSs to NSW, although exact numbers have yet to be confirmed. The contract extension follows the "success of the SWCS programme's EDM phase", a Teledyne Brown Engineering statement explained.
Elsewhere, the UK MoD has also agreed a foreign military sale for a total of three SWCSs, according to a 2018 statement disclosed by the US State Department.
Dry Combat Submersible (DCS)
Similarly, NSW is also set to benefit from Lockheed Martin and Submergence Group's Dry Combat Submersible (DCS) which, similar to the SWCS, allows combat divers to keep dry during underwater insertion and extraction.
NSW has already accepted one of three DCSs following an initial delivery in February 2019. Designated DCS-1, the SDV has already completed acceptance tests at Rivera Beach, Florida, ahead of entry into service later this year. DCS-2 and DCS-3 SDVs are due to enter service in 2022.
Dry Deck Shelter (DDS)
However, USSOCOM is also considering a next-generation DCS design which could be interoperable with the US Navy's Dry Deck Shelter (DDS) which can be employed on board Block VI Virginia-class submarines.
The DDS, which comprises a protected structure which is attached to the hull of the submarine, provides access to the DCS and a means to launch and recover the SDV, thereby significantly extending the clandestine mission range of combat dive teams. DCS1-3 are currently too big to be deployed from the DDS.
The so-called 'DCS-Next' concept could also consider underwater towing mechanisms for the DCS which might also be capable of carrying more than six combat divers (excluding crew of two) in the future.
Commander Scott Delwiche, undersea systems program manager for USSOCOM's Program Executive Office – Maritime, DCS-Next stated: "Some of the major hurdles that we're going to have to overcome are how we launch and recover the submarine? How do we handle it? How are those air, electrical or other connections going to mate to the submarine? How all of that interaction will work between the submarine and the DCS- Next?"
Special Warfare Underwater Vehicle (SWUV)
At the end of 2019, France's Special Operations Command also accepted into service ECA Group's PSM3G Special Warfare Underwater Vehicle (SWUV). Designed to carry eight combat divers including a crew of two, the SWUV has a maximum speed of 10kts and an operating depth of approximately 100m. Approximately one dozen SWUVs will be delivered to the COS.
Murene SDV
Finally, at the SOF Innovation Network Seminar (SOFINS) near Bordeaux, France on 2 April, Alseamar unveiled its latest Murene SDV to conduct 'Underwater Attack and Maritime Counterterrorism, Logistic and any Underwater operations [associated] with [combat] divers'.
Also referred to as the Subsea Light Vehicle, the Murene is designed to carry a pair of combat divers. Capable of being deployed from shore or from rigid hull inflatable boats and submarines through NATO standard 21" torpedo tubes, the Murene includes an inertial navigation system with Doppler Velocity Log and GPS. The SDV, which is capable of carrying a 50L payload, is capable of detecting obstacles up to 100m in range.
'Murene's small dimension; greater ease of use; and intuitive piloting, make it a perfect device [for combat divers] to sneak up on maritime targets,' a company spokesperson explained to Shephard. 'The full version, fitted with a Forward Looking Multi-Beam Sonar, is able to carry out seabed monitoring before an amphibious operation.'
The Murene has a top speed of four knots and maximum operating range up to 16nm when operating at a cruising speed of two knots. With an all up weight of 135kg, the SDV can be piloted in either manual or semi-autonomous mode.
SOV mobility 
Special Operations Vehicles (SOVs) also remain a critical piece of equipment for small unit teams seeking to conduct SR, DA and MR missions across arduous and austere environments as well as CT operations in urban areas.
Both SOV types were outlined in a solicitation by the Malaysian Ministry of Defence on 13 January 2002 with a single requirement for 16 4×4 SOVs as well as demand for four 4×4 Rapid Intervention Vehicles (RIVs). SOVs will be provided to the Malaysian Army's GGK SOF unit in order to support "special operations deep in enemy-held territory".
According to the solicitation, SOVs must be capable of "manoeuvring in hostile terrain with great emphasis towards stealth, speed and firepower" as well as being rapidly re-roled between SR and DA mission types.
The competition for the general purpose SOV is likely to see the participation of Cendana Auto, Kembara Suci, Weststar, and Nimr Automotive.
LTATV programme
Similar requirements are being pursued by USSOCOM with the 'Follow-On Light Tactical All Terrain Vehicle (LTATV)" programme which aims at providing a next-generation SOV to replace Polaris Government and Defense's MRZR-2 and MRZR-4 LTATVs upon contract end in July 2020.
The Follow-On LTATV will provide USSOCOM, as well as international SOF partners already operating MRZR-2 and MRZR-4 SOVs, with a capability lying somewhere between legacy LTATVs and General Dynamics Ordnance and Tactical Systems' GMV1.1.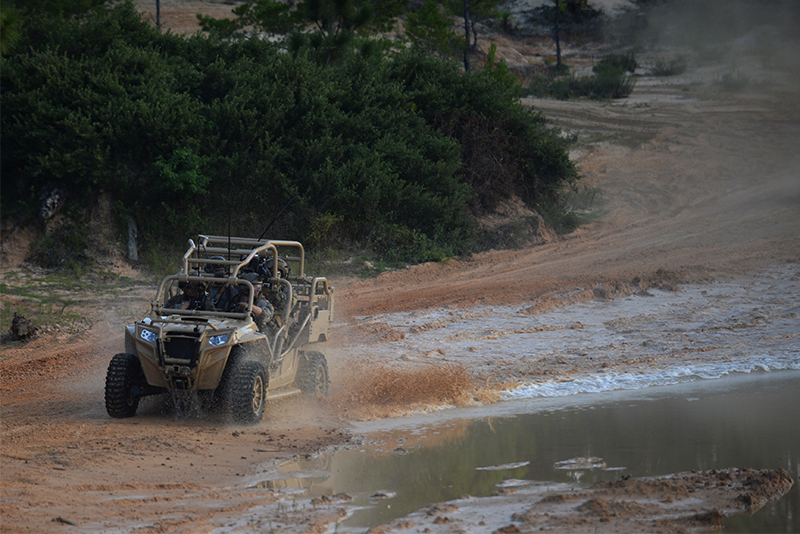 Specific requirements call for a 'fly and drive' capability which allows the follow-on LTATV to be carried inside the cargo hold of V-22 Osprey tiltrotor, H-47 Chinook and CH-53 air frames as an internally transportable vehicle. Such a concept extends the range and reaction time of SOF small unit teams conducting expeditionary operations in particular.
Additional requirements also call for electric and hybrid drive technologies; greater payload capacity; autonomous and optionally-manned features; in addition to modular mission kits including the ability to run tracks for difficult terrain. A request for proposals was originally expected to be published in October 2019.
by Andrew White