Dear Readers,
ROTARY TASK FORCE RISES TO THE COVID CHALLENGE
"We needed to understand the COVID environment and how to decontaminate aircraft," said Wing Commander Elizabeth Gilbertson, Officer Commanding Engineering and Logistics Wing, RAF Benson.
Wing Commander Gilbertson was speaking during a webinar entitled COVID 19: helicopter transport – challenges and experience, which was organised by the Royal Aeronautical Society on Tuesday 10 May. Gilbertson holds the airworthiness authority for the Benson based Puma and Chinook support helicopters. When it was decided to use military helicopters to assist the civilian government (MACA) – Operation Rescript – during the coronavirus pandemic in the UK, she was appointed the Lead Aviation Engineer for the Aviation Task Force: COVID Support Force.
In order to provide a rotary wing capability for critically ill patients, as well as to transport medical personnel and supplies in both urban and rural areas, a variety of helicopter types were distributed around the UK specifically for the task. These included two Royal Air Force HC4 Chinooks at RAF Odiham, three HC2 Pumas based at Kinloss Barracks in Scotland and at RAF Benson, four British Army AW159 Wildcats at RNAS Yeovilton and RAF Leeming (two at each base) and thrss Royal Navy AW101 Merlins on standby at RNAS Culdrose to cover the south of England, Channel Islands and the Isles of Scilly.
Gilbertson pointed out that although the armed forces do prepare to operate in contaminated environments as part of nuclear, biological and chemical (NBC) training, preparations also needed to understand the need for, and use of, personal protection equipment (PPE).
"There was also a need to carry emergency equipment which had not been cleared to fly with the aircraft," he said, but added that the "release to service authority had worked with equipment support teams to achieve the respective clearances 'in short order'."
Another of the early challenges was the planning to provide a scalable response to flex with the emergency requirements as they developed. Gilberson said that key to this was establishing good communications with regional authorities. While the military do conduct regular training with civilian organisations, it is usually linked to disaster response such as a rail crash, or other serious incident.
The option of transporting critically sick – and infectious – patients by military helicopter was something that the liaison personnel could guide the civilian authorities towards when required. This was also something the crew needed to be protected against. Not only were teams deployed together "We have guarded against the spread of COVID among our team," said Gilbertson.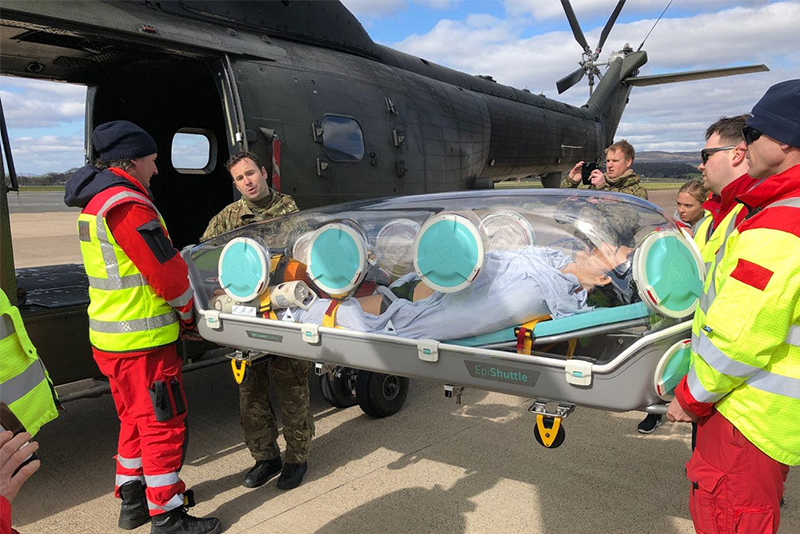 The RAF Puma crews based at RAF Kinloss worked with the Scottish Ambulance Service to trial a medical isolation and transportation system called Epishuttle. The manufacturer EPiGuard states of its product: "In negative pressure mode, the air system generates negative pressure, relative to the environment, inside the device. The air flow is directed through the inlet filters at the head end, and through the outlet filters at the foot end. The negative pressure and the outlet filters prevents contaminated air to escape from the isolator."
Another speaker, Sam Schaab, a HEMS specialist with Leonardo Helicopters since 2019 outlined the importance of separating the patient transportation area from the helicopter cockpit. He said that bio-containment devices were not widely used but were essential in order to isolate the patient from their medical providers – and aircraft pilots.
Schaab said that there were two primary devices in use: IsoArk N-36 2 which again offers a negative pressure environment, in addition to the Epishuttle.
Decontaminating the inside of a helicopter, other than the laborious method of wiping down surfaces with disinfectant which may not reach more hard to reach areas, is usually achieved through a ''fogging' process' which fills the cabin with a disinfectant mist
Decontamination is a challenge, said Schaab. "There has not been enough testing to sanitise a helicopter using techniques such as UVC. Some trials had shown that UV degrades some of the rubber seals and components."
DEFENCE AND COVID-19
NATO TACKLES DISSEMINATORS OF DISINFORMATION ABOUT COVID-19
According to a NATO statement issued on 13 May, the COVID-19 pandemic has provided a fertile ground for those wishing to spread disinformation and sow the seeds of confusion among the public.
Dr. Ritu Gill, a member of NATO's long titled Digital and Social Media Assessment for Effective Communication and Cyber Diplomacy Research Task Group, part of the Science and Technology Organisation (STO), reports: "In essence we see that it represents the first major global health event in which digital platforms are playing a critical role in the dissemination of information, which includes disinformation and misinformation.
"In the information environment we see that there is an anti-West, anti-NATO narrative. Not all disinformation merits a response so ignoring it can actually be very effective because it doesn't give that piece of disinformation attention, traction and credibility." [Editor's note: there may also be a danger that ignoring something creates the perception that there is some truth behind it because it has not been refuted – to ignore or to reply – a difficult choice to make sometimes.)
In a statement that is well supported by the media, Jens Stoltenberg, NATO Secretary General stated: "I believe that the best response to disinformation and propaganda is free and independent press, is the work of journalists. When they ask the difficult questions, then disinformation and propaganda will never succeed." [Editor's note: the vast majority of defence journalist are responsible and have a reputation to protect – well known and easily verified media are usually the most accurate sources of information.]
The task of the group as described by Dr. Gill, is "to examine how digital platforms impact influence operations, so in this particular case it would be helping to identify the actors that propagate disinformation, identifying where the dominant narratives are in the information environment and importantly, developing counter strategies to effectively combat disinformation building up an audience's resilience to disinformation."
INSECT REPELLANT PROTECTION AGAINST CORONAVIRUS?
On 14 May, the UK's Parliamentary Defence Committee received a reply from the Secretary of State for Defence, Ben Wallace, regarding a question from the Committee about the use the insect repellent, Citriodiol, by the Armed Forces as a possible shield against coronavirus.
The response stated that "a Citriodiol-based spray [had] been issued to 'each of the 10 Joint Military Commands" to supply to personnel.
According to the Defence Select Committee's website: "The letter explains that 'the Surgeon General advised that, albeit in lieu of conclusive research, Citriodiol would do no harm and should be used on a precautionary basis, as an additional layer of protection against exposure to COVID-19'."
No doubt further results are eagerly awaited.
DONATIONS
EDITOR'S NOTE: (If your company is donating equipment or services to the military or government to help in the fight against COVID-19, let us know and we will publicise it here in the weekly briefing).
GENERAL NEWS AND ITEMS OF INTEREST
AUSTRALIAN GOVERNMENT PONDERS COVID IMPLICATIONS ON DEFENCE AND TRADE
On Wednesday 13 May, the parliament of Australia Joint Standing Committee on Foreign Affairs, Defence and Trade (JSCFADT) launched an Inquiry into the "implications of the COVID-19 pandemic for Australia's foreign affairs, defence and trade."
According to the website of Senator David Fawcett, chair of the JSCFADT, there has been a "strategic shock that COVID-19 has delivered to long-held assumptions that have underpinned some of Australia's policy frameworks in recent decades. Learning from the impacts of COVID-19, and understanding future risks and opportunities, will play a key role in considered decision-making as Australia charts a path into a changed world."
Senator Fawcett warned that now was the time "to analyse how Australia can take a systemic, risk based approach to ensuring supply chain integrity, even in the event of market failure due to unforeseen external factors such as pandemic, conflict or natural disaster".
US GOVERNMENT CONTRACTS
Highlighting a selection of $100 million+ government awarded contracts awarded between 11-15 May 2020:
15 May
DEFENSE LOGISTICS AGENCY
BAE Systems Controls received a $1.1 billion option modification of a 10-year base contract for consumable and depot-level repairables supporting multiple weapon systems platforms. Using customers are Army, Navy, Air Force, Marine Corps, Defense Logistics Agency and federal civilian agencies. The contract is through the Defense Logistics Agency Aviation.
US AIR FORCE
J Davis Construction Management; Bishop; SMNC Properties; BC Schmidt Construction; Pacific Federal-Pacific Tech JV 2; MIWOK Construction; ENH; Heffler Contracting Group; Aleut Field Services; Chatmon-VJR JV; Good-Men Roofing and Construction; Prairie Band Construction; DKJR Roofing; A-Vet Roofing & Construction; PMR Services; RSSI Roofing; Doliveira DJB JV; Kunj Construction; D.A. Nolt; Ocean Construction; Roofing Resources; Carroll's Roofing and Construction; Swan Contracting; ACTS/Meltech JV1; A-Vet Roofing & Construction; The Roof & Metal Co; AR6-Cram Roofing JV; Brazos Roofing Intl; CUE Enterprises ; Carmen Express JV; MIWOK Construction; Platinum Roofing; ENH; Good-Men Roofing and Construction; Topside Contracting; Heffler Contracting Group; PMR Services; Legacy JV Group; Advon Construction; Jordon Construction; Best Value Management; Associates Roofing & Construction; Yerkes South-Advanced Roofing; Inland Construction and Engineering; Legacy JV Group; Carmen Express JV; D.A. Nolt; Ocean Construction; Pacific Federal-Pacific Tech JV 1; Platinum Roofing; Topside Contracting; Chatmon-VJR JV; Ames1 DayNight JV; ACTS/Meltech JV1; RYCARS Construction; CYE Enterprises; Swan Contracting; Roofing Resources; Carroll's Roofing and Construction; Consolidated Enterprises; Interior Alaska Roofing; EP Roofing; Orion Construction; Aleut Field Services; and Ames1 DayNight JV have been awarded a $325 million contract to 43 contract holders with 66 contracts for roofing repair, replacement and maintenance. Work will be performed at various Air Force contiguous US installations and installations in Alaska. The 771st Enterprise Sourcing Squadron is the contracting activity.
PAE Aviation and Technical Services received a $157 million contract for performance of the Eglin backshop maintenance services contract. This contract provides for support for repair, maintenance and modification of F-15, F-16, UH1N, C-130 and other required aircraft, including maintaining support equipment and providing crash recovery services. Contract through Air Force Test Center.
US NAVY
Alutiiq Logistics and Maintenance Services was awarded a $196 million contract for base operating support services at Naval Air Station China Lake, California. Contract awarded by Naval Facilities Engineering Command Southwest.
14 May
US NAVY
Lockheed Martin was awarded a $904 million modification contract for the production and delivery of three MH-60R Seahawk maritime aircraft for the Navy and 21 MH-60Rs for the government of India. The completion date is expected to be September 2024. The amount is divided between the US Navy ($113 million) and Foreign Military Sales ($791 million). Through Naval Air Systems Command.
US ARMY
Perspecta Enterprise Solutions received an award of $237 million to develop, integrate, deliver, operate and maintain an enterprise capability for Army training and education information. Contract via US Army Contracting Command.
13 May
US Navy
Boeing was awarded a $1.9 billion contract to provide non-recurring engineering associated with the Stand-off Land Attack Missile – Expanded Response (SLAM ER) obsolescence redesign effort as well as the production and delivery of 650 SLAM ER missiles in support of the government of Saudi Arabia. FMS contract through Naval Air Systems Command.
Boeing was also awarded a $656 million modification to a contract to procure and deliver 467 Harpoon full rate production Lot 91 Block II missiles and support equipment for various Foreign Military Sales customers. This modification procures four Block II missiles and support equipment for the government of Brazil, eight Block II missiles and support equipment for the government of Thailand, 53 Block II missiles and support equipment for the government of Qatar, 402 Block II missiles and support equipment for the government of Saudi Arabia, and support equipment for the governments of Japan, the Netherlands, India and Korea. Via Naval Air Systems Command.
Strategic Airborne Operations JV has received a $146 million contract that acquires the High Endurance Electronic Warfare Jet (HEEWJ) capability. The HEEWJ capability is an offensive air support for training that provides regionally based, geographically distributed aviation with a variety of airborne threat simulation capabilities to train shipboard and aircraft weapon systems operators and aircrew to counter enemy electronic warfare and electronic attack operations in today's electronic combat environment in support of Department of the Navy, other Department of Defense (DOD) agencies, non-DOD government agencies and Foreign Military Sales customers. Via the Naval Air Warfare Center.
US ARMY
Northrop Grumman received a $176 million contract modification to support Army special electronic mission aircraft fixed-wing life cycle services. Contract through US Army Contracting Command.
DynCorp International was awarded a $167 million modification to contract for support services for government-owned fixed-wing fleets performing transport aircraft missions. Again, award through US Army Contracting Command.
12 May
US ARMY
Raytheon/Lockheed Martin Javelin JV received a $121,764,089 modification contract for the Javelin weapon system. Through US Army Contracting Command.
11 May
US AIR FORCE
Unisys has been awarded a $630 million contract for technology application development and sustainment (TADS) supporting the Air Force weather enterprise. Orders under the TADS contract will support development, delivery and sustainment of an integrated system of weather enterprise hardware and software dedicated to providing accurate, consistent, relevant and timely environmental intelligence. The 55th Contracting Squadron is the contracting activity.
ApiJECT Systems America received a $138 million contract for COVID-19 response "Project Jumpstart" and "Project Rapid," which will dramatically expand production capability for domestically manufactured blow-fill-seal injection devices. Contract through the Air Force Life Cycle Management Center.
US ARMY
Chemring Sensors and Electronic Systems received a $200 billion modification contract to develop, integrate and produce and deliver Husky Mounted Detection System kits, spare parts, maintenance and training. Via US Army Contracting Command.
EVENT CANCELLATIONS/RESCHEDULING
LAND FORCES
1-3 September 2020, Brisbane, Australia.
New date: 1-3 June, 2021.
Message from the organiser: "After extensive consultation and review, it has become clear that, because of the impacts of COVID-19, LAND FORCES will be unable to proceed in September this year as initially intended.
As a result, we have taken the decision to defer LAND FORCES and have identified proposed new dates from 1 to 3 June 2021 at the Brisbane Convention and Exhibition Centre."
DEFENCE SERVICES ASIA (DSA)
24-27 August, 2020, Malaysia International Trade and Exhibition Centre (MITEC) in Kuala Lumpur.
New date: 28 – 31 March 2022.
Message from the organiser: "2020 exhibitions have been deferred by almost two years to 28 – 31 March 2022. Tan Sri Asmat Kamaludin, chairman of DSA Exhibition & Conference said, "Truly, this was a heavy decision to make. The current situation of the pandemic no longer makes it conducive to hold these events in 2020. While many alternative dates were studied, we realised it is in the best interest of all parties involved that the event be deferred to early 2022."
AVALON
23-28 February 2021, Geelong, Australia.
Provisional new date: November 2021.
Throughout the COVID-19 Coronavirus pandemic, AMDA Foundation Limited has monitored the evolving situation and its potential effects on the Australian International Airshow and Aerospace & Defence Exposition (AVALON 2021) which, next year, has a uniquely central role to play in the celebration of the Centenary of the Royal Australian Air Force.
After extensive consultation and review, it has become clear that the impacts of COVID-19, including lengthy logistical lead times and uncertainty about availability of international travel, would pose unacceptable risks to AVALON 2021, should it continue with its original February dates.
As a result, AVALON 2021, originally scheduled for 23-28 February, will be deferred to later in 2021, with timings in November being considered. Precise dates will be announced shortly.
Keep safe and healthy everyone.
Andrew Drwiega
Editor-in-Chief
Armada International / Asian Military Review