Dear Readers,
COVID-19 WILL RESULT IN DEFENCE BUDGETS REDUCTION
On Monday 27 April Armada's contributing analyst Andrew Hunter, who is the director of the Defense-Industrial Initiatives Group, Center for Strategic and International Studies (CSIS) was joined by his colleague Todd Harrison, director for Defense Budget Analysis, both of CSIS, to discuss COVID-19'S Impact on the Defense Budget and Defense Supply Chain.
Hunter revealed that the Department of Defense (DoD) was supporting the US supply chain and contractors by ensuring "strong demand" was maintained and that it "continues to buy and accelerate payments and in some cases had accelerated orders." He added that the US Navy had done this with some ship programmes.
However, the effect of the slow down in production could not be ignored and could well have cost implications for the future, in that payments to ensure the supply chain labour force was maintained would have to be added to the eventual programme cost at a later date.
At the time of his comments, he said that both the automotive and especially the aviation sector had taken a catastrophic hit – with up to a 60 percent decline, and business continuity would face a major challenge in the weeks and months ahead.
He warned that the disruption to international trade meant that the flow of containers had been disrupted and in many countries there were cross border restrictions. This would particularly hit global tiered and just-in-time supply chains. He said that one result might be that stock piling may been to be re-examined to ensure continuity of supply.
Todd Harrison remarked that one of the major fall-outs from the effect of the pandemic was the huge unplanned emergency funding that governments were having to finance, such as the CARES Act (Coronavirus Aid, Relief, and Economic Security). This was likely to push the national deficit from over $1 trillion to over $4 trillion towards the end of the fiscal year in September. The subsequent pressure to reduce this huge deficit over the next few years would most likely lead to a significant reduction in defence spending, certainly over the first four years of the new government following November's elections.
One conclusion Hunter offered was that new programmes would need to be introduced at a quicker pace, with legacy equipment being divested faster. it would also likely lead to a downsizing of force structure and perhaps a new era of sequestration.
DEFENCE AND COVID-19
USNS HOSPITAL SHIPS JOB DONE – FOR NOW
Despite the departure of USNS Comfort, one of the US Navy's two hospital ships from New York, around 700 uniformed doctors and nurses remain in and around the city to assist civilian hospitals, stated Jonathan Rath Hoffman, Assistant to the Secretary of Defense for Public Affairs, Department of Defense.
Briefing the media on Friday 1 May, Hoffman he added that the USNS Mercy in Los Angeles was no longer taking new patients.
During the week, he recalled that Undersecretary Ellen Lord had announced that Puritan Medical Products had been awarded $75 million funding through the Defense Production Act to increase its swab production from 20 million to 40 million per month.
Away from the COVID-19 crisis, he announced that two freedom-of-navigation operations (FONOPS) had taken place in the South China Sea. The USS Barry (an Arleigh Burke-class guided missile destroyer) and the USS Bunker Hill (a Ticonderoga-class guided missile cruiser) had transited through the area to maintain free access to international maritime traffic under maritime law.
SOCIAL DISTANCING IN A HELICOPTER – SURELY SOME MISTAKE?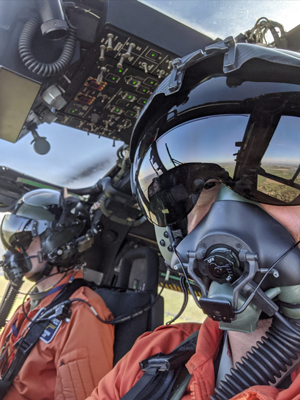 No mistake, says Leonardo Helicopters (UK). The company has found a way to modify a test pilot's flight helmet and mask so that it will protect the crew from each other, allowing pilot and copilot to sit side-by-side in the cockpit.
Leonardo chief test pilot Mark Burnand explains: "We have taken our existing oxygen mask, which is compatible with our helmets/visors and has a built-in microphone for comms, and hose, and then connected a standard filter from an industrial Respiratory Protection equipment [RPE] face mask." Each mask can have up to two filters and are threaded so that they can be replaced.
Burnand added: "We have modified the end of the hose with a bespoke attachment which allows us to fit the filter effectively and also a connector that allows us to attach the assembly to our life vests securely."
The concept was developed by deputy chief test pilot, Charlie Pickup, with the help of safety equipment officer, Les Medhurst and the further assistance of Structural and Mechanical Test Engineering Department members Dave Jenkins, Will Miller and Andy Chilcott.
According to the company, the crews are using their high altitude testing oxygen masks and systems, in combination with the P3 RPE filters. All switches and controls are also cleaned with an alcohol solution before the flight.
DONATIONS
GENERAL DYNAMICS CANADA GIVES ARMOURED AMBULANCE VENTILATORS TO HEALTH CENTRE
General Dynamics Land Systems-Canada (GDLS-Canada) has donated 14 ventilators (AEV 731 model) and 860 N95 masks to the London Health Sciences Centre in London, Ontario.
The company states that the equipment was originally intended for use in a Light Armoured Vehicle (LAV) Combat Support Vehicle (CSV) 6.0 ambulance variant. Some of the specialist medical equipment supplied in each LAV CSV-A includes: Automated External Defibrillator (AED), cervical and spine immobilisation equipment, infusion fluid and giving sets, minimum of 2000 litres of oxygen and a ventilator among others. 
PHOTONIS DONATES PPE TO LOCAL HOSPITALS
Defence supplier Photonis, headquartered in Bordeaux, has donated personal protective equipment (PPE) to the Brive-la-Gaillarde Hospital and the Clinic of Cédres, both in the local area.
Photonis donated surgical masks, protective suits, disposable overalls and vinyl gloves to be used by first responders and healthcare workers.
EDITOR'S NOTE: (If your company is donating equipment or services to the military or government to help in the fight against COVID-19, let us know and we will publicise it here in the weekly briefing).
GENERAL NEWS AND ITEMS OF INTEREST
RUSSIAN AIR FORCE KEEPS PRESSURE ON NATO AIR POLICING
On 28 April Polish fighters were scrambled under NATO's Baltic Air Policing mission from Estonia to identify two Russian Tu-160 long range bombers, escorted by several fighters and supported by an Airborne Early Warning aircraft. The formation was later intercepted again by fighters of the Royal Danish Air Force.
NATO fighters across the Alliance remain ready and poised to protect Allied skies 24/7
On the same day a Russian Airborne Early Warning aircraft as well as two Russian Tu-22 long range bombers with fighter escorts approached NATO airspace off the coast of Norway and were intercepted by Norwegian fighter jets.
On 29 April Norwegian fighters were scrambled twice more against two Russian Maritime Patrol aircraft, approaching NATO airspace close to Norway. After the first intercept by Norwegian F-16 aircraft, the Royal Air Force launched their Quick Reaction Alert Typhoon fighter aircraft from RAF Lossiemouth to meet and escort the Russian planes as they tracked south towards the North Sea. They operated around the North Sea and turned north where Norwegian F-35 fighters met them and escorted them out of NATO's area of interest.
All intercepts were conducted in a professional manner, demonstrating that NATO fighters across the Alliance remain ready and poised to protect Allied skies 24/7.
US GOVERNMENT CONTRACTS
 Highlighting a selection of $100 million+ government awarded contracts awarded between 13-17 April 2020:
1 May
US SPECIAL OPERATIONS COMMAND
Core One Solutions; Crisis Response; Consulting Services Group; D3 Air & Space Operations; Defense Acquisition; EnGenius; Firebird AST; Federal Information Systems; FITT Scientific; Gemini Industries; Global Dimensions; Geo Owl; Iron EagleX; ITELITRAC; Infinity Technology; K2 Solutions; Legion Systems; Lukos; METIS Celestar JV; MHM Innovations; Nisga'a Tek; OSCAR DEUCE; Prescient Edge; ProCleared; Preting; Quiet Professionals; R3 Strategic Support Group; The Red Gate Group; R&K Enterprise Solutions; RMGS; Special Applications Group; SOLUTE; Systems Plus; Spathe Systems; Strategic Solutions Unlimited; Streamline Defense; T3i; TriDcor JV; Tyoneck Global Services; Threat Tec; Universal Strategy Group; Vistra Communications; VxL Enterprise; Walsingham Group; and Webworld Technologies, were awarded 46 contracts worth $950 million for Special Operations Forces core support services in support of US Special Operations Command (USSOCOM) enterprise requirements in the US and globally. This will support education, training, engineering, technical, professional, administrative, management support, programme management and other requirements. Contracts awarded by USSOCOM.
US AIR FORCE
COLASKA; HC Contractors; Paving Products; Great Northwest; and Granite Construction were awarded contracts valued at $350 million under a multiple award task order for airfield/roadway paving and striping at Eielson Air Force Base, Alaska; Fort Wainwright, Alaska; Fort Greely, Alaska; Clear Air Force Station, Alaska; and 168th Air National Guard property, Alaska. Contracts awarded by the 354th Contracting Squadron Eielson Air Force Base, Alaska.
US NAVY
Northrop Grumman Systems received a $123 million modification contract to procure the necessary hardware, systems engineering, technical support, analysis and studies to integrate the Department of Navy Large Aircraft Infrared Countermeasures system onto aircraft for the Navy, Army, Air Force and the governments of Norway and New Zealand. This modification combines purchases for the Navy ($82 million; 67 percent); Army ($25 million; 20 percent); Air Force ($6; 5 percent); the government of New Zealand ($6 million; 5 percent); and the government of Norway ($2 million; 2 percent). Contract through Naval Air Systems Command.
DEFENSE LOGISTICS AGENCY
Del Medical was awarded a $100 million contract for radiology systems, accessories and training. Using customers are Army, Navy, Air Force, Marine Corps and federal civilian agencies. Contract via the Defense Logistics Agency Troop Support.
30 April
US TRANSPORTATION COMMAND
American Roll-On Roll-Off Carrier Group was awarded a $7.2 billion Global Household Goods contract. The contract provides relocation services which includes door-to-door moving services during service members' permanent change of station moves. Four principal subcontractors are Unigroup, Suddath Companies, Atlas World Group and The Pasha Group. The contract fundamentally restructures DOD's relationship with the household goods industry in order to improve access to—and management of—quality capacity to meet peak demand and enable the department to affix the accountability and responsibility lacking in today's programme. The contract is through US Transportation Command.
US ARMY
Lockheed Martin was awarded a $6 billion contract to produce Phased Array Tracking Radar to Intercept on Target Advanced Capability-3 missiles, missile segment enhancement configuration and associated ground support equipment and spares. Via US Army Contracting Command.
US NAVY
Marinette Marine has received a $795 million contract for detail design and construction (DD&C) of the FFG(X) class of guided-missile frigates. The contract with options will provide for the delivery of up to 10 FFG(X) ships, post-delivery availability support, engineering and class services, crew familiarisation, training equipment and provisioned item orders. If all options are exercised, the cumulative value of this contract will be $5.5 billion. The FFG(X) will have multi-mission capability to conduct air warfare, anti-submarine warfare, surface warfare, and electronic warfare and information operations. The Naval Sea Systems Command is the contracting authority.
Huntington Ingalls Industries has received a $187 million contract action for long lead time material and associated engineering and design activities in support of one Amphibious Assault Ship Replacement (LHA(R)) Flight 1 Ship and LHA 9. Work to be performed is the procurement of long lead time material for LHA 9, the fourth LHA (R) America Class and the second LHA(R) Flight 1 ship. Contract through Naval Sea Systems Command.
Lockheed Martin was awarded a $129 million modification to procure the kits required for modification and retrofit activities of delivered Air Force and government of Norway F-35 Lightning II Joint Strike Fighter aircraft. This order combines purchases for the US Air Force ($107 million; 83 percent); and non-DOD participants ($21 million; 17 percent) through Naval Air Systems Command.
Boeing was awarded an $112 million modification contract to procure 16 infrared search and track Block II low rate initial production IV units; four for the US Navy and 12 for the government of Australia. Contract through the Naval Air Systems Command.
MISSILE DEFENSE AGENCY
Lockheed Martin Missiles and Fire Control is awarded a $618 million contract to provide terminal high altitude area defense product support, which includes: logistics performance requirements; maintenance; supply; training and training support; packaging, handling, storage and transportation; forward stationing for theatre support; logistics information capabilities; product assurance; safety; missile support; security; and engineering services. Contract through the Missile Defense Agency.
DEFENSE LOGISTICS AGENCY
General Dynamics Mission Systems, Taunton, Massachusetts, has been awarded a maximum $400,000,000 firm-fixed-price, indefinite-delivery/indefinite-quantity, prospective-price-redetermination contract for production of spare parts in support of the Warfighter Information Network-Tactical Increment system. This was a sole-source acquisition using justification 10 U.S. Code 2304 (c)(1), as stated in Federal Acquisition Regulations 6.302-1. This is a five-year base contract with one five-year option period. Location of performance is Massachusetts, with an April 29, 2025, performance completion date. Using military service is Army. Type of appropriation is fiscal 2020 through 2025 Army working capital funds. The contracting activity is the Defense Logistics Agency Land and Maritime, Aberdeen Proving Ground, Maryland (SPRBL1-20-D-0043).
Atlantic Diving Supply, doing business as ADS has been awarded a maximum $200 million contract for commercial shelters. Using military services are Army, Air Force, Navy and Marine Corps. The contracting activity is the Defense Logistics Agency Troop Support.
29 April
US ARMY
FN America; and Colt's Manufacturing, will compete for each order of the $383 million contract to provide M16A4 rifles for Foreign Military Sales (Afghanistan, Grenada, Iraq, Lebanon and Nepal). Contracted by US Army Contracting Command.
28 April
US AIR FORCE
General Electric has been awarded $707 million for four undefinitised contract actions under an existing contract, for F110-GE-129 engine production. These actions provide for F110 engine production, including installs and spares and modernised engine management system computers. These actions involve Foreign Military Sales to Slovakia, Bulgaria, Taiwan and Qatar. Foreign Military Sales funds amount $353 million. Via Air Force Life Cycle Management Center.
27 April
US ARMY
H&L Contracting received a $113 million contract for reduction of storm damages from coastal erosion and flooding through storm protective reinforced dune, beach berm and dune construction. Via US Army Corps of Engineers.
EVENT CANCELLATIONS/RESCHEDULING
16-18 June, Rotortech, Queensland, Australia
Rescheduled to 14-16 October 2020.
Organiser AMDA Foundation issued the following statement: "After weeks of consultation with our major partners and stakeholders against the backdrop of a rapidly evolving COVID-19 Coronavirus environment, AMDA Foundation has taken the difficult decision to postpone June's planned Rotortech 2020 to 14-16 October 2020.
Keep safe and healthy everyone.
Andrew Drwiega
Editor-in-Chief
Armada International / Asian Military Review