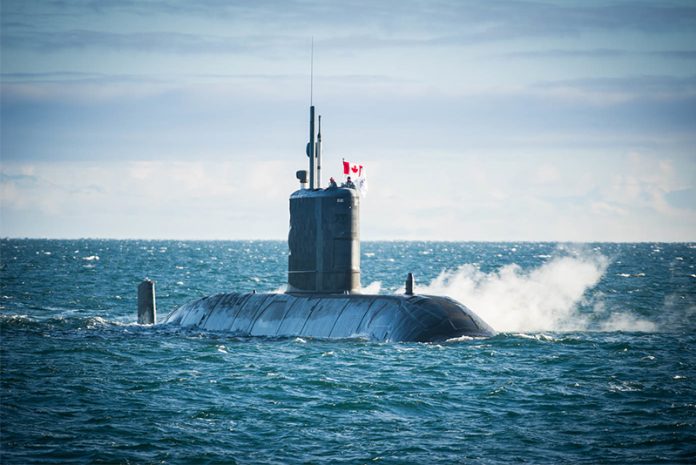 The system modernisation programme for the Royal Canadian Navy's four Victoria-class submarines is upgrading all three core elements of a submarine's at-sea contribution to operations.
Role of Submarines
The simple role of a submarine is to use its invisibility to conduct surveillance operations, share sensor information with other platforms at sea and with command nodes both at sea and ashore, and strike when and where required at targets below and on the surface of the sea, as well as (for some navies) on land.
The simple fact that the oceans largely remain impermeable, despite decades of many countries developing technologies designed to try to see below the sea's surface, means that countries in possession of a submarine capability are – in the words of Dr Andrew Davies, senior fellow at the Australian Strategic Policy Institute – able to "jump the queue" in terms of generating politico-strategic and operational-tactical influence and effect.
Royal Canadian Navy's Submarines
Canada is one such country for which the possession of a submarine capability brings significant benefit in supporting national and international interests. Current improvements to systems and capabilities will see the Royal Canadian Navy's (RCN's) submarines begin delivering increased operational effect at sea in 2020.
The RCN operates a highly capable fleet of four diesel-electric submarines (SSKs) – HM Canadian Submarines Victoria, Windsor, Corner Brook, and Chicoutimi, namely the Victoria class. Victoria and Chicoutimi are based on Canada's Pacific coast at Esquimalt, British Columbia. Windsor and Corner Brook are based on the Atlantic, at Halifax, Nova Scotia.
The four submarines are required to conduct a range of global operations, with operational areas of interest stretching from Canada's home (including northern) waters to the Asia-Pacific and Euro-Atlantic theatres. The boats are required to conduct tasks both close to home such as protecting Canada's maritime approaches, as well as distance, including working with Canada's allies and partners to support international security requirements.
Demonstrations and Exercises
The importance of what the Victoria-class SSKs provide in supporting Canada's national and wider international interests and influence was demonstrated in 2017-18 when, for the first time, the RCN's Canadian Submarine Force (CSF) deployed two of the boats in parallel into two separate theatres, at distance, and for extended periods of time.
Windsor deployed to the Euro-Atlantic theatre, where the boat participated in NATO Maritime Command's Dynamic Manta anti-submarine warfare (ASW) exercise in the Mediterranean Sea, supporting NATO's Operation Sea Guardian maritime surveillance and wider security mission in the Mediterranean, and exercising with the alliance's Standing NATO Maritime Group 2 (SNMG2).
Operation Projection
On the other side of the world, Chicoutimi roamed widely through the waters of the Indo-Pacific theatre, including supporting Operation Projection, Canada's national task to provide presence at sea in the Indo-Pacific. During the deployment, Chicoutimi conducted training activities with the US Navy (USN), the Japan Maritime Self-Defense Force (JMSDF), the French Navy (FN), and the Royal Australian Navy (RAN). In an RCN statement released when the boat returned home, then-Commander of the RCN Vice Admiral Ron Lloyd said "The advantage that submarines can bring to a battlespace cannot be underestimated. They are stealthy, lethal, and persistent. They are an important strategic asset that the Canadian Armed Forces brings to the table when working with our partners and allies around the world."
Such deployments at distance not only underlined Canada's strategic commitments to those regions, but at the operational level also allowed the boats to improve interoperability with allies and contribute to regional maritime security.
Canada's Defence and Security Policy
Canada's defence and security policy requires RCN platforms to support national interests both at distance and at home. Alongside the strategic presence and effect the boats deliver at distance, they provide "equally a potent capability for us in exploring [and] understanding, our water column [at home] and providing us with a response capability", Vice Admiral Art McDonald, current Commander of the RCN, told Armada International in an interview in February 2020.
The importance of what the Victoria-class SSKs provide in supporting Canada's national and wider international interests and influence was detailed in the Government of Canada's 2017 defence and security policy document, Strong, Secure, Engaged (SSE). The document also set out a policy framework within which the RCN could modernise Victoria-class systems and capabilities to ensure continued operational relevance to meet policy requirements.
SSE committed the Canadian government and the RCN to continue operating and modernising the Victoria-class SSKs. It also set out how the submarines contribute to RCN operational requirements, both in terms of supporting task group operations and deploying as standalone assets. SSE defined the RCN as a "blue-water navy [requiring] a balanced mix of platforms, including submarines, surface combatants, support ships, and patrol vessels, in sufficient quantities to meet [Canada's] domestic and international needs". "The naval task group is the core RCN operating concept," said SSE, "composed of up to four surface combatants and a joint support ship, and supplemented where warranted by a submarine."
As regards the Victoria-class boats' capabilities and operational impact in particular, SSE pointed to their capacity to conduct sub-surface surveillance, to operate as a key element of Canada's 'system of systems' construct for delivering maritime domain awareness, and to work with other assets to support for example sovereignty and continental defence operations.
As regards ongoing development of the boats and their capabilities into the future, SSE also stated that the submarines "will undergo incremental modernisation in the mid-2020s, which will ensure their continued effectiveness out to the mid-2030s". This will be delivered via a series of discreet projects referred to collectively as Victoria Class Modernisation (VCM).
Modernisation
However, as part of an ongoing modernisation process that is separate to the planned future VCM activities, capability improvements to the Victoria-class submarines have been underway since 2014, in a staggered schedule of developments designed to ensure the boats' continued relevance to current operations and threats, as well as to lead into the future VCM projects.
In essence, this current system and capability modernisation process is delivering improvements to all three core components of a submarine's capability – its ability to sense and define what is happening in the operating environment, to share information and imagery with other assets, and to strike at targets below and on the surface of the sea as required.
To support these core components, the capability modernisation is based around the ongoing delivery of three systems across the four boats – the Lockheed Martin AN/BQQ-10 (V)7 sonar processing suite, the L3 Calzoni Universal Modular Mast (UMM), and the Lockheed Martin Mk-48 Mod 7 Advanced Technology (AT) heavyweight torpedo.
Windsor was the first boat to receive a complete fitting of the BQQ-10 sonar, in 2018. All four will have received the fit when Chicoutimi comes out of a transitional docking work period in 2021. Installation work for the UMM communications system first got underway in 2018, onboard Corner Brook; work on the boat is reported to be scheduled for completion in 2021. Victoria will be the next platform fitted with UMM, during an extended docking work period (EDWP) the boat will go through between 2021 and 2024: during this EDWP, Victoria will also be the last boat to be fitted with the Mk-48 Mod 7AT torpedo.
BQQ-10 Sonar
Providing the boat's 'ears', sonar systems are perhaps the core capability for a submarine. For the Victoria class, the BQQ-10 provides "a huge step forward compared to the legacy sonar we had," Captain Jean Stéphane Ouellet, the RCN's Commander CSF, told Armada International. What it provides, Capt Ouellet continued, is "more sensor fidelity and sensitivity, and obviously much more information to manage".
There are three capability elements for the BQQ-10 sonar, Capt Ouellet explained. These are the passive arrays, an active intercept and ranging capability, and high-frequency active sonar and integrated towed array processing. In terms of lacing these together by collating and disseminating the data they collect, "the [Lockheed Martin] Submarine Fire Control System directly works with BQQ-10 to enable the information to be used operationally," said Capt Ouellet. In terms of the operational impact provided by the BQQ-10 capability, "the key benefit is to [be able to] more accurately differentiate multiple contacts from one another in a noise-heavy environment," he said.
Universal Modular Mast (UMM)
The UMM fit effectively provides two key capabilities.
First, while submarines more traditionally might have operated as 'rogue' platforms, today there is an increasing requirement to integrate their unique capabilities and outputs into wider task group and joint activities. For example, in terms of conducting intelligence, surveillance, and reconnaissance (ISR) missions, responsive transmission of information to and from the boat is critical. This is a capability that UMM will augment for the Victoria class, said Capt Ouellet. It is understood that the system will provide near-real-time high-speed communications with shore.
The UMM's mechanical structure includes the installation of two masts onboard the boats. The first mast provides the UMM communications capability. The second supports an advanced extremely high frequency protected military satellite communications (AEHF PMSC) capability, which will enable the delivery of secure, near-global communications for the submarines. This, said Capt Ouellet, will deliver "high-speed, two-way communications, which will improve our command-and-control of a Victoria-class submarine."
The particular operational benefit delivered by the UMM fit is "limited internet-like capability, as well as enhanced connectivity with other RCN assets and [those of] allies, providing enhanced flexibility for surveillance and reconnaissance missions." "[The fit] will enable the Victoria-class submarine to transmit and receive information at a much higher rate, reducing the time required to be spent at periscope depth, and hence reducing probability of counter-detection in operational scenarios," he added.
According to UMM manufacturer L-3 Calzoni, the mast design and build offers a number of benefits, including the ability to be reconfigured to carry a range of sensors, the ability for the boat to run at high-speed while at periscope depth, a stealthy design, ease of fit and maintenance, and low life-cycle costs. The mast is also fitted onboard USN Virginia-class nuclear-powered attack submarines (SSNs) and Ohio-class nuclear-powered guided-missile submarines (SSGNs).
MK-48 TORPEDO
Ultimately, when a submarine has identified a risk and, if required, has communicated with other assets to address the need to deal with the risk, the final step will be to prosecute the target. Here, the Victoria-class SSK's principle offensive effector is the Mk-48 Mod 7AT torpedo.
The capability provided by the Mk-48 Mod 7AT is "again a huge step forward for the weaponry of the Victoria-class submarine", said Capt Ouellet, adding that the Mod 7AT offers "a multitude of advantages" in operational capability terms, when compared to the boats' original torpedo fit of Mk-48 Mod 4 weapons.
Windsor will be the first boat to be capable of operating the Mk-48 7AT. Capt Ouellet confirmed that first-of-class firing trials will occur later in 2020.
The 2,400-tonne Victoria-class boats have six torpedo tubes, and can be fitted with various levels of weapons load-outs depending on operational requirements.
Wider capability
In addition to these system upgrades, current modernisation activity onboard the boats includes a range of capability obsolescence modifications, such as adding a new autopilot system, improving the electronic warfare suite, and providing new compressor systems for chilled water and refrigeration. Upgraded capability for onboard monitoring of the health of the boats' mechanical and electrical systems also is being added.
In the longer term, the VCM projects are looking at system and capability options in three core areas: improving the submarines' contributions to task force operations at sea and joint force operations ashore; augmenting their survivability against threats anticipated to emerge in the future; and upgrading overall habitability onboard the boats.