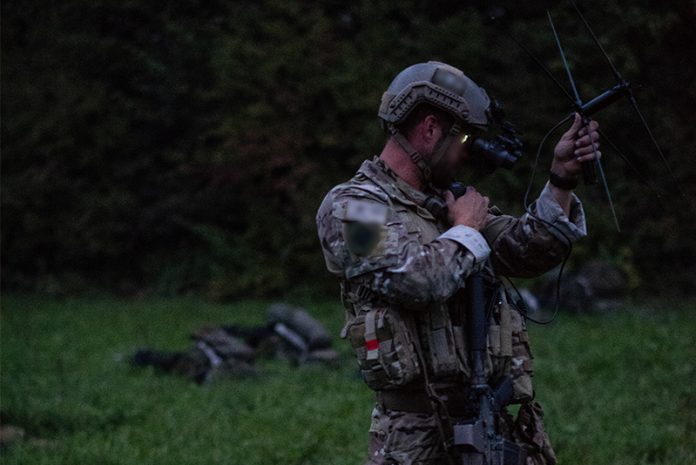 As the operating environment for special operations forces (SOF) increasingly incorporates missions in anti-access/area denied (A2AD) and command and control denied or degraded environments (C2D2Es), assuring communications for forward deployed teams is essential.
Constrained operating environments continue to be witnessed in eastern Europe in particular where coalitions of special operations task groups working in Ukraine and Poland regularly suffer from disrupted satellite communications (SATCOM), defence sources informed Armada International.
These operating restrictions, enabled by Russian armed and proxy forces, have led to a rise in alternative communications types including mobile ad hoc networks (MANETs) which do not rely upon fixed or large-scale infrastructure via space or on the ground. However, the SOF community looks set to continue to rely upon SATCOM as commanders implement redundancy across complex communications plans to overcome these operational requirements.
Similar sentiments were highlighted at the SOF Industry Conference (SOFIC) in Tampa, Florida between 22-24 May where end users from the US and international SOF community shared ideas regarding the optimal employment of tactical communications in austere environments.
Speaking to AI, Lt Col Shelton Richards, programme manager for Tactical Communications, Program Executive Office C4, described a series of areas of interest currently facing the US Special Operations Command (USSOCOM) as it considers operating in A2AD and C2D2E areas of operation.
According to Richards, current and future requirements call for reductions in the size, weight and power specifications of handheld and manpack software defined radios (SDRs) in particular, as well as hardware commonality and reduced complexity of operation and maintenance in order to lessen logistical burdens.
Additional areas of interest include reduction in the size of antenna profiles for ground, airborne and maritime platforms in order to evade physical detection by enemy forces; enhancements in cyber security to ensure secure communications; the identification of wireless and tethered personal area networks; and the proliferation of 'cross-domain' solutions allowing the same SDRs to be used in multiple mission roles and environments.
USSOCOM, Richards added, is also interested in managing signature reduction and jam resistant waveforms of SDRs across A2AD and C2D2Es in terms of Line-of-Sight (LoS) and Beyond Line of Sight (BLoS) communications as well as demand for high bandwidth RF communications including ISR transmissions and wideband high frequency solutions. This requirement also applies to satellite communication (SATCOM) high-throughput in C-, X-, Kuand Ka-bands.
NGTC Suite
Of particular interest to the international SOF community is USSOCOM's Next Generation Tactical Communications (NGTC) suite of SDR technologies which currently includes handheld and manpack form factors.
As Shelton explained, the NGTC family of solutions has been designed to provide SOF small unit teams with "real time, hostile and friendly force information, LoS and BLoS communications, and access to situation awareness in the form of intelligence inputs, broadcasts and networks".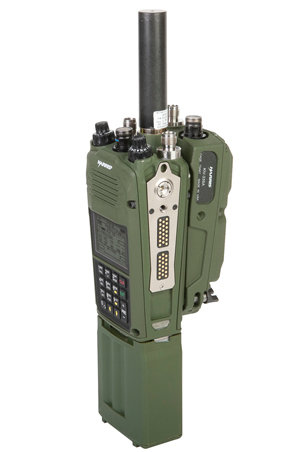 L3 Harris Technologies is contracted to deliver the NGTC capability to USSOCOM in both handheld and manpack form factors with the addition of an ISR mission module, initially manufactured by L3 Technologies ahead of its merger with Harris Corporation in 2019.
Speaking to AI, L3 Harris's USSOCOM sales manager, Sandy Olejnicza explained: "The Harris NGTC handheld and manpack radios enable the insertion of additional capabilities into the tactical communications network via their common mission module interface.
"The first mission module is an ISR receiver that enables an ISR video feed to be received on the radio with the ISR MM and disseminated to other radio users, eliminating the need for multiple ISR receivers in a single formation," he explained before confirming how the company was also in the process of designing additional mission modules to support as yet undisclosed mission profiles.
"The rapid integration of emerging technology into the ecosystem of NGTC devices ensures that the SOF community will be able to react to emerging threats and maintain dominance in the current and future operating environments," Olejniczak suggested.
The AN/PRC-163 (formerly designated RF-335M-STC), comprises a two-channel SDR with 'double-height' screen to support ISR operations and the utility of the mission module.
Operating between 30 and 2,600MHz frequency ranges, the AN/PRC-163 is capable of supporting multiple waveforms including Trellisware Technologies' TSM-X Mobile Ad Hoc Network (MANET) solution. The SDR can also support UHF SATCOM connectivity and wideband data rates up to 16MBPS, company officials confirmed to Armada.
Weighing a total of 1.13kg (inclusive of battery), the SDR has also been designed to survive immersion in water down to a depth of 20m. The radio is also capable of accommodating Suite A and Suite B encryption services, allowing levels of interoperability with partner nation forces around the World.
L3 Harris continues to deliver an undisclosed number of NGTC Handheld SDRs to USSOCOM force components under a 'high volume low rate of initial production' contract.
Referring to the NGTC Manpack solution for USSOCOM, Olejniczak confirmed it is still under development and "progressing extremely well".
"The Operational User Assessment will occur in 2019, and the SOF community is very excited to get their hands on the bigbrother of the AN/PRC-163 handheld radio," he confirmed.
SATCOM
SATCOM remains a critical mission capability for SOF units operating at extended range and in austere environments, despite concerns regarding jamming and disruption in A2ADs and C2D2Es.
On 28 May 2019, USSOCOM awarded Leonardo DRS a $977 million contract to provide global SATCOM services to the Tampa-based headquarters as well as the organisation's Theatre Special Operations Commands (TSOCs) and Component Commands which include US Army, Air Force and Marine Special Operations Commands as well as Naval Special Warfare.
The contract sees Leonardo DRS supporting an eight year programme centred around USSOCOM's Global Access Network (GAN) system, which comprises an end-to-end commercial SATCOM solution.
According to a statement on the day of the contract award from Dave Fields, senior vice president and general manager of the Leonardo DRS Global Enterprise Solutions business unit, USSOCOM requires an "integrated satellite and terrestrial telecommunications system to support the dissemination of command, control, communications, computers and intelligence information between USSOCOM, its components, and their major subordinate units as well as selected US government agencies and activities directly associated with the special operations community".
"Network connectivity includes satellite transmission and terrestrial services, which connect communication hubs to deployed communication nodes located in the continental US and outside the continental US in support of deployed Special Operations Forces," the statement concluded.
Meanwhile, USSOCOM continues to be supported by Viasat in terms of research and development into next-generation 'multi-mode, multi-mission and multifrequency satellite terminals', available in Ka-band.
Speaking to AI, Viasat's president for government systems, Ken Peterman, described how the company remains in the midst of delivering terminals to the Command which will be capable of supporting Ku-band communications in the future.
"We are demonstrating how to enhance mission effectiveness and enable new concepts of operation not possible before which allow end users to 'hide in plain sight' amongst commercial SATCOM traffic. This is a significant advantage when operating in A2ADs and C2D2Es," said Peterman.
Viasat is also working with Tampa Microwave Systems and L3 Harris, both companies of which are already contracted to support USSOCOM's Satellite Deployable Node (SDN) light, medium and heavy programmes.
"Viasat is working with those satellite terminal providers so they are able to operate across Viasat networks and other [satellite constelllations] in Geographic, Medium Earth and Low Earth Orbits in the future," Peterman continued.
"We are carefully looking at emerging technology in the private sector which is very revealing," Peterman concluded. "High capacity at Ka-band is effectively immune to ground based jamming, data collection and technologically game-changing. Many across government and defence communities don't have an appreciation for the enormous technology investment and rapid pace at which technology is evolving in the private sector."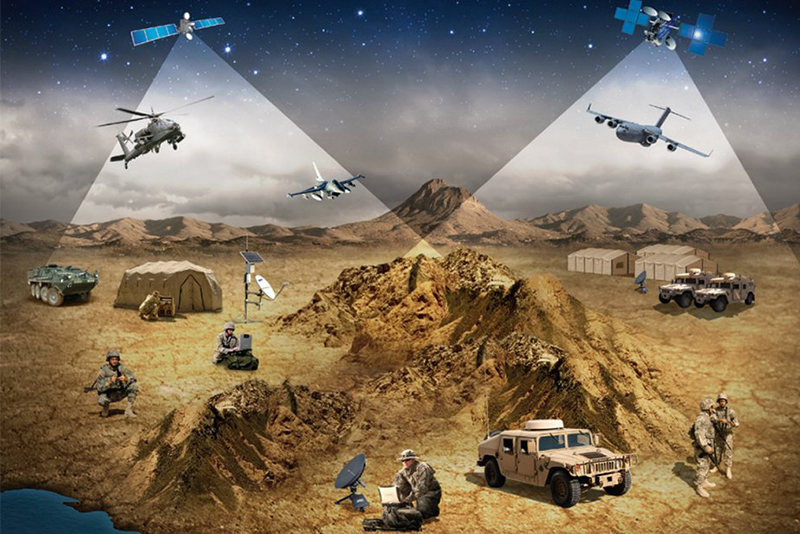 End User Devices
According to Olejniczak, the SOF market continues to witness the utility of additional end user devices including smart phones tethered to SDRs. Examples include USSOCOM's Tactical Assault Kit (TAK) which is also in operation with multiple SOF partner forces around the world.
Networked to Samsung or any technology agnostic end user device which is generally mounted on the chest, TAK software is designed to provide operators with 'precision targeting, intelligence on surrounding land formations, navigation and general situation awareness', according to the US Air Force Lab, Army Research Lab and Defense Advanced Research Projects Agency.
Also critical to the employment of any SDR are headsets and vehicle/platform intercommunication solutions, allowing SOF operators to benefit from seamless communications in both dismounted and mounted roles.
Seeking to overcome many of these operational requirements from the SOF community is Invisio which has designed an 'easy to use, portable and battery operated' intercom solution allowing end users to establish 'intercom' environments anywhere and instantly when needed.
Invisio's senior vice president for research and development, Jan Larsen described how the design of the intercom had comprised a natural progression from the company's series of communication and hearing protection systems initially aimed at supporting dismounted end users.
"These different systems have generated great interest and are now sold to a wide range of customers within the global defence and public safety communities. With the intercom system, Invisio is bridging the gap between the dismounted and mounted soldier. The new intercom system is developed for use together with Invisio's personal communication equipment and it is small, lightweight, costeffective and highly mobile to establish Intercom anywhere," Larsen explained.
Developed in collaboration with undisclosed end users in the SOF community, the Invisio Intercom System allows end users to quickly 'plug-into' any platform communications suite without requirement to change equipment. Examples, highlighted by Larsen, include tactical ground vehicles including the HMMWV and M-ATV; C-130 Hercules aircraft; UH-60 Black Hawk helicopters; as well as maritime surface vessels.
Comprising a single box, each Intercom System is capable of accommodating up to ten plug-in devices. However, Larsen warned how Invisio's solution is not a 'traditional intercom' system: "It's a lightweight portable system that can be carried and operated from a bag. It can be installed in vehicles for normal intercom operation, but its full strength is utilised in environments with a need for a portable, easy-to-use, plug-and-play system that can easily be set-up anywhere the users may go.
"The intercom system was developed for stand-alone use or together with Invisio's existing communication systems, permanently mounted in a vehicle or portably in a backpack," Larsen added before explaining how the solution features the company's own IntelliCable plug-nplay interface which operates with "most portable and installed radio systems".
"The system makes it possible for multiple users and radios to be connected simultaneously while using their existing soldier system. Seamless plug and play integration between control units, intercoms, headsets and interface cables are key to the versatility of the Invisio system, as it allows for deployment of new equipment without the need for updating existing Invisio systems," he continued.
According to Larsen, Invisio received its first Intercom System order at the end of 2018 although he was unable to confirm the customer with a 'European defence force'. 
Conclusion
No matter the future direction of the contemporary operating environment, assured tactical communications will remain a critical pre-requisite to special operations task groups operating in A2AD/ C2D2Es and other austere environments. However, particular attention must be given by industry and commanders in terms of ease of use in order to not only reduce the cognitive load on end users but also optimise operational effectiveness.
by Andrew White