Capable of conducting an extensive spread of mission sets across a complicated operating environment, special operations forces (SOF) demand the highest levels in technical equipment.
Whether in support direct action, special reconnaissance or military assistance operations, SOF-specific equipment must be capable of extending the survivability, precision lethality, situation awareness, and interoperability of small unit teams, often operating in austere environments.
Many of these themes continue to be urgently reviewed and updated by special operations commands around the world although requirements must fall in line with budget constraints and development timelines.
However, much of the international SOF community continues to closely follow research and development as well as procurement activities being undertaken by the US Special Operations Command (USSOCOM). It is seeking to better enable SOF operators with 'resilient equipment' as part of 'indomitable teams', with the operator viewed as a 'platform' on which to furnish technology and next-generation equipment.
The aim is to for SOF-specific equipment carried on and by the operator to allow them to 'see themselves; see the environment; and see the threat' through the provision of tactically relevant and decision-quality information at the edge' including communications, computing, sensing, cognitive interface and advanced autonomous aids.
Over the past five years, USSOCOM has demonstrated its technology-leading capabilities with the Tactical Assault Light Operator Suit (TALOS) – initially tasked by former USSOCOM Commander, Admiral Bill McRaven, to provide a combat suit for operators conducting urban warfare in particular. The TALOS Joint Acquisition Task Force is due to unveil a concept demonstrator in the latter part of 2019 before technology advancements achieved over the past five years will then be passed to programme executive offices across USSOCOM.
Addressing delegates at the Special Operations/ Low Intensity Conflict symposium in Washington, DC on 5 February, USSOCOM's acquisition executive Jim Smith admitted the TALOS exoskeleton (which comprises a central component of the concept) was not combat ready. However, Smith did describe how other technologies including lighter weight body armour; visual augmentation systems; and weapon stabilisation solutions could be rolled out to SOF operators in the shorter term.
C4ISTAR
In the area of Command and Control, Computers, Communications, Intelligence, Surveillance, Target Acquisition and Reconnaissance (C4ISTAR), SOF operators continue to require the capability to find, fix, finish, exploit and analyse' target information.
Emerging requirements call for the ability to find and fix targets without any reliance upon the air domain where forward deployed small unit teams on the ground have often relied upon stacked layers of airborne ISR aircraft.
This follows a significant change in operational emphasis from counterinsurgency operations in Iraq and Syria, to countering socalled 'near peer and high capability' adversarial forces from the likes of China and Russia.
Specific requirements for SOF operators in the C4ISTAR domain include demand for tactical software defined radios (SDRs) providing small unit teams with the ability to avoid the jamming and interception of communications by enemy forces.
Examples include SOF-specific technology created by Harris Corporation which remains in the process of developing specialist Low Probability of Detection/ Low Probability of Intercept (LPD/LPI) waveforms to support the tactical requirements of SOF units.
A company spokesperson for Harris Corporation confirmed to Armada how such demand remained a 'major trend' for the company which has entered full rate initial production of it's SOF TacticalCommunications (STC) Next-Generation Handheld (NGHH) radio, designated by USSOCOM as the AN/PRC-163 STC.
Developments in waveform technology are being undertaken in association withthe US Army's Special Contested Environment Waveform Working Group which was founded in 2017 to identify various courses of action to reduce the probability of detectionand intercept of communications by adversaries.
Additional C4ISTAR requirements call for multi-channel capabilities to allow for simultaneous voice and data communications; as well as high bandwidth to support ISTAR mission feeds; and finally, an ability to establish and maintain connectivity in enclosed spaces.
Industry sources associated with the international SOF community also highlighted to Armada how multiple SOF commands across NATO and Five Eyes partners were closely monitoring USSOCOM's fielding of the AN/PRC-163 STC NGHH with a view to Foreign Military Sales (FMS) in the future.
Elsewhere, SOF commands continue to identify and develop concepts of operation, tactics, techniques and procedures to optimise the performance and mission effectiveness of Loitering Munition (LM) technology.
Examples include WB Group's Warmate solution which in January 2018, was delivered to the Polish Special Operations Component command (POL SOCC). An initial tranche of a total of 1,000 Warmate LMs, described by WB Group as a 'Combat Unmanned Aerial Vehicle', were delivered to POL SOCC's 'Nil' unit.
Providing SOF small unit teams with a loitering capability up to 50 minutes, Warmate can be used to find and fix targets out to a maximum operating range of 10km before decid-ing whether to prosecute a target with a laser-seeking warhead. LM technology, accord-ing to an official spokesperson for WB Group, provides an alternative to anti-tank guided missiles with greater detection and observation characteristics.
Survivability
In terms of survivability, international SOF commands will be closely watching USSOCOM's selection of its next-generation Family of Tactical Headborne Systems (FTHS) which is due to be confirmed by the end of Financial Year 2019 (FY19), according to service officials.
Today, SOF operators rely upon high-cut Modular Integrated Communications Helmets (MICHs) capable of integration with headsets and additional tactical accessories while providing high levels of protection. Examples include Ops Core's FAST MICH, some 40,000 units of which are currently in service with USSOCOM and other SOF operators.
USSOCOM has been pursuing the FTHS concept since 2015. However, on 5 October 2018, USSOCOM officials confirmed to Armada that the FTHS solicitation had been delayed with programme participants understood to have reapplied for the contract in August 2018. Contenders include 3M Ceradyne, Gentex (Ops Core parent company) and Revision Military.
The nature of the FTHS programme is to provide SOF operators with a modular and scale-able combat helmet capable of supporting both training and operational roles with non-ballistic and ballistic appliqué kits. Variants include Ground and Maritime Bump combat helmets which can be up-armoured with a ballistic protection appliqué kit to provide increased levels in protection against small arms and fragmentation effects. Combat helmets must also be capable of utility during specialist mission sets including military free-fall and combat swimming.
A USSOCOM spokesperson confirmed to Armada: "The FTHS requirement is in the source selection/evaluation phase. The requirement is on track for a third quarter, FY19, contract award." Also falling in line with emerging operational requirements relating to missions against higher capability adversaries employing mature ISTAR technologies, is the management of SOF operator electromagnetic signatures.
Both Saab and Fibrotex continue to supply SOF operators with man-wearable solutions designed to allow personnel to avoid physical detection by a variety of sources across the electromagnetic spectrum including thermal, radar, visual and near infrared.
According to head of marketing and sales for Saab's Barracuda Special Operations Tactical Suit (SOTACS), Claes-Peter Cederlöf, the solution provides operators with a "camouflage system that allows stealth operations in hostile environments".
Speaking to Armada, Cederlöf described how the SOTACS comprised a customizable solution featuring multispectral characteristics designed to provide "cover from a wide range of reconnaissance systems". Designed to be worn over a battle dress uniform, SOTACS provides protection from identification by visual observation, night vision devices and thermal sensors.
Lethality
On 7 August 2018, USSOCOM also contracted Sig Sauer to supply an undisclosed number of Suppressed Upper Receiver Groups (SURGs), designed to replace the upper receivers of 5.56mm M4A1 carbines. SURG-upgraded carbines will benefit from a fixed means of suppressing audible and visual signatures of weapon systems which can impact the communications and camouflage of small unit SOF teams working in urban areas in particular.
Up to 70,000 SURG appliqué kits could be delivered to USSOCOM as part of a potential $48m contract which is scheduled to run through to July 2023.
"The Sig Sauer suppressor withstood the stringent stress and torture requirements set by Department of Defence (DoD) for firing specifications, vibration, sound, and temperature requirements to ensure soldier safety," Joel Harris, director, Media Relations & Communication at Sig Sauer highlighted to Armada.
"The requirements set by DoD for the SURG procurement demanded significant improvements in reliability, thermal characteristics, and durability that went well above anything we are currently seeing in the industry," Harris added.
Aiming to provide SOF operators with increased levels in precision lethality as well as manoeuvrability, is a small arms community which continues to reduce form factors of special operations carbines in particular.
Requirements continue to emerge from a contemporary operating environment where SOF operators demand lightweight and easily manoeuvrable weapon systems which can effectively neutralise targets in enclosed spaces.
Examples include Sig Sauer's Personal Defence Weapon (PDW), which is currently in the process of an eva MCX Rattler, the PDW has been developed to provide operators with a carbine capable of being carried covertly as well as supporting engagements in confined spaces. The PDW concept centres around a replacement upper receiver which can upgrade the 5.56mm x 45mm M4A1 CQB carbine to .300 Blackout calibre, capable of providing SOF operators with increased range and stopping power during kinetic actions.
In terms of target acquisition, SOF continue to identify the most optimal methods of allowing operators to rapidly engage enemy forces in congested and confined environments.
On 16 January, USSOCOM awarded L3 Technologies a $26.3m contract to supply an undisclosed number of Miniature Aiming System-Day (MAS-D) Optics. The holographic weapon sight will be augmented by EOTech's Model G33 Magnifier, which can be employed as an 'inline sight' ahead of the MAS-D to allow for a smoother and more rapid transition from 1x to 3x magnification for longer range engagements.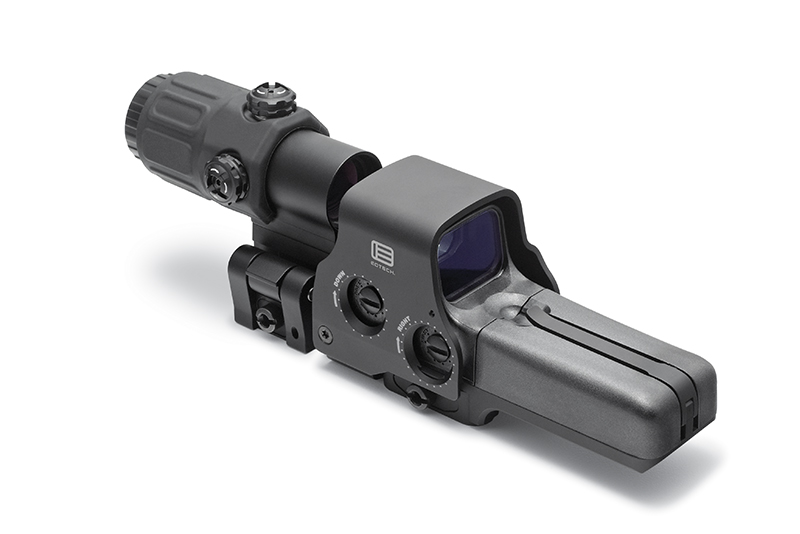 MAS-D will support a variety of weapon systems across SOF armouries including the Compact Semi-Automatic Sniper System (CSASS) as well as the wider family of sniper weapon systems employed by USSOCOM.
On 14 January the US Naval Surface Warfare Centre released a presolicitation document regarding their SOF Precision Variable Power Scope (P-VPS), designed to support short through to long range target acquisition of operators. The device is expected to support USSOCOM's series of sniper solutions including the Advanced Sniper Rifle which has yet to be selected by the command.
USSOCOM officials explained to Armada how a total of 3,000 'standard' and 3,000 'long range' models could be supplied to force components across the command, supporting operators engaging targets at ranges anywhere between 50-1,500m. Additional specification requirements call for variable power settings; removable aiming points; and a micro data display to feature ballistic details. USSOCOM is expected to accept proposals by the end of FY19 with a contract decision following evaluation by the middle of 2020, industry sources suggested.
Conclusion
In order to maintain the tactical edge across the battlespace, particularly in light of emerging near peer and high capability adversaries, SOF operators require an agile development and procurement process. However, as defence sources explained to Armada, any rapid technology injections into service with SOF units will need to be supported by evolutions in doctrine, CONOPS and TTPs in order to achieve enhanced levels in mission effectiveness.
by Andrew White