When conducting operations the challenge to special forces, ideally, is to arrive and leave an area of operations with as much stealth as possible.
With special operations forces (SOF) called upon to execute an increasing range of mission types, small unit teams (SUTs) must rely upon the element of surprise in order to maintain the tactical advantage over increasingly better equipped and trained adversaries.
Whether it be the conduct of a special reconnaissance mission to find and fix high value targets (HVTs); a subsequent ground assault force to detain HVTs; or a hostage rescue operation to recover personnel and/or civilians; the ability for SOF SUTs to insert into an area of operation (AO) in a clandestine manner remains a critical requirement to the success of any mission.
Operating in the air, on the ground, as well as over and under water, SOF commanders are able to rely upon a wealth of specialist insertion technology, tactics, techniques and procedures (T3Ps) to enable the clandestine insertion of SUTs. SOF organisations around the world continue to work with industry to identify next-generation solutions to improve their clandestine insertion equipment and techniques.
Airborne Insertion
The airborne environment remains a critical domain for the clandestine insertion of SOF, with modern military free-fall (MFF) equipment providing one of the most effective means to deploy SUTs at reach using tactical transport aircraft (both fixed and rotary wing) at significant altitudes and stand-off ranges to avoid detection by enemy air defence systems.
Exiting an aircraft with the assistance of oxygen masks at altitudes up to 9,100 metres (30,000 feet) above mean sea level allows high altitude high opening (HAHO) and high altitude low opening (HALO) parachute systems to glide operators and their personal equipment more than 50km in equivalent ground distance before reaching designated landing zones undetected.
Such a clandestine insertion is enabled by the 'silent mode' of modern HAHO and HALO parachute systems currently available to SOF operators.
Examples include Airborne Systems' Hi-5 Ram-Air parachute system which continues to be fielded with the US Special Operations Command (USSOCOM) following its public disclosure back in 2016.
Boasting a 'glide ratio' of 5.5:1, the Hi-5's Glide Modulation System not only enables silent insertion down to the ground but also assists operators in reducing their physical signature when descending into an AO. This, company officials at Airborne Systems explained to Armada International, negates any requirement for operators to conduct multiple spirals when descending. Such a solution also allows operators to to complete more accurate landings using safer and 'straight-in' approaches.
In Europe, Safran is preparing to supply an initial tranche of Multi-Mission Parachute System (SMTCOPS) solutions to the French Special Operations Command by the end of the year.
Speaking with Armada, Safran's international parachutes export manager, Ahsene Tazairt confirmed how French SOF are due to receive a total of 750 systems following a $71.4 million (€65m) contract in 2016. The new parachute ensemble will replace Air Azur G9 solutions currently in service with COS force components including the 1st Marine Infantry Parachute Regiment.
Similar to the Hi-5, the SMTCOPS also features a Ram-Air parafoil design and comprises a 37 square metre (400sq ft) Phantom high-glide canopy which is capable of providing operators with a 4.8:1 glide ratio as well as carrying up to 200kg (440lbs).
The SMTCOPS' parafoil is also equipped with collapsing wingtips which allow an operator to reduce height and approaches to landing for a more rapid descent in order to avoid detection, Tazairt confirmed.
Safran has also designed the SMTCOPS ensemble with a series of specialist clothing solutions designed by Carinthia to support the clandestine insertion of SOF operators in cold weather environments such as the Arctic Circle.
Additional elements in the SMTCOPS solution include the X-Shut navigation system which provides a central computing capability allowing SOF SUTs to accurately reach their designated landing zone following a pre-mission ground appreciation conducted by commanders.
Quiet Drive
In the ground environment, SOF SUTs continue to explore possibilities to integrate hybrid and electric drive powertrains into all terrain vehicle designs, capable of supporting the quiet and clandestine approach of SOF assault teams.
Feedback from operators have also indicated the need to find technologies capable of reducing the electro-magnetic signatures of tactical ground vehicles, allowing them to transition through areas of operation without being detected by enemy image intensification/infrared sensors. Special operations vehicles are already fitted with infrared head- and brake- lights which allow SUTs to drive in a clandestine manner using night vision goggles.
Many of these operational requirements were outlined at the SOF Industry Conference (SOFIC) in Tampa, Florida on 23 May by USSOCOM's Programme Executive Office SOF Warrior. According to Lt Col Ray Feltham, demand for a 'quiet-drive' solution is being sought for the next-generation of Light Tactical All Terrain Vehicles (LTATVs) which are being pursued to augment and eventually replace USSOCOM's inventory of MRZR variants as manufactured by Polaris Government and Defense.
According to Feltham, programme manager for PEO SOF Warrior's Family of Special Operations Vehicles, the so-called 'Follow-On' LTATV programme is seeking a "SOF modified commercial off the shelf (COTS) lightweight vehicle that is internally air transportable via V-22, H-53 and H-47 aircraft and consists of two and four seat variants with the ability to change configuration based upon mission and/or threat. It's intended to perform a variety of missions to include offset infiltration, reconnaissance and medical evacuation".
An evaluation of next-generation LTATV offerings is being conducted over the second half of 2019, following the publication of a Request for Information (RfI) in August 2018. USSOCOM is seeking to procure an initial fleet of 780 follow-on LTATVs following a contract award by the start of 2020, Feltham explained.
Similar concepts designed to integrate hybrid and electric powertrains into the Ground Mobility Vehicle (GMV) 1.1 special operations vehicle are also being considered by General Dynamics Ordnance and Tactical Systems (GDOTS). Neither GDOTS nor Polaris was able to provide further details due to competition concerns. 
Stealth by Sea
With an increasing proportion of the world's population expected to live in littoral environments in the future, the maritime domain will continue to present SOF SUTS with significant opportunities for clandestine insertion.
In the sub-surface environment, US and partner SOF organisations within NATO and the Five Eyes (FVEY) community are set to benefit from a variety of insertion/extraction technologies. Examples include Lockheed Martin's Dry Combat Submersible (DCS) and Teledyne Brown Engineering's Shallow Water Craft Submersible (SWCS).
Designed by Lockheed Martin, Submergence Group and MSubs, the DCS is due to reach initial operational capability (IoC) in 2020, followed by full operational capability (FoC) in 2022.
According to Commander Scott Delwiche, USSOCOM's Programme Manager for UnderSea Systems, the US Navy has already started acceptance trials for the first of a hat-trick of DCS, which will provide an underwater insertion capability for SEAL Teams with capacity to carry up to four operators, exclusive of a two-person crew.
DCS1 is undergoing acceptance trials at Rivera Beach in Florida, while DCS2 remains in manufacture in the UK. The aim of the DCS programme is to deliver SUTs into target areas without physical degradation following immersion in cold water environments.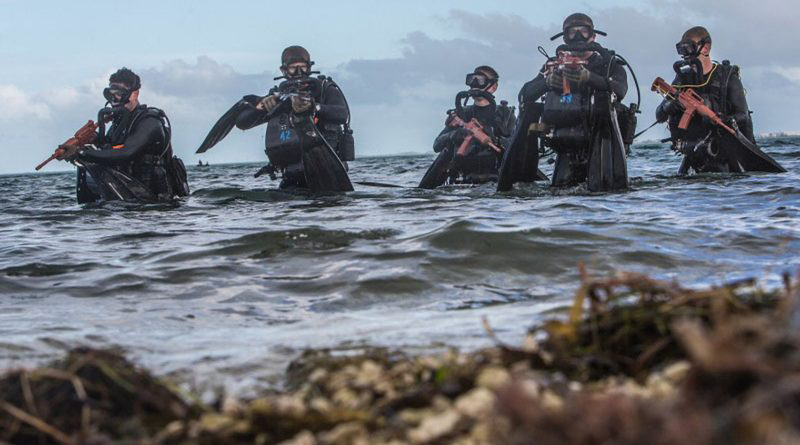 Meanwhile, USSOCOM is also considering future operating requirements with the work-up of plans to design the "DCS-Next" programme which has been highlighted as a major capability moving forward for the Tampa-based command.
Unlike the original DCS concept, DCS-Next aims to be interoperable with US Navy submarines with the capability to be launched and recovered from Dry Deck Shelters integrated onto the hull of Block VI Virginia Class boats.
Additional requirements for DCS-Next call for the ability to accommodate a crew of two and four operators; as well as an ability to be towed underwater by other vessels.
Meanwhile, USSOCOM continues to pursue its SWCS programme which comprises a next-generation free-flooding wet combat manned submersible which has been designed to replace existing Mk8 Mod1 Swimmer Delivery Vehicles (SDVs) currently in service with the US Navy Warfare Command (NSWC)
Due to reach full operating capability by 2022, USSOCOM has to date received a pair of SWCSs with the remaining four watercraft due to be delivered to NSWC between September 2019 and April 2020.
Enhancement of the SWCS over legacy SDVs include an additional 30cm in length; total displacement of 1,814kg, as well as the integration of Intel Core i7 processors, secure SSD, GB Ethernet backbone; improved software and user interfaces; optimised accuracy in navigation; and increased payload capacity. 
Similarly, upgrades are being considered to enhance the operational effectiveness of combat divers who, whether deployed from DCS and SWCS technology or not, provide the means to achieve clandestine insertion into an area of operation.
Combat divers are usually equipped with self-contained underwater breathing apparatus (SCUBA) and other specialist equipment integrated into Combat Swimmer Assault Vest (CSAV) technology.
Offerings currently available to SOF customers around the world include Aqua Lung's CSAV solution which is currently in a second of five year contract period to support the NSWC. Featuring an adjustable harness, outer container with modular load carriage fittings, air bladder, inflator hose, weight pouches and sheaths, the CSAV comprises a total weight of weighs of 16kg.
As defence sources associated with the international SOF community explained to Armada, additional areas of interest include the design of full face mask protection systems capable of being integrated with closed-circuit rebreathers and integrated voice communications devices; as well as chemical, biological, radiological, and nuclear or explosive (CBRNE) protection. Also of interest are individual, collective and hands-free propulsion devices in 'compact' form factors; as well as enhancements in acoustic and optical communications to support data, voice and full motion video requirements across an AO.
Elsewhere, combat divers are benefiting from the introduction of drysuit technology to not only support operators conducing clandestine insertion but also, transition between sub-surface, surface and ground-based operations.
Examples include Mustang Survival's Maritime Assault Suit System (MASS) which can be worn by combat divers during sub-surface insertion as well as maritime interdiction; visit, board, search and seizure (VBSS) serials; as well as subsequent tasks on land.
Comprising a total weight of 2.2kg, the MASS has been designed to provide combat divers with maximum levels in dryness as well as mobility and comfort.
Also available to SOF combat dive teams is Typhoon International's latest drysuit technology, promoted at Underwater Defence Technology (UDT) in Stockholm, Sweden on 13 May, which has been manufactured with Gore Pyrad fabric to reduce the threat of tearing and protect operators against heat and flames.
Available in black and olive drab colouring systems and comprising a total weight of 2kg, the suit also features knee and elbow pockets for the integration of protective pads. The suit is also available in a one or two-piece configuration, dependent upon customer requirements.
The clandestine insertion of SOF will remain a critical requirement for SUTs as they continue to be faced with emerging threats and an ever-increasing range of missions sets. Whether conducted over land, from the air, or under the surface of the oceans, technologies must be easy to operate in order to minimise any cognitive overload for operators already conducting complex tasks.
by Andrew White