Dear Readers,
BRITISH ARMOUR TRIALS UNMANNED TEAMING AND SITUATIONAL AWARENESS SYSTEMS FOR URBAN CANYONS
One of the interesting developments in the use of unmanned systems was explained by Captain Tom Quant, Regimental Intelligence Officer and Project Streetfighter Lead, at the Royal Tank Regiment, British Army.
Exploring ways to protect the British Army's Challenger 2 tanks, the army is looking to use unmanned remote weapon systems which would provide reconnaissance ahead of the main armoured formation and engage small to medium size targets.
According to Capt. Quant, this mannned-unmanned teaming (MUM-T) "would allow the smaller vehicles to detect and acquire and enemy, then send engagement request to tank commander. The commander would then consider the tactical situation and approve or deny the fire mission."
Speaking during a virtual conference, Future Armoured Vehicle Weapon Systems, organised by SMI over 3-4 June, Capt.Quant said that studies were being conducted regarding "the whole spectrum of warfighting from urban to open warfare." He added that "in urban environment, there are lots of risks to Challenger 2."
Elbit System's IronVision helmet-mounted battlefield situational awareness system is one of the developments that has been tested on a modified Challenger 2 Streetfighter II varient, developed in coordination with the Royal Tank Regiment (RTR).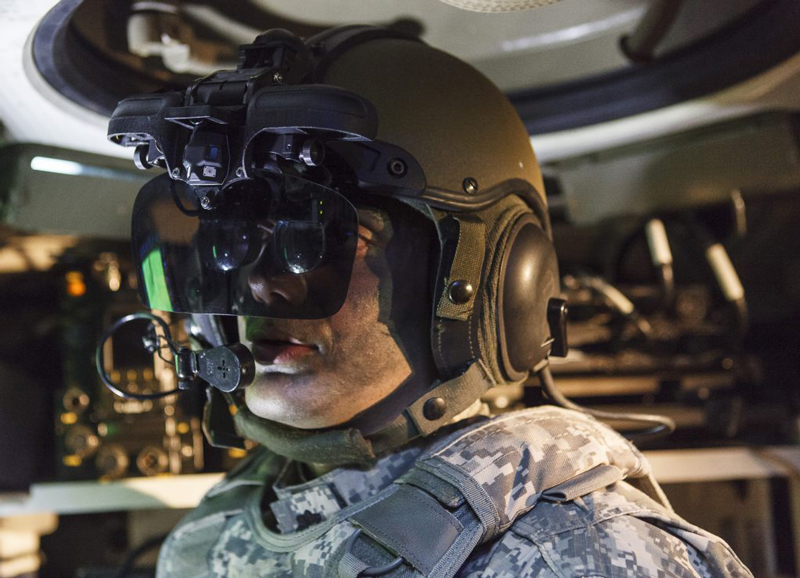 Capt.Quant said that trails were conducted at the UK's Copehill Down urban operations facility on Salisbury Plain, during December last year. Streetfighter II is the upgrade to the Challenger 2 tank, featuring anti-tank Brimstone missiles, an enhanced camera suite and Elbit System's IronVision system. The upgrade, which delivers an urbanised Challenger 2 variant, was developed by the Royal Tank Regiment to meet soldiers' needs and identifies and fills the capability gap between the British Army's forces and adversaries in urban combat. The upgrade was developed by the Royal Tank Regiment to meet soldiers' needs and identifies and fills the capability gap between the British Army's forces and adversaries in urban combat.
Iron Vision's zero latency 360 degrees vision gives crewmen better situational awareness in an urban environment than if they were heads-up out of the turret.
The system was tested during a FIBUA (Fighting In Built Up Areas) exercise, which was the first time it had been tested in the field . "All reports said that it significantly enhanced awareness, allowing the crew to detect threats and keep track of supporting infantry."
It was also of benefit to the supporting infantry operating in tandem with the armour: "Cameras on hull supply live stream video to a screen mounted at rear of CR2," said Capt. Quant. "During FIBUA, dismounted commanders were able to deliver their Quick Battle Orders to their sections using that attached tablet." With a localised wifi also being trialled, supporting infantry can use their own personal flip down tablets/screens to access the feed.
GENERAL NEWS AND ITEMS OF INTEREST 
FIRST RAAF F-35A CLOCKS-UP 1000 FLYING HOURS
The first Royal Australian Air Force F-35A aircraft handed over by manufacturer Lockheed Martin in 2014 has just passed 1,000 flying hours in Arizona, USA.
Aircraft A35-001 is currently being operated by the international Pilot Training Centre (PTC) at Luke Air Force Base (AFB) in the US as part of a pool of training aircraft qualifying international F-35A pilots and maintainers.
Discussing the landmark event, director general Joint Strike Fighter (JSF) Air Commodore Damien Keddie said: "A35-001 is one of five Australian aircraft at Luke AFB, with other F-35 partner nations also contributing aircraft to the PTC in a show of global collaboration that has been the cornerstone of the F-35 Programme since the earliest days."
Project engineering manager Timothy Rafferty commented that the milestone signified the maturity of the platform and associated support systems. "Given A35-001 completed most of its 1000 flying hours at the PTC, this milestone highlights the contribution Australia has made to the collaborative training environment, with more than 1000 F-35 pilots now qualified and flying with their respective services."
By 5 June, the RAAF had received 26 F-35A aircraft. Five are located at the PTC, 17 are operating at No. 3 Squadron and No. 2 Operational Conversion Unit at RAAF Base Williamtown, while the remaining four aircraft are destined to transit from the US to Australia before August.
US AIR FORCE CONDUCTS NORTH SEA EXERCISE DESPITE COVID-19
Despite the COVID-19 crisis, the US Air Force conducted a large force exercise over the North Sea off the United Kingdom on 27 May, bringing together aircraft from the UK Germany and Italy.
The participants comprised: F-15 Strike Eagles assigned to the 48th Fighter Wing, RAF Lakenheath; F-16 Fighting Falcons assigned to the 31st Fighter Wing at Aviano Air Base, Italy; F-16s assigned to the 52nd Fighter Wing at Spangdahlem AB, Germany; KC-135 Stratotankers assigned to the 100th Air Refueling Wing at RAF Mildenhall; and NATO E-3 Sentry (AWACS) from Geilenkirchen AB, Germany.
The exercise included dissimilar air combat training and was conducted to maintain high-end training between the US Air Forces in Europe and NATO partners to counter near-peer threats.
"Large-force exercises allow us to validate and enforce important tactics that are tested at many of the major exercises that occur around Europe and the United States," said Captain Nathan Hartoin, a 493rd Fighter Squadron pilot and 48th Fighter Wing chief of weapons.. "The North Sea airspace allows fourth-to-fourth generation fighter integration on a large scale and is one of the best around for simulated air-to-air engagements."
An aerial refuelling element was built into the exercise so that the fighter could conduct and maintain long range defensive counter air operations. The exercise was coordinated by the USAF's 48th Fighter Wing.
UK CREATES CYBER REGIMENT
On 1 June, the UK Ministry of Defence announced that the 13th Signal Regiment (part of 1st Signal Brigade) had been established as a dedicated Cyber Regiment. Its role will be to protect defence networks at home and on operations overseas.
The unit will be commanded by the British Army's 6th (UK) Division, which is tasked with conducting information manoeuvre and unconventional warfare.
Defence Secretary Ben Wallace stated: "This is a step-change in the modernisation of the UK Armed Forces for information warfare…Cyber-attacks are every bit as deadly as those faced on the physical battlefield."
The regiment comprises several Cyber Protection Teams as well as technical staff who will secure the cyber domain for troops deployed on military operations.
The 13th Signal Regiment previously existed during World War II as 1st Special Wireless Group, and helped to pioneer the use of wireless technology and high frequency wireless radios.Renamed 13th (Radio) Signal Regiment in 1959, it had operators stationed in Berlin throughout the Cold War. The unit was disbanded in 1994, when its role in Germany was no longer required.
Brigadier John Collyer, Commander 1st (UK) Signal Brigade, said: "The re-formation of 13th Signal Regiment is an exciting step forward as the Royal Signals, Army and wider Defence rapidly drives up their potency and resilience in the information environment and cyber domain."
US GOVERNMENT CONTRACTS
Highlighting a selection of $100 million+ government awarded contracts awarded between 1-5 June May 2020:
5 June
US NAVY
General Electric has been awarded a $180 million contract for the procurement of commercial depot level services for the repair and overhaul of T700-GE-401/401C turbo shaft engines, cold section modules and power turbine modules for the Navy H-60 Seahawk helicopter as well as the Marine Corps H-1 Cobra and Bell UH-1 Huey aircraft. Contract through the Naval Air Warfare Center.
4 June
US ARMY
(Largest contract award of the day). Harris received a $90 million modification contract to procure Harris family of radios, ancillaries, spare parts and services. Via the US Army Contracting Command.
3 June
US ARMY
(Largest contract award of the day). Skanska Koch was given a $43 million contract for construction of physical security/safety improvements in the New York City area. Contract award through US Army Corps of Engineers.
2 June
US AIR FORCE
National Aerospace Solutions was awarded a $181 million modification contract for test operations and sustainment. This modification adds Option Year Four for test operations, technology development, equipment and facility sustainment, capital improvements and some support services for the Arnold Engineering Development Complex. Via the Air Force Test Center.
1 June
US NAVY
American Electronic Warfare Associates received a $218 million contract for research, development, management, design, fabrication, installation, integration, upgrade, analysis, documentation and operations and maintenance for the Integrated Battlespace Simulation and Test department, the advanced aircraft research, development, test and evaluation, integrated combat environment capabilities and laboratories and facilities. Contract through the Naval Air Warfare Center Aircraft Division.
TTS/LTS JV; and Chugach Consolidated Solutions received a $99 million contract for grounds maintenance and pavement clearance services at Navy and Marine Corps installations located primarily within the Naval Facilities Engineering Command (NAVFAC) Southwest area of operations. These two contractors may compete for task orders under the terms and conditions of the awarded contract. Via the NAVFAC Southwest.
EVENT RECONFIRMATION
No events reconfirmed this week.
EVENT CANCELLATIONS/RESCHEDULING
DVD2020
4-5 November 2020, Milbrook, Bedfordshire, UK
Statement from the organisers: "DE&S Land Equipment and Army Headquarters have confirmed that the event for those involved in equipment and support for the UK's Land Forces will return to Millbrook on the new dates of 4 and 5 November 2020."
"With the challenge of Covid-19 dominating DVD2020 planning conversations over the past few months, organisers have taken the decision to move this showcase of the latest innovations and developments in land equipment, from September to November 2020."
"For the first time, DVD2020 will look beyond Defence capabilities to explore the technologies and equipment used by other sectors and commercial industries."
Kevin Leaver, head of events at Millbrook, continues: "The safety and security of exhibitors and visitors to DVD2020 is our top priority and all attendees can be assured that we will remain compliant with the very latest Government guidance at the show in November."
Keep safe and healthy everyone.
Editor-in-Chief
Armada International / Asian Military Review