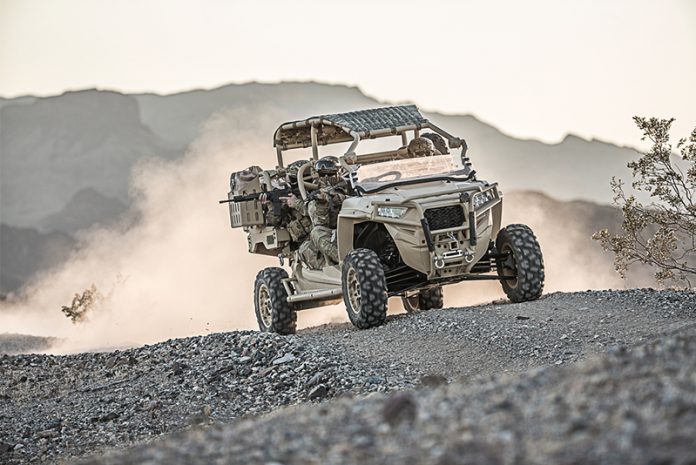 Special Operations Forces have a new light tactical vehicle: the Polaris MRZR Alpha. Following a competitive bid process, General Services Administration (GSA) awarded a follow-on contract to Polaris Government and Defense, a division of global powersports leader Polaris Inc., for the Light Tactical All-Terrain Vehicle (LTATV).
The MRZR Alpha supports U.S. Special Operations Command's (USSOCOM) requirements for durability, performance, payload profile and internal air transportability.
"Polaris has had the privilege of providing vehicles to USSOCOM since 2005 and we take a great deal of pride in delivering and supporting the current LTATV," said Jed Leonard, vice president, Polaris Government and Defense. "USSOCOM and GSA provided industry with clear and early communication of requirements – we listened, we invested and we are honored another MRZR will be available for U.S. Special Operations."
The MRZR Alpha is Polaris' 11th military vehicle produced in 12 years. The LTATV specification – which calls for a 2-passenger and 4-passenger base vehicle, and seven variants or "packages" – results in a revolutionary new capability. Designed on an all new chassis, the MRZR Alpha is an entirely new breed of light tactical vehicle. Internally transportable vehicles have restrictions to size and weight, but Polaris' investment and advances in chassis, driveline, suspension, and other technologies have allowed the company to provide a new level of durability, performance, and payload in the MRZR Alpha. Vehicle systems were also designed with near-future innovation in mind, with an architecture ready to accept new technologies and capabilities available within Polaris.
The MRZR Alpha's versatility is further enhanced by improved exportable power and increased payload. Since their introduction, MRZRs have been outfitted with counter unmanned aerial systems (C-UAS), weapons and high-energy laser systems, intelligence, surveillance and reconnaissance (ISR) systems, expeditionary command and control systems, autonomy packages, litters for medical and casualty evacuation and communication equipment.
"We are extremely grateful that we have the opportunity to continue our support of USSOCOM. It's an honor to provide this new capability to our warfighters, and a responsibility that our Polaris Team does not take lightly," said Nick Francis, director of Polaris Defense. "We're fully invested in providing the highest performing, most reliable LTATV ever – and we'll continue to listen, support and innovate because our military – and especially our Special Operations Forces – demand and deserve the best."
The seven-year contract calls for two and four-seat diesel vehicles and seven variants or packages. Missionization packages include a diesel-electric hybrid engine, rear-facing seats and rear ROPS, modular cargo area, top-mounted weapons integration, roof kit, enclosure or cab kit and arctic mobility package. The contract has a value of up to $109 million and was awarded on May 29, 2020.
The contract also includes systems engineering support and training for the new LTATV. Polaris is a global company that trains and supports over 3,500 dealers with products sold to 120 countries. Polaris has been supplying traditional technical and parts manuals along with in-person training to the military for years – and leveraging corporate resources, Polaris can also offer new training opportunities to the military. Best-in-class online training videos, app-based technologies and computer aided modeling within electronic technical manuals are currently offered to Polaris' dealers and can be easily adapted to train today's military technician.
Dedicated Military Field Service Representatives (FSRs) have been teaching operator and maintainer training courses for more than 12 years to the U.S. and its allies. Polaris also provides world-class parts distribution – an established inventory management system allows for proactive management of parts inventory, minimizes lead time for parts and reduces the logistics for supply chain planning and management.
Polaris designs, engineers and produces its MV850 ATV, MRZR and DAGOR military vehicles in the U.S. As the next-generation LTATV, the Polaris MRZR Alpha represents the insertion of cutting-edge off-road vehicle technology – derived from millions of research and development investments to keep Polaris in front of the highly competitive off-road vehicle market. And like all Polaris military platforms, the new MRZR Alpha continues a legacy of light tactical military vehicles that are intuitive to operate, easy to maintain, and easy to globally support within an existing worldwide infrastructure of parts distribution and dealer service networks.