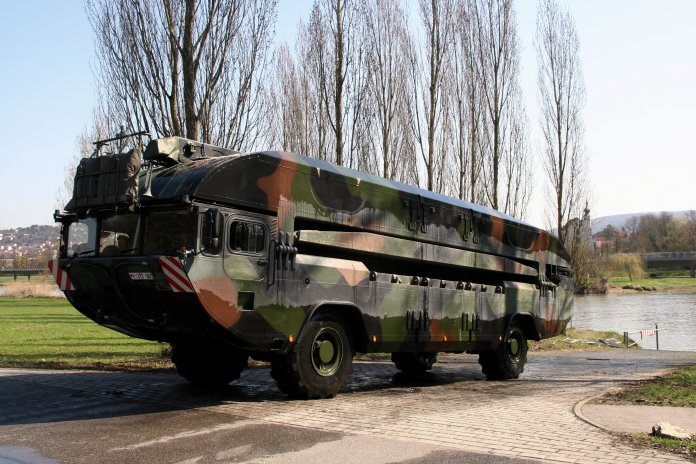 The end of the year award of a $458 million contract to Hanwha Defense to supply as many as up to 110 M3 Amphibious Bridge and Ferry Systems for the Republic of Korea (ROK) Army will significantly enhance its abilities to rapidly span even the country's largest rivers.
The challenge of such river crossings was well illustrated during the Korean War's attack across the Han River which is 494 km (307 miles) long and over 1000 meters wide at Seoul. The M3 is an entirely self-contained floating military bridging system intended to support wet gap crossings. Each M3 system provides a 13 meter roadway span that can carry up to Class 85 weight tracked vehicles including Main Battle Tanks as well as tactical trucks and personnel.
The M3 is a self-powered wheeled vehicle capable of road travel and independent deployment into a river with its own water-jet propulsion and steering for water operations. Afloat it has a speed of 14 kmph which contributes to stability in fast moving waterways. It can be equally used as a ferry or be coupled with additional M3s for form a longer floating bridge and has on-board ramps. A 100 meter bridge using eight systems can be prepared in only 15 minutes.
The M3 was originally designed and introduced in 1992 by the German firm Eisenwerk Kaiserslautern (EWK) – now General Dynamics European Land Systems (GDELS). It was proven in combat by the Royal Engineers in Iraq.
The M3 is in service with the German, British, Brazilian, and Indonesian Army while an upgraded version the M3G is used by the Singapore and the Republic of China (Taiwan). The M3G version has an armoured and airconditioned cab.
Hanwha will manufacture the system in Korea through an arrangement with GDELS. Initial deployment by the ROK Army is expected to occur in 2023.