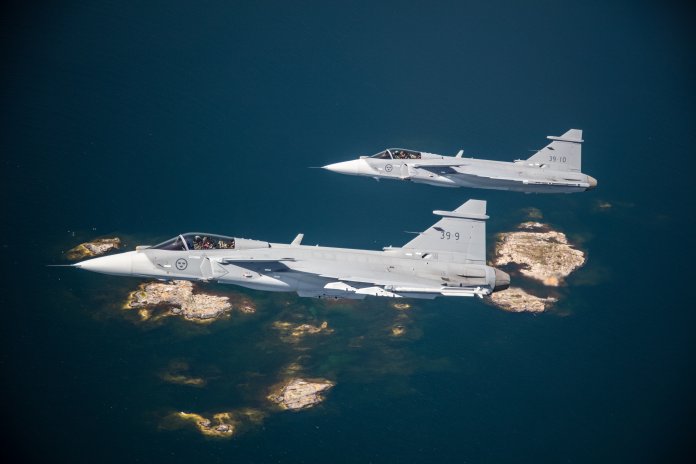 Published in the December 2020/January 2021 issue – Major General Carl-Johan Edström discusses current and future deployments for the Swedish Air Force, as well as modernisation plans.
The Swedish Air Force has plans to create a 60 strong fleet of all Gripen Es which will replace the current inventory of over 70 JAS39Cs. The first Swedish AF aircraft was flown in December 2019 and two others were added this year into the Swedish verification and validation programme. The first JAS39 Gripen Es should reach their initial operating capability (IOC) by 2023.
The man now tasked with overseeing this transformation, in addition to many other challenges, is Major General Carl-Johan Edström, the Commander of the Royal Swedish Air Force. Appointed on 1 October 2019, he has flown more than 2,500 hours in the Saab 105, JA37 Viggen and JAS 39 A/B/C/D Gripens.
MG Edström's list of command achievements includes chief instructor at the Norrbotten Wing (F 21), commander of 212 Fighter Squadron, chief of operations, Swedish Air Detachment to NATO's Operation Unified Protector in Libya in 2011, and in 2018 senior air advisor and director CJ5 for the Train, Advise, Assist Command – Air (TAAC-Air) mission in Afghanistan during Operation Resolute Support. He was also earned the accolade of Distinguished Graduate and Master of Strategy from the USAF Air War College at Maxwell AFB, Alabama.
On 23 October this year, MG Edström attended the official presentation of the latest Saab JAS39 Gripen E to the Brazilian Air Force (Força Aérea Brasileira – FAB) at Wing 1, in Brasília. The FAB have named their Gripen E the F-39E and are contracted to purchase 36 Gripen E/Fs (the F version is a two-seater).
At the end of October, MG Edström talked to Armada International about his ongoing plans for the development of the Swedish Air Force: 
Armada International: Major General Edström, could we begin with your appraisal of current Swedish Air Force operations?
Major General Edström: We are currently in a situation of mainly conducting the Standing Defence Plan (SDP). The main operational focus is on maintaining the Quick Reaction Alert (QRA) and readiness of our units.
AI: Have there been any changes in the Air Force's organisation this year or any planned for the future? 
MG Edström: Air force organisation will be strengthened in areas including force protection, logistics and training during the upcoming years. Alongside the Air Warfare Centre in Uppsala, the F 16 (Uppland Wing) will be reactivated in 2022. Furthermore, the Air Force will gain additional resources such as aeromedicine and management, which will be transferred from other parts of the Armed forces. All in all, the Swedish Air Force is in transformation for the future with the aim to increase our operational capability over time.
AI: Has there been any changes in the numbers of air incursions by the Russians this year?
MG Edström: We have had no Russian incursion in airspace this year. Beyond that I wish not to comment on the Russian activities in the vicinity of our country.
AI: What is the Air Force's relationship with Finnish Air Force, or those of other Scandinavian nations?
MG Edström: Our relationship with the Finnish Air Force is unique. We are frequently conducting events through our Finnish-Swedish cooperation and participate in our national Air Forces exercises. This relationship is maintained at the highest political level on a regular basis, and interactions between public authorities and civil society are very strong. Both our countries are also united by the fact that neither Finland nor Sweden have joined NATO. In 2014, our two countries' defence ministers announced a special defence partnership, which constitutes the closest security partnership Sweden has with another country. We both participate in our two countries' national exercises with, for example, fighter aircraft and personnel in command and control (C2) facilities, such as the national Air Operation Centre (AOC). The Swedish Air Force has a close cooperation with our Nordic neighbours under the umbrella of the framework of the Nordic Defence Cooperation (NORDEFCO).
AI: Are there any plans for the Air Force to participate in future NATO or PFP exercises?
MG Edström: Swedish Air Force has, over the years, developed cooperation with other countries to the point where our units train within the frameworks of Nordic Cross Boarder Training (CBT) or Finland Sweden Training Event (FSTE) with NATO and other countries. We recently participating with our 72 Squadron at Exercise Ramstein Alloy, above the Baltic Sea. In the year ahead, we are looking forward to planing and participating in the regular Arctic Challenge Exercise (ACE).
AI: Would the Air Force consider joining UN or Coalition operations in the near future if requested?
MG Edström: The Swedish Armed Forces are currently planning for participation in 2021 in the Takuba Task Force, a European military task force that will advise, assist and accompany Malian Armed Forces, together with G5-Sahel partners and other international actors on the ground, with helicopters and C-130 aircraft.
AI: What is the operational status of the anti-submarine (ASW) variant of the NH90?
MG Edström: Sweden is currently operating five (5) ASW NH90 from our F17 air base. An additional four (4) ASW platforms are in a retrofit program with industry, and are expected to be delivered in 2021-2022. The current status for our NH90 fleet is at Initial Operational Capability (IOC). A plan for future development towards Full Operational Capability (FOC), including enhanced operational capability through tactical data link, torpedoes and EWS, is ongoing coordinated with other NH90 operators within the NATO Helicopter Management Agency (NAHEMA) framework. Sweden is concerned regarding the unacceptably long timings for future development steps towards FOC and in conjunction the anticipated cost.
AI: Are there any plans to upgrade or replace the C-130H fleet?
MG Edström: The C-130 fleet will undergo a planned lifetime extension programme during the upcoming years. A strategy is underway concerning long time needs for transportation aircraft within the Swedish armed forces.
AI: Are there any plans to upgrade or replace the Saab S-100B Argus fleet (Saab 340 airborne early warning and control aircraft)?
MG Edström: The S-100 or ASC 890 (Erieye) will be modified in order to maintain its operational status until a planned replacement of both the carrier aircraft and the sensor suite in the late 2020s. Additionally, the Swedish Armed Forces will also aim to be more cost-effective, through reducing different types of VIP/transport/air refuelling aircraft in the future.
AI: When will a decision be made on a replacement for the SK-60 (Saab 105) and would the Boeing/Saab T-7 Red Hawk be considered?
MG Edström: The Saab 105/Sk60 will be in service and used for flight training of our pilots until 2025. An acquisition of a Basic Trainer Aircraft (BTA) for basic flight training is in progress and our plan is that the BTA will be operational in a couple of years. Additionally, our plan is to use the Gripen C/D as an Advanced Trainer Aircraft (ATA) during the latter half of the 2020s. In parallel, we have initiated studies to explore how we will conduct pilot training in the long-term. In these studies, a number of solutions and different aircraft systems are being considered.
AI: What is your input into the Swedish Parliament as it formally plans for its next-generation combat aircraft to replace the Gripen E at the next budgetary cycle of the Ministry of Defence.
MG Edström: We are currently not planning for a replacement of Gripen E. The Gripen E is not yet in operational service in the Swedish Air Force and it will be in our inventory for a long time ahead.
However, the Swedish Armed Forces are outlining a long-term strategy for air operations. The strategy is focused on future capabilities required and possible aircraft system solutions. Outlining a future strategy includes engagement and expertise through a wide array of cooperation within our government agencies as well as with industry and with possible coalition partners. One example of this cooperation is the Future Combat Aircraft System Capability (FCASC) study between Sweden and the UK, which is currently ongoing. The work will focus on possible areas of mutual interest for the future within this context.
AI: Thank you.
by David Oliver