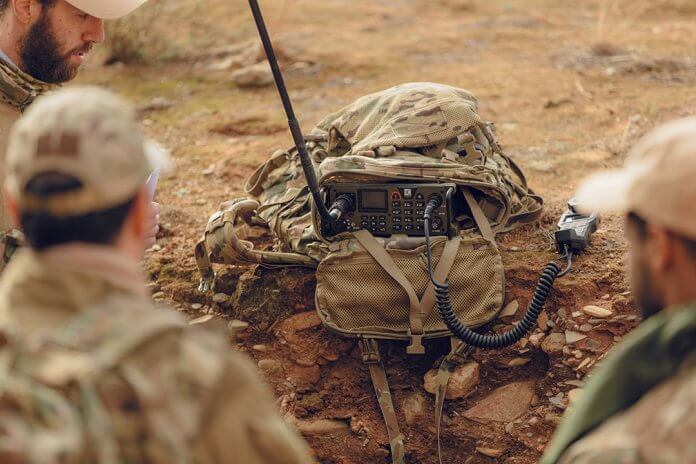 Published in the October/November 2020 issue – Seeking to maintain secure and reliable connectivity, particularly in contested environments, special forces are turning to High Frequency software defined radios as an alternative to traditional reliance on satellite communications (SATCOM).
In line with emerging demand signals from the Great Power Competition (GPC), special operations forces (SOF) small unit teams must operate in sub-threshold warfare environments in the face of mature electronic warfare threats from near peer and high capability adversaries.
Examples include ongoing operations in eastern Europe, where coalitions of NATO SOF units are tasked with the military assistance of indigenous special mission units in Ukraine. As industry sources confirmed to Armada International, small unit teams are procuring High Frequency (HF) software defined radios (SDRs) in order to bypass electromagnetic interference from Russian military electronic warfare (EW) units stationed along the border.
Consequently, SOF units around the world are unleashing requirements to purchase next-generation HF SDRs with examples include potential programmes in France, Germany and the United States (US) to name just a few.
Speaking to Armada International at the SOF Industry Conference on 12 May 2020, Program Executive Officer for Command, Control, Communications and Computers (C4), Deb Woods spoke of the updated plans to equip the US Special Operations Command (USSOCOM) with a next-generation HF solution. 
"Partnerships are ongoing with the services including the US Navy regarding a government owned wideband [HF) waveform. As well as capabilities we have today, we want to take advantage of smaller SDRs to provide a government-owned kit to support SOF whether they are operating in some kind of unconventional warfare or working with partner national forces who also want a wideband capability," she told Armada.
As of 18 September 2020, the USSOCOM has yet to publicly release a requirement regarding the procurement of a next-generation HF SDR.
A former French SOF operator now working in the industry, also confirmed to Armada this so-called "resurgence of HF in special operations" over the past few years.
Referring back to special operations in the 1990s, which included a focus on People Indicted for War Crimes (PIFWIC) in the former Yugoslavia, the source described how legacy HF radio sets had lacked the required data throughput to support surveillance and reconnaissance missions tasked with the positive identification of war criminals.
"The special forces task was simple: Priority Intelligence Requirement (PIR1) was to collect, to find, and to arrest PIFWICs and defer them to 'The Hague' international court. To arrest those persons, a track began, and before proceeding to the intervention to arrest them, we had to make sure that it was the correct person, and that the intervention teams had all the details concerning the environment.
"The intelligence collected was open source, but human intelligence (HUMINT) was delivered by some commandos hidden during many weeks in difficult conditions close to the alleged criminals house.
"At this time, the technology of the radios used permitted teams to send small text messages, but the speed of the data wasn't good enough to send pictures of the person, which was mandatory before any operations. I remember once, it took me four hours to send a 10kb photo with the resolution of a stamp," the source continued.
"At the same time, satellite communication systems emerged as a technological 'revolution', especially INMARSAT with Mini M satellite terminals. Small, light, with a pretty good data speed (2,400bps), SATCOM started to compete with, and finally replace, HF systems in the field. This was the case few years later in Afghanistan where SATCOM systems were used by SOF to conduct combined operations and definitively buried HF radios, he added.
Enhanced HF
Since then, HF has witnessed a series of enhancements which have significantly changed the opinion of SOF operators considering utility of the SDR type.
These include decreased SDR weights to less than 5kg; increased radio autonomy providing operators with up to 72 hours use on a single battery; the full spectrum of types of calls including voice, text, GPS request and sending; increased data speeds with robust waveforms using 3G ALE technology; and finally, easy to use software for programming and data.
"And probably the most important point – no need to be trained over several months to use those 'smart radios' due to ease of use interfaces like a smartphone. If the signaller of the commando team is killed in action or wounded, any of his team partners would be able to use the radio," the source stated.
Additional benefits include the cost-free nature of HF, which bounces signals off the Ionosphere rather than relying upon expensive leasing or ownership of geo-stationary satellites.
"Special forces members are not dependent upon any third nation or any satellite operator. So while SATCOM will not disappear from a SOF small unit team, HF is now in a position to supplant it," the source concluded.
Solutions currently available to SOF include Codan Communications' 6110-MP which is part of the company's Sentry-H family of products, designed to meet the demands of the "modern battlefield whilst offering full backwards compatibility with legacy products", according to Codan literature.
"The 6110-MP is one of the smallest, lightest form factor manpack HF radios available, without compromise on capabilities. It delivers a rugged SDR solution for military organisations that demand uncompromised, secure voice and data communications, while on the move," a company statement explained.
The manpack, which provides a power output of 30W, has a maximum battery life of up to 79 hours dependent upon operational utility. Comprising less than 4.7kg in weight, the SDR is ruggedised up to MIL-STD-810G standards.
The solution also includes an embedded GPS in addition to IP connectivity over Ethernet/WiFi and USB. Encryption is provided by AES-256 and CES-128 communications security.
According to Felix Wickenhäuser, technology consultant at military radio communications specialist JK Defence & Security Products, HF SDRs provide reliable and long range communications for SOF teams operating at reach and in complex operating environments such as the Arctic or mountainous areas where it can be hard to acquire a satellite signal due to physical barriers.
"Things even worsen once a near-peer adversary has qualified EW-assets. Especially then, waveforms featuring so called LPI / LPD (low-probability of interception/detection) methods are a critical advantage," Wickenhäuser explained.
"Satellite communications are also vulnerable to space kill-vehicles or counter-satellite missiles. Furthermore the operation of HF radios does not require costly infrastructure," he said.
"The market is heading for higher data rates along with even smaller form factors, such as HF-handheld radios. This allows the implementation of entirely new concepts of operation, as the communication at the tactical edge is no longer limited to shorter-range V/UHF radios.
"From a technical point of view, we will see direct-sampling architectures as the foundation of even more advanced waveforms / transmission methods. Even though higher data rates are mostly played as the key advantage of modern HF radios, this is only half the truth. "Wideband HF also allows for even more advanced error correction algorithms thus allowing more robust links even under very challenging channel conditions. It is important to also consider this side of things. Usually you see a trade-off between data rate (payload) and robustness," he continued.
JK Defence and Security Products is partnered in Germany with L3Harris Technologies which has designed the AN/PRC-160 as a next-generation HF SDR that is already in service with multiple undisclosed SOF units in Europe.
As Wickenhäuser explained: "The PRC-160 is at the forefront of the HF radio revolution. Its intuitive operation along with even higher data rates make it a future-proof package. Designed as a system, matching body-worn antennas provide best possible transmission. Furthermore the PRC-160 is compatible with already fielded accessories like handsets, batteries, base-stations and remote-controls. Known MMI concepts also apply to this radio.
"Its NSA-certified Type-1 cryptology also allows secure interoperability with NATO partners. Being a multiband transceiver the radio can also communicate in the widely used VHF-band. This multiband system is also the world's first and only HF manpack meeting new NSA crypto-modernisation standards," he concluded.
According to L3Harris literature, the AN/PRC-160 provides data rates up to 10X higher than legacy HF radios, as well as enhancing interoperability between US and coalition force elements across a battlespace.
Operating between 1.5-60MHz, the AN/PRC-160 provides a power output of 20W in HF mode, providing data rates up to 120kbps supported by optimal channel selection which responds to real-time conditions.
The SDR includes embedded SAASM or commercial GPS receiver to ensure accurate Position Location Information for enhanced Situational Awareness.
Finally, Barrett Communications offers up its latest HF solution- the PRC-4090- with chief executive officer, Andrew Burt describing how HF solutions provide a cheaper and easier to use solution for SOF and their partner nation forces around the world.
"HF networks do not require the infrastructure of SATCOM which means countries including the US are reinvesting in HF as the backbone of key infrastructure. This is why HF lends itself ideally to military operations as well as homeland security, emergency services and critical national infrastructure as a last resort communications capability.
"HF can be readily deployable, providing end users with an immediacy in communications they are unable to achieve with other communications mediums in that first instance," Burt continued while hailing its utility to support special operations at the tactical edge.
The PRC-4090 was unveiled to the market at DSEi in September 2019, following its development on the back of the 4000-series of SDRs by Barrett Communications. Capable of providing SOF small unit teams with secure email, data transfer and telephone connectivity over the HF networks, in addition to 4G LTE and MANET networks, the transceiver can be controlled by smartphone, tablet or laptop using Barrett's 4000 Series HF Remote Control App.
Operating between 1.6MHz-30MHz in Tx; and 250-KHz-30MHz in Rx frequency ranges, the PRC-4090 retains the capacity to manage up to 1,000 channels. The PRC-4090 platform is capable of transmitting in power outputs of 10, 30 and 150 Watts with optional transportable high power amplifier options up to 1kW.
The PRC-4090 also comes with options for Advanced Frequency Hopping technology, providing operators with between 5 and 25 hops per second as well as an 8-digit hopping encryption key- a capability which Burt declares as providing "excellent protection against EW attacks".
The SDR can be attached to personal load carrying equipment for dismounted special operations. Furthermore, the radio can also be attached onto a tactical docking station for integration on board special operations vehicles.
Full Rate production of the PRC-4090 was started in the third quarter of 2020, Burt confirmed.
Conclusion
Critical to any special operation, irrespective of where such a mission takes place, is a communications plan which includes primary, alternate, contingent and emergency (PACE) capabilities.
In the SOF community, HF is unlikely to ever wholly replace SATCOM or MANET. However, it will increasingly be relied upon to satisfy one of the PACE requirements on the battlefield, dependent upon mission parameters.
by Andrew White