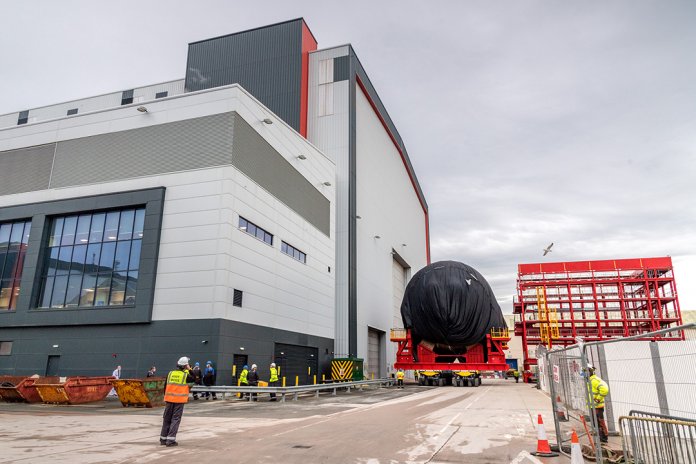 Published in the February/March 2021 Issue – As Euro-Atlantic naval activity ramps up, key shipyards in the region are bringing their individual and combined expertise to help naval customers build greater capability and output.
Europe's naval shipyards are as busy today as the navies they support. With naval competition returning, operational and capability focus switching back to high-end warfare, and navies looking to industry for help in rapidly embracing new technology and capability, shipyards are adapting business approaches, shipbuilding concepts, and infrastructure and skills, to enable continued support for customer requirements.
Navies' re-focusing of strategic and operational emphasis on high-end warfare means that ships, submarines, and maritime aircraft all remain a requirement. Different European shipyards bring different capabilities, in this respect: some build surface ships and submarines; others specialise in either/or.
Several European countries have a requirement to maintain high-end ship- and submarine-building capability and capacity, with select companies maintaining primacy as original equipment manufacturers (OEMs) to support an active national naval customer and increasing export requirements. Both within and across these European countries, an increasing number of companies, including OEMs, are seeking to work with other national and international companies (including other OEMs) to form partnerships that blend inputs and build outputs.
Going Dutch
The Royal Netherlands Navy (RNLN) is one of the busiest European navies, with ships, submarines, maritime helicopters, and sailors and marines deployed widely across the Euro-Atlantic theatre, and at distance in the Caribbean, the Indian Ocean, the Gulf, and the Far East. With RNLN surface ships at the centre of European Union (EU) and NATO naval task groups, and with Dutch submarines amongst the most capable Western boats, the RNLN is continuing to provide high-end capability and output at sea.
In building such capability and output, the RNLN works closely with other key Dutch stakeholders: the Ministry of Defence (MoD) and the Defence Materiel Organisation (DMO); the research and development (R&D) community; and naval industry. Within what is known as the 'Golden Triangle' of stakeholders, these and other government, R&D, and industrial stakeholders collaborate in delivering capability.
One key stakeholder in the 'Golden Triangle', and the Netherlands' long-established naval OEM, is Damen Naval Division, part of Damen Shipyards Group.
"We are the main provider, the only OEM, of complex naval solutions in the Netherlands – so we provide solutions to the RNLN and to our MoD," Richard Keulen, director Naval Sales Support at Damen Naval Division, and formerly an RNLN Commander (including frigate commanding officer), told Armada International. "That OEM role is very important, and is something which I think distinguishes us in the game from suppliers."
"An OEM capability, for a mid-sized country like the Netherlands, is very valuable because an OEM position means that, in international materiel co-operation – be it in NATO, in the EU, or bi-national – you actually can meaningfully contribute to a co-operation as a mid-sized state," Keulen explained. "The Netherlands is very keen on European co-operation," he continued. However, he noted, "If you want to engage in European co-operation, it is always good that you actually bring something to the table." "It's not the protectionistic story, that you need your only OEM," said Keulen. "No, you need your OEM knowledge base in a certain segment actually as a driver for international co-operation."
"In the naval domain, we see the benefits now, from a Netherlands perspective, of having a strong OEM – Damen – that can actually work together with other European OEMs on the highest level."
"If you take a look at the European naval shipbuilding landscape, sometimes the impression is given that it is a widely scattered field of many companies, but if you … look at the highest OEM level, there are only six or seven OEMs," Keulen explained. "It is actually not as scattered or divided as sometimes presented, because all those OEMs have unique qualities …. Together, they represent a full-scale set of knowledge and skills to build a strong European naval shipbuilding branch."
Alongside working with other OEMs, OEMs can work with and mobilise their national supply base, said Keulen. At challenging times, like during the COVID-19 pandemic, "if you have an OEM capability, you at least have a party who can engage the supply base in a large programme."
Damen is supported by a strong national naval supply chain, Keulen said: it includes companies like Thales Nederland (bringing naval sensor and combat system capabilities) and RH Marine (supplying high-end military platform automation solutions). "We have a self-sustainable naval cluster," said Keulen. "Within that cluster, Damen Naval represents the OEM, the main contractor, function."
The range of naval platforms in development, build, and maintenance at Damen demonstrates the range of platforms required by naval customers.
Damen is working with the DMO on building a Combat Support Ship (CSS) for the RNLN. A build contract for the future HNLMS Den Helder was signed in February 2020, with steel cut in the last quarter of 2020, and construction getting underway with keel laying in the second quarter of 2021. Demonstrating how an OEM can enable supply chain engagement in a complex project, Keulen noted that Damen has contracted to date more than 40 Dutch suppliers in the CSS programme. "That main contractor role [includes] managing those supply partners. That is part of the solution to swiftly adjusting to the changing environment and maybe the changing customer requirements," he added.
Damen is also finalising delivery of an Antarctic Survey and Resupply Vessel (ASRV) for Australia, with the ship currently conducting sea trials. Alongside high-specification military capabilities like reduced underwater radiated noise to support the survey function, the ship has an ice-breaking capability requirement, to support Antarctic operations. The programme demonstrates the requirement for and benefits of partnering: while Damen has experience of building and delivering both commercial ships and high-end military ships, it does not have knowledge in building ice-breakers. Here, Damen Naval teamed up with Danish company Knud E Hansen – partner of Damen Shipbuilding Group – to deliver the ice-breaking capability elements.
Damen is also continuing to conduct mid-life upgrade (MLU) work on RNLN frigates and logistics ships.
As regards emerging programmes, Damen is the OEM – working again with the DMO – in a bi-national programme to deliver new-generation frigates for the RNLN and the Belgian Navy, replacing the two services' M-frigates. Reflecting the shift in Euro-Atlantic naval operations, these frigates will focus on anti-submarine warfare (ASW) and have been given the designator ASW-F. This programme is in the product definition and engineering preparation phase: build contract award is anticipated by early 2022; first ship delivery is expected in 2027.
Working in another partnership – this time, with German shipbuilder Blohm & Voss (part of the Luerssen Group) and Thales Nederland – Damen Naval also won a tender to build the future F-126 frigate for the German Navy. Previously known as the MKS 180 programme, the F-126 programme will deliver four 10,000 tonne frigates (with an option for two more). "It's a big frigate, which is very future proofed, very flexible, and has a lot of very high requirements," said Keulen. Here, Damen as main contractor is partnering with Blohm & Voss and Thales Germany (through Thales Nederland) as the principal subcontractors.
Partnerships such as that with Luerssen can be enabled by strategic-level partnerships between countries. For example, in December 2020, the Netherlands and Germany signed a letter of intent to co-operate on future frigate replacement activities as part of a strategic partnership. Industrial OEMs play key roles in realising such partnerships. "As an OEM, we could make the bridge – by winning a tender in Germany – to offer to the Netherlands and Germany possibilities to co-operate on the same OEM level on future frigate programmes," said Keulen. "That is an example where, as an OEM, you can offer your country a meaningful contribution to the table at the highest level."
Sub-Surface Partnership
Underneath another strategic partnership – this time, between the Netherlands and Sweden – another programme demonstrating how Damen is combining OEM capacity with partnering is its teaming with Swedish submarine-building OEM Saab Kockums in bidding to build the RNLN's next-generation diesel-electric submarine (SSK). Three bidders remain in the process – France's Naval Group and Germany's tkMS, alongside Saab Kockums/Damen (with Spain's Navantia no longer involved).
At the end of 2020, the Dutch MoD reported to Parliament on the progress of an exploration phase between the customer and the three remaining bidders. Once this exploration phase is finalised, a competitive dialogue phase is scheduled: that phase, likely to involve customer/bidder information exchange, is likely to start in the first quarter of 2021. Beyond that, said Keulen, "The foreseen timeline at this moment is a contract somewhere at the end of 2022 to one of the three parties." The first boat is scheduled to arrive in 2028.
Saab Kockums is already building the Royal Swedish Navy's (RSwN's) Blekinge-class A26 SSK – the baseline from which the boat design for the Dutch bid is drawn – and the company provides the OEM capability for submarine building within the partnership. On its side, said Keulen, "Damen knows complex naval programmes in the Netherlands, knows the customer, knows the navy, knows the operational concept."
This particular partnership underlines "[the] model of finding the right partner based on a very strong and thorough knowledge base for complex naval projects", said Keulen. "Both companies can manage complex military projects, but Saab has the specific knowledge of submarines and we have specific knowledge of larger, Dutch, project management." "It's very complementary," Keulen continued. "Our complementarity and also the fact that we can 'team up' our knowledge areas, that is a very strong point: both companies are privately owned, both companies operate in a mid-sized European state where they have the same position as unique OEM for naval projects, and on that base have a very strong pedigree with their respective launching customer – their national navy." "This partnership is based on the fact that we contribute to the programme in a balanced manner," Keulen added.
The presence of national navies in such partnering programmes as the launching customer also plays a key role, Keulen explained. The OEM working in partnership from the outset with the launching customer – for Damen, the RNLN – enables customer and supplier to engage in deep dialogue from day one and improves understanding and engagement across the programme's life cycle.
Sub-Surface Security
The importance of the A26 programme for Sweden itself is underlined by the fact that the Swedish government back in 2014 listed the underwater domain as an area of vital national interest. In this context, not only will the RSwN's two A26s (HSwMS Blekinge and HSwMS Skane) provide crucial new operational capability for Sweden, but international interest in the design – as demonstrated in the Saab Kockums/Damen bid for the RNLN requirement – points to longer-term opportunities that could surface for the A26 programme.
Consequently, the underwater domain remains vital to Saab's business as Sweden's OEM for sub-surface capability. As demonstrated in its partnership with Damen, Saab Kockums also seeks to bring its OEM capabilities to the table alongside what it can build with partners. "One of the cornerstones of the Saab group is to partner with leading companies," Lars Brännström, Saab's Deputy Head and Chief Marketing Officer for the Kockums business area, told Armada International. "For us, partnership is key to success."
Developing with Damen what Saab sees as a 'Dutch solution' for the RNLN's requirement, Saab Kockums has "a close and extended relationship" with its Dutch counterpart, said Brännström. As the two partners work together in the bidding process, "During 2020 the collaboration has been extended to a selected network of other Dutch suppliers through what we call 'Readiness Webinars'."
Like Damen does in the Netherlands, so Saab Kockums works closely with key Swedish stakeholders in delivering a complex platform like A26. "Building a submarine requires [a collection of] unique capabilities, starting with academia and research; involving a large number of suppliers; including close dialogue with the customer; and finding sound and long-term financial resources," said Brännström.
At a strategic level, the Swedish government is making that long-term financial commitment to national defence and security. In the latest Defence Bill – announced in December 2020, and covering the 2021-25 period – Sweden confirmed a spending increase of around 45 percent across the period up to 2025 (compared to spending levels in 2020).
For submarine capability, the bill committed to a five-strong SSK force, numbering: the two A26s; two A19 Gotland-class SSKs already modernized by Saab Kockums (HSwMS Gotland and Uppland); and the third A19, HSwMS Halland, which (as decided in the bill) also is to be upgraded. MLU work on the first two A19s was completed in December 2020, Brännström said.
Alongside the submarine build and upgrade work, Saab Kockum's Karlskrona yard in southern Sweden has been busy building a new signal reconnaissance ship for the RSwN and conducting MLU work on the navy's two Gävle-class corvettes. "A concrete step in providing more fighting power is to enhance the capabilities of existing vessels," said Brännström. "This is what we [have done] on the surface side, with the Gävle-class corvettes."
Such build and upgrade work has also driven Saab Kockums to upgrade its build capabilities and facilities. "We have conducted a complete revamping of our methods, our engineering capabilities, and the production site in line with the increasing market demands," said Brännström. "Due to the remarkable complexity of the products, development and production of submarines and advanced surface vessels has very little to do with what it was only one or two decades ago." He noted in particular increased customer capability and performance requirements (for example, improved shock resistance or reduced signature), different materials used in build, different production processes including increased use of software in shipyard work, and a 'systems of systems' integration approach. In terms of change, these are "only the tip of the iceberg", he added.
In terms of the production site, Saab Kockums has completely re-shaped the Karlskrona yard, said Brännström. "The investment made in the shipyard is one of the largest made by the Saab Group in one location." "We have rebuilt the majority of the site," he added. "[Work] is in the penultimate phases, with new insulation of the main assembly hall. Changes also include new robotics and improved working conditions." Workforce size has been increased, too.
Alongside building the A26s, future work for Saab Kockums likely will include building a class of new surface combatants for the RSwN. The vessels will replace the two Gävle-class corvettes, with the Defence Bill committing to the first two of a possible four-ship class. On 25 January 2020, Saab announced it had signed a contract with FMV, the Swedish Defence Materiel Administration, for the product definition phase for these future ships. The contract effectively signals the start of the acquisition process, the company said.
With the new ships likely to be broadly similar in size to the in-service Visby-class corvettes, although perhaps slightly larger, Saab Kockums already possesses the skill and capacity required to build vessels of such size and capability, said Brännström.
In terms of future platform capabilities, Brännström pointed to increasing market interest in multi-functionality and autonomy. These are both areas where Saab is already strongly positioned, he added.
Sovereign Submarines
While some countries co-operate with partners in building submarines – notably, SSKs – sovereign national interest and capability requirements for countries building nuclear-powered submarines – attack boats or missile boats (SSNs, SSBNs) – almost always requires such boats to be built exclusively by a national shipbuilder. The unique level of expertise and capability required to build nuclear-powered boats means that shipbuilder is (in most cases; the United States being the exception) often the sole OEM.
One OEM building nuclear-powered submarines that will be operating across the Euro-Atlantic theatre is BAE Systems Submarines, at its Barrow-in-Furness yard in the UK. However, while BAE Systems is the sole OEM responsible for meeting the UK Royal Navy's (RN's) SSN and SSBN requirements, partnerships are still playing a part in delivering these programmes.
For example, the UK is building a new SSBN, the Dreadnought class, to replace the in-service Vanguard class. The new class, like its predecessor, will fire the Lockheed Martin Trident D-5 submarine-launched ballistic missile – the same SLBM used onboard the US Navy's in-service Ohio-class and future Columbia-class SSBNs. Thus, while BAE Systems is designing and building the bulk of the boat, the missile tubes – the Common Missile Compartment (CMC) – have been designed and are being built by General Dynamics Electric Boat (the lead US contractor building the Columbia-class boats [the other contractor being Huntington Ingalls Industries Newport News]).
The CMC will form the centre of the boat's structure, around which the rest of the hull is formed. In December 2020, BAE Systems Submarines announced that one of the largest hull sections of lead boat Dreadnought had been assembled on its Barrow site and moved to another of the shipyard's manufacturing facilities, the new Central Coatings Facility.
Four Dreadnought boats will be built, with the first scheduled to enter service in the early 2030s. As buildwork on the new SSBN class ramps up, for a period of time the boats will share Barrow's build spaces with the last three of the RN's seven-boat Astute SSN class.
In the Astute programme, December 2020 saw the naming of boat five, Anson. The boat is scheduled for launch in 2021 and sea trials in 2022.
Earlier in 2020, boat four, Audacious, sailed from Barrow for sea trials at the RN's submarine base at HM Naval Base Clyde, Faslane, Scotland.
In a press statement, released on 11 December for Anson's naming, BAE Systems Submarines said "Work is also well under way in Barrow on Astute boats six and seven [Agamemnon and Agincourt], as well as the first two boats in the Dreadnought class."
The first three Astute SSNs – Astute, Ambush, and Artful – are in service. Last-in-class Agincourt is expected to be delivered to the RN in 2025.
The Astute and Dreadnought programmes are Barrow's two priorities, and will keep the yard's order book busy until into the 2030s. Looking into the longer-term future, the RN and UK MoD have for some time been discussing Astute's successor, within the Maritime Underwater Future Capability (MUFC) programme.