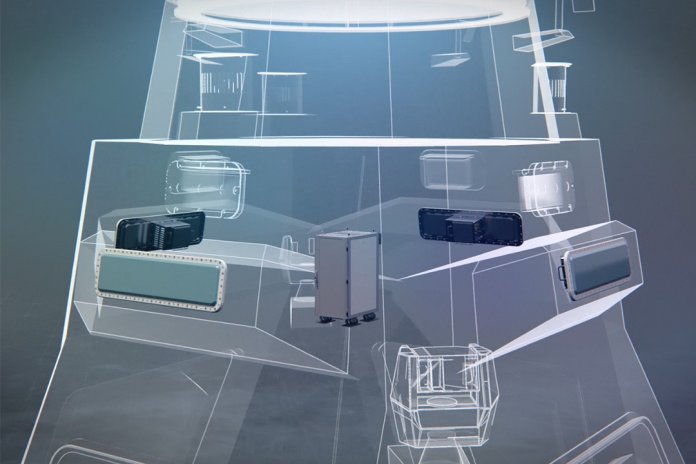 Thales expects to deliver its first completed TSA-6000 IFF system to the French Navy by the end of the year.
The company said that its new TSA-6000 Identification Friend or Foe (IFF) apparatus was qualified in 2020. The TSA-6000 equips the Marine Nationale's (French Navy's) forthcoming 'Amiral Ronar'h' class frigates due to enter service from circa 2023, according to reports. A total of five ships are planned. These will be built at Naval Group's shipyard in Lorient on France's west coast.
The TSA-6000 uses four fixed panels. Each provides 90 degrees of coverage. Marie Pierre Guilbert, Thales' IFF product line manager, told a press conference announcing the news that the TSA-6000 has a lightweight construction. Each panel weighs 50 kilograms (110 pounds). All four panels are controlled by a single processor. Ms. Guilbert said that flat panels help reduce a vessel's radar cross section. She added that up to 1,000 targets can be tracked with the TSA-6000. The systems' weight means it can equip a variety of vessels from offshore patrol ships to aircraft carriers.
Modes
The TSA-6000 detects all standard civilian Air Traffic Control (ATC) secondary surveillance radar protocols like Modes-A, -C and -S. It can interrogate North Atlantic Treaty Organisation and allied IFF protocols notably Modes 1, 2, 3 and 5. Mode-5 is the militarised version of Mode-S. It encrypts the aircraft's lifetime identity code mandated by the International Civil Aviation Organisation's Mode-S protocol. This is alongside aircraft flight information conveyed by Mode-S and other civilian ATC protocols.
Programme
In 2017 France's Direction Générale de l'Armement/General Armaments Directorate procurement authority selected the TSA-6000 for the frigates. A contract was issued for the systems' development and for five units to equip each ship, Ms. Guilbert added. She said the product was qualified in 2020. Two panels have been delivered to the customer to help integration work with the frigate's Naval Group SENIT combat management system and Thales SeaFire S-band (2.3 gigahertz/GHz to 2.5GHz/2.7GHz to 3.7GHz) SeaFire naval surveillance radar. The first four-panel system will be delivered to Naval Group for the eponymous ship in the class by the end of the year.