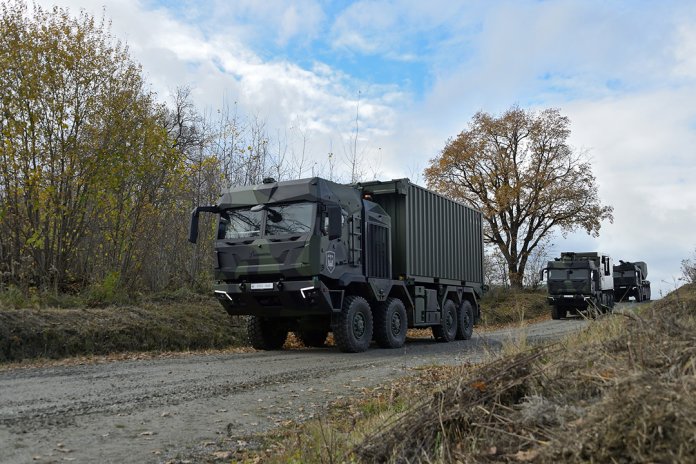 With over 14,000 vehicles in service with militaries worldwide, Rheinmetall's HX Heavy Tactical Truck series is renowned for its performance and reliability. Therefore, the company's recent unveiling of the new HX3 raises high expectations.
Designed with Military Off-the-shelf Components (MCOTS), the HX3 is specifically optimized for the demands of military field operations and the rigors of extreme environments. The HX3 is completely redesigned incorporating the latest automotive developments and technology advances.
In addition to its robust chassis and powerful engine the new generation HX3 is available with an optional active rear axle suspension which significantly improves both on and off-road performance. Beyond this the HX3 is offered in 4X4, 6X6, 8X8 and 10X10 versions.
This configuration diversity allows the HX3 the ability to accommodate not only a wide range of traditional military logistics and support roles but also as an effective platform for tactical systems.
Efficient fleet maintenance and support are foremost in mind in the HX3 with implementation of standardized parts and functions carried throughout the series. Not only can a single mechanic work on the 4X4 to 10X10 but the soldier operator procedures are also common.
Particular attention has been given to the operator with a fully redesigned cab with greater visibility, access to displays and controls and provisions for C4I and personal equipment. Operator comfort and safety are also considered with efficient climate control, cab armour protection options, and Advanced Driving Assistance System (ADAS). The later accounts for inattention while also reducing driver fatigue and stress. Emergency Brake Assist (EBA), Adaptive Cruise Control (ACC), and Lane Departure Warning (LDW) not only assure safe mission execution but provide a base for future autonomous operation.
HX3's reinforced cab roof will also support mounting of remote self-protection weapons, Rheinmetall's ROSY Rapid Obscuring System, and its very short-range Active Defense System (ADS). In addition, if necessary, all data transmission and receiver functions can be switched off reducing the vehicles digital signature.
Incorporating the latest advances in automotive technology, as well as innovations like the fully Automated Load Handling System (ALHS) and Universal Torsion-Resistant Subframe (UTRS), offer in HX3 a new level of capabilities and adaptability. It also extends the mission possibilities of the tactical truck even to use as a mobile gun carrier well positioning the HX3 toward meeting future military demands.
by Stephen W. Miller