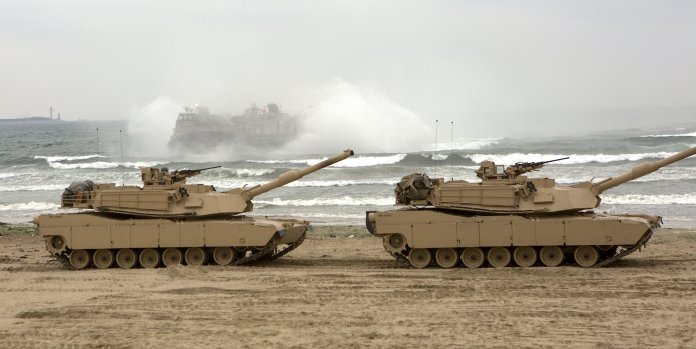 The plan for the future of the US Marine Corps is contentious and will see a restructuring away from its traditional all-arms employment.
A revision of the National Defense Strategy in 2018 directed the US Marine Corps (USMC) to shift its mission focus to great/near peer competition with special emphasis on the Indo-Pacific. This follows several decades committed to protracted inland conflict in Afghanistan and Iraq. Incoming Commandant General David H. Berger, to implement this redirection, issued planning guidance CPG-I in July 2019 toward adopting a new operational approach and redesign of the force. Titled Force Design 2030 (FD2030), its primary operational objective is toward building "a light, self-reliant, highly mobile naval expeditionary force postured forward in littoral areas within the adversary's weapons engagement zone." These forces will, per FD2030 March 2020, provide "a landward complement to Navy capabilities for surface warfare (ASuW), anti-submarine warfare (ASW), air and missile defence, and airborne early warning."
A driving assumption is that seizing a hostile land area from the sea is no longer possible due to the proliferation of Anti-Access/Area Denial (A2AD) capabilities. Instead the Design proposes the forward insertion (and follow-on support) of small expeditionary Marine elements that rely on speed, stealth, and surprise utilising pre-emptive action. This new focus requires a redirection in the current organisation and equipment of the Corps with the elimination of some units including main battle tanks, while entirely or majorly restructuring others such as shifting from cannon artillery to rockets and missiles. Questioning the appropriateness of current large amphibious ships to this scenario, a parallel expeditionary ship of a different design is proposed for the US Navy. These ships, termed Light Amphibious Warships, are to be "smaller, lower signature, and more affordable".
FD2030 is being pursued in four Phases. The first sought to establish an overall visualisation of the future force. Phase 2, begun in September 2019, saw 12 Integrated Planning Teams assess and provide force design recommendations regarding Marine Expeditionary Unit (MEU) reconfiguration, Marine Littoral Regiment design, Maritime Prepositioning Force changes, aviation, logistics, anti-ship and anti-air capabilities, infantry battalion organisation, manned-unmanned system balance, objective networks, training and education and the reserves. Phase 3 involves war gaming, experimentation, and analysis while Phase 4 will refine, validate, and implement what has been achieved. It is intended to be a process incorporating lessons learned and findings from on-going efforts.
Restructuring
Achieving FD2030 means a major restructuring across the Corps including the divestment of ground and air combat and support assets. These include the elimination of all main battle tanks, most cannon artillery, reducing the numbers of amphibious combat vehicles, reductions in the Bell Boeing MV-22 medium, Sikorsky CH-53E heavy, and Bell AH1Z Viper light attack helicopter squadrons, and a review of the fixed wing fleet. The infantry battalion is also undergoing evaluation of its organisation and equipment with three different approaches being trialled.
A new formation is also proposed, the Marine Littoral Regiment (MLR). These will be key to providing the expeditionary forward presence to provide sea control and denial in support of the naval task forces. It will consist of three elements: a Littoral Combat Team (LCT), a Littoral Anti-Air Battalion, and a Littoral Logistics Battalion. The core of the LCT will be an infantry battalion with an anti-ship missile battery. The Anti-Air Battalion will include air defence, air surveillance, air control and aircraft forward rearming and refuelling capabilities. Tactical logistics support will be the task of the Logistics Battalion. The first regiment is scheduled to stand-up in late 2021 in Hawaii as the 3d Marine Littoral Regiment.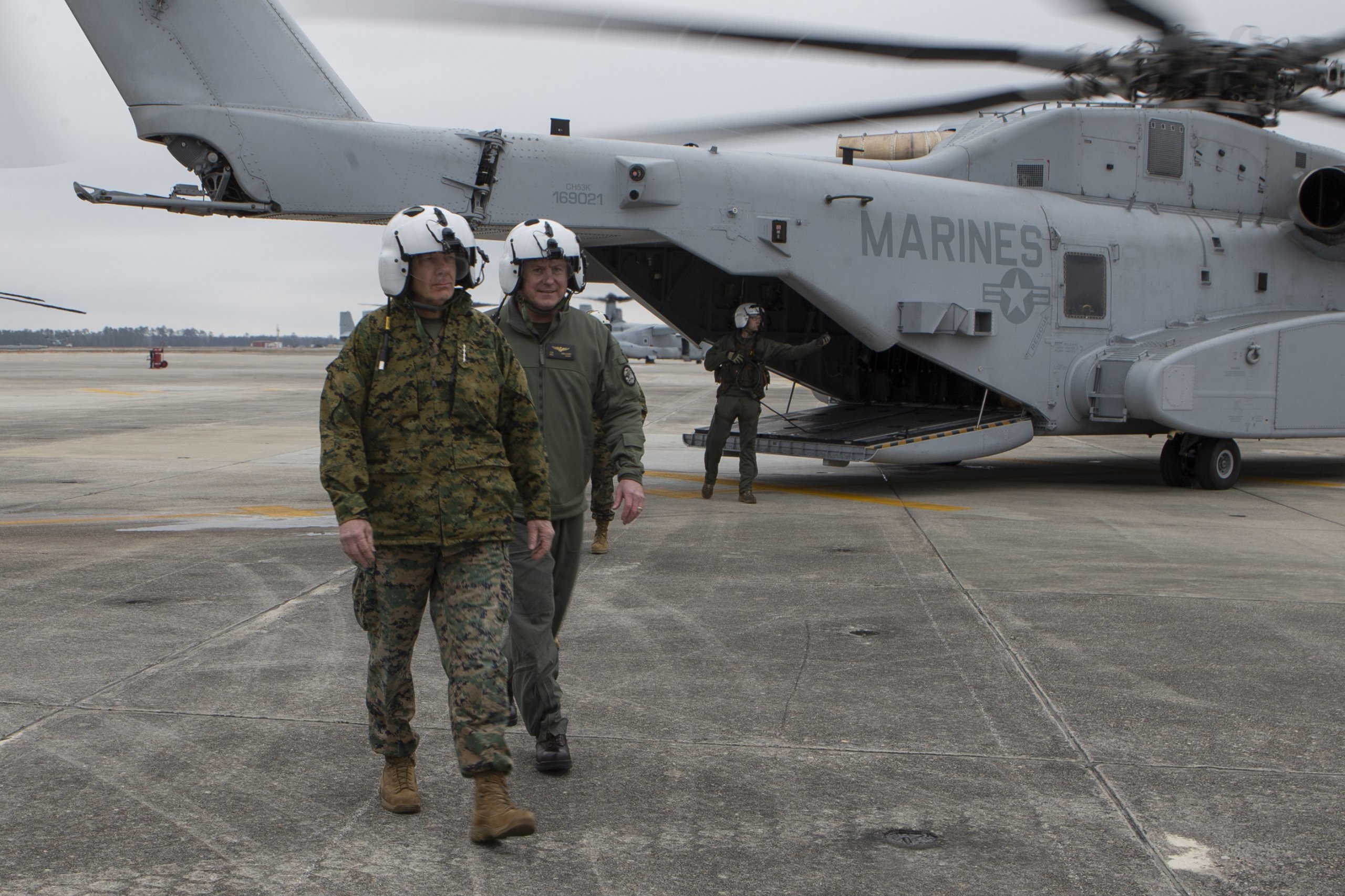 Artillery
Marine artillery will play a major role in the proposed concept for sea-denial through land based anti-ship missiles. Much of its BAE Systems M777 towed tube artillery is being replaced by Lockheed Martin M142 HIMARS multiple launch rockets which fire conventional GMLRS rockets to 70 kilometres (44 miles). It also fires the ATACMS to 300km (186 miles), but it is not in the Corps inventory, as well as the latter's successor the Precision Strike Missile (PrSM), still in test, to around 500km. The Corps is moving to add ground launched anti-ship missiles and has test launched the Kongsberg/Raytheon Naval Strike Missile (NSM) already deployed on US Navy ships and used by several NATO militaries in coastal defence batteries. Referred to by the Marines as NMESIS this configuration uses a twin-missile launcher on a Joint Light Tactical Vehicle (JLTV) and adaption of the US Navy fire control system. NSM has a range of over 185km (115 miles) with passive, low-altitude attack, and autonomous target recognition with both sea surface and land attack capability.
The Marines also have an unfunded requirement for Tactical Tomahawk missiles (now manufactured by Raytheon). The latest Block V model Tomahawk can strike a moving target at sea at over 1,600km (nearly 1,000 miles). However, this six-metre-long missile would need to be adapted for expeditionary use (the previous Ground Launched Cruise Missile (GLCM) employed a semi-tractor transporter erector launcher). Providing target detection for missiles with these extended ranges will also present challenges for the envisioned isolated expeditionary enclaves particularly in a signal denied environment.
Expeditionary Air Defence
Establishing an adequate anti-air defence should be a priority since air and missile attack, as well as unmanned aerial system (UAS) surveillance and targeting would be a primary response by an opponent to a forward landed presence. Since disbanding its Raytheon Hawk medium range missile batteries in 2002, the only air defence has been the shoulder-launcher short range FIM-92 Stinger. The Marines are now introducing Marine Air Defense Integrated System (MADIS) to offer greater point air defence. Two platoons of eight systems each had last been programmed. MADIS Mk1 mounts a four pod Stinger, 30mm auto-cannon, and Sierra Nevada Modi II electronic warfare suite. Its companion is the Mk 2 with a 30km (18 mile) range, RADA Electronics RPS-42 detection and tracking radar, Modi II, and M134 7.62mm minigun. Both use the JLTV platform.
A medium range interceptor capability is also in consideration. John Garner, PEO Land Systems, suggested in a September 2020 at the virtual Modern Day Marine expo that there would be a "prototype in the next two years". The Corps is also fielding it's AN/TPS G/ATOR air surveillance and counter-fire target acquisition radar which would be a critical element in any expeditionary air defence. Thirteen initial production systems are in use with air control and artillery with full rate production of 30 being delivered through 2022.
Reconnaissance
This ability to engage targets at extended ranges requires the capability to detect, identify, track and target threats. The Corps is increasing its UAS assets to four VMU squadrons to address this. In addition, the FD2030 proposes replacing the current Boeing Insitu RQ-21 Blackjack tactical UAS introduced in 2016 with the extended endurance General Atomics MQ-9A Reaper employed by the US Air Force. Reaper has a 20m wingspan and requires a prepared strip for take-off and landing. Its range, however, is 1,900km (1,180 miles) with 14-hour endurance and up to 4,000 pound (1,700kg) payload. The US Navy's maritime surveillance MQ-4C Triton with a 32+ hour endurance from Northrop Grumman, could also contribute. In addition, the FD2030 April 2021 Update discussed consideration of the Martin V-Bat vertical self-launch/recovery UAS with 11 hours endurance.
The initial FD2030 plan recommended an increase in ground reconnaissance with an additional two companies of Light Armoured Vehicles (LAV). The light armoured units, formed in 1983, have organic direct and indirect fire, anti-tank, dismounts, command and control, logistics, and maintenance recovery assets all with equal mobility and protection. They provide not only forward ground reconnaissance and counter-reconnaissance but, with its integrated combined arms, an adaptable mobile armoured manoeuvre force.
In July 2021, the Corps selected Textron Defense and General Dynamics Land Systems to prepare prototypes of an Amphibious Reconnaissance Vehicle (ARV) as a possible replacement for the 30-year-old LAV. However, the Commandant's April 2021 FD2030 update stated efforts had "invalidated the requirement to replace LAV-25 with a similar armoured, wheeled or tracked vehicle on one-to-one ratio." Questioning the suitability of such vehicles for the reconnaissance role in the Indo-Pacific, the plan then explored possible alternate organisation and equipment toward a "more broadly capable mobile reconnaissance". This suggests a shift to a strictly reconnaissance role, thus, potentially limiting the battlefield manoeuvre capability offered in the current LAV units.
For mobile reconnaissance the FD2030 suggests the utility of lightweight vehicles, unmanned air and surface systems, boats, the Organic Precision Fires – Infantry (OPF-I) system and other capabilities. In fact, the OPF-I was selected in June 2021 in the form of the UVision Hero-120, a vehicle launched precision loitering munition. The Marines also awarded a contract in February 2021 to Metal Shark to develop a Long-Range Unmanned Surface Vessel (LRUSV). According to the Chris Allard, the company CEO, "it would conduct autonomous surveillance, survey, submarine detection, or mine hunting." It would also supply manned support vessels for a Marine Corps fleet. How this foray into the surface Navy's domain or its relationship to the Navy broader unmanned surface systems programs is not addressed.
Light Amphibious Warship (LAW)
The US Navy in support of FD2030 proposes a shift from multi-mission amphibious warfare ships designed to support aviation, vertical assault, and wet well deck launch. Instead, it is pursuing a new class, the LAW, that can land smaller numbers of Marines, plus equipment and supplies, directly across a beach using a ramp. Five concept/preliminary design contracts were awarded in June 2021 to Fincantieri, Austral USA, VT Halter Marine, Bollinger, and TAI Engineers. Designs will provide a vessel between 60-122m (200-400ft); approximately 4,000 tons displacement; accommodate 75 Marines and a crew of no more than 40; provide 744 square metres (8,000 square feet) of deck space for equipment; and have an unrefuelled range of 3,500 nautical miles (6,480km) at a transit speed of 14 knots (26km/h). Its ability to move personnel and equipment ashore across a beach demands a stern or bow ramp while dictating a maximum draft of 3.6m (12ft). The LAW would have a limited self-defence capability and Tier 2-plus survivability surviving a hit long enough to evacuate personnel.  The aggressive schedule anticipates the first vessel being procured in fiscal year 2023 with 28 to 30 envisioned.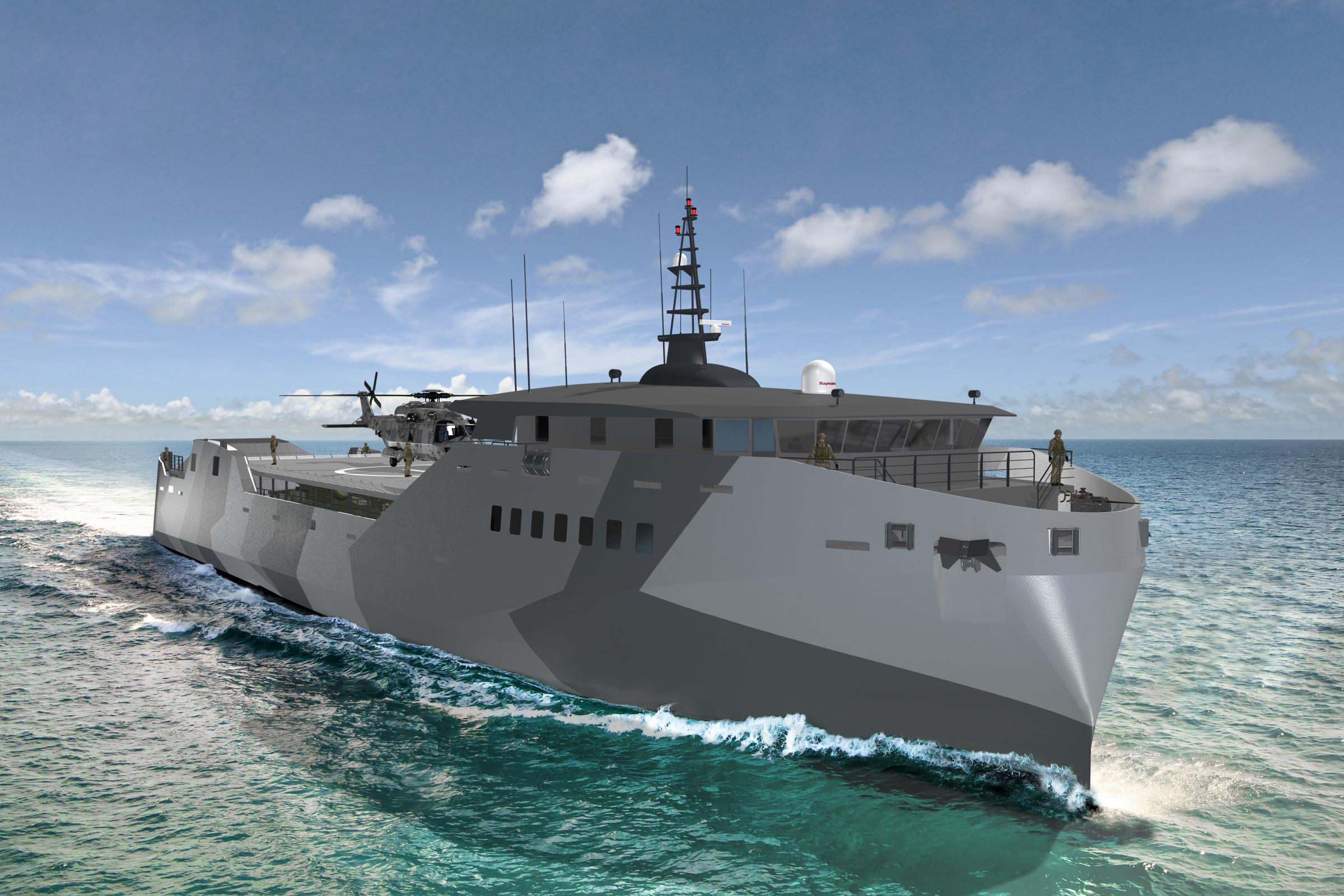 Marine Air
Beyond the medium and heavy helicopter reductions and additional of VMUs, and aerial refuelling the roles and structure of Marine aviation are per FD2030 "continuing to be analysed". In particular, the fixed wing Lockheed Martin F-35B VTOL and F-35C carrier version mix remains an ongoing study. The shift to dispersed light forces, moving from larger aviation capable amphibious ships and the stated desire to reinvest could present a number of questions regarding the Air Wing's future. These could include how fixed wing aircraft (Boeing FA-18 and F-35C) requiring a carrier or fixed airfield fit these expeditionary scenarios.
Given the historically critical role expeditionary based Marine aviation has played in achieving sea control, especially in the Pacific in World War II, this previously decisive capability would be expected to have an integral role. The associated draft Expeditionary Advanced Base Operations (EABO) references the contribution of Offensive Air Support, yet details on its application, and changes considered to address the FD2030 objectives remain largely unaddressed. Since the closely integrated air-ground team has been a key hallmark of the Corps and something that has set it apart from the other services, this is surprising.
Logistics Support
Logistics support is a major challenge for any military force in the Indo-Pacific as evidenced by the experiences of both the Allies and Japanese in World War II. The difficulties encountered by dispersed small and potentially isolated expeditionary ground units can be expected to be compounded. The FD2030 March 2020 highlighted this stating a lack of confidence that "we have identified the additional structure required" and affirming that "logistics must be a priority for Phase III". However, neither the FD Updates nor the EABO offer insights into how these critical tasks will be practically addressed. The topic is also fourteenth of 15: "Priority Investments – Expeditionary logistics systems to sustain stand-In forces in a contested environment".
Considering the expanse of the Indo-Pacific and its extended distances, sustaining scattered sites as envisioned in EABO would be a sizeable undertaking. This would be compounded at an outbreak of hostilities, especially for sites positioned "inside the opponents Weapons Engagement Zones (WEZ)" as promoted by FD2030. To grasp the levels to be dealt with consider that the MV-22 flying at 275kts maximum speed would require over three hours to complete, for example, the 380nm resupply turn-around from Manila, Philippines, to the Spratly Islands in the South China Sea. The LAW at its 14knt cruise would require nearly 28 hours to reach the same.
The reality is that as the US Joint Warfare Publication 1 states: "Logistics sets the campaign's operational limits." Or, most appropriate for a Pacific war, US Navy Adm Raymond Spruance's observation still holds true, that "a sound logistics plan is the foundation upon which a war operation should be based. If the necessary minimum of logistics support cannot be given to the combatant forces involved, the operation may fail…".
FD2030 And Wider Missions
FD2030's objective is TO essentially establish distributed A2AD zones "inside an adversaries weapons engagement zone (WEZ)" requiring a focus on extreme long-range fires and the elimination of many traditional combined arms assets. Some analysts have suggested that the resulting structure could jeopardise the Corps' ability to execute other designated missions such as small war conflicts and littoral interventions as "a force in readiness". This is viewed by some with concern since such operations have historically been more prevalent. In addition, its emphasis on light forces and elimination or sizeable down-scaling of armoured formations removes the possibility of offensive ground manoeuvre. A force optimised strictly for small islands would have insufficient mobility, tactical speed, and flexibility to respond and operate to contingencies on larger littoral land masses. These could include providing support, including sea control, to Pacific rim and maritime choke-point countries like the Philippines, Indonesia, and Vietnam. Here ground manoeuvrability will be an essential requisite.
FD2030 is stated as a ten-year effort. Yet considering its wide scope and number of new equipment initiatives required to implement the design it could reasonably extend beyond this. It will most certainly still be a work in progress into the term on the next Commandant of the Marine Corps in two years. The question is, considering the finality of some of the actions already taken, how much flexibility will remain for him to potentially adjust the Corps' direction.
by Stephen W. Miller