As rivalry returns at sea, navies are seeking dominance at the strategic, operational, and tactical levels. In this context, using networked datalinks to enable, integrate, and enhance communications is a strategic, operational, and tactical priority for navies.
Naval operations by definition demonstrate the requirements for, but challenges in, effective communications at sea. In contemporary naval operations, the requirement for integrated communications to support effects at the strategic, operational, and tactical levels is growing. However, this growing requirement also highlights enduring and emerging challenges. These include: the need for rapid, effective transfer of significant data volumes; the physical and environmental challenges in so doing; and developing system and network technology to enable such data volumes to be transferred in such an environment.
As naval rivalry returns and naval presence grows around the world, there is a need to integrate that presence at the strategic, operational, and tactical levels across the sub-surface, surface, air, and space domains. Moreover, as faster, more effective response is required, there is greater emphasis on collecting, communicating, and using greater amounts of data.
As regards challenges, these are physical and technological – relating largely to distance and environment. There is a new element in such challenges: although more integrated, naval forces are still spaced at distance from each other (due to the size of operating areas and doctrinal requirements for distributed operations).
Distributed operations are designed to enable assembled naval forces to cover wider areas. However, the need to act and react to exploit the benefits of such distribution underlines the importance of sharing data more widely, more quickly, and more effectively. Moreover, as sensor capability improves, so the volume of data to be distributed expands.
This all underlines the enduring but increasing importance of tactical datalinks (TDLs) at the strategic, operational, and tactical levels. Delivering more data at greater distance to an increasing number of platforms and at speed is a complex technological challenge, and operationally critical. Such is the centrality of this issue for Western navies that it is reflected in strategic-level documentation.
NAVPLAN Strategy
In his CNO NAVPLAN, published in January 2021, the US Navy's (USN's) Chief of Naval Operations (CNO) Admiral Michael Gilday set out the USN's strategic direction which included focusing effort and investment across the 2020s to deliver the naval contribution to joint capabilities that will be required into the 2030s.
CNO's NAVPLAN underscored the role of information-sharing technologies and architectures in delivering effective communications. Indeed, it set the importance of communications, the use of data, and the role of networks and wider information infrastructure against other USN strategic, procurement, and operational priorities.
"Our operating concepts require platforms, weapons, and sensors connected in a robust Naval Operational Architecture (NOA) that integrates with Joint All-Domain Command and Control (JADC2). The NOA is a collection of networks, infrastructure, data, and analytic tools that connects our distributed forces and provides decision advantage. Beyond recapitalising our undersea nuclear deterrent, there is no higher development priority than fielding this capability," the 'NAVPLAN' stated. "We will operate and defend the NOA as a warfighting platform to protect the flow of data and gain a decision advantage for the joint force. Taskforce Overmatch [the navy's contribution to JADC2] will align resources and expertise from across our force to field the NOA in this decade. We can accept no delay."
Adm Gilday's reference to the NOA as a warfighting asset to be fielded in this decade underlines its critical strategic importance. Its role in connecting sensors, platforms, and weapons also underlines the importance of technology in sharing information.
Using information is a critical capability in itself and in enabling use of other capabilities, CNO explained. "We must close the kill chain faster than our rivals with a resilient web of persistent sensors, C2 nodes, platforms, and weapons." Such requirements are connected by data transfer using TDLs and wider information networks. "We will effectively apply modern digital and information technology to allow us to make better and faster decisions," CNO noted.
Alongside the strategic-level impact, the NAVPLAN demonstrated the importance of sharing data and information at the operational and tactical levels. "We will also expand our information and decision advantage by persistently monitoring activities at sea in order to confront and expose malign actors," wrote CNO, adding that the information domain would play a key role in what he referred to as "the contest for control of the seas".
The US tri-service maritime strategy published by the USN, US Marine Corps, and US Coast Guard chiefs in December 2020 also reflected the NAVPLAN focus. Titled Prevailing with Integrated All-Domain Naval Power, it underlined the importance of using data. "Combining many informational inputs into a common, actionable operational picture will enable our forces to act more quickly and effectively than our competitors," the chiefs wrote. Underlining the role of communications and wider information networks in underpinning the use of such inputs, the strategy added: "The naval service will accelerate delivery of the next-generation NOA, composed of the Naval Tactical Grid, battle management aids, data structures, and infrastructure that underpin distributed operations. This network will be fully interoperable with JADC2 systems and will combine inputs into an actionable common operational picture."
Subsequently, CNO spelled out the key aims and elements of delivering the coherent communications networks required to enable effective use of information.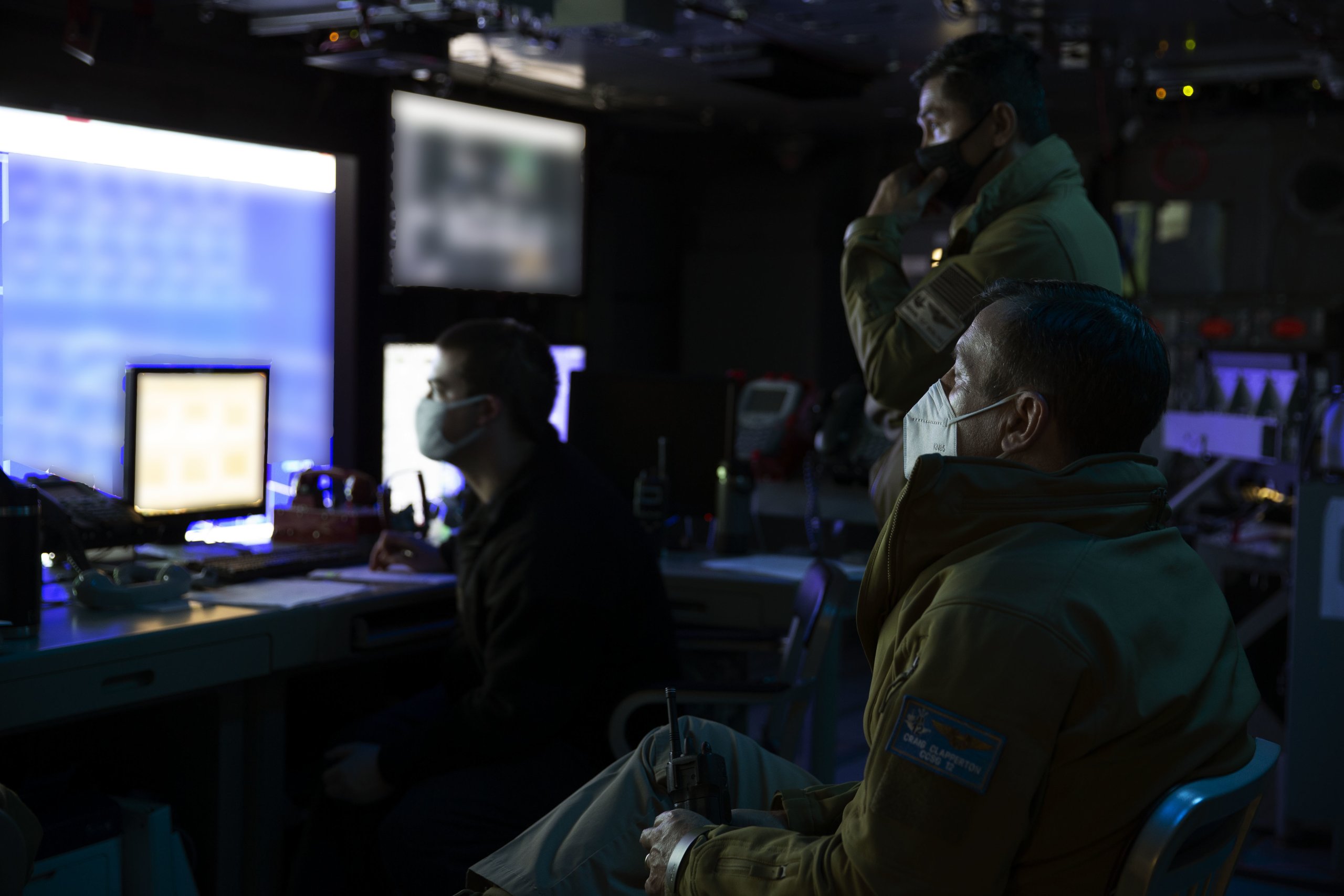 Hybrid Fleet
Regarding the key aims of this requirement, "We have to put ourselves in a position of advantage, not only to command and control a hybrid fleet of manned and unmanned vehicles in the air, on the sea, and under the sea, but also to put us in a position of advantage with respect to decision making against our key adversaries." CNO told a Washington, DC-based Defense Writers Group event on 5 April.
Regarding the key elements in delivering this capability, CNO pointed to three priorities. "One is resilience; the [second] is capacity …. the third is agility."
The USN's contribution to the JADC2 concept will be delivered under Taskforce Overmatch, CNO explained. He illustrated this using the example of how commercial smart phones offer the user different network choices, and then provide applications to enable decision-making based on that data, with this process allowing the user to use information and make decisions as fast as possible. "What I'm looking to do with Taskforce Overmatch is to take the existing networks we have and create a 'network of networks' where we can pass any data over any network we choose," said CNO. "So, I can take tactical fire-control data I would typically use … and I may transfer that information via another network that at the time the software decides is going to be more resilient, is going to be faster." "It's a better way to get the information from sensor to shooter," he added.
This process, CNO explained, would include automated network selection.
As part of developing this 'network of networks' capacity, CNO said the USN through Taskforce Overmatch, led by Rear Admiral Douglas Small (Commander, Naval Information Warfare Systems Command), would be hosting four technology 'spirals' in 2021, "each of them in increasing complexity, to tie together more networks and more applications". Beyond this, the plan is to spiral these networks of networks and applications into trials with a carrier strike group (CSG) in the late 2022/early 2023 timeframe to test the networks onboard operational ships and in the challenging conditions of the maritime environment.
Delivering Overmatch
Speaking at the Surface Navy Association annual symposium, held online in January 2021, Rear Admiral Small noted the strategic context set out by naval service plans (including the tri-service strategy) in providing the operational and capability context within which Overmatch is being developed.
RAdm Small, whose command is responsible for designing, developing, installing, and supporting the navy's networked communications and information capability, said: "The idea of a connected navy and our ability to network and share information across physical platforms, whether it's for sensor-to-shooter or C2, being able to make decisions faster than any would-be adversary … is certainly clear in [USN] strategy," adding that "this idea of connectedness and the primacy of decision speed is definitely something that runs through our strategic documents."
In delivering on this strategic intent at the operational level, RAdm Small said the aim of Taskforce Overmatch is to "really utilise our ability to connect our systems from distributed platforms to our advantage": to do this, the USN will be "taking … to the next level and beyond" the ability to connect sensors to shooters.
RAdm Small highlighted the operational- and tactical-level roles of current and future platforms within this networked infrastructure. He underlined the need to connect up current platforms, as they will form a large part of the future navy. He also underlined the importance of manned/unmanned teaming in the integrated future navy. "Physical platforms that will be unmanned are going to be part of the navy: they already are, and they will continue to be – so we have to be able to get the very most out of that." In times of extreme crisis, he added, "We have to be able to assuredly command and control them."
At the Defense Writers Group event, CNO had underlined the networking challenge that unmanned systems generate. "As you bring in more unmanned vessels, and unmanned vehicles in the air, as you connect things to your networks, you're going to drive a need for more bandwidth – or a judicious use of the bandwidth you have."
Tactical Links
Enhancing existing and future capabilities also encompasses the contribution of TDLs. Within the current strategic and operational context, TDLs will be key in enabling rapid, effective use of information. Alongside navies, defence companies are analysing the impact and integration of TDL capabilities.
Curtiss-Wright Defense Solutions is one company producing TDL systems and capabilities. In a technology White Paper published in January 2021, Brian Bass, director of operational support, and Steven Horsburgh, director product management in the company's tactical communications group noted: "The need for increasingly integrated communications networks has become a key objective of most navies over the past few years. The rationale being that more integrated networks will make it easier for all naval assets to share tactical intelligence with each other and with other branches of the military during any operation."
In this context, they stated, "Interoperable TDL systems are essential components of fully integrated communications on both manned and unmanned naval platforms." "All naval command, control, and communications (C3) systems rely on TDL systems and standards to either transmit, relay, or receive critical tactical data that will contribute to a common, mission-critical view of surface, sub-surface, air, and space environments.
"These systems enable tactical data to be shared between operators in real time on manned platforms, and they enable data from unmanned platforms to be integrated into the data stream to C2 stations."
Mirroring both the number and mix of naval, joint, and combined platforms connected in such networks, and the Taskforce Overmatch focus on providing a 'network of networks' from which the most usable connection can be autonomously selected, the paper noted that "navies need a multitude of varying TDL gateways, translators, and support systems to enable interoperable communications between personnel on each ship, with other assets, and with C2 centres."
The increasing complexity of the contemporary naval operating environment is in turn increasing the complexity of systems required to operate there. This applies to sensors and effectors, and the TDLs that connect them. Bass and Horsburgh noted two elements contributing to the complexity of naval TDLs: the increasing use of sensors that collect and transmit a variety of data; and the sheer volume of data to be transmitted.
They highlighted a third issue – the presence of multiple, different TDLs on a single platform. Each TDL supports different communications needs, and brings bespoke hardware/software, cabling, cryptography, and user interfaces, alongside separate maintenance/training requirements. Each TDL also could be provided by a different supplier.
"In the short-term, multiple TDLs are a fact of life – due primarily to the high cost of retrofitting, but also to the different roles and data requirements and usage," Horsburgh told Armada International in May. "However, as older TDL systems and standards become obsolete, integrators and developers must design solutions with high interoperability as a focus."
The White Paper also proposed introducing a more integrated approach to using TDLs, to deliver a single, unified, communications infrastructure, with particular focus on interoperable, plug-and-play solutions.
The plug-and-play concept is not new: however, Horsburgh noted there are new components to it. "Today, plug-and-play is more than just hardware and driver compatibility. For modern TDLs, multi-TDL interoperability is a critical component of actionable information on the battlefield. While it would be nice to have a 'one-size-fits-all' approach to TDLs, the role of the different TDLs and the data they convey means there will always (and should be) multiple TDLs," he explained. "The key is to ensure that as much of the collection, dissemination, and interpretation is as seamless as possible. Automatic, intelligent correlation between the various TDLs and the ability of the software to convert multiple data streams into actionable information is necessary to the speed and accuracy of decision making."
As regards developing TDLs that can plug-and-play with each other and with sensors and effectors, Horsburgh said the next steps in such integration involve setting up gateways between the various TDLs, both hardware/signal communications and data communications. "While hardware/signal gateways are straightforward to develop and deploy, next-generation gateways must use intelligent algorithms to convey the meaning of the different TDL information rather than just 'word-for-word' translation," he said. "For example, mobile phones can communicate over Wi-Fi, 4G, and 5G, and through global networks: so, the specific mobile phone vendor is of not much importance since they can all communicate. However, the interpretation of data conveyed is of paramount importance." "Intelligent, context-aware gateway translations are critical for successfully sharing information from multiple TDLs," Horsburgh added.
by Dr. Lee Willett