Airbus has joined the sparse ranks of airframers offering ISR gunship versions of their seemingly benign transport aircraft.
Airbus Defence and Space's late June 2021 announcement that it had updated the armed intelligence, surveillance and reconnaissance (ISR) variant of its C295 transport aircraft shone a spotlight on an interesting sub-species of transport-based 'special mission' platforms, namely the ISR 'gunship'. The gunship concept originated during the south-east Asian conflict of the 1960s and 1970s and made use of transport aircraft equipped with multiple machine guns and cannon to provide fire-support for troops-in-action. While highly successful in this and other roles, such aircraft were extremely vulnerable to any form of anti-aircraft defence other than small arms, with the United States (US) losing some 25 gunships to ground fire and surface-to-air missiles between January 1965 and December 1972. The game changer for the current generation of armed ISR platforms is their ability to carry air-to-surface missiles which gives them a greatly enhanced stand-off capability when being used to conduct 'responsive defence, counterinsurgency and border surveillance and security' missions. To illustrate the gunship genre, this article will examine the AC-235, Lockheed Martin's AC-130J Ghostrider, Airbus's latest C295 concept and Leonardo aircraft's MC-27J.
Lockheed Martin AC-130J
The AC-130J makes use of a modified C-130J airframe and is designed for close air support, air interdiction and armed reconnaissance. As such, it incorporates digital avionics, dual inertial and Global Positioning System (GPS) navigation systems, a colour weather radar, defensive systems, air refuelling facilities and a Precision Strike Package (PSP). Here, the PSP includes a mission management console (MMC), a communications suite, two electro-optical/infra-red (EO/IR) sensors, a fire-control (including precision guided munitions) capability and trainable 30mm and 105mm weapons. The MMC fuses sensor, communications, order-of-battle and threat data into a common operating picture.
Alongside its 30mm and 105mm cannons, the Ghostrider can be armed with a range of stand-off weapons that comprises the Boeing GBU-39 small diameter bomb, the Dynetics GBU-69 small glide munition and the Lockheed Martin AGM-114 Hellfire and Raytheon AGM-176 Griffin missiles. Representing the US Air Force's (USAF) fifth generation gunship the AC-130J replaces the service's AC-130U/W aircraft, completing its developmental testing and evaluation in June 2015 and achieving its initial operating capability (IOC) during 2017. As of spring 2021, the type's full operating capability was scheduled for US fiscal year (FY) 2025, with the last platform scheduled for delivery during FY 24. At the time of writing, the AC-130J had been issued to the USAF's 73rd Special Operations Squadron (Hurlburt Field, Florida) which was activated on 23 February 2018. The AC-130J is flown by a crew of two pilots, a combat systems officer, a weapon systems operator, a sensor operator and four special mission aviators.
ATK AC-235
For its part, the AC-235 has been developed by what was then Orbital ATK (now part of Northrop Grumman) and under contract from Jordan's King Abdullah II Design and Development Bureau (KADDB) and takes the form of an ISR/light gunship. The pair of ex-Spanish Air Force CN235-100M transports (Spanish/Jordanian serial numbers T19B-03/3210 and T19B-04/3211) were assigned to the Royal Jordanian Air Force's special operations component. As such, this pair of aircraft have been equipped with what was originally known as the STAR mission suite. This incorporates an MX-15 EO/IR targeting system, a Ku-band (12.5-18GHz) I-Master ground moving target indicator (GMTI)/synthetic aperture radar (SAR), an M230LF link-feed 30mm cannon, a defensive aids suite (incorporating the AN/AAR-47(V) Missile Approach Warner (MAW)), an AN/ALE-47 countermeasures dispenser system and the AN/ALQ-157(V) fixed-source IR jammer, a datalink capability and provision for the AGM-114M/K air-to-surface missile and 70mm air-to-surface rockets (in both unguided and guided forms and when fitted with the laser guided BAE Systems Advanced Precision Kill Weapon System (APKWS).
Looking at these various elements in more detail, the STAR system provides day/night reconnaissance and fire-control capabilities and the ability to acquire, monitor, track and if necessary, attack targets-of-interest. Externally, Jordan's AC-235's are characterised by four MAW sensors (giving 360º coverage), a pair of AN/ALQ-157(V) IR jamming 'lanterns'; multiple AN/ALE-47(V) chaff and decoy flare dispensers; MX-15 and I-Master sensor turrets; port and starboard stub wings (for the carriage of missiles and rockets) and an antenna array that includes a ventral datalink aerial radome. Other AC-235 features include a 'proven' mission architecture (incorporating compact microprocessor unit, a dual-colour display and integrated fire-control); night vision goggles compatibility; ballistic protection for the aircraft's cockpit and passenger/systems operator area; cockpit tactical displays; a communications suite that includes tactical datalinks (air-to-air and air-to-surface full motion video capable) and line-of-sight (LOS) and beyond LOS provision, together with the ability to carry a side-mounted 30mm M230LF cannon, AGM-114 missiles and 70mm air-to-surface rockets. At the time of writing, both of Jordan's AC-235 aircraft were being reported as being active, although unconfirmed sources suggest that they may have been up for sale since 2018. Elsewhere, Northrop Grumman continues to promote an AC-235 type capability as being an "affordable, enhanced capability" with which to conduct "responsive defence, counterinsurgency and border surveillance and security missions on customer-preferred platforms".
Airbus C295
Presented during the June 2021 Special Operations Forces Innovation Network Seminar (SOFINS) event (Camp de Souge, France), Airbus bills its latest C295 armed ISR iteration as being designed to carry out "special operations missions, support to ground troops and neutralisation of targets detected during surveillance and patrol missions". As such, the aircraft has been illustrated with a nose-mounted EO/IR sensor turret, a surveillance radar radome, port and starboard weapon stations and four underwing hardpoints. Weapons options are listed as including a pair of 12.7mm machine guns, a 27mm autocannon package (firing to starboard) and up to 16 air-to-ground munitions that include Mk82 bombs equipped with TEBER-82 laser guidance kits, L-UMTAS laser guided anti-tank missiles, CIRIT 70mm (2.75in) laser guided missiles and 70mm CAT-70 unguided rockets. Other features include optional in-flight refuelling, a 'latest generation' Fully Integrated Tactical System (FITS) application, a greater than eight hour endurance and a four hour time-on-station with a four missile war load at 400nm (741nm) from base.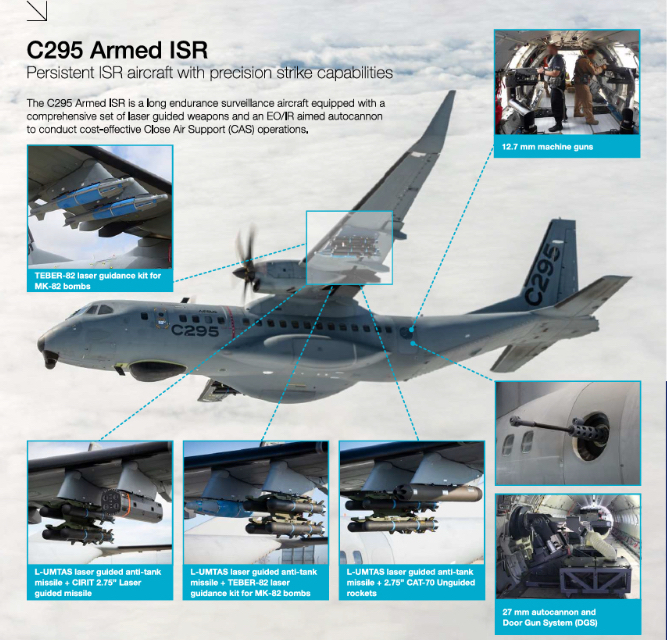 Leonardo MC-27J
Last but not least, Leonardo's aircraft division has, over time and not least through the merger with Alenia Aermacchi, developed the MC-27J. As its designation suggests, the type is based on Leonardo's C-27J tactical transport aircraft and takes the form of a multi-mission capability that is built around a modular roll-on/-off (Ro-Ro) architecture to maximise role flexibility. Missions envisaged for the type include cargo carrying, basic/enhanced command and control and ISR (C2ISR) together with a basic/enhanced gunship capability. In order, the MC-27J cargo configuration mimics that of the standard C-27J, while the basic C2ISR fit – a ventral EO/IR imaging turret/s and a palletised cargo-bay ISR and fire-control (ISR-FC) console – provides persistent area monitoring and mission oversight and co-ordination capabilities. The enhanced ISR-C2 configuration adds battlefield communications/video gateway and enhanced multi-intelligence collection and monitoring facilities to the baseline C2ISR fit, while the basic gunship configuration installs a GAU-23 Bushmaster 30mm cannon. Last but not least, the enhanced gunship package adds a precision guided munition (PGM) launch pallet to the Bushmaster and ISR-FC provision.
In its full-up state (and as originally briefed), the MC-27J is flown by a crew of five (pilot, co-pilot, two weapon system operators and a GAU-23/PGM gunner) and features a self-defence suite; optional in-flight refuelling; a communications suite which includes a Ku-band (12.5-18GHz) satellite communications capability and a LOS full motion video datalink; GAU-23 and PGM launch pallets; the ISR-FC console pallet; a 'Spartan View' sensor fit (made-up of Star SAFIRE 380-HD and MX-15HD EO/IR imaging turrets); a SAR/inverse SAR/GMTI surveillance radar; a communications intelligence (COMINT) capability, a radar band electronic support/electronic intelligence (ES/ELINT) system and provision for 'special payloads'.
Looking at the GAU-23 and ISR-FC console pallets in more detail, the GAU-23 assembly is mounted to port in the mid-section of the aircraft's cargo bay and incorporates pallet tie-downs, twin ammunition boxes, a battery box, a gun control pedestal assembly and a trainable gun mount for the Bushmaster cannon. Here, the complete architecture is 463L palletised weapon system compliant, with the side-firing weapon being capable of rates-of-fire of up to 200 rounds/minute using "all types" of 30×173mm ammunition (including the PGU-46/B round). Again, this Ro-Ro assembly can be installed and de-mount in under four hours. For its part, the ISR-FC console pallet is based on ATK's 'Scathe View' design and incorporates a pair of 55cm monitors, seating for two operators (a system operator and a gunner/observer in the basic gunship configuration), equipment racking, a mission computer (with an FC system linked to the platform's EO/IR sensors and gun system) and a digital video recorder. Elsewhere, the platform is equipped with cockpit sensor displays and its PGM capability is vested in a pallet-mounted launch system that is located on its rear cargo ramp or fires through dedicated apertures in the airframe. At the time of writing, both Leonardo and Northrop Grumman were continuing to promote an 'MC-27J' capability (describing it as being a "collection of sensors, communications and weapons that can be installed onto most medium- to heavy lift aircraft"). For its part, Leonardo appears to have subsumed the capability (as options) into what it terms the as the C-27J Spartan Next Generation platform. Armada understands that a prototype MC-27J aircraft (serial number CSX62127) remains "active"
While the then Alenia Aermacchi (subsequently absorbed into Leonardo Aircraft) anticipated a global market for up to 50 MC-27J type aircraft at the time of its launch, Armada has only been able to identify one production example which takes the form of the Aeronautica Militare's (AM – Italian Air Force) Praetorian aircraft serial number MM6220. Described as being a specialised variant of the MC-27J, the Praetorian architecture appears to feature palletised mission capabilities (including electro-optical EO/IR imaging, COMINT collection and weapons delivery) and is believed to have been initiated (and funded) by the Italian Ministry of Defence circa 2010/2011. As such, the Praetorian aircraft is given as being capable of undertaking 'typical' commando and gunship missions and in addition to Leonardo (acting, it is assumed, as prime), its development programme is understood to have involved the US contractor Orbital ATK/Northrop Grumman (mission and air-to-ground support systems) and Leonardo Airborne and Space Systems (communications and datalink equipment).
In programmatic terms, 18 November 2013 saw the then Alenia Aermacchi announce that it and the AM had signed an agreement covering the development, testing, certification, industrialisation and logistical support for the MC-27J Praetorian aircraft. Here, the capability was to support Italy's Comando Operativo Forze Speciali (COFS – Special Forces Command), with the procurement being divided into two phases. Phase One was to encompass the development and delivery of a Praetorian prototype to the AM (for testing in an operational scenario and assumed to be AM serial number MM6220) during the spring of 2014, with Phase Two covering industrialisation of the configuration and the development of a logistics chain to support it. As of November 2013, it was planned to modify three existing C-27Js to the new standard during 2016, with a further three airframes being subsequently configured to carry the type's mission suite. At the time of writing, there is no confirmation that this schema was carried through and MM6220 remains the only airframe to have been positively identified as being Praetorian configured. At the time of writing, MM6220 was said to have been active and to have been assigned to the AM's 98º Gruppo as aircraft '46-83'.
It would appear that the idea of fixed-wing, ISR gunships still have traction despite limited use outside the USAF. With a scheduled active inventory of 37 AC-130Js by FY 2024, the service has kept faith with the concept despite its obvious stand-in vulnerability to anything other than the most basic of ground-based air defence capabilities. As noted earlier, while the genre's vulnerabilities remain, they are mitigated to a considerable extent by the development and use of precision guided munitions together with long-range sensors with which to detect and target enemy forces. The experience of fighting the Taliban and Daesh appears to have convinced the Americans that the ISR gunship still has a place in the inventory, is survivable at stand-off ranges and can provide effective intelligence and fire support for conventional/special forces operating against insurgents in rural and urban settings. Such a belief also appears to be shared by at least two European manufactures who continue to promote such aircraft within their product portfolios.
by Martin Streetly