The attack on the MV Mercer Street by Iranian 'one way explosive UAVs' illustrates how loitering munitions are now being widely considered for battlefield use.
On 29 July, the commercial vessel MV Mercer Street was attacked as it transited through international waters in the North Arabian Sea. According to the US State Department, the vessel was attacked by "one-way explosive UAVs". The attack killed two innocent people onboard the vessel and was conducted by Iran with a "lethal capability (that) it is increasingly employing throughout the region".
The attack illustrates the growing proliferation of one-way explosive UAVs, often referred to as weaponised UAVs or in some cases, loitering munitions or missiles (LMs) which are able to conduct intelligence-gathering before being directed to conduct a precision attack on a selected target.
LM technology was also employed during the 2020 conflict in Nagorno-Karabakh between Armenia and Azerbaijan with the latter using 'precision strike assets' according to a report by the Royal United Services Institute (RUSI), published on 22 October, 2020.
"That a country such as Azerbaijan was able to effect precision strikes at operational depth – once thought to be the sole preserve of great powers – by using a range of relatively cheap tools to substitute for its lack of a robust air force is strategically noteworthy," the RUSI report warned, before confirming LMs employed during the conflict included Israel Aerospace Industries' (IAI) Harpy and Harop air vehicles.
However, it is not just smaller state actors around the world who have identified the operational effectiveness of LM technology. This type of weapon is being hotly pursued by special operations forces (SOF) and multiple NATO members already have procurement programmes to equip forward deployed units.
Examples include the US Special Operations Command (USSOCOM) which is in the process of rolling out its Ground Organic Precision Strike System (GOPSS) programme.
Addressing the SOF Industry Conference on 19 May, outgoing Program Manager of USSOCOM's Program Executive Office – SOF Warrior, Colonel Joel Babbitt described the current state of the GOPSS programme, highlighting three technology areas of interest for the command.
GOPSS Echelon '0' comprises an effort to equip US SOF operators with a man-packable LM capability. According to Babbitt, a working group will continue to consider options over the course of FY2021.
Echelon '1' remains the most mature capability at present, focused on man-packable and crew-served LM capabilities. USSOCOM has already procured an undisclosed number of Switchblade 300 (SB300) and Hero 30SF LMs, manufactured by US company Aerovironment and Israeli company UVision.
Product development was initiated in FY20 with a combat evaluation currently ongoing and scheduled to finish by the end of FY22, Babbitt confirmed.
Finally, Echelon '2' is focused on providing US SOF with a light, vehicle-mounted and crew-served capability in the future, with Aerovironment Swichblade 600 (SB600) and UVision Hero 120SF LMs having already been procured and due to undertake a combat evaluation over the course of FY21-22.
SB600 has also been selected to support USSOCOM's Maritime Precision Engagement-Munition (MPE-M ) programme which aims to provide a LM capability for Naval Special Warfare's (NSW's) inventory of Combatant Craft (Assault, Medium and Heavy) surface vessels.
According to Babbitt, MPE-M is designed to give the Combatant Craft an "organic, UAS-like capability to provide kinetic fires payloads against maritime and littoral targets without breaking NSW Combatant Craft signature survivability in medium to high detection threat environments".
Initial concepts will see the 33lbs (15kg) MPE-M fired from a Future Munitions Module Launcher on board the Combatant Craft Medium (CCM), providing operators with 75 minutes endurance on station at maximum ranges up to 120km (74 miles).
Additional requirements call for a 'cold launch' capability as well as reductions in size, weight and power; and finally, capability to switch targets when airborne.
Systems integrator FLIR Systems is charged with integrating and evaluating the MPE-M capability between FY2023-24. USSOCOM aims to achieve an Initial Operating Capability for MPE-M by FY2024 with Full Operating Capability (FOC) scheduled to be met two years later.
Innovative Technology
Speaking to Armada International, UVision's chairman, Yair Ramati described how the ground, maritime and airborne precision guided munition market is "blooming".
"Loitering munitions as an emerging sector in this market received global recognition as an important element on the modern battlefield. This market segment is enjoying worldwide recognition for its innovative technologies, sophistication, and flexibility.
"Dominated by the West, recent conflicts have made everyone realise and recognise that precision guided munitions are essential and very important and this is due to increasing levels in accuracy," Ramati explained before promoting how LMs combine together intelligence, surveillance and reconnaissance (ISR) and precision attack capabilities in a single, more cost effective solution.
"Loitering munitions must be low cost and affordable, operated up to platoon levels," Ramati added. "Most platoon commanders are not rocket scientists," and so, must have to be able to operate "state-of-the-art technology as if it were a smartphone".
"No Israeli Army soldier cannot operate a smartphone within a couple of hours", he stated adding that long lead-in training programme for LMs must be avoided.
Ramati explained that LMs were proliferating beyond SOF towards more conventional forces. "It's a long process, like the adoption of UAVs which happened one or two decades ago. This is what we are seeing right now, especially with the Nagorno conflict illustrating that LMs will play a key role in the defeat of the enemy".
Describing future improvements to UVision's family of LMs, Ramati described how "flexibilty remains the name of the game".
"Our family of products, which include the Hero 30; 120; and 400 are being carried by vehicles and sometimes Hero 30 is man-packed by the soldier. Hero 120 also has a dual mission capability allowing it to be integrated on the back of the JLTV," he continued.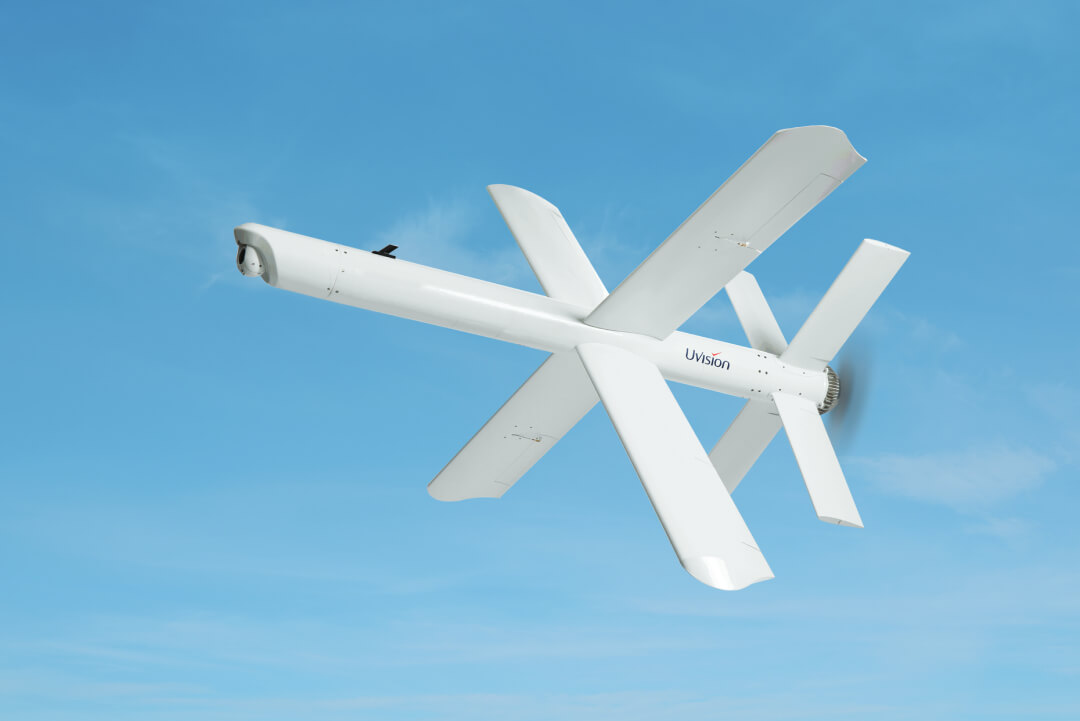 The Hero 30, according to UVision literature, can be deployed within minutes and is capable of travelling up to 40km (24 miles) in Line of Sight from an operator. With a top speed of 100kts (185km/h), the Hero 30 has been optimised to conduct anti-personnel missions with a 1lb (0.5kg) warhead and endurance of 30 minutes.
The Hero 120 has been designed for anti-tank missions or other strategic objectives, according to UVision literature. Featuring a 10lb (4.5kg) warhead, the Hero 120 can also operate up to 40km (24 miles) LoS with endurance up to 65 minutes. Similar to the Hero 30, the Hero 120 is also canister-launched.
"We have a next generation of products on the way but all the family continue to be developed in an innovative way," he continued.
Finally, Ramati confirmed UVision was pursuing all US Department of Defense (DoD) programmes of record which include the Long-Range Precision Munition (LRPM); MPE-M; and Air Launched Effects (ALE). Additional customer requirements being pursued by UVision internationally include the UK's Royal Marines, Italy's SOF Command, and the German Ministry of Defence.
Aerovironment continues to upgrade its family of LMs which include the SB300 and SB600. The SB300, currently the US Army's Lethal Miniature Aerial Missile System (LMAMS), comprises a tube-launched solution which has a maximum operating range of 9.6km (six miles) and is man-portable.
The SB300 can be used in an ISR mode before acquiring a target and engaging with an integrated warhead. The solution also includes a wave-off feature which allows the LM to be ditched to avoid collateral damage. The SB300 is also available as a six-strong Multi Pack Launcher which can be integrated onboard a ground vehicle.
The latest addition to the AeroVironment family of loitering missiles is the SB600 which has been designed to provide reconnaissance, surveillance and target acquisition, features high-precision optics and has more than 40 minutes endurance.
Featuring an anti-armour warhead for engaging 'larger, hardened targets at greater distances,' SB600 is man-portable solution which the company states "includes everything required to successfully plan and execute missions and can be set up and operational in less than 10 minutes".
It has high-resolution EO/IR gimbaled sensors and advanced precision flight control, It is tube-launched and can fly, track and engage non-LoS targets and light-armoured vehicles with lethal precision. It also features a "wave-off and recommit capability [which] allows operators to abort the mission at any time and then re-engage either the same or other targets multiple times based on operator command", according to AeroVironment.
Speaking to Armada, a company spokesperson described how in the future, SB300 and SB600 variants will be capable of being controlled by Aerovironment's new Crysalis ground control system (GCS).
Designed as a universal GCS capable of controlling any AeroVironment UAV, the Crysalis solution combines software, hardware and antennas providing operators with modularity across the range of UAVs. "The new GCS is available in multiple configurations ranging from lightweight and wearable to mobile and command center systems that are modular and scalable," company officials explained.
"Additional operational participants can gain enhanced situational awareness, share information and collaborate on tactical decisions by accessing telemetry and downlink data through remote video terminals, while also allowing them to capture data directly on their devices," sources added. Seeking to futureproof its solution, Crysalis will soon be able to control LMs as well, stated company officials.
"This is part of future AeroVironment roadmap initiatives. However, the underlying software framework in Crysalis is already identical to that used in our LM GCS. This architecture handles data streams, users direct command and control transmissions and security between the GCS and aircraft avionics together with other computational tasks being performed on the device.
"At this time, the user interface and interoperability experience between these UAV platforms and missions is currently different. In the future and in spirit of our 4th pillar theme of 'Integrated Systems' using already shared underlying software architecture, Aerovironment will be working towards integrating LMs and ISR assets to bring a more seamless experience between target identification and prosecution in addition to other new capabilities to be shared between platform classes," the company official confirmed.
Furthermore, Aerovironment is also seeking to support LM operations with Cloud technology. "Informational and operational security especially with meta data (or asset control) transmitted over the air from UAS, where that information is stored, and who has access is vital to successful missions and the personal security of friendly forces. As such, AeroVironment's UAV systems adhere to the highest level of informational security requirements for their effective and reliable use on the battlefield.
"Cloud-based environment and access to enable a wider aperture of collaboration is both known and within the technical realm of possible, but informational security must be maintained. More so, usage of cloud based environment would need to be in strict alignment to any new protocols that would be adopted, approved and/or required by our valued customers and may require a greater level of system architecture to accommodate."
Conclusion
The future of LMs across the modern and future battle space looks assured as both small and large state actors continue to invest in the technology. However, their operational effectiveness will remain in question as counter-drone solutions continue to mature in capability and proliferate across all domains.
by Andrew White