How much autonomy do maritime USVs and UUVs actually need to accomplish their missions now and in the future?
'Autonomous', 'unmanned', 'uncrewed', 'lean manning'… over the past few years, the defence world has seen a proliferation of terms emerge to refer to the progressive removal of humans from naval vessels. And, as is usually the case with most buzzwords entering a new domain, most of these terms have been used interchangeably to underpin the evolution of Unmanned Surface Vehicles (USV) and Unmanned Underwater Vehicles (UUV).
The reality, of course, is far more complex. Behind the concepts of USVs and UUVs lie different levels of autonomy, with different degrees of human involvement for different missions and with each degree of autonomy/human involvement comes a range of operational opportunities and technological challenges.
Unpacking Autonomy
"When we talk about 'autonomy' we need to have a common language," Matthew Hunt, product line director Mine Warfare Systems at Thales, told AI. "This is important because if it is fully autonomous, capable of sensing and reacting to its environment, it is a totally different tool to an automated clockwork system following pre-defined patterns underwater." Depending on the level of autonomy, the systems will be more or less complicated, will integrate different technologies and may be used in different operational contexts.
In a White Paper titled Navigating the Ethical Use of Autonomous Weapons Systems, published in June 2020, the BMT Group presents an overview of the different levels of control. It draws from the Maritime Autonomous Surface Ships (MASS) UK Industry Conduct Principles and Code of Practice, as well as from a number of other reports, to define six levels: manned, operated, directed, delegated, monitored and autonomous.
"Moving to fully autonomous, however, continues to present fundamental ethical challenges," said Jake Rigby, research and development lead for Defence and Security at BMT.
For Hunt, it means that these systems must fulfil the three Ts: Trust that the system will work every time the way it is expected to; and, Technology and Time, that is, the ability for navies to quickly adapt to fast-paced technological advances by working closely with industry.
As such, presently, the increasing number of USV and UUV programmes undertaken by tier one navies across the world span across the first levels of autonomy. They feature systems that range from being remotely operated by navy crew to platforms that can be programmed to carry out pre-defined monitored missions autonomously. The latter does not, however, equal full levels of autonomy: the human is still in the loop and the parameters of each mission are very clearly defined in advance. Autonomy extends to navigation, data gathering and data transfer only.
Safety First
Today, the main USV and UUV navy programmes capable of addressing the three Ts defined by Hunt are Mine Counter Measure (MCM) programmes. With the clear objective of keeping crew out of harm's way, these programmes are built around the notion of 'system of systems'. While the mothership with the crew remains at a distance from the minefield – suspected or known – a USV or a UUV is sent on a reconnaissance mission fitted with all the systems critical to mine detection – such as sonar. If a mine is detected, a Remotely Operated Vehicle (ROV) tethered to the USV is then dispatched to safely dispose of the mine.
The Marine Nationale (MN) and the UK Royal Navy (RN) will both be benefitting soon from the joint Maritime Mine Counter Measures (MMCM) programme. As part of this programme, Thales, together with its main partners will be delivering USVs, ROV, towed sonars and operation centres (portable for the RN and onshore/portable for the MN) in a system of systems approach to mine hunting. The MN will upgrade the three A27 UUVs from ECA Group delivered in the frame to the prototype Phase I programme whereas the RN will select a new system for the production phase. The MCMM production contract was awarded in November 2020.
Similarly, the Belgian Navy and the Royal Netherlands Navy have also begun work on their joint rMCM programme, with the steel of the first mother ship being cut in July 2021. The consortium Belgian Naval & Robotics (formed by Naval Group and ECA Group), will deliver 12 motherships and two ECA Inspector 125 USVs, designed to be able to deploy and recover mid-sized UUVs such as ECA's A18.
Finally, the Royal Australian Navy (RAN) has launched Phase 1 of its SEA 1905 MCM programme. The request for tenders is expected by the end of 2021, and is looking to replace the RAN's four 'Huon' class minehunter coastal ships with new vessels that will utilise modular unmanned autonomous systems.
The common thread to all these system of systems approaches to MCM is that the human remains in-the-loop. The USVs and/or UUVs are sent off on a pre-determined mission to find mines. When the explosive charge is involved with the ROV, the USV acts as a Command and Control (C2) station that is itself remotely operated from the mothership.
Sensor-Ship
Beyond MCM programmes, navies are also looking at the potential of USVs and UUVs for a whole range of other missions. Progress, however, has been slow and largely driven by the US Navy (USN). In a document published by the Department of the Navy in March 2021, Unmanned – Campaign Framework, unmanned systems – across all levels of autonomy – are seen as increasing "lethality, capacity, survivability, operational tempo, deterrence, and operational readiness."
To achieve those strategic goals, the USN has already made significant progress in the USV domain. Through its Overlord programme, it is experimenting on the development of Medium and Large USVs (MUSV and LUSV) to expand sensor and weapons capacity. The MUSV, designed as a platform capable of carrying modular payloads, will serve as an 'unmanned sensor-ship'. The LUSV, on the other hand, "will be a high endurance, adjunct magazine based on commercial design and built around a common missile launcher with an integrated combat system."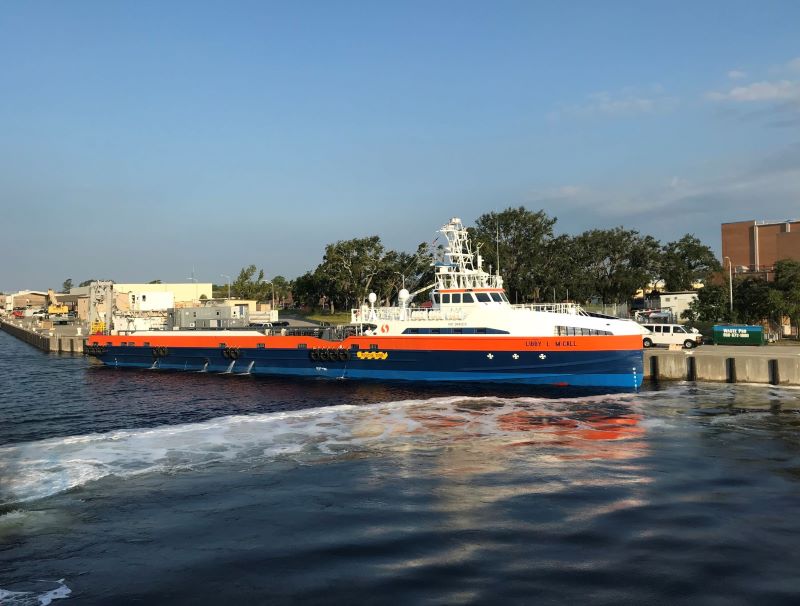 The 'adjunct magazine' capability of the LUSV has, however, been criticised by politicians. Key concerns revolved around the reliability of the USVs and their lethal payloads, as well as the ability to command and control them. Similar issues are likely to also slow down the US Marine Corps project to develop a Long-Range USV (LRUSV) for both reconnaissance missions and precision strike.
On the UUV side, the Department of the Navy document highlights that the USN has been experimenting with USVs for Intelligence, Surveillance and Reconnaissance (ISR) missions. Most of the systems under development – e.g. the Orca Extra Large Unmanned Undersea Vehicle (XLUUV), the Snakehead, and the Razorback – have been designed to carry out long endurance missions. The aim is to gather data that is then downloaded and analysed upon return of the asset to the mothership or operations centre.
Speaking at a conference in early September 2020, chief of naval operations Admiral Mike Gilday noted that, given the concerns around the C2 of these systems and their reliability as fully autonomous platforms, a hybrid manned-unmanned fleet is more likely for the coming years.
Do You Copy?
"Whilst there are navies that appear to be making the binary step into the world of unmanned systems it's a binary step into the understand phase of unmanned systems," Hunt told AI. With the exception of MCM programmes, these systems are not yet being rolled out into operational use. This is mostly due to the fact that navies have to contend with a number of ethical and technology challenges inherent to the highest levels of autonomy – i.e. monitored and autonomous.
One of the key challenges, for both USVs and UUVs, is communication. As the concept of operations (CONOPS) most navies are experimenting with revolve around the use of unmanned systems as networked sensors, it is imperative that, regardless of the mission, these systems are able to communicate with each other and with other platforms.
In the case of USVs, the key challenge is remaining undetected. "Communication can be a double edged sword in the military space," said Mark Barrett, chief commercial officer at Blu Wireless: "Navies need to communicate to relay important information, but adversaries may easily be able to detect and locate communication signals." In such cases, ships and USVs are in danger of being attacked.
To address these issues, Blu Wireless has been working on applying millimetre wave (MW) technology to defence communication systems. MWs are electromagnetic waves defined to lie within the frequency range of 30-300GHz, and they are of particular interest for military communications for two reasons. First, they are particularly hard to detect not only because most Electronic Counter Measures (ECM) operate only up to 40GHz, but also because beyond 60GHz the oxygen molecule absorb electronic energy so that signals cannot travel far beyond their intended recipient.
Second, because they operate at high frequencies, MWs also allow wider bandwidth. "Our system can deliver 1GB at 1km (half a mile) or 100MB at 4km (2.5 miles)," Barrett highlighted, "and if you mesh the network then you can extend that even further, facilitating the transmission of multiple video streams between autonomous vehicles." Blu Wireless addressed the fact that higher frequency usually equals shorter range by using directional electronic controlled phased array to steer a beam to make it focused and high gain. The whole system is credit card-sized and can easily be fitted onto USV platforms of all sizes.
For UUVs, the key challenge is that of communicating data in real-time in a secure manner. "As we move forward, CONOPS are going to require a lot more systems communicating with each other," Ioseba Tena, global business manager for Defence at Sonardyne, told AI. "Securing the information will be crucial." To this end, Sonardyne has been working with the Royal Navy and UK's Defence Science and Technology Laboratory (DSTL) to develop an open waveform. The aim is to have a waveform that can be compatible across all allied navies so that, by using specific pre-determined encryption keys, allies can communicate safely with each other. "This will greatly enhance interoperability," Tena added, allowing for a shared situational awareness picture built from the collaboration of network of UUVs.
Dead Reckoning
Charting the path to autonomy is going to be the challenge of the coming years. While there is already significant progress in the field of MCM, the roadmap to fully unmanned systems offers many opportunities but also presents a number of challenges. As noted in the BMT White Paper on the ethical use of autonomous weapon systems, level 5 corresponds to maximum independence and self-determination: "[The system] can decide a course of action from several alternatives, without depending on human oversight and control, although these may be present."
In another White Paper, officially released during DSEI 2021, Highly Autonomous Warship Technologies – Bridging the Gap to Autonomy, BMT highlighted a number of areas that will be key in charting the different stages leading to full autonomy. "We scanned the horizon to see what technologies were already available or being developed, and we developed the concept of a highly autonomous surface ship," said Rigby. The choice of 'highly autonomous' reflects a deeper question regarding whether full autonomy – level 5 – is actually really desirable or, indeed, needed for navy ships.
One of the key areas of development in this sense is navigation. For UUVs, navigation is a critical area of development because the nature of the domain makes communication more challenging. To address this issue, Kongsberg's UUVs – such as the HUGIN family – communicate using the HiPAP SSBL (Super Short Base Line) system. "HiPAP enables a level of supervision and accuracy that is otherwise not attainable due to the limitations of acoustic propagation in water," said Richard Mills, vice president marine robotics sales at Kongsberg.
However, acoustics can only go so far. As navies continue to explore the unmanned domain for an ever-increasing number of missions, the range at which both USVs and UUVs will be able to function autonomously will become critical. Batteries are one factor in enabling range, but the accuracy of the autonomous system and its ability to function in a GPS-denied environment is also critical. "If we can double the time in which the error accumulates then we have given these systems double the endurance to go with the batteries," Tena noted. Rigby added: "It is not about replacing the GPS with one technology but about creating that layered approach and having multiple different systems that together combined can give you that guaranteed and accurate picture."
Sonardyne, for instance, has been working with manufacturers to integrate its hybrid Inertial Navigation System (INS) on UUVs and USVs. The SPRINT-Nav Mini features INS, Altitude and Heading Reference System (AHRS), pressure sensor and Doppler Velocity Log (DVL) to extend these systems ranges. The BMT White Paper also highlights a number of areas with significant potential, such as quantum sensing of Earth phenomena and automated celestial navigation.
Ultimately, while UUVs and USVs present a number of limitations specific to their environment, the key question for future developments will be the same for both types of systems: what types of missions do navies want to carry out with these systems, and how much autonomy is actually required? Industry is already working on the roadmap to facilitate the different technology transitions this will require. It is likely that as navies and industry start working together to shape future CONOPS, the path becomes clearer. Until then, it is dead reckoning.
by Dr. Alix Valenti