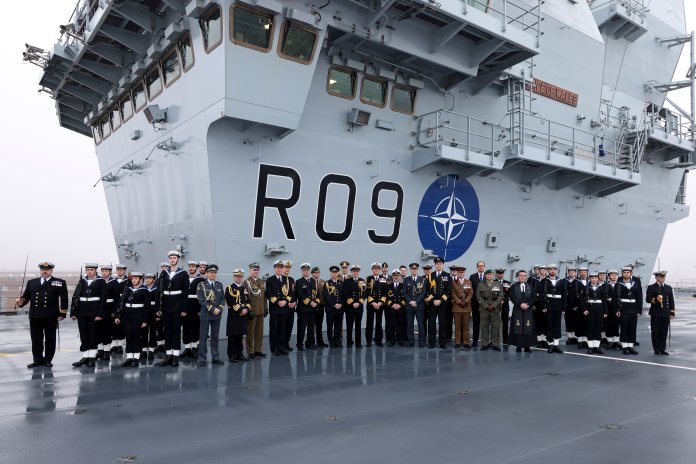 The UK Royal Navy's HMS Prince of Wales formally accepted the role of flagship leading the NATO Maritime High Readiness Force throughout 2022 at a formal ceremony held onboard the aircraft carrier in Portsmouth harbour on Tuesday 11 January, 2022.
Captain Steve Higham, Prince of Wales' Commanding Officer, said that the ship had been readied for its forthcoming deployments which will include leading Exercise in the Arctic Circle, a large Norwegian led NATO exercise designed to test Admiral Mike Utley, the commander of the UK Strike Force and the battle staff and command groups that will manage and control the Maritime High Readiness Force during its missions.
"The great advantage for us is that we will be working with allies and partners from across the NATO alliance and that strength in depth is what gives us the real edge," said Captain Higham. "It is the start of [this carriers] 50 year life and to start at the heart of NATO is really important," he added.
It has not yet been revealed which aircraft – fixed-wing or helicopters – will operate from the carrier (and when) in the coming year but both are expected to be embarked, during exercises in the Baltic (summer), Mediterranean (autumn) and when the carrier deploys to the eastern seaboard of the United States which is expected later in the year.
by Andrew Drwiega